Hyderabad's Real Estate on the

Brink of Collapse?
Sky-high Prices + Over-Supply due to massive number of new property launches in the last 3 years have brought the city's red hot market to a stagnation point…
Concerns are being raised over the viability and sustainability of the real estate in Hyderabad, as many experts feel the market may start collapsing by early 2024…
CV Reddy, Director of Aparna Constructions – among Hyderabad's top 3 developers by volumes – himself has been quoted saying Hyderabad real estate has slowed down in the past few months of 2023.
Deccan Chronicle quoted Dr Y. Kiron, CEO of SuchirIndia Group – another well known developer in Hyderabad – predicting that the real estate market will stagnate, starting mid of 2023.
According to Anarock Property Consultants – among the country's leading property brokers – builders in Hyderabad are sitting on UNSOLD INVENTORY of 1,28,535 units as of 30th September 2023 – the HIGHEST for any city in India and almost 4 to 5 TIME MORE than more matured & bigger markets like Bangalore, Chennai and Pune.
In just 3 months of June to September alone, while 8152 new units were launched, only 6735 units were sold, clearly indicating the over-saturation / over-supply in the market – and this will only make it harder for you to resell property in the next few years!
And with rapid & non-stop increase in prices by as much as 3 to 5 times in just 2 to 3 years in some areas, buying a property in Hyderabad has become an unaffordable luxury for most people!
Astronomical land prices have made it absolutely pointless to buy land as rates are both unaffordable and from the already peak levels today, they cannot multiply by 2 or 3x anymore – the way they have in the last few years…
And so a combination of both SKY-HIGH PRICES (Hyderabad is now the 2nd most expensive market in India after Mumbai) and OVER-SUPPLY of over 1,20,000+ unsold apartments (almost 5 times more than that of Bangalore, Pune, etc) has blown the fuse on Hyderabad real estate's golden rush since 2017.
(while above only talks of apartments, the condition of plotted layouts is far worse as that is a more unorganised market with lot more supply, running into the lakhs or more)
Only those who urgently need a home to live in themselves (i.e. for self-occupation) should buy a property at the current rates – since they have no choice or cannot wait – but for anyone looking to invest to make money, this is probably the WORST TIME to be buying into Hyderabad.
Here are 7 reasons why…
While we recommend you to read the article in order shown below, if you want to skip directly to a particular section, please click on the section of your choice below…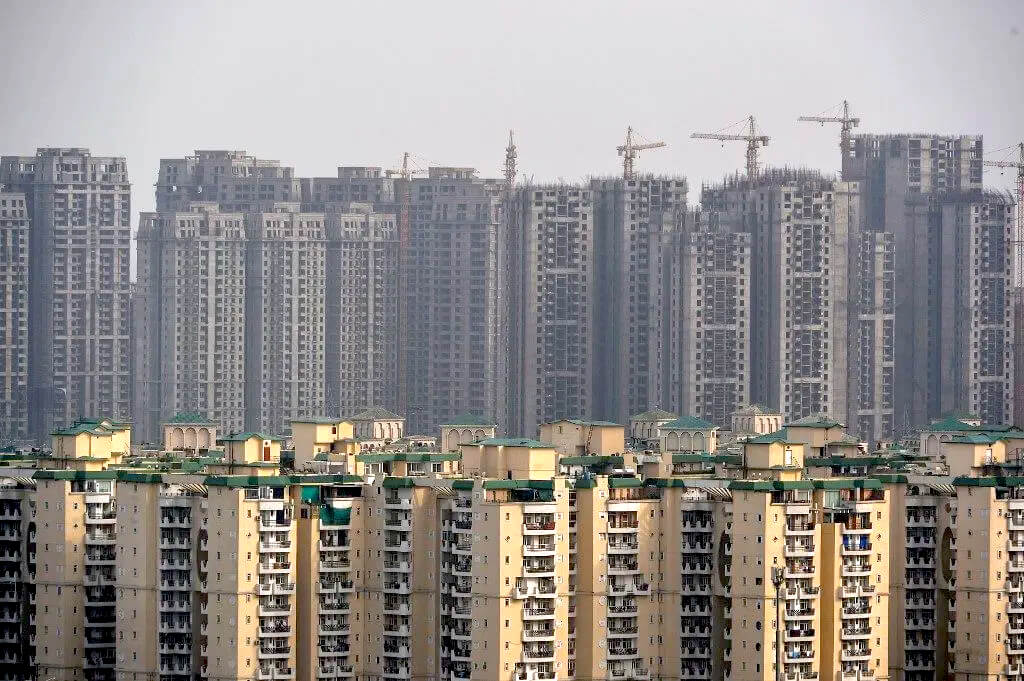 Oversupply
– Too many projects everywhere!
5 times more

UNSOLD

Units in Hyderabad than any other city in India…
By 2024, Hyderabad could be sitting on an absurd number of excess, unsold homes –

at least 4 to 5 TIMES MORE

than the annual demand!
In just 1 year alone (Jan to Dec 2022), over 80,000 new apartment units were approved by TS-RERA across Hyderabad.
However, the annual sales / absorption of residential properties in Hyderabad is just 10,000 to 14,000 units – which means in 1 year alone, a staggering 65,000 new excess homes have been added to the city…
(infact unsold inventory went from just 11,918 units in December 2021 upto 58,535 by December 2022!)
And with another 60,000 to 70,000 new apartments in the pipeline for 2023 alone (and a lot more over the next 2 years), this supply-demand gap will only worsen further, adding to the already worrying oversupply in the city.
And though builder's so far managed to artificially create hype / demand to increase prices over the last few years, this oversupply is so bad that eventually, they will start cutting prices in desperation to sell – leading to either stagnation or worse, a big fall in prices.
Take China for example, where over-construction led to ghost cities with plenty of newly built apartments lying empty with no one to occupy them – Hyderabad is going to face a similar situation soon!
With over-supply, sales have come down drastically in 2nd quarter of 2023 and this along with excess inventory will lead to delayed & stressed projects, which in turn will lead to stagnation or reduction in prices in the long run.
(and while above data is only covering apartments, you can only imagine how bad it must be incase of plotted layouts which are in the 100s of 1000s in all directions of the city, stretching as far as 120 Kms away from core areas!)
SUMMARY
If you end up buying properties at current high prices with such an oversupply in the market, you will struggle to sell them in the future and even if you manage to find a buyer, you won't have made much profit as there are more properties than buyers in market – making it easy for buyers to bargain heavily and you also end-up competing with builders who are desperate to sell this excess unsold stock, maybe at a discounted rate!
Have you seen TS & AP's 1st & ONLY riverfront gated community?
Perfect as an Investment for Resale + Holiday Home for your family…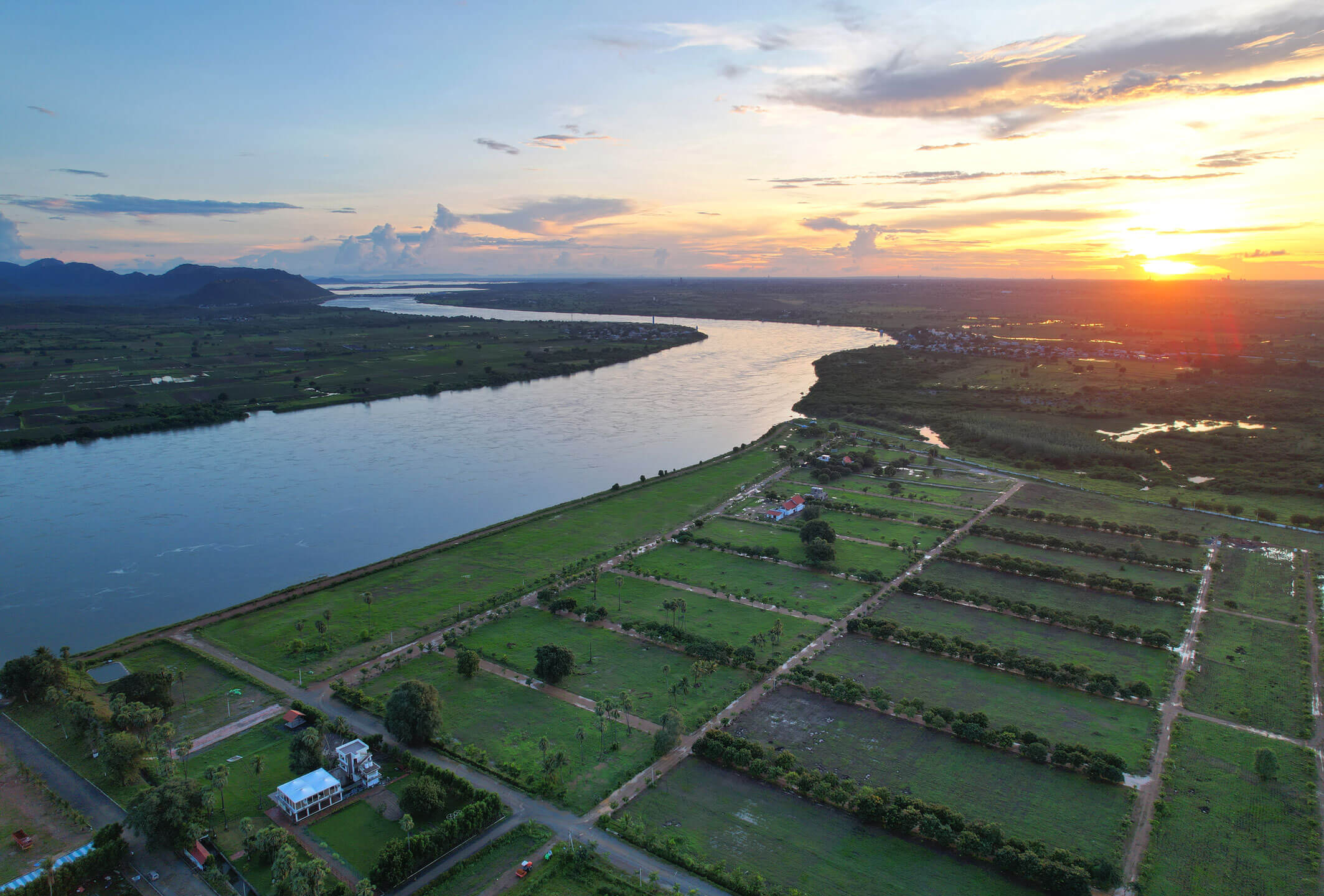 Over-Priced

&

Unaffordable

Properties
Abnormal & Non-Stop Increase in Prices

that is both Unsustainable & Unhealthy!
Hyderabad is now the 2 most expensive housing market in India

, second only to Mumbai & more expensive than Delhi-NCR itself!
Due to non-stop increase in prices since 2017, Hyderabad has become unaffordable for most of the buyers – leading to a slump in new sales since mid of 2023.
In India and most parts across the world, a typical real estate boom cycle usually lasts between 3 to 4 years – but incase of Hyderabad, prices have been increasing for 6 years in a row which is very UNUSUAL  / ABNORMAL and definitely not unsustainable or healthy – clearly indicating a bubble that will soon burst.
Hyderabad's average price per SFT is Rs 5900 to Rs 6100, much higher than other metro cities like :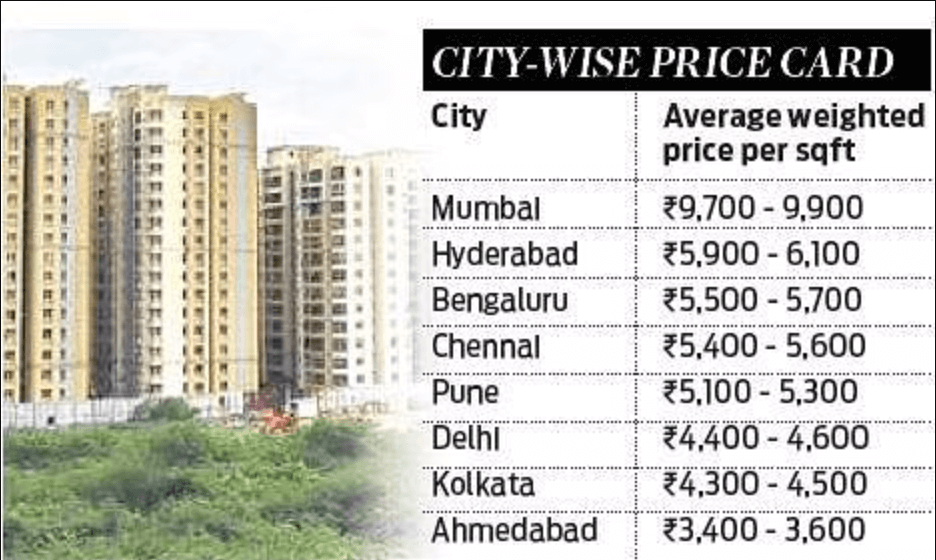 And so from the current high levels, prices cannot continue to grow at the same pace as its already quite expensive…
Going forward, you can only expect a moderate increase of just 5% to 7% per annum – unlike the 15% to 30% per annum jumps seen in the last few years!
Buying a home has now become a luxury in Hyderabad and hence buyers are waiting for prices to cool-off and many who were earlier keen on buying property for investment, are now wondering if the market's getting a bit too unreal!
(moreover, the most recent price increase has been more due to a spike in the cost of construction material after Covid-19 outbreak due to shortage of material & labour, and not necessarily due to increase in demand for homes)
SUMMARY
With such abnormally high prices, if you buy anything in Hyderabad today, you  will be lucky if you make anymore than 5% to 7% ROI per annum – the golden days of money doubling every couple of months or a year are long over / behind us now!
Why invest in routine over-priced properties in Hyderabad?
When you can be part of something extraordinary & YET AFFORDABLE @ Alakananda RiverFront!
"No Telugu family should miss this chance to own such an exotic, serene & affordable weekend home, especially for those in Hyderabad!"

Dr.Gurava Reddy

Founder, Sunshine Hospitals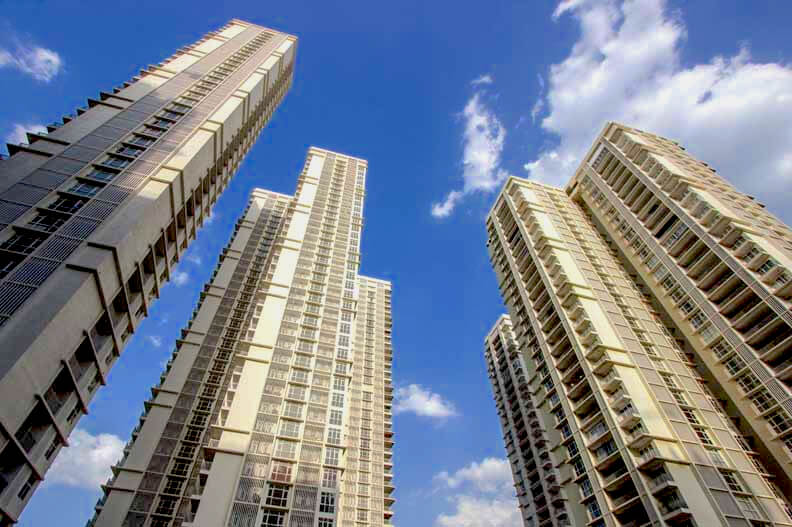 No Limit on Construction
i.e. Unlimited FSI
Dangerous Trend of Over-Construction

that will lead to severe Infrastructure Problems in the near future…
Hyderabad is the only city in India, that does not limit how much or how tall you can construct on a certain piece of land…
FSI, which stands for Floor Space Index (or also known sometimes as Floor Area Ratio or FAR) dictates how much (Sft) can builders construct on a certain piece of land.
This is decided based on the capacity & strength of a location's infrastructure – roads, water lines, public transport system etc to ensure there is enough basic infrastructure for peaceful and quality living.
In India, the national average is just 2 to 2.5, which means builders cannot construct more than 2.5 Lakh Square Feet on an average, on one acre of land and must leave the rest as open area.
However in Hyderabad, there is no such limit – which means builders are now constructing 1500 to 3000 apartments PER PROJECT – which is 3 to 4 times MORE than what they used to construct previously…
Such a construction overload with limited open space creates massive pressure on the civic infrastructure – leading to several problems such as road congestion, urban flooding, sewage overflow, poor light & ventilation for homes, among others.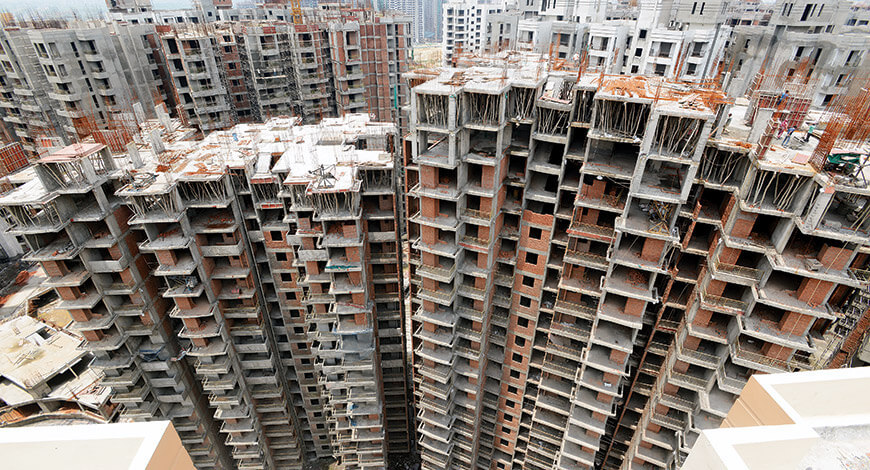 Most new projects in Hyderabad have an insane FSI of 9 and 13 (with average being 6 to 7) – almost 3 times more than the national average, which is very alarming and worrisome!
(what makes this more frightening is that most of these high–rises are within core city limits i.e. Western Corridor of Gachibowli, Nanakramguda, Narsingi, Puppalaguda, Kokapet, etc. which is were most investors have put in money)
Bangalore – even with a max FSI of 3.25 – is choking and is ridden with civic issues – and while Hyderabad certainly has much better infrastructure – especially its road network – the city's drainage and water supply systems are still not capable of handling Unlimited FSI, and this is already turning into a big headache.
SUMMARY
Once these problems start to show & become worse, such properties will quickly lose value as they become less & less liveable with degraded quality of life and thus increasingly difficult to rent or resell as people will avoid such problematic spaces – so why would you risk buying something like this now?
Fun Fact : Such problems have already started to show in brand new properties in Puppalaguda, Narsingi & Kokapet where people are struggling to move around on narrow service lanes and dealing with water shortage already, even before everyone has moved-in! Picture abhi baaki hai, lol!
Tired of investing in congested, polluted – and
EXPENSIVE

– concrete jungles?!
And instead, looking for a tranquil, serene & yet affordably priced investment that can safely double in 3 to 4 years?
Watch a quick 2-minute YouTube teaser below, to see why Alakananda could be a great option for you…
You can always buy an apartment or plot in Hyderabad – there is no shortage of land – but you'll never, ever find another riverfront home like Alakananda!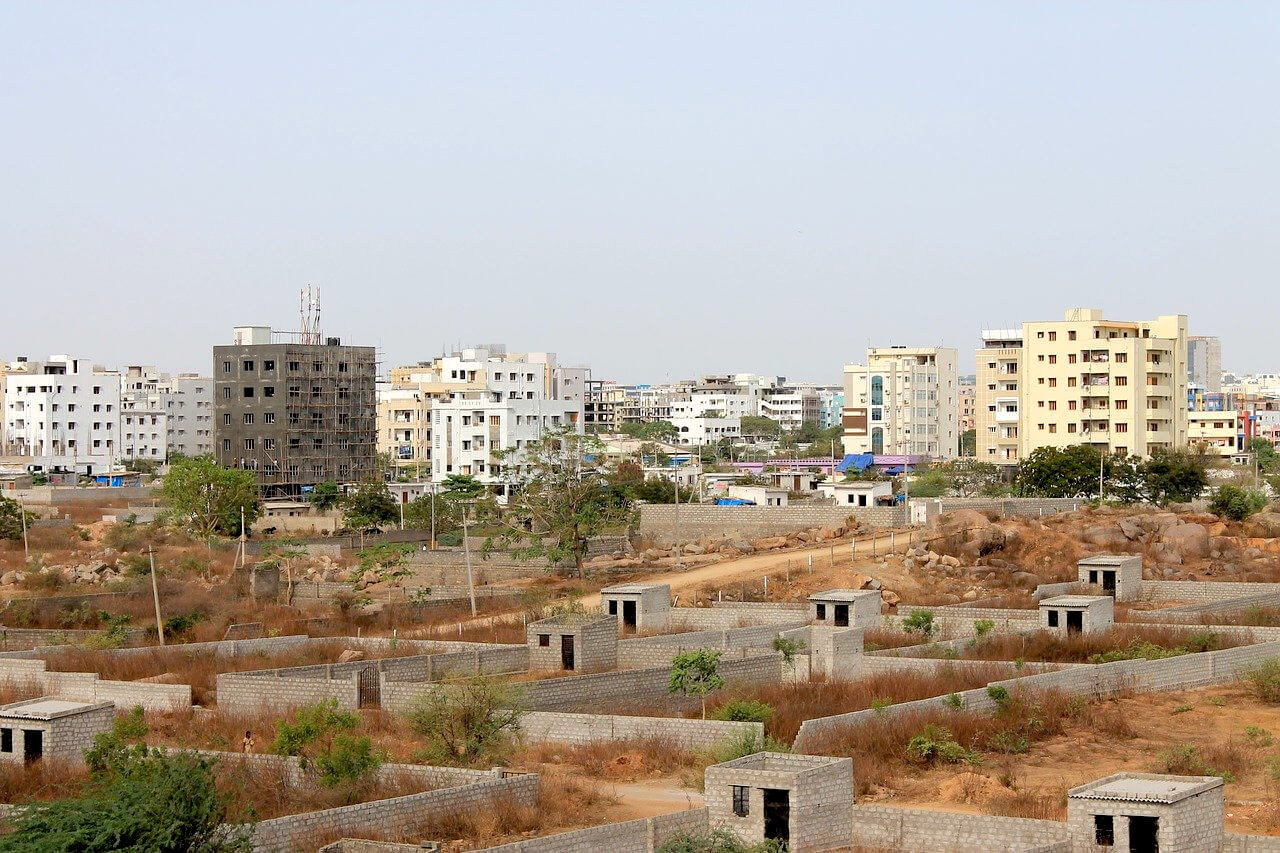 Skewed Growth & FOMO – Fear of Missing Out
90% of New Launches & most Price Hikes heavily concentrated only in western Corridor

– making it all the more easy for the bubble to burst!
Both geographically & financially, demand for homes & price hikes have not been uniform across all pockets of the city…
GEOGRAPHICALLY SKEWED :
Most of the apartment launches have been concentrated in the micro-markets of Puppalaguda / Narsingi + Miyapur / Bachupally – which are already struggling with lots of unsold units.
Even incase of plotted layouts, the only places you hear people talking are Shankarpally, Shadnagar, Moinabad, Chevella, Vikarabad, Mominpet, Shamshabad & Srisailam Road etc – all mostly in Western Corridor of Hyderabad…
More worryingly, most of these new launches are far away from the ORR and established catchment areas – in many cases almost 40 to 60 Kms away from the core areas, where physical and social infrastructure is still largely non-existent, making it very difficult and in some cases almost impossible to live.
FINANCIALLY SKEWED :
Incase of apartments, almost 36% of new launches were over the Rs.1.5 crore price bracket – with some apartments costing almost Rs.8 to 12 crores! – whereas most of the buyers are looking for Rs.60 to 80 lakhs bracket which is the largest / fastest moving segment.
According to Mr.CV Reddy, Director of Aparna Constructions and Estates, while properties priced in Rs.50 lakhs to Rs.1.1 crore have some demand – sales for projects priced over Rs.1 crore are virtually stagnant, with no increase at all.
(while there is surely demand for properties from Rs.1 to 1.5 crores, the number is very small to make any difference to the overall market and will never make a big difference)
Even for plots far away from the city such as Chevella, Moinabad, Shankarpally, Shadnagar, etc, people are quoting a ridiculous Rs.15,000 to 30,000 per Sq Yard – with Mokila taking the cake at a mind-boggling Rs.50,000 per Sq Yard!
(despite such high prices however, transactions are only happening at almost 20% less than quoted rates as investors feel such prices are over-hyped and impractical and even after buying them at such rates, they feel there isn't much scope for prices to double or triple from these levels)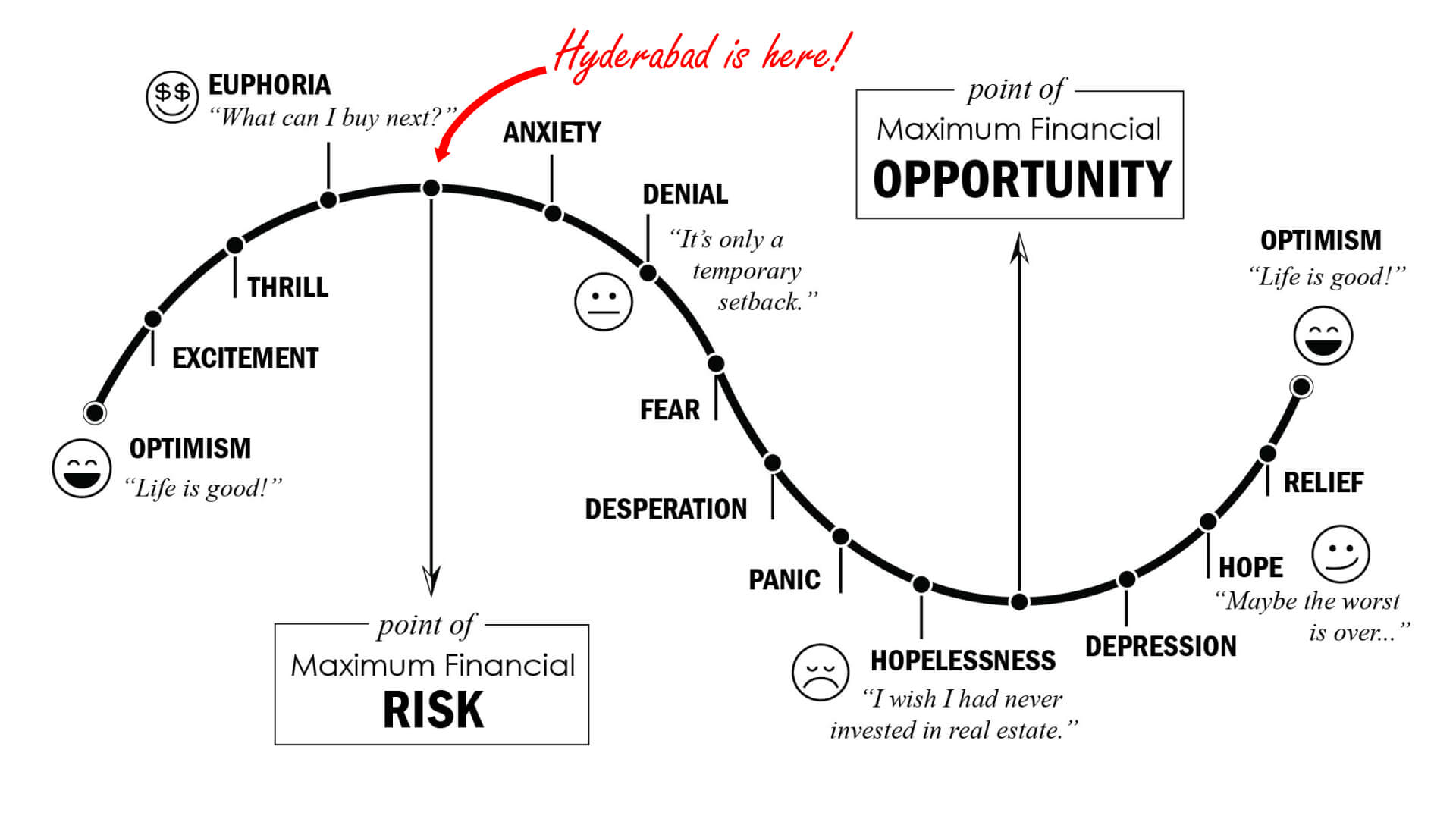 All of this again brings us back to the previous point of over-supply & over-priced properties – where even completed properties that are ready to move-in, even in prime areas like Narsingi, Manikonda, Kondapur and Puppalaguda are yet to be occupied with owners struggling to rent them out!
With so many options available much closer to the city and in much more well-established & liveable places, why would someone have to go that far away from the city and live is a big mystery?
And yet people continue to buy up properties in such remote locations just because it's coming for cheap and mostly because they feel they are missing out on something by not buying property in Hyderabad when everyone else is buying!
SUMMARY
When people see their relatives, colleagues and friends furiously buying up properties and with media awash with paid articles on how Hyderabad is booming, you feel compelled to buy something – maybe ANYTHING – just to feel part of the action – just so you don't feel anxious about missing-out on the "magical once-in-a-lifetime boom story of the world-class Hyderabad real estate!"
And since you cannot afford locations closer to the city – since they are already ridiculously overpriced – you tend to move further away from the city – ending up buying properties that will remain dormant / dead investments for atleast the next 10 to 15 years until the city grows that far…
Fed-up of Hyderabad's sky-high prices & looking for a

reasonably

priced option instead?
Gift your family a lifetime of blissful weekends & holidays – while also multiplying your wealth – by investing in Telangana & Andhra's 1st & Only, RiverFront Gated Community of Villa PLOTs, on the Banks of Krishna & Paleru Rivers!
Private Boat Jetty
Horse Riding Arena
Mini-Golf Course
Botanical Gardens
Wellness Center
Beach Party Zones
Adventure Sports
And much much more!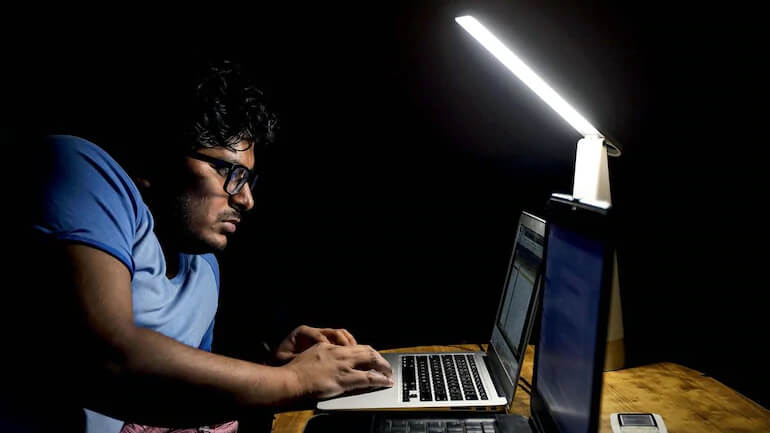 Work from Home + NRI Euphoria coming to an end…
Most of the demand was from people upgrading to bigger homes –

not from new jobs being created or from families moving to Hyderabad

– and NRIs who are disconnected from ground realties…
But now with WFH coming to an end & NRI excitement waning, demand has fallen drastically in the 1st half of 2023…
During the pandemic, with work from home becoming the new normal, many were tempted to upgrade to a larger apartment / house / villa to have more space for the family.
Therefore in 2021, a lot of sales happened due to families wanting to move into bigger homes – which means most of the demand was from people upgrading from their existing properties and NOT necessarily from new jobs being created in the city / new families moving into the city – which is usually the reason for healthy growth in prices.
But with work from home now coming to an end – with companies calling employees back to offices and with even schools reopening full-fledged – families no longer feel the need for bigger homes as they are both expensive and harder to maintain and are now rethinking their strategy – leading to a drastic drop in new sales.
(rental values have already come down in many places ever since the breakout of Covid and have not gone up despite easing of lockdown)
For those who continue to work from home – many of whom have completed vacated their city homes and gone back to hometowns to save on rent, the huge difference in cost of living between Hyderabad and their hometowns is tempting them to continue in hometowns – and may not want to return to the city!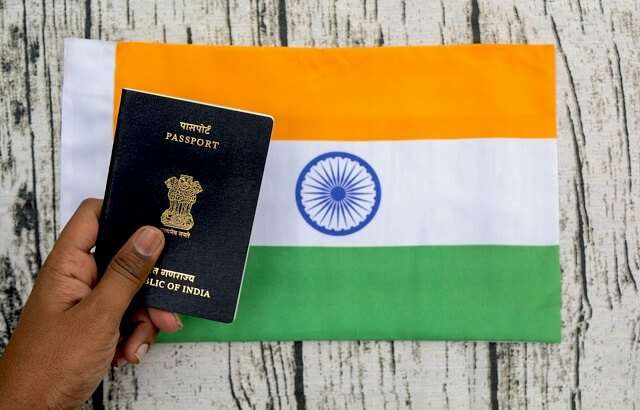 Which means most of the recent growth has been driven by NRIs, who unfortunately are not aware of the ground realities…
Sitting halfway across the world, they only keep hearing that Hyderabd is booming and their parents in India keep pestering for them to send money home so they can "invest" in some property and feel good (again to avoid FOMO).
SUMMARY
This simply means that most of the sales have been to investors or speculators – and NOT END USERS – which means a long needed correction, stagnation or even worse – a crash – is imminent and is only a matter of time.
Join

637

 families that have
already

invested

in Alakananda!
Rated Highly on Google (4.8 out of 5)
"I travelled all the way from Bangalore just to see this project & was so amazed by the waterfront ambiance that I paid my booking amount on-the-spot - without even consulting my family!"

Praveen PVSR

Vice-President - ABB, Bangalore
"I don't think anyone can replicate such a pure riverfront project, it's impossible to find such land ever again! The vision of founders & the views at site - both are equally breathtaking!"

Srinivas Velugu

SAP, Germany
"Everytime I come back, I see non-stop progress of work on-site, which convinced me to invest in the grand vision of the founder - his ideas are daring, but also practical & doable."

Rajkumar Addada

Senior Faculty, Delhi-NCR
"The beauty of water and spectacular greenery was breathtaking + easy connectivity to Hyderabad made this a perfect weekend getaway, far from the hustle & bustle of city life!"

Sandhya Puri

Sr. Manager, Deloitte, Hyderabad
"As nature-loving & eco-conscious couple, this is more of an emotion than an investment, as it's exactly the kind of place we used to dream of, for the past few years!"

Madhavi Adure

Consultant, Kerakoll, Hyderabad
"I invested in this project despite NOT being from either of the Telugu states as I believe this is not just for Andhra or Telangana as they claim, but a unique & rare investment for any Indian!"

Abhishek Mishra

Strategy Specialist, Adobe (BLR)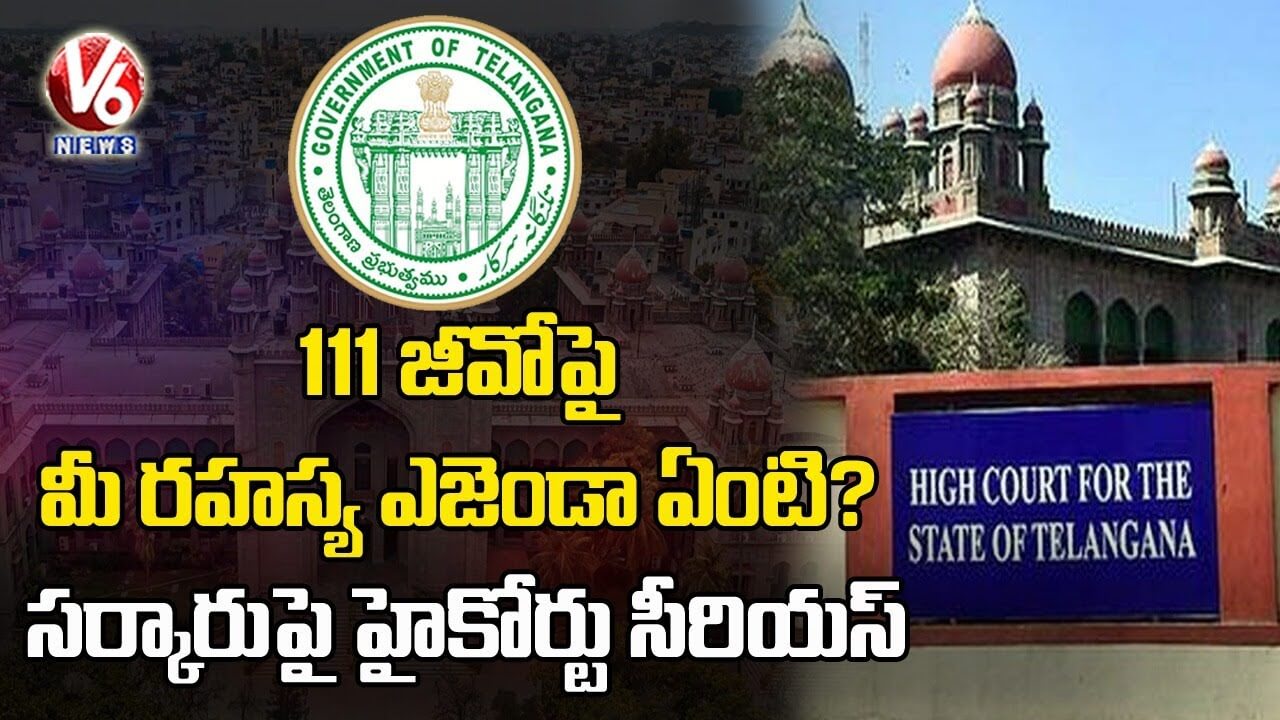 If removed, almost 1,40,000 Acres or 560 Sq Kms of empty lands very close to city will suddenly flood the market,

crashing prices on the outskirts!
And if it continues as it is,

these lands will have no buyers or demand!
With lands in the core city becoming very expensive, plots further away from ORR such as the Mokila – Gandipet – Shankarpally – Moinabad – Vikarabad sections have sold like hot cakes.
However in most cases, buyers are unaware and have been misled by realtors into buying lands falling in the 111 GO zone, without knowing the real implications – as lands here come with a lot of restrictions on how much can be constructed etc.
If the GO 111 continues as it is, these lands will have no buyers or demand as you can build not more than 10% of the land area which is of no use to anyone other than those wanting to build farmhouses – a luxury item again with not many end-users or resale market.
And if this GO gets abolished, even then its a problem as the market will be flooded with over 1,40,000 acres of additional land right next to the city – leading to further over-supply and putting pressure on lands!
If such a large extent of land is available very close to the core city area, people would not want to or be forced to go further away to distant locations like Shadnagar, Vikarbad, etc – leading to a sudden & sharp drop in prices of lands on the outskirts…
(even if only 10% of such land is opened up in a phased manner, that is still 14,000 acres that needs to be sold or filled – way more than what the city needs at this time – which again means oversupply, leading to stagnation or worse, a fall in prices!)
SUMMARY
This 111 GO is a double-edged sword – if it continues, it means such lands would have no resale value or demand due to restriction on construction and if canceled, will lead to collapse of prices on outskirts due to sudden surge of excess land close to the city!
Investment

Plots

+ Holiday Homes @ Sangam of 2 Rivers & 12,000 Acres of Lush Green Forest Land!
Trusted by 637+ families from all across India – including many on-Telugu natives – Alakananda is NOT JUST ANOTHER farmland, open plot or villa venture!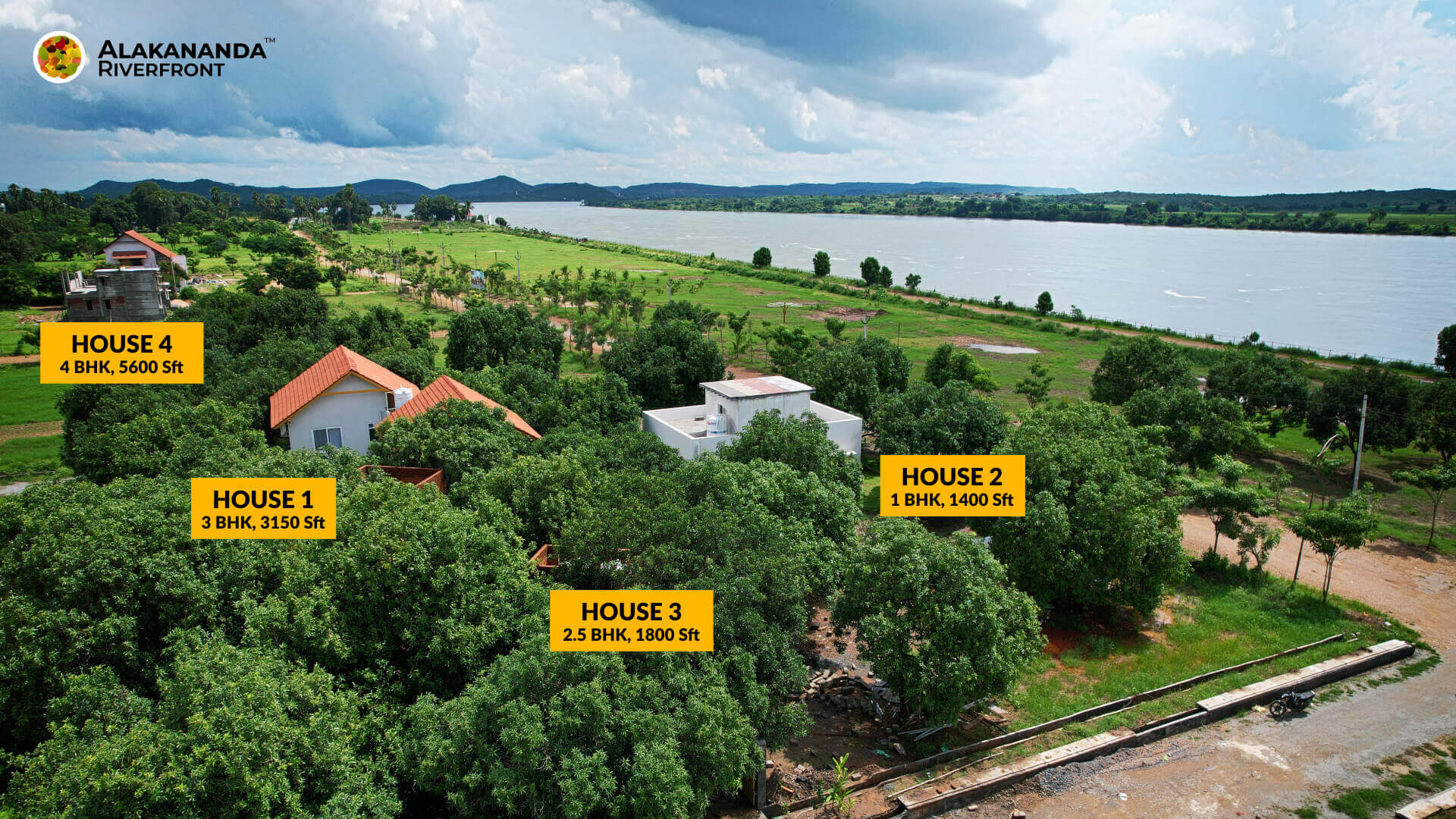 Learn why families have already built homes @ Alakananda – and why some of them are even moving permanently into the project in the next few months!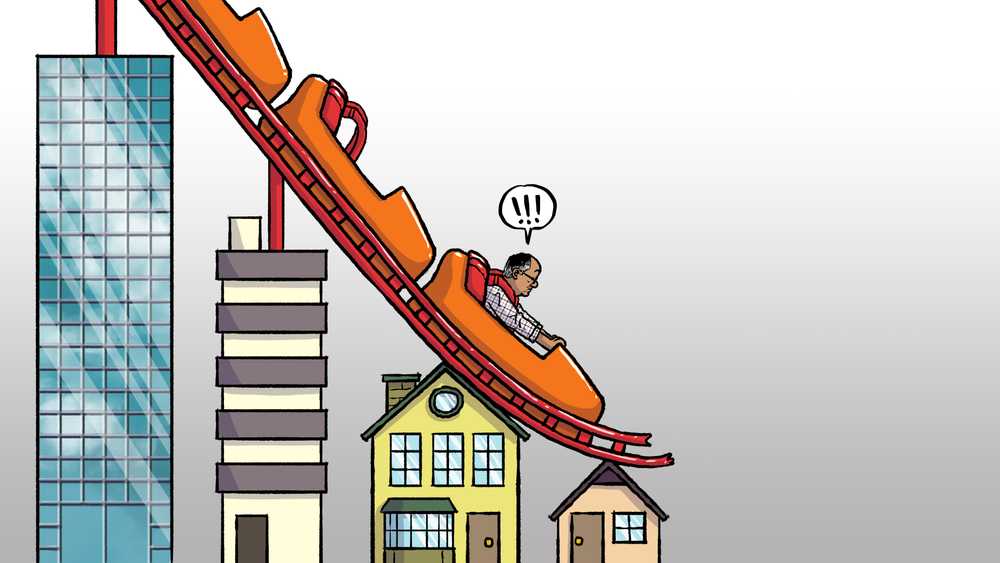 Dangerous Short Term Trends
Sale of Undivided Share of Land,

which is Illegal…
A worry-some reason for the rapid – but artificial – growth of prices & over-supply of properties in the last few years…
In this, the builder collects money from hundreds of people who make the full payment of the proposed apartments upfront – even before land is acquired for the project – on the promise that flats would be given to them at a mouth watering steep discount to market rate – often at 1/3rd the market rate – making investors believe they can make tons of money by selling it later post completion.
And using such pooled-up money, the builder THEN BUYS LAND which is divided among the investors / registered in their names as Undivided Land Share – which means investors become landlords where builder promises to give them flats (proportion to the land they own) which investors HOPE to sell later, for double the price or more.
While it seems lucrative, it is a dangerous way of investing as many times, all of this is just on paper, without any government sanctions and even deemed illegal as per RERA.
Thousands have suffered in similar schemes in Delhi-NCR where even major builders could not complete the projects…
And more worryingly in Hyderabad, many builders without any previous track-record of delivering large project are offering such schemes and if they go bankrupt or leave the project midway, investors would have no recourse and cannot do much with such land.
SUMMARY
This is a vicious cycle as such schemes mostly attract speculators who hope to make tons of money by selling after completion – but the joke is that even if the builder finishes the project on time, investors won't find people to buy such property at full market prices – as the fresh investors would go looking for another pre-launch offer, instead of paying market price to buy an already constructed / ready-to-move in project…
Which once again leads back to our 1st point of unsold inventory, which is already turning Hyderabad into a seller's market where investors and builders will soon have to resort to a significant correction in prices to survive.
Pharma companies buying up Large Land Parcels in Core City Areas
Profits from Covid induced demand for their vaccines & medication being parked in land for the long run, further pushing up prices artificially…
Thanks to Covid, Hyderabad's pharma industry minted a fortune in 2020 and 2021 and this surge in profits generated tremendous cash which was used to purchase large parcels of land in prime areas of Hyderabad
(since the pharma companies have no immediate use of all that money, they increasingly bought land to lock-in their unused profits in real estate instead, that too in premium upscale locations of the city)
This led to an obvious & sharp rise in land prices & since this is a long term investment for them, they are not in a hurry to sell and hence prices will hold and may not come down anytime soon.
also brewing SILENTLY is the…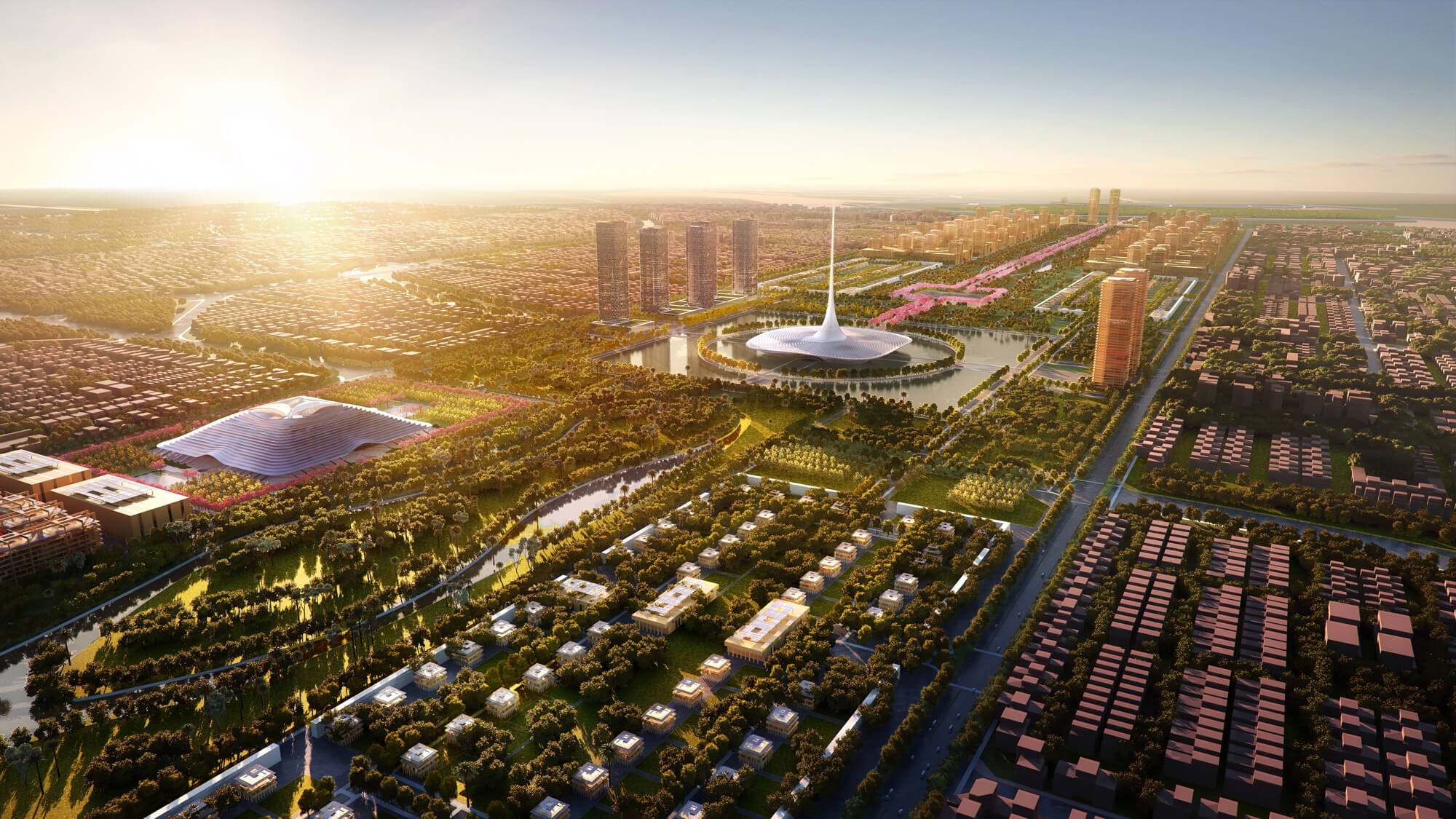 Slow but steady turn-around of AP in the last few months of 2023…
Rush of money from Andhra to Hyderabad after sudden reversal of Amaravati capital city

was another big reason for Hyderabad's rapid growth story…
However, this is now coming to an end and infact,

reverse migration from Hyderabad back to AP has already started!
An open secret that almost everyone knows and agrees too, is that the political & economic instability in Andhra Pradesh – due to change in govt in 2019 – led to a total collapse of investments in the state, forcing everyone to park – or rather dump – money in Hyderabad's real estate – as that is the only other alternative!
Everyone from NRIs to local businessmen, bureaucrats and even politicians from AP have stayed away from Andhra real estate and instead invested heavily in Hyderabad for the last 4 years, adding to the artificial – and worryingly, temporary – hype of Hyderabad's real estate.
But now with increasing clarity about Amaravati – that it will be the only capital – and with Hyderabad at its peak prices, people have begun selling their assets in Hyderabad and getting ready to reinvest in Andhra as the market there has been at rock-bottom for over 5 years and can only go up from here…
Think about this…
The current govt neither has time nor the funds required to pull off the 3 capital plans as all their plans are being struck down by High Court; the Govt's own staff / machinery itself and most obviously, the people of the state and post the thumping victory of BJP across multiple states in 2023, even the Central Govt no longer needs to appease the state govt, leaving them vulnerable and pushed to a tight corner)
As the next elections near and campaigning begins in 2024, the current government will have no choice but to RESTART WORKS IN AMARAVATI in full force for the public to regain confidence and vote them back to power for another term…
And when that happens, investors will RUSH OUT OF HYDERABAD even faster (to invest in Amaravati) – leading to a massive sell-off in Hyderabad, which will push down prices drastically, especially on the outskirts!
Hyderabad real estate market is losing its sheen…
Investing in "routine" & "run-of-the-mill" apartments & plots in Hyderabad (or other saturated markets like Bangalore, Chennai, etc) is no longer profitable.
Which brings us back to a fundamental rule of investing, which is…
To make money in real estate now, you should invest in something that is unique and something that can never be replicated – and something that is not "just another plot or apartment"!
Investors have hence started looking for more :
unique, one-of-their kind properties that have never been done before


.

are affordably priced with enough scope for prices to safely double over the next 3 to 5 years


.

and with genuine end-user demand – unlike investor driven markets where reselling is difficult
Given all the above reasons, it's now very easy to see why people have slowed down their buying in Hyderabad – especially in the 2nd half of 2023 when sales fell drastically…
If it is something you need for your own family / parents to live-in, then you have no choice but to buy a property no matter the price (though if you can wait a few months, you may get a better deal once the panic sets-in)…
However if it is strictly an investment to make money (capital gains), then this is absolutely the worst time to be buying in Hyderabad and you are better off waiting or finding another place / project to invest in…maybe even AP starting later this year!
And while you wait for that to happen, an excellent alternative right now to Hyderabad – and also to routine properties – is Alakananda RiverFront – AP & Telangana's 1st & Only RiverFront Gated Community of Approved Villa PLOTs on the banks of the Krishna River.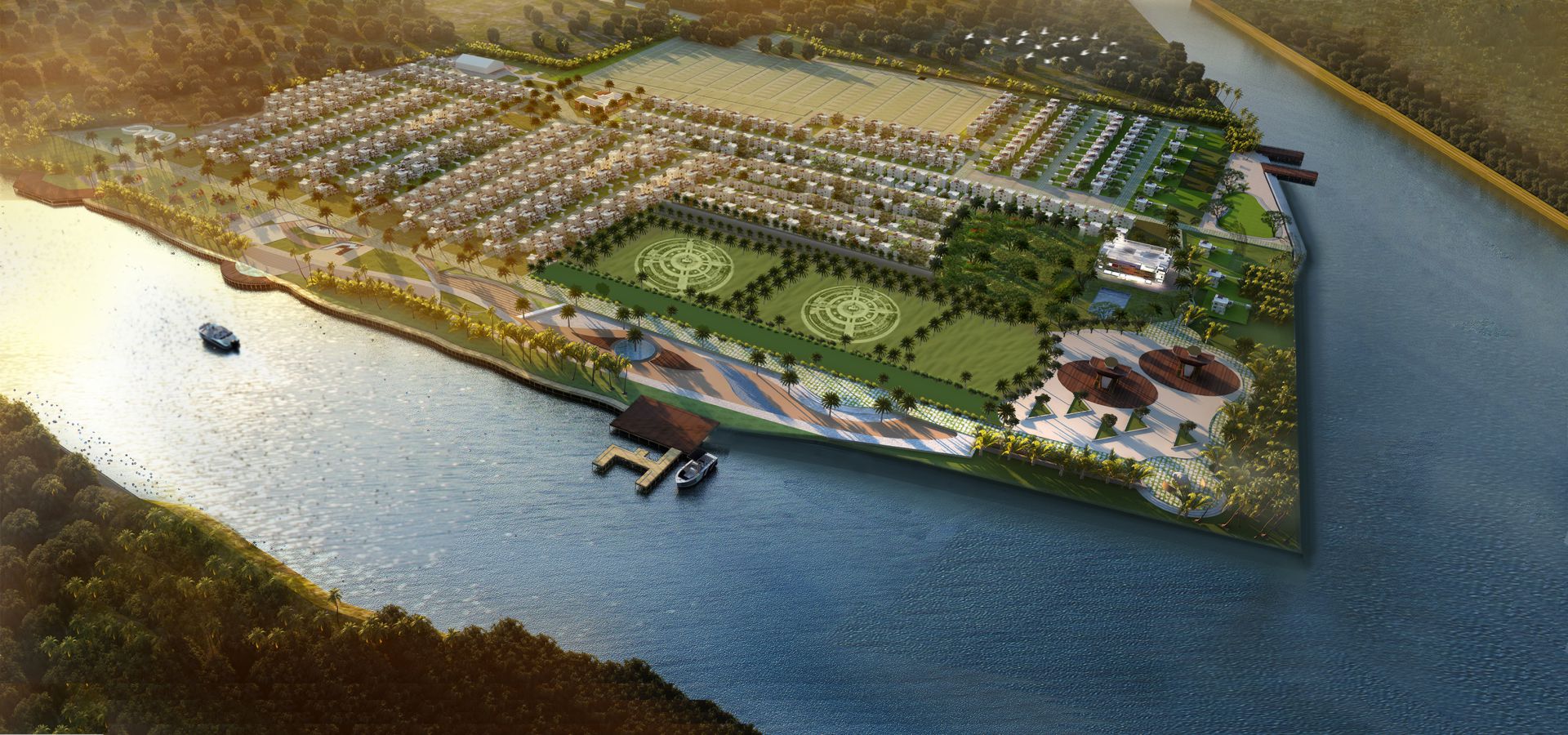 Best of Andhra & Telangana//
Best of Andhra & Telangana//
Best of Andhra & Telangana//
Best of Andhra & Telangana//
Best of Andhra & Telangana//
Once-in-a-lifetime chance for your family!//
Once-in-a-lifetime chance for your family!//
Once-in-a-lifetime chance for your family!//
Once-in-a-lifetime chance for your family!//
Once-in-a-lifetime chance for your family!//
Scores of people from Hyderabad have already invested in this rare & truly once in a lifetime asset of Telangana & Andhra!
(located right on the border of Telangana and AP – just 12 minutes off the Hyderabad to Vijayawada Super Highway (NH-65) – surrounded by 2 rivers on 2 sides of the project!)
70% of Phase 1 has been completed (117 out of 310 acres in total) and in this, with 637 out of 885 plots already sold-out and people have built homes & also started living here on weekends & holidays already!
Unlike the 1000s of apartments and plots you can find all across Hyderabad or any other major city of India, Alakananda is truly one-of-its kind and something you can use both as an excellent holiday home / weekend getaway cum retirement spot as well as an excellent investment for long term appreciation.
Since it's the only one of its kind in South India, reselling your plot in the future will be a cakewalk as there is no competition and people are desperately looking for such weekend homes to get out city once in a while…
Shown below is a REAL PHOTO (Drone Shot), not graphics!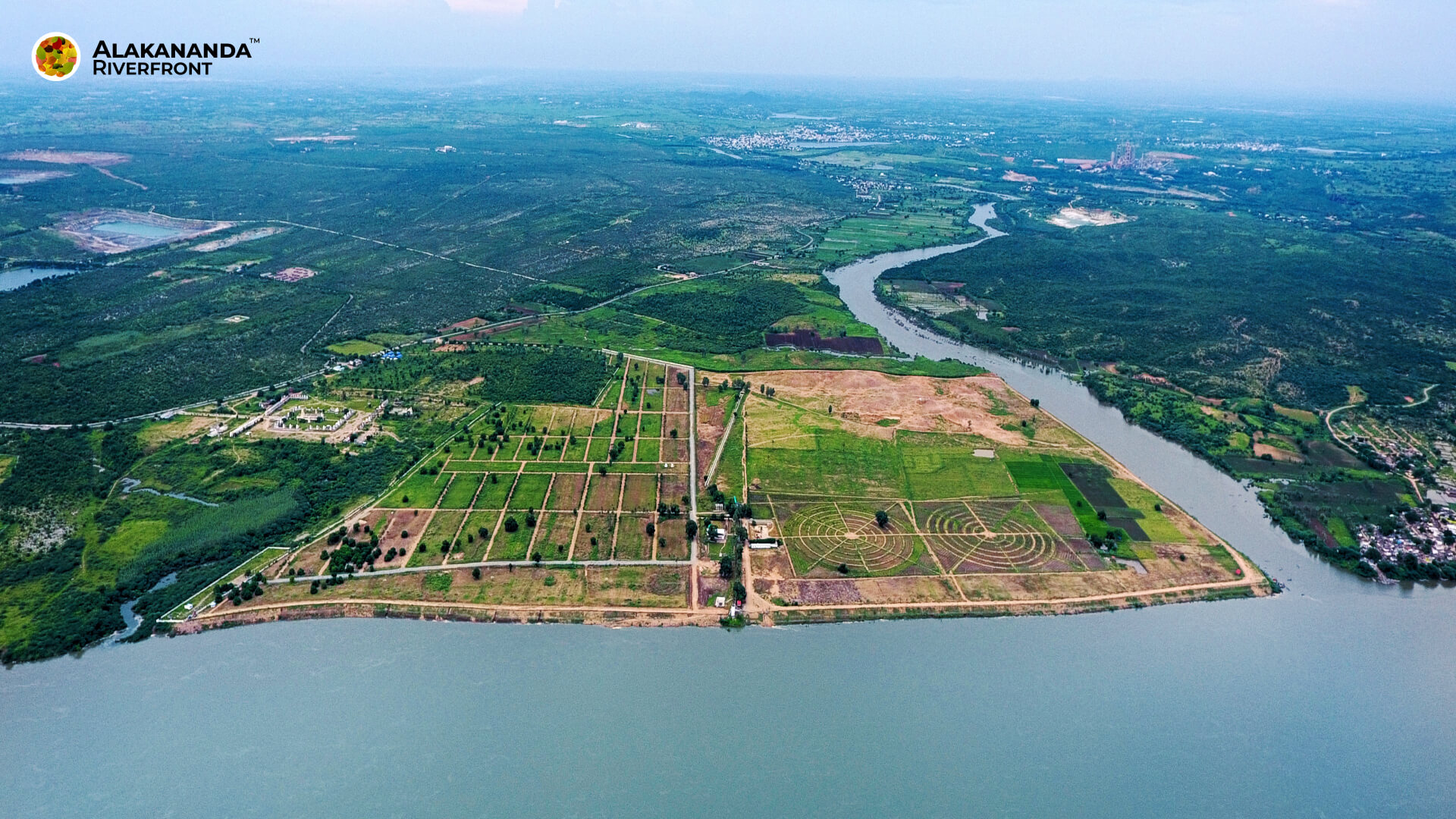 Read the
15

minute Quick Start Guide…
to learn more about Alakananda's Location Advantage, Current Status, Amenities, Permissions and how this can be useful to you…
If you are in hurry and want to download an E-brochure (PDF) to go through later, click the button below…
Download E-Brochure (PDF)