Plots & Villas at Alakananda RiverFront
Approved Open Villa

PLOTs

with No Deadline for Construction
 Immediate Registration upon Full Payment 
Invest in approved villa PLOTS ranging from 266 to 500 Square Yards (i.e. 2400 to 4500 Sft)

(1 Sq Yard = 9 Sq Feet)
You have the freedom to construct whenever you want, without any deadline!
(as in, you are only buying a PLOT as of now and we will help you construct a villa on this whenever you want, there is no need to build or pay for the house right away)
This makes it an ideal investment option as you can either resell the plot in a few years for profit, or build your dream riverfront villa as a once-in-a lifetime asset!
Depending on the plot size, you can construct a villa of 1200 to 5500 Sft built-up area.
You can design your villa as per your individual tastes & preferences – subject to some building codes & guidelines on styles & colors to ensure that the overall ambiance & serenity of the community is maintained in terms of colors, patterns, textures, etc.
We can also help you construct your villa based on your architect's plan using our in-house contractors…
(you can also use our architects to help you plan the design as well)
Phase 1 of Alakananda is FULLY APPROVED by DTCP i.e Directorate of Town and Country Planning – which is equivalent or comparable to city standards like HMDA / GHMC (for Hyderabad) or BDA / BBMP (for Bangalore) – ensuring highest possible standards of living, quality amenities and also higher resale values in the long run.
Will I get permission to build on the riverfront?
Absolutely YES!
Alakananda RiverFront is FULLY COMPLIANT with strict River Protection Rules and this is already tried & tested as we have constructed & handed over many villas which are already occupied by families – with ALL approvals in place including the very 1st plot from the river!
Click on the link to below to read more about Riverfront Protection Rules (also famously known as Coastal Regulation Zone or CRZ Norms) by the Central Government of India and how we have followed all these rules while designing our Approved Layout.
Learn More about RIVERFRONT RULES
Offering you the widest range of size, views, built-up area, garden space and overall ambiance :
266 Sq Yards (60×40 Ft or 2400 Sft)
293 Sq Yards (66×40 Ft or 2640 Sft)
330 Sq Yards (66×45 Ft or 2970 Sft)
355 Sq Yards (80×40 Ft / 3200 Sft)
400 Sq Yards (90×40 Ft / 3600 Sft)
444 Sq Yards (80×50 Ft / 4000 Sft)
500 Sq Yards (90×50 Feet / 4500 Sft)
1 Sq Yard = 9 Sq Feet
Based on your plot size, you can construct a villa with built-up area (BUA) ranging from  1200 Sft to 5500 Sft (there is no minimum area) and with upto Ground+2 floors.
NO Apartments or Commercial Buildings Allowed
Choose from a range of pre-designed villa designs or create your own custom villa with the help of our empaneled architects, with a wide range of customizations, interiors & end-to-end construction management and interior design.
If you choose to build on your own, we do request you to follow certain building codes & guidelines on styles, colors, patterns & textures etc. to ensure that the overall ambiance & serenity of the community is maintained.


Families have

built

homes already!
Many plot owners @ Alakananda have already built & occupied their dream weekend homes – designed & built by us from start to finish including architecture to interiors – and started spending their weekends in one of South India's most exotic locations – with 12,000 acres of lung space around!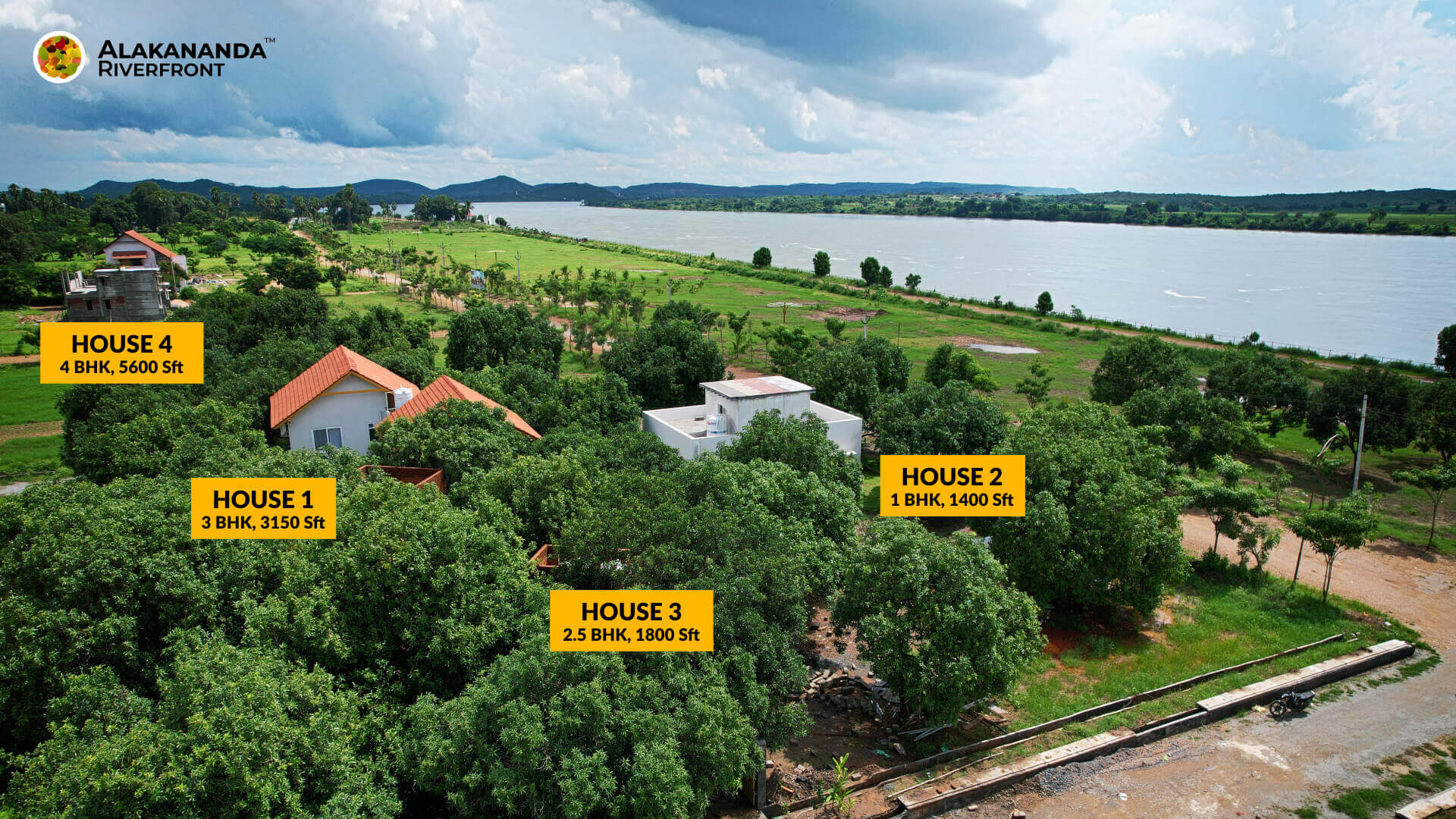 Wondering

why

or

for what

are people constructing a home here?!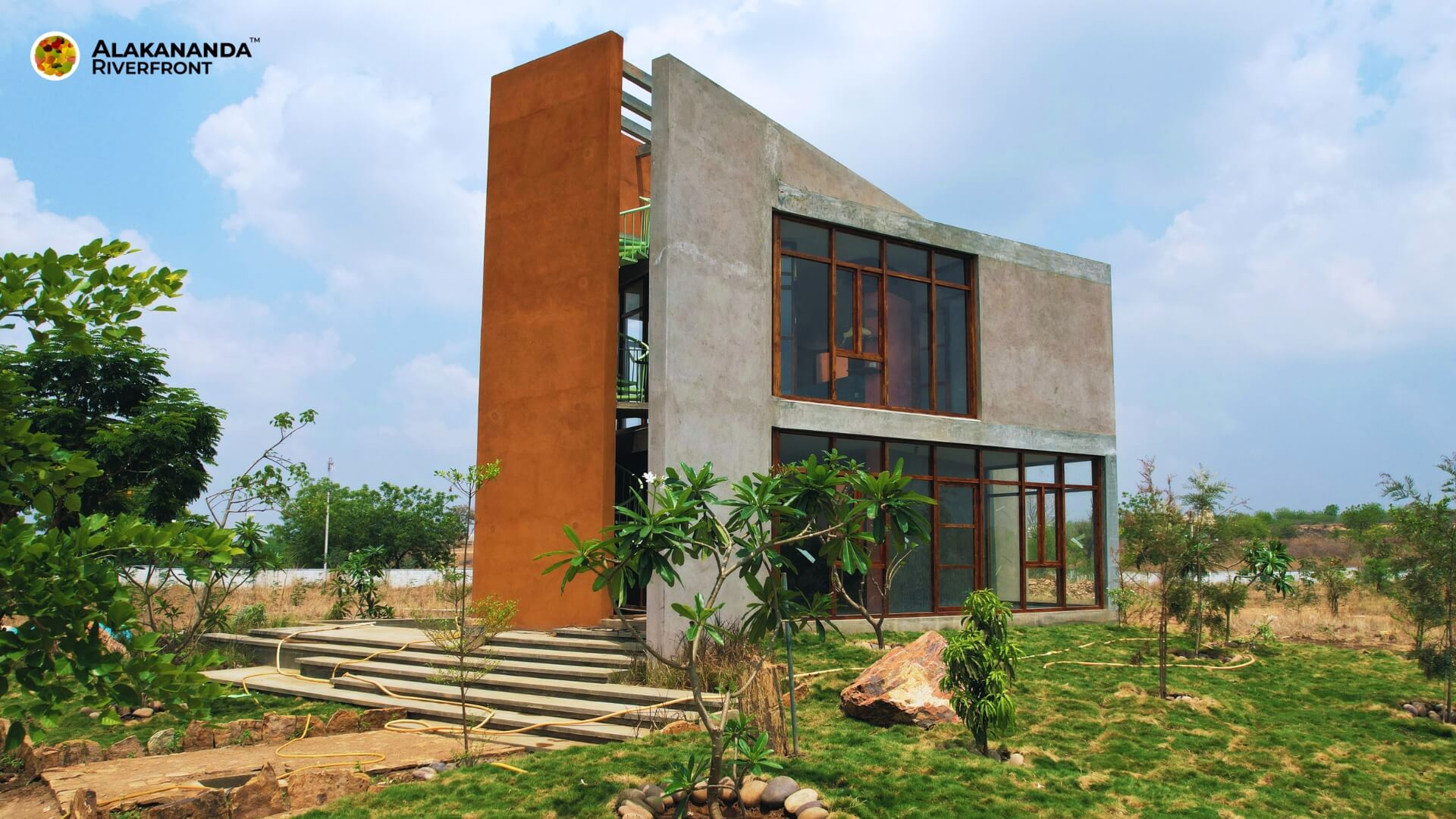 1) Holiday Home
With numerous activities for all ages – including unusual items like a private Boat Jetty with Water sports, Botanical Gardens, Horse-Riding Arena + Mini-Golf + Wellness Center + Famous Temples & much more, Alakananda is the perfect weekend getaway for everyone in the family!
Compared to far-away destinations like Chirala / Bapatla or Vizag etc, Alakananda is the perfect weekend drive through a 6 lane National Highway (NH-65), just 3 hours from Hyderabad and 1 hour from Vijayawada, right in the CENTER of AP & Telangana!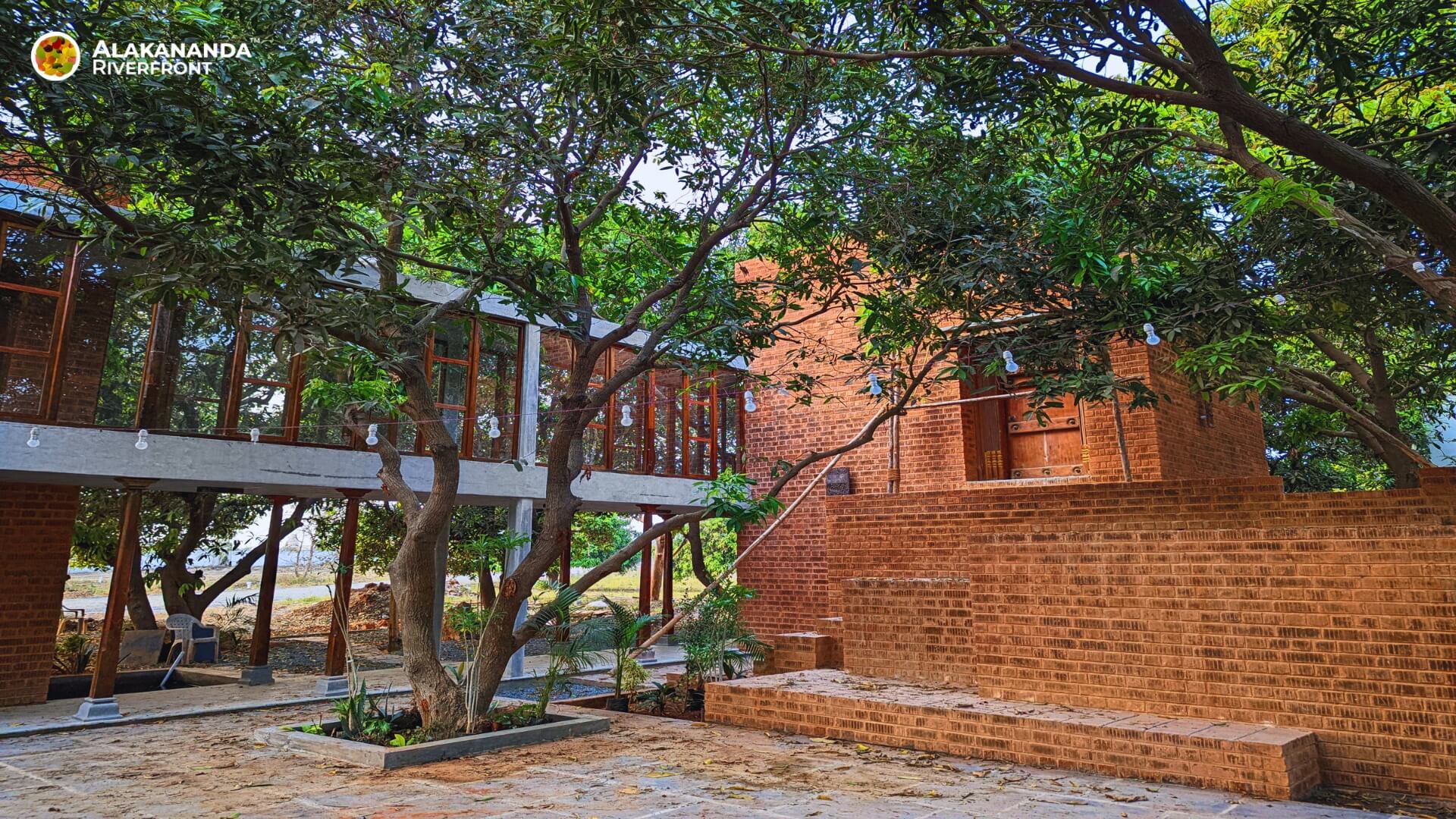 2) Work-From-Home
With the freedom to work from anywhere with an internet connection (wired broadband already available @ Alakananda + strong 4G signals for hotspots), some plot owners have decided to spend majority of their time working out of Alakananda…
(they can easily & quickly visit their base / home cities or towns as and when needed, as Alakananda is well connected to all major hubs within 1 to 3 hours and daily needs like groceries, hospitals & other city comforts are available within 15 mins of Alakananda – in Jaggayyapeta town)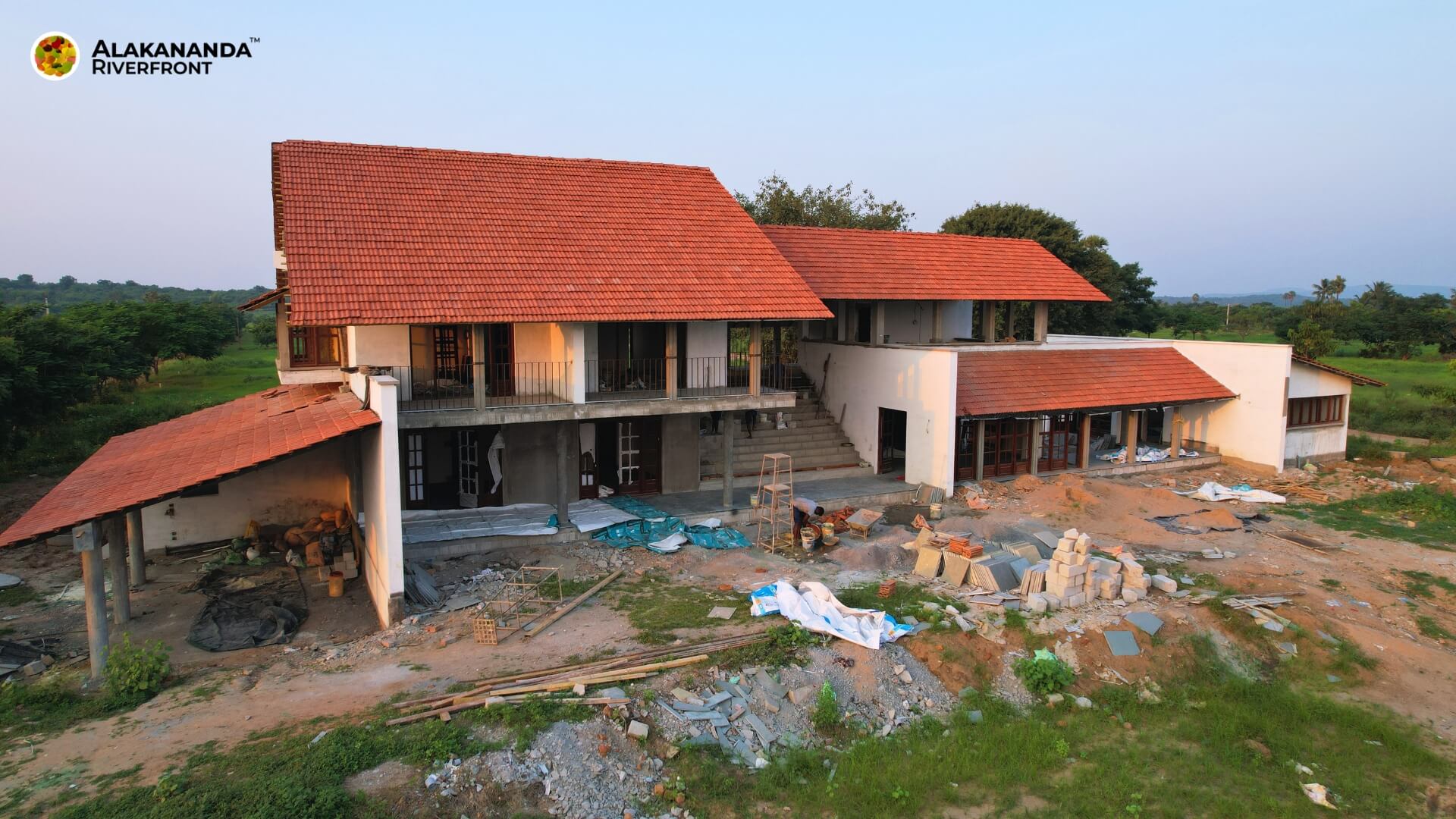 3) Retirement Home
Located on the peaceful & serene banks of Krishna & Paleru Rivers amidst 12,000 Acres of lush green forest land & hills all around with a Senior Citizen Active Living Care Facility + Wellness Center in-house and conveniently BANG IN THE CENTER of both Telugu states (close to all major Tier 1 & 2 cities & towns), Alakananda provides the perfect retirement ambience in Telangana & Andhra!
(an in-house SGS Ashram + Koti Lingala Temple right next door + Botanical Gardens for fresh organic fruits & vegetables supplied daily & Goshala for purest of dairy products – all at your doorstep, further add to the charm)
4) Earn Rental Income
You can even earn rental income by renting out your house as a holiday home (Air-BnB style) on a REVENUE SHARE whenever you are not using it…
The home-stay rental market is taking off in India in a big way – due to an increasing preference for boutique private homes instead of regular resorts or hotels – as private homes offer greater value for money, flexibility, privacy and a homely ambience.
To see the houses that we have already constructed (occupied by plot owners) and many more that are under construction, click the button below…
See 1st Few Villas Completed & Some More Homes Under Construction
Plug-n-Play

Infrastructure
Concealed Water & Sewage Lines to all Plots
Underground Electrical Cabling to all Plots
80 feet Entrance Road with Grand Entrance Plaza
60 feet Main Internal Road to Club House
40 / 33 feet Internal Roads for all Plots
Exotic Avenue Plantation with Drip Irrigation
Widest Sidewalks – 15 ft, 13 ft, 8 ft & 6 ft wide
Shaded Sidewalks with Lighting
A set of suggestions & guidelines that will help maintain the exotic ambiance of the township for the benefit of all investors & residents.
Low Rise Structures (G+2)
NO

Apartments

or

Commercial

Buildings Allowed
(only one house per plot to avoid congestion and over-crowding)
NO 

Private Compound Wall

for Each Plot
(we suggest Green Hedge plants or Picket Fences instead of a cement or brick compound wall)
Limited Footprint & Adequate Setbacks
Earthy Colors for External Paints
Avail the Pre-Launch Price Today!
While we plan to launch this to general public at a higher rate, you can invest right now at a very special pre-public launch price.
You also have the first mover advantage of grabbing the best plots of the layout!
All approvals & sanctions received and major works of Phase 1 have already been completed!
We have already sold over 637 plots in Phase 1 – out of 885 in total – through our existing network (we are part of G&C Global, a leading real estate developer & wealth management firm of India with a 18-year-old track record and 1200+ investors across the globe).
Since good plots tend to get sold-out first, get started right away to grab the best plots & enjoy an instant price advantage!
 We will immediately register your plot  upon completion of full payment.
With Hyderabad nearing saturation (prices have peaked & become un-affordable and hence people have started looking for cheaper alternative markets to invest), the attention is slowly shifting to under-valued markets that have sufficient upside potential for growth & unique one-of-their kind projects that cannot be replicated ever again…
And within Andhra, Telangana and even South India, Alakananda RiverFront will stand-out as the only one-of-its-kind for generations to come.
So much so that even people from other states of India / Non-Telugu speaking have begun investing in Alakananda – with investors coming in from Orissa, Karnataka, Tamil Nadu, Maharashtra and as far as Delhi, Punjab & Rajasthan!
To know pre-launch special price or to schedule a site visit, please call our team members who showcased Alakananda to you.
Invest today at a discounted rate before we open bookings to the general public at a higher rate in the coming months!