Plots & Villas at Alakananda RiverFront
Approved Open Villa

PLOTs

with No Deadline for Construction
 Immediate Registration upon Full Payment 
Invest in approved villa PLOTS ranging from 266 to 500 Square Yards (i.e. 2400 to 4500 Sft)

(1 Sq Yard = 9 Sq Feet)
You have the freedom to construct whenever you want, without any deadline!
This makes it an ideal investment option as you can either resell the plot in a few years for profit, or build your dream riverfront villa as a once-in-a lifetime asset!
Depending on the plot size, you can construct a villa of 1800 to 5500 Sft built-up area.
You can design your villa as per your individual tastes & preferences, (subject to some building codes & guidelines on styles & colors to ensure that the overall ambiance & serenity of the community is maintained in terms of colors, patterns, textures, etc).
We can also help you construct your villa based on your architect's plan using our in-house contractors (you can also use our architects to help you plan the design as well).
Alakananda is fully-approved by DTCP (Director of Town and Country Planning) of Andhra Pradesh for Phase 1, ensuring high standards of living, quality amenities and also higher resale values in the long run.
Will I get permission to build on the riverfront?
Absolutely YES!
Alakananda RiverFront is fully compliant with River Protection Rules and infact, the 1st few homes of the campus are already under construction with ALL approvals in place and hence you need not worry as we have already proven it with this case!
Click on the link to below to read more about Riverfront Protection Rules (also famously known as Coastal Regulation Zone or CRZ Norms) by the Central Government of India and how we have followed all these rules while designing our Approved Layout.
Learn More about Riverfront Rules
Offering you the widest range of size, views, built-up area, garden space and overall ambiance :
266 Sq Yards (60×40 Ft or 2400 Sft)
300 Sq Yards (66×40 Ft or 2640 Sft)
355 Sq Yards (80×40 Ft / 3200 Sft)
400 Sq Yards (90×40 Ft / 3600 Sft)
444 Sq Yards (80×50 Ft / 4000 Sft)
500 Sq Yards (90×50 Feet / 4500 Sft)
1 Sq Yard = 9 Sq Feet
Based on your plot size, you can construct a villa with built-up area (BUA) ranging from  1800 Sft to 5500 Sft (there is no minimum area) and with upto Ground+2 floors.
Choose from a range of pre-designed villa designs or create your own custom villa with the help of our empaneled architects, with a wide range of customizations, interiors & end-to-end construction management and interior design.
If you choose to build on your own, we do request you to follow certain building codes & guidelines on styles, colors, patterns & textures etc. to ensure that the overall ambiance & serenity of the community is maintained.
NO Apartments or Commercial Buildings Allowed
Possible Built-Up Sizes
Plot Size : 266 Sq Yards    |  BUA : 1800 to 3000 Sft
Plot Size : 500 Sq Yards    |  BUA : 2500 to 5500 Sft
(there is no minimum area, you can construct as small as 500 Sft too!)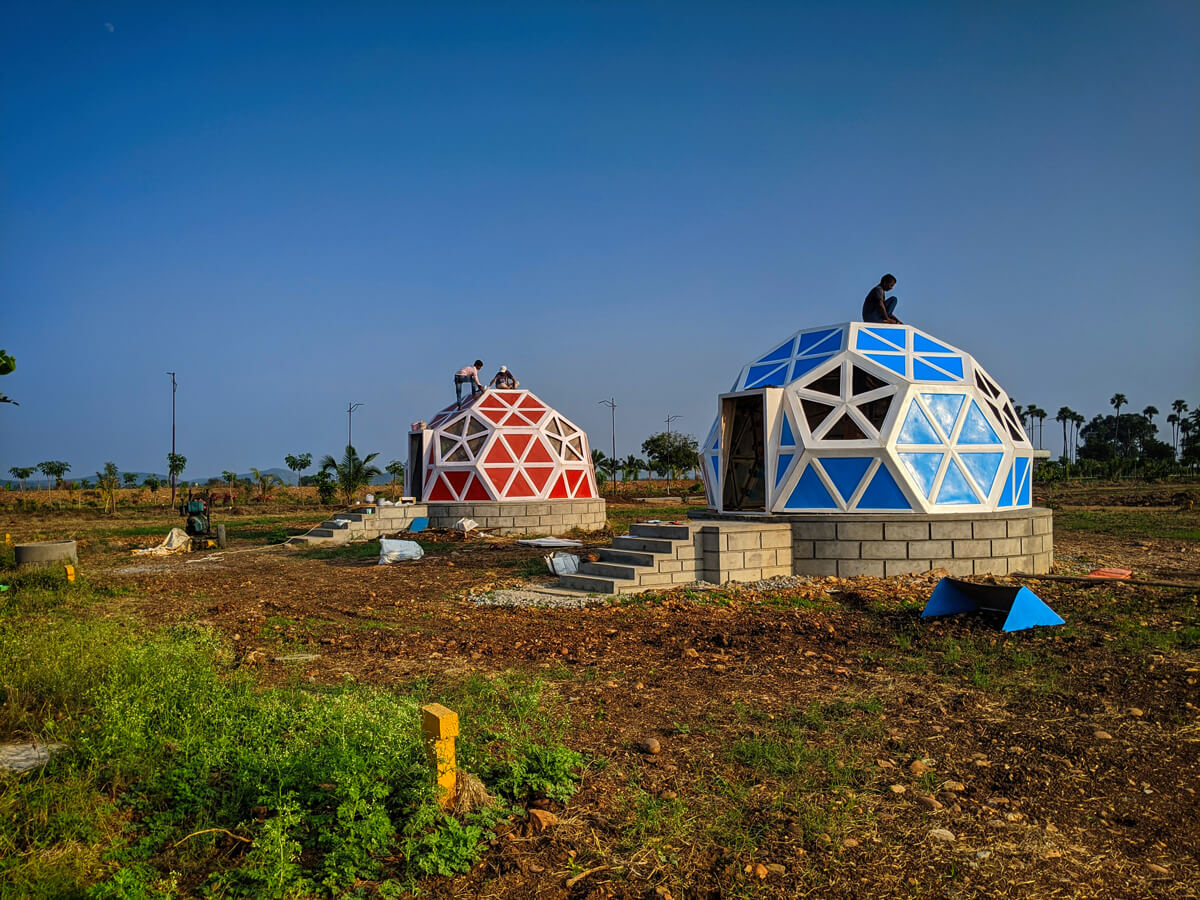 Actual Photo of 2 Dome Houses completed at Alakananda
1st Time in India : Low Cost Homes!
Incase you don't want to spend big money, you can construct a very

Low

 Cost Pre-fabricated Dome House on your plot!
Learn More about Dome Houses
1st House of Alakananda : Already under Construction!
Incase you are wondering how long it will take for people to move-in to Alakananda,

the 1st few homes are already under construction!
Learn about 1st Few Homes under Construction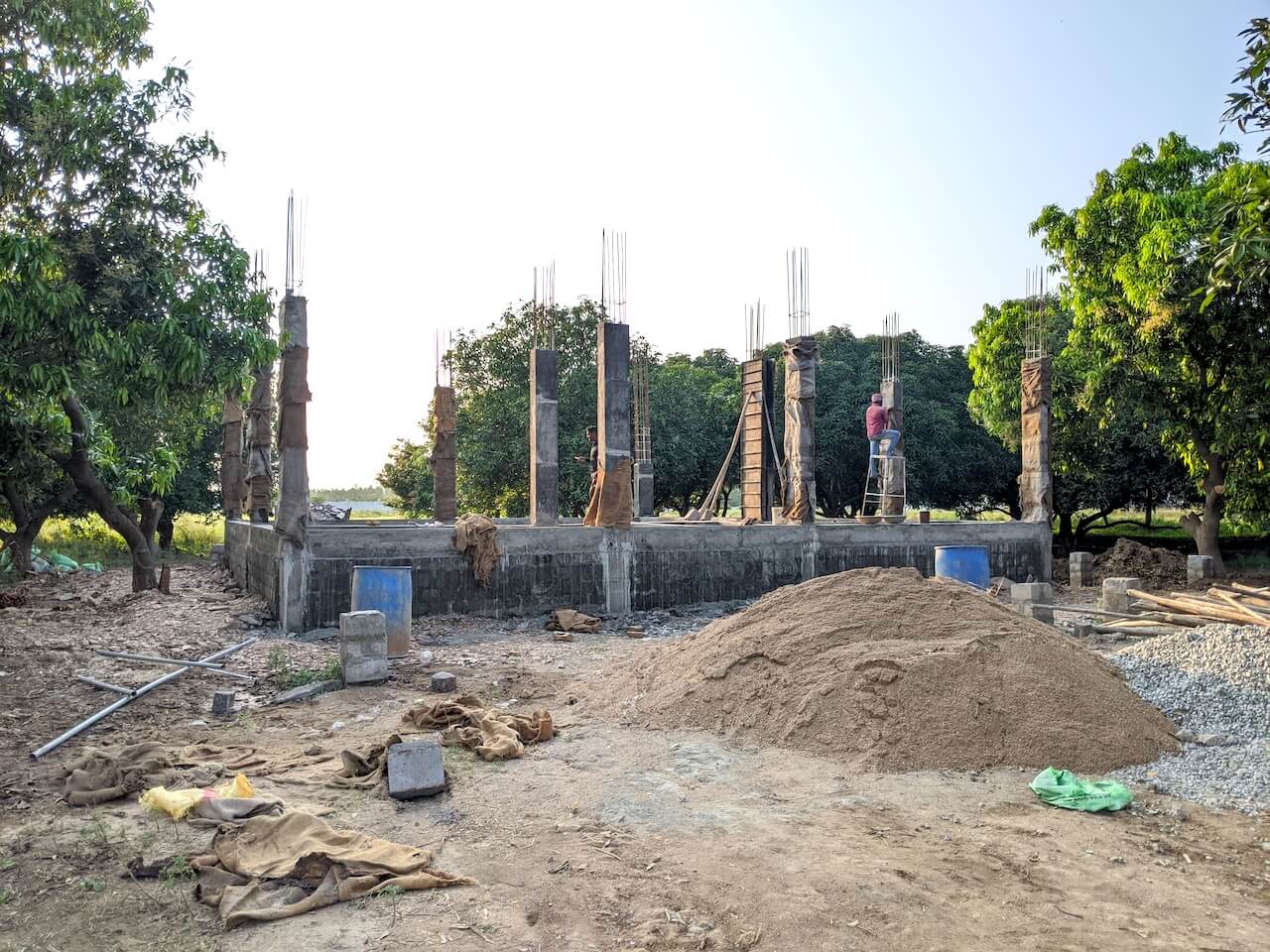 Actual Photo of 1st Permanent House under Construction
Plug-n-Play

Infrastructure
Concealed Water & Sewage Lines to all Plots
Underground Electrical Cabling to all Plots
80 feet Entrance Road with Grand Entrance Arch
60 feet Main Internal Road to Club House
40 / 33 feet Internal Roads for all Plots
Exotic Avenue Plantation with Drip Irrigation
Widest Sidewalks – 15 ft, 13 ft and 6 ft wide
Shaded Sidewalks with Lighting
A set of suggestions & guidelines that will help maintain the exotic ambiance of the township for the benefit of all investors & residents.
Low Rise Structures (G+2)
NO

Apartments

or

Commercial

Buildings Allowed
(only one house per plot to avoid congestion and over-crowding)
NO 

Private Compound Wall

for Each Plot
(we suggest Green Hedge plants or Picket Fences instead of a cement or brick compound wall)
Limited Footprint & Adequate Setbacks
Earthy Colors for External Paints
Segregated Waste Management
Avail the Pre-Launch Price Today!
While we plan to launch this to general public at a higher rate, you can invest right now at a very special pre-public launch price.
You also have the first mover advantage of grabbing the best plots of the layout!
All approvals & sanctions received and major works of Phase 1 have already been completed!
We have already sold approx 43% of Phase 1 through our existing network (we are part of G&C Global, a leading real estate developer & wealth management firm of India with a 15-year-old track record and 1200+ investors across the globe).
Since good plots tend to get sold-out first, get started right away to grab the best plots & enjoy an instant price advantage!
 We will immediately register your plot  upon completion of full payment.
With Hyderabad nearing saturation (prices have peaked & become unaffordable and hence people have started looking for cheaper alternative markets to invest), the attention is slowly shifting to under-valued markets that have sufficent upside potential for growth & unique one-of-their kind projects that cannot be replicated ever again…
And within Andhra, Telangana and even South India, Alakanada RiverFront will stand-out as the only one-of-its-kind for generations to come.
So much so that even people from other states of India / Non-Telugu speaking have begun investing in Alakananda – with investors coming in from Orissa, Karnataka, Tamil Nadu, Maharashtra and as far as Delhi, Punjab & Rajasthan!
To know pre-launch special price or to schedule a site visit, please call our team members who showcased Alakananda to you.
Invest today at a discounted rate before we open bookings to the general public at a higher rate in the coming months!