Photo Album &
Current Status of
Work Progress at Site
A photographic chronological timeline of the
massive works undertaken so far…
Last Updated : June 2022
Major works completed

in Phase 1
(which is 117 acres out of total 310 acres and also the best portion of the entire project with the clearest views of the Krishna river – as Phase 1 is closer to the river than Phase 2 & 3 – and this is where you can currently invest in)


All Approvals & Permissions Received
Work is in full-swing and most of the basic infrastructure is ready for you to comfortably start constructing your house right away…
3 Houses already inaugurated & occupied by families!
3 investors have recently inaugurated their homes – which were built by us from start to finish including basic interiors – and are already spending their weekends here…
If you want to skip straight to the photo album, please click here
(or simply scroll down past the below bullet list)
Major Milestones completed so far :
Plot Cutting, Formation & Numbering

for Phase 1 –

COMPLETED


Consisting of 885 plots in total and this is the best part of the entire project as these plots are closest to the river in the entire campus


.

All Main & Internal Roads Formation

for Phase 1 –

COMPLETED


including Erection of Light Poles / Street Lights on all Main Roads with underground electrification


.

Compound Wall & Fencing

of entire 310 Acres –

COMPLETED


including Decorative Fencing of the Riverfront Boulevard with 3000 Exotic Bougainvillea plants


.

3 Kms Long Riverfront Bund

/ Boulevard Formation –

COMPLETED


with India's 1st Triple-level Jogging, Cycling & Walking Tracks on the RiverEdge (involved moving a staggering 20,000 trucks of soil!)


.

Avenue Plantation

on Main + Internal Roads / Plots –

COMPLETED


including 120+ very expensive Fully grown Date Palm Trees transplanted on the boulevard!


.

1.2 km Man-made Canal

+ Drip Irrigation for Entire Layout –

COMPLETED


to ensure continuous water-supply for the entire layout, 365 days a year!


.

Private BOAT JETTY

& Boating Activities –

OPERATIONAL


with a Speedboat, Canoes & Govt Certified Staff at site 24/7 (water scooters and cruise boats will be added in a few months as per demand)


.

HORSE RIDING Arena

with 2 Race Horses –

OPERATIONAL


Procured from Hyderabad Polo & Riding Club with an In-House Trainer / Full-time Jockey living on the site to professionally teach you horse riding!


.




Riverfront CLUBHOUSE (5 acres)

overlooking the Krishna River –

OPERATIONAL


with 120 People Banquet Hall, A/C Restaurant, Games Room, Viewing Deck, Visitor Lounge and 6 acres of Party Lawns (swimming pool work will begin soon)


.

ANGLERS DEN / Fishing Deck + Sky-Lounge

@ Boat Jetty –

ALMOST READY


for you to enjoy stunning sunsets & sunrises from the comfort of this air-conditioned lounge positioned 50 feet above the Krishna river with commanding views of the entire 310 acres!


.

BOTANICAL GARDENS (40 acres)

 with Organic Food Outlet –

COMPLETED


9000 plants of 52+ varieties of organic fruits, vegetables and medicinal / herbal plants already planted and growing with large-scale Drip Irrigation installed (residents will be able to purchase organic produce from within the layout itself!)


.

Riverfront 6 Acre

Executive Golf Course & Driving Range

–

Work-in-Progress


Soil Preparation Completed, Landscaping in progress


.

Basketball Court & Skating Rink –

Almost Complete


with Children Play Area in progress + other outdoor sports space allocation completed


.

1st FEW HOMES

 –

Already completed & many more under construction…


3 permanent house + 2 Pre-Fab Dome Houses (first of their kind in South India for a residential community) already completed & occupied and few more under construction (you can book some of these houses for your weekend stay with family as and when you want to visit!)


.

Sri Ganapathy Sachchidananda Swamiji (SGS) Ashram –

Land Prepared & Handed over

to Ashram authorities…
We have constructed boundary wall + yagashala and handed over land to the Ashram Trust which will soon start constructing their ashram


.

Private Entrance to Koti Lingala Temple – In-progress
We are providing a private entrance to the temple for our residents from our layout directly into the temple next door and have already tied-up with Temple Management to conduct Special Darshan for all our investors and guests, anytime they visit Alakananda.


.



Bitumenization (Black Topping) of Main Road & Laying of UnderGround Drains :

IN-PROGRESS


This will be completed in the next few months after which we will begin Black Topping of internal roads as well, while simultaneously laying underground drains and footpaths as well.


.

RiverFront Party Zones

& Beach Area – ALMOST READY / PARTIALLY OPERATIONAL
Enjoy stunning sunsets as you host and enjoy parties of upto 100 people at a time on the brand new Beach Front Party Zones right next to our Boat Jetty…


.


and a lot more has been completed, scroll down to see latest real photos of all the above and much more…
Pre-Launch of Phase 1 now Open!

Grab the BEST PLOTS today, before we open this to larger public shortly…
What you are about to see here are

REAL PHOTOS / ACTUAL SHOTS…
No computer graphics or artistic images shown here – or for that matter anywhere across our website or Brochures – unless very clearly mentioned against each photo!
Also photos shown here are in CHRONOLOGICAL ORDER – starting with the oldest and then moving onto the latest photos – for you to track & visualise the tremendous amount of work already completed!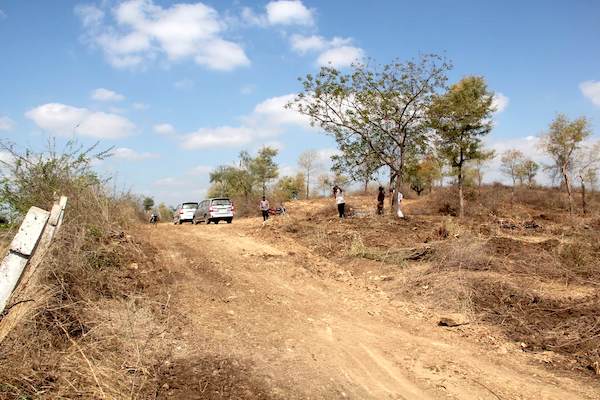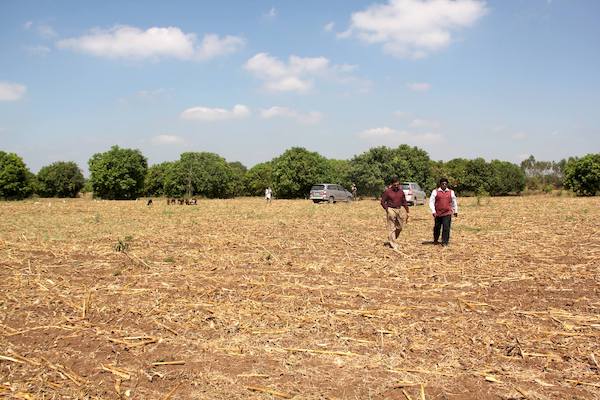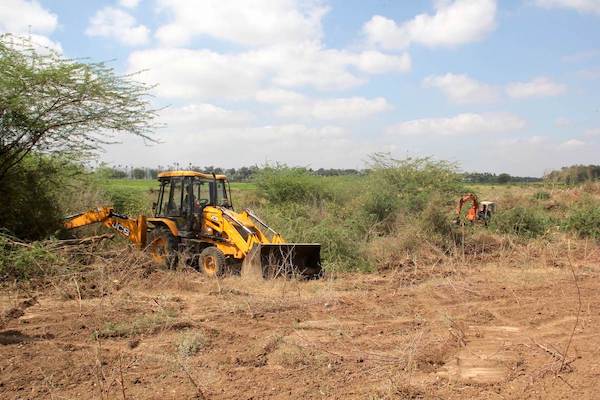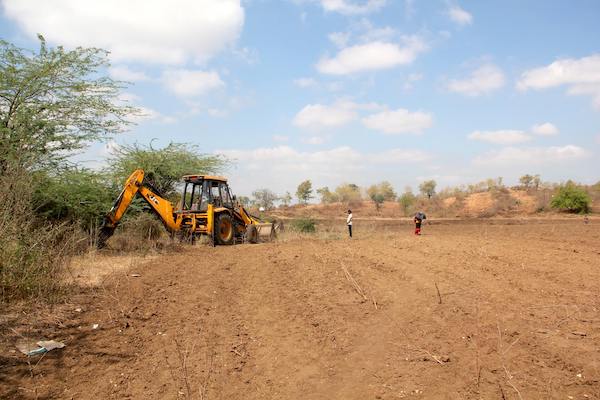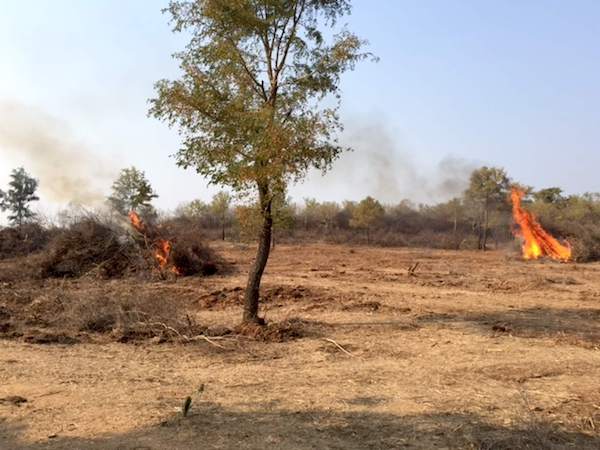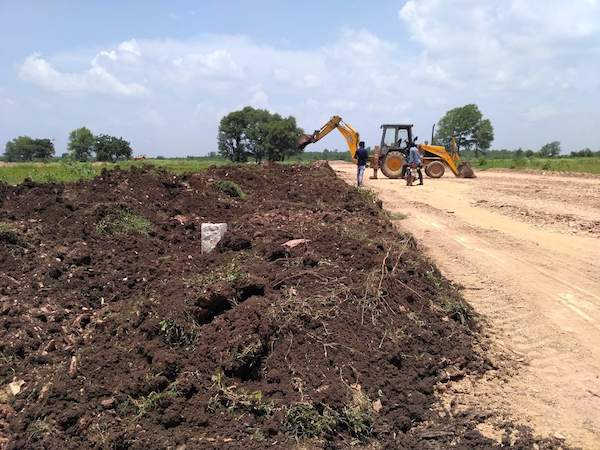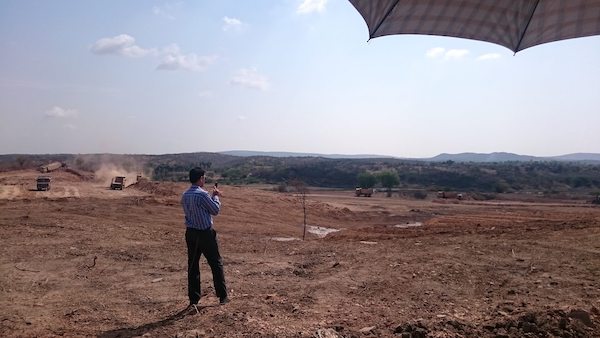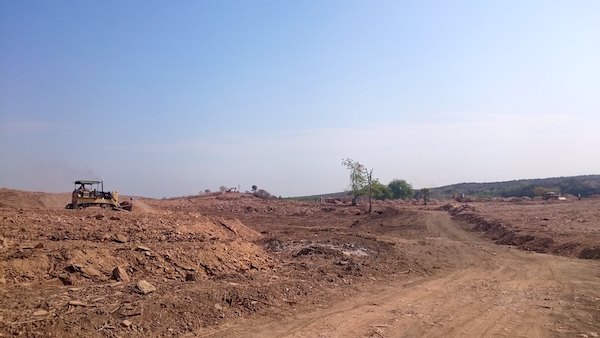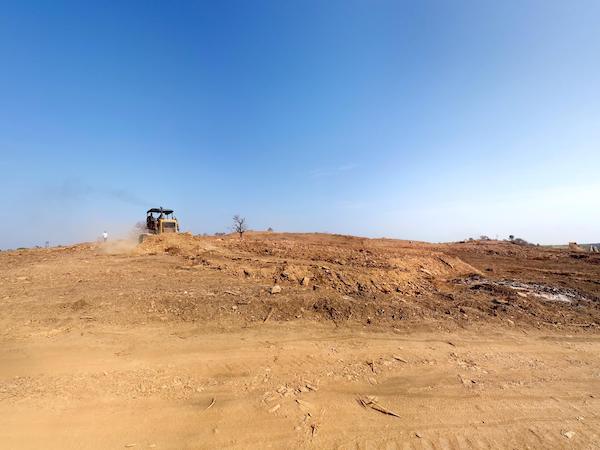 Leveling Works in Progress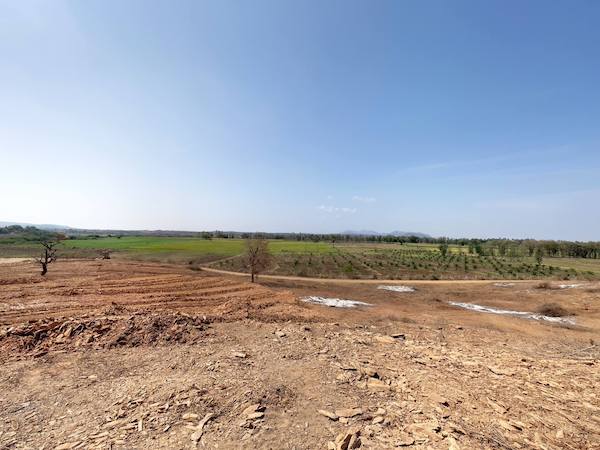 Leveling Works in Progress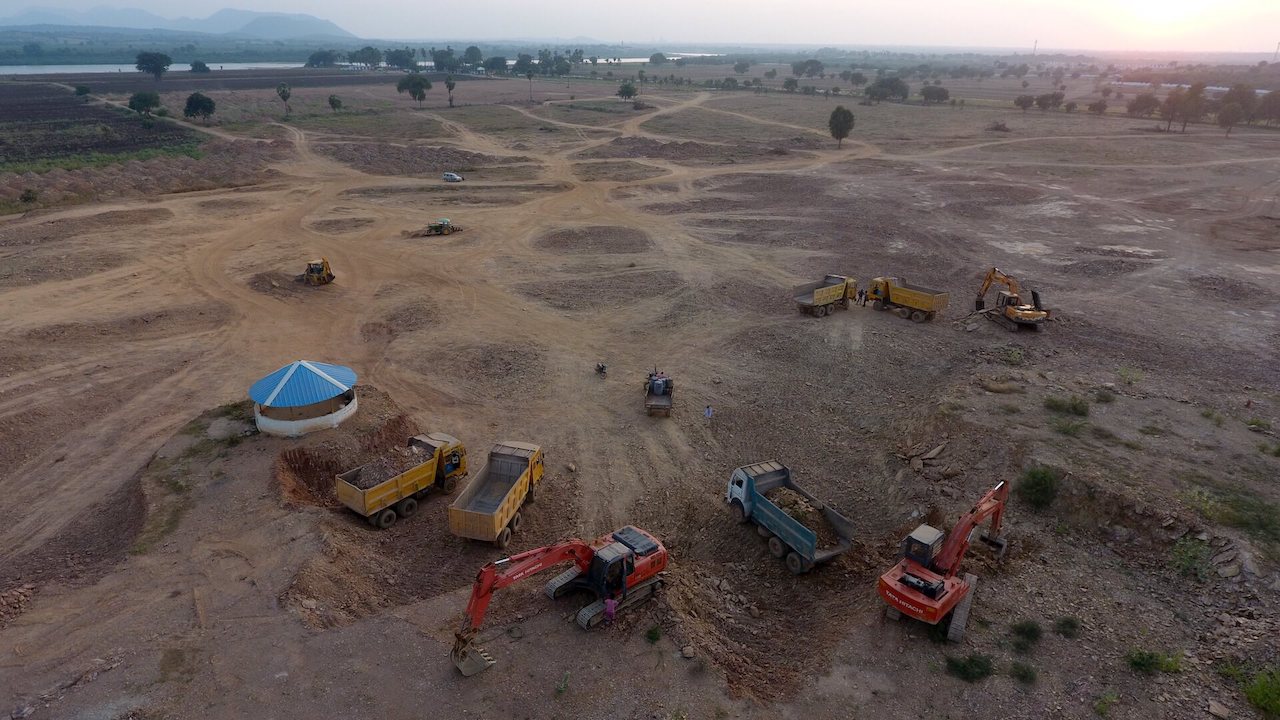 Leveling Works in Advanced Stage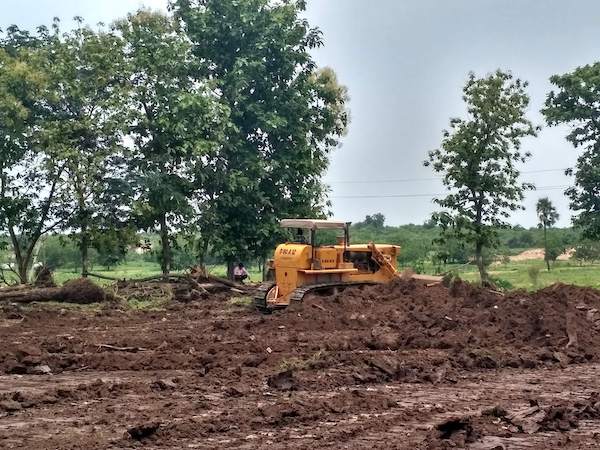 Leveling of Plotted Areas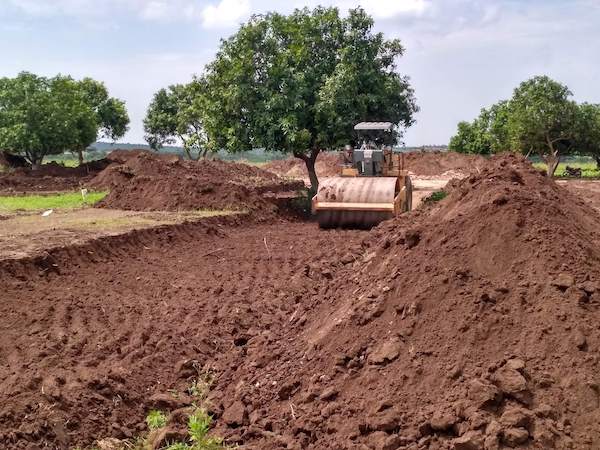 Leveling of Plotted Areas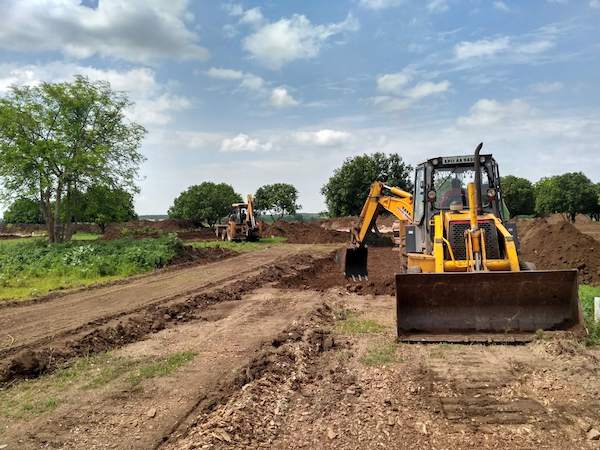 Leveling of Plotted Areas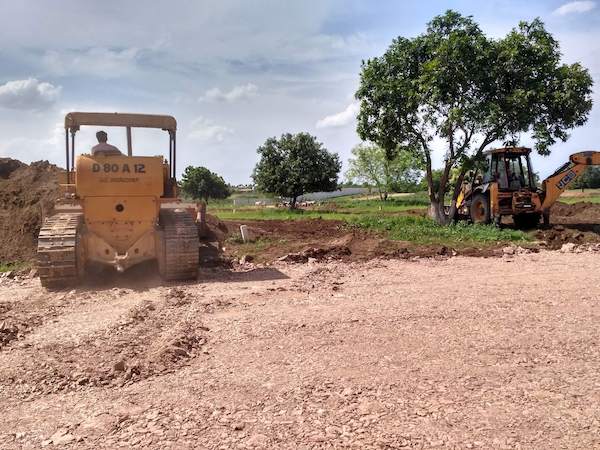 Leveling of Plotted Areas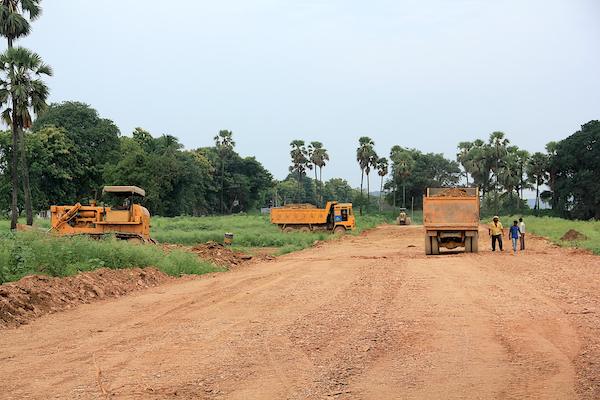 Formation of 60 Ft Main Road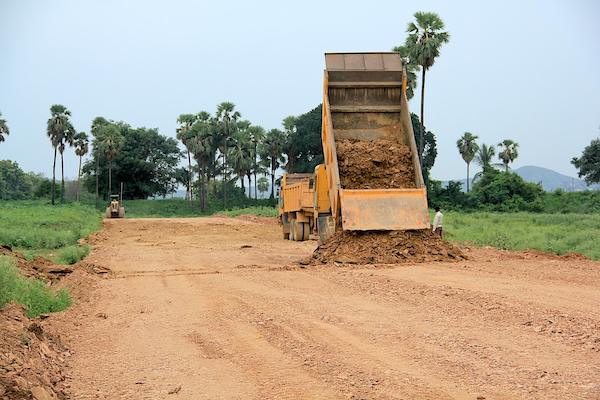 Formation of 60 Ft Main Road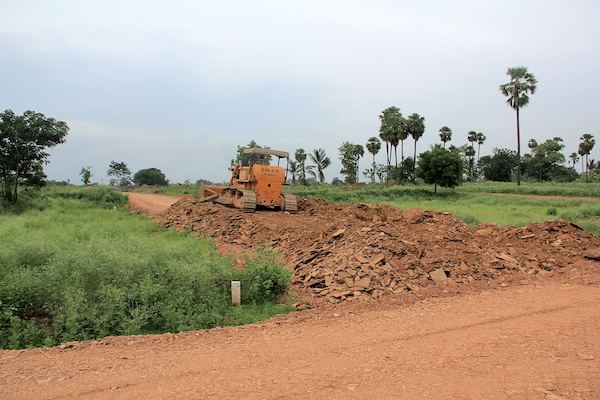 Formation of 40 Ft Internal Roads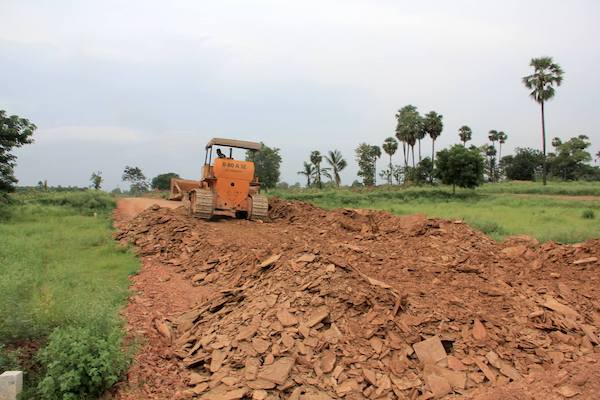 Formation of 40 Ft Internal Roads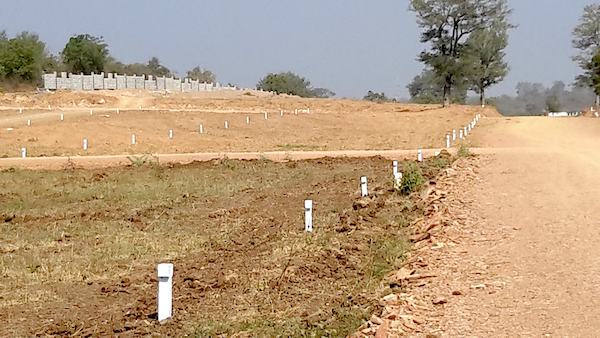 Installation of Plot Marking Stones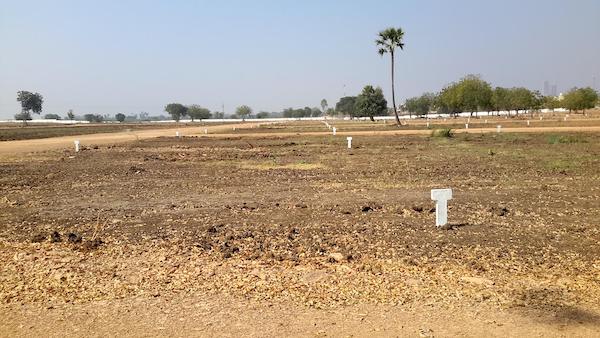 Installation of Plot Marking Stones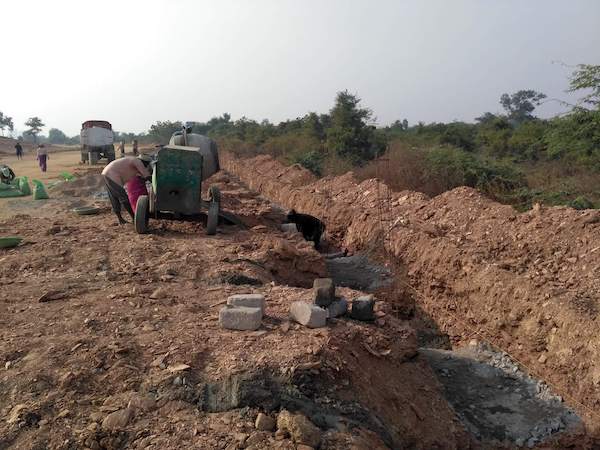 Construction of Compound Wall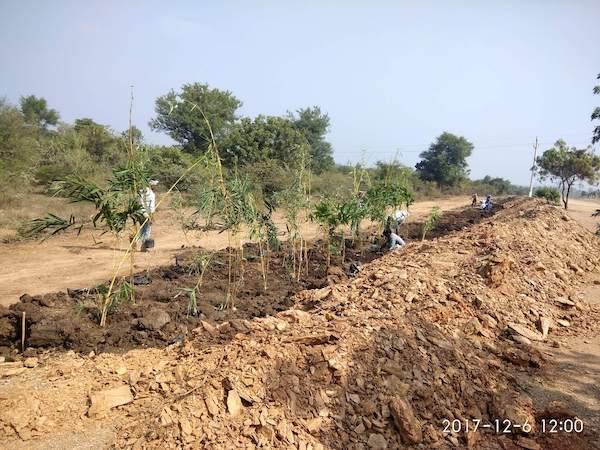 Bamboo Plantation behind the Compound Wall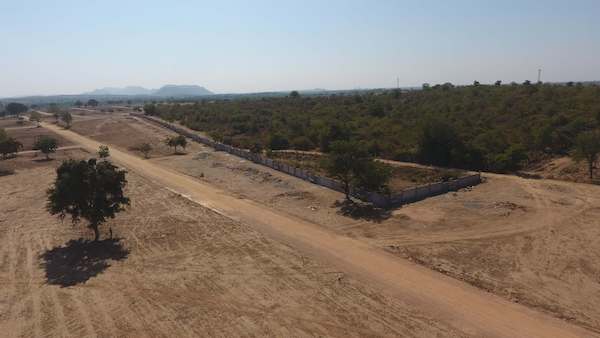 Construction of Compound Wall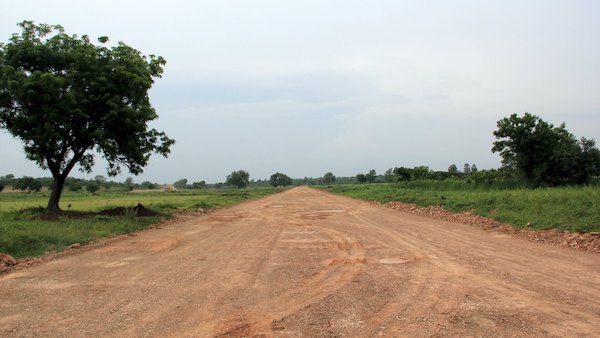 Formation of 80 Ft Main Entrance Road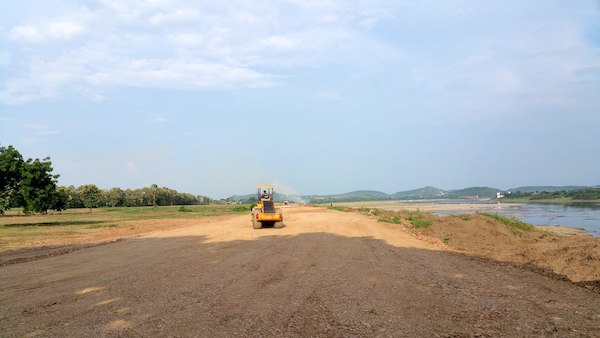 Formation of River Bund Road
20,000 trucks of earth were moved to form this 3 Km Long Riverfront!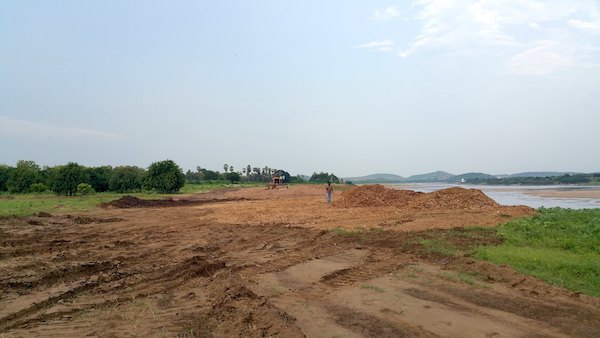 Formation of River Bund Road
20,000 trucks of earth were moved to form this 3 Km Long Riverfront!

1st of its kind in India!

Triple Level RiverFront Boulevard
Longest Private RiverFront Bund in India!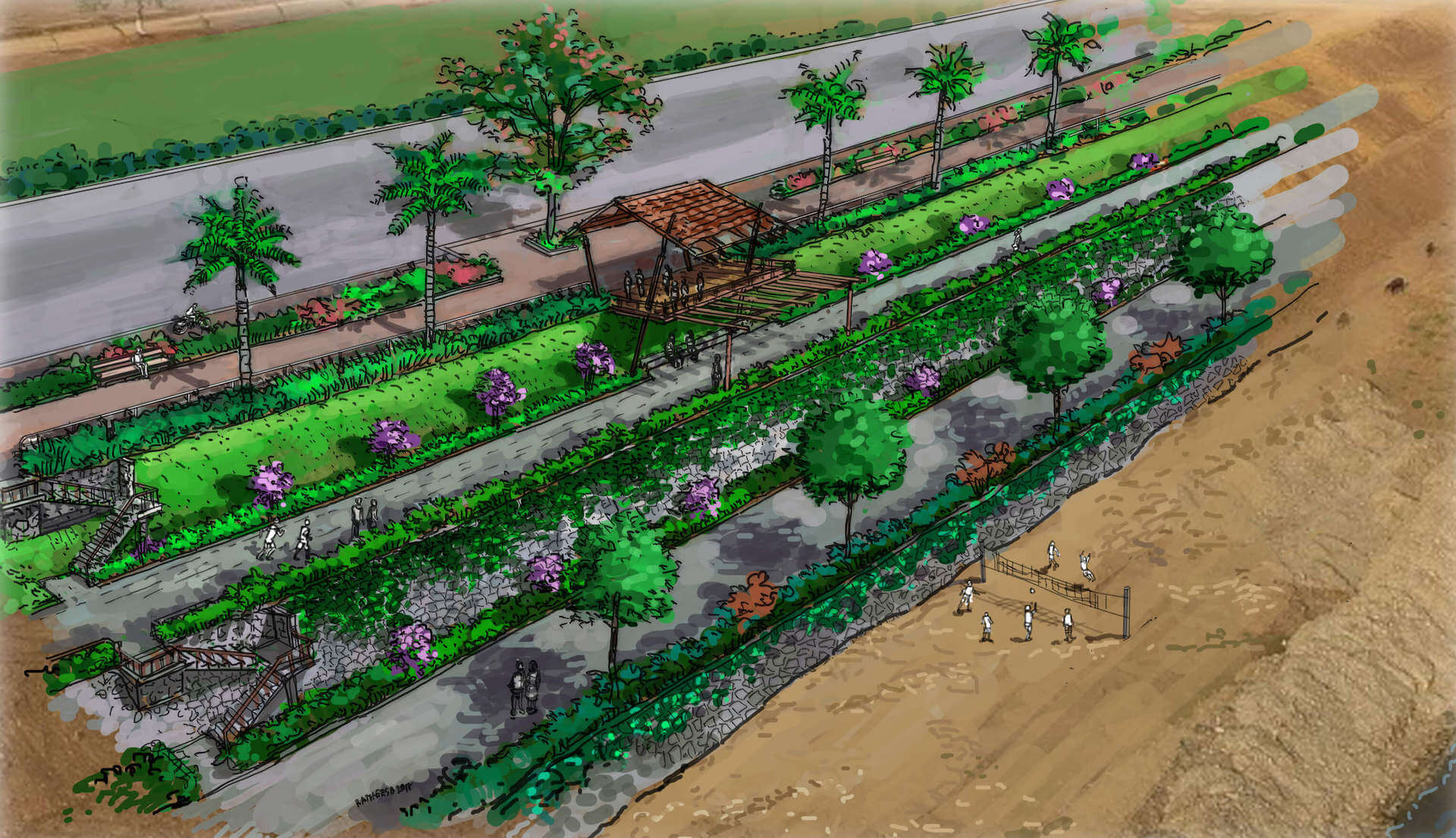 Artist Rendering of Triple-Level Boulevard spanning 3 kms along the Krishna River!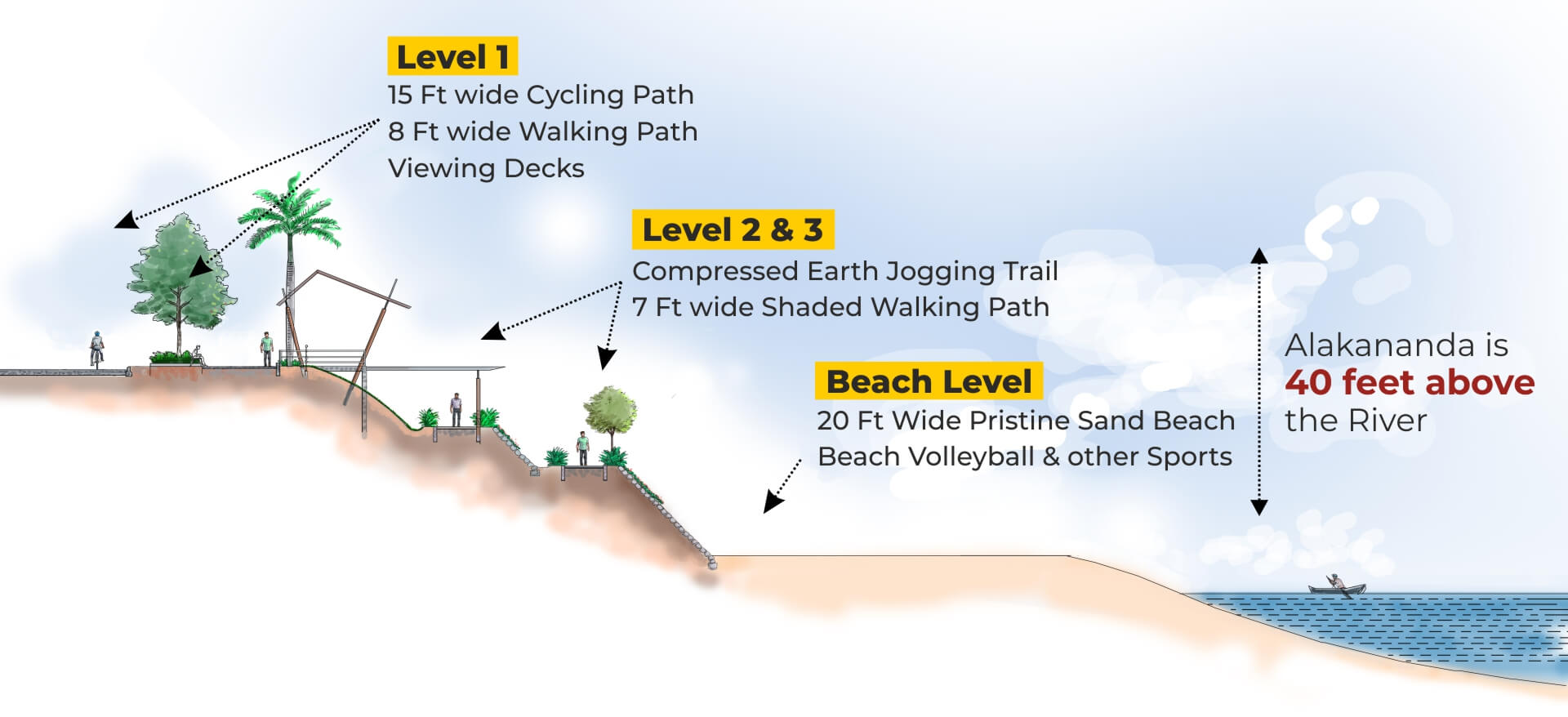 Cross Section of Triple-Level Boulevard on Krishna River
Land is located 40 feet above water levels, hence no risk of flooding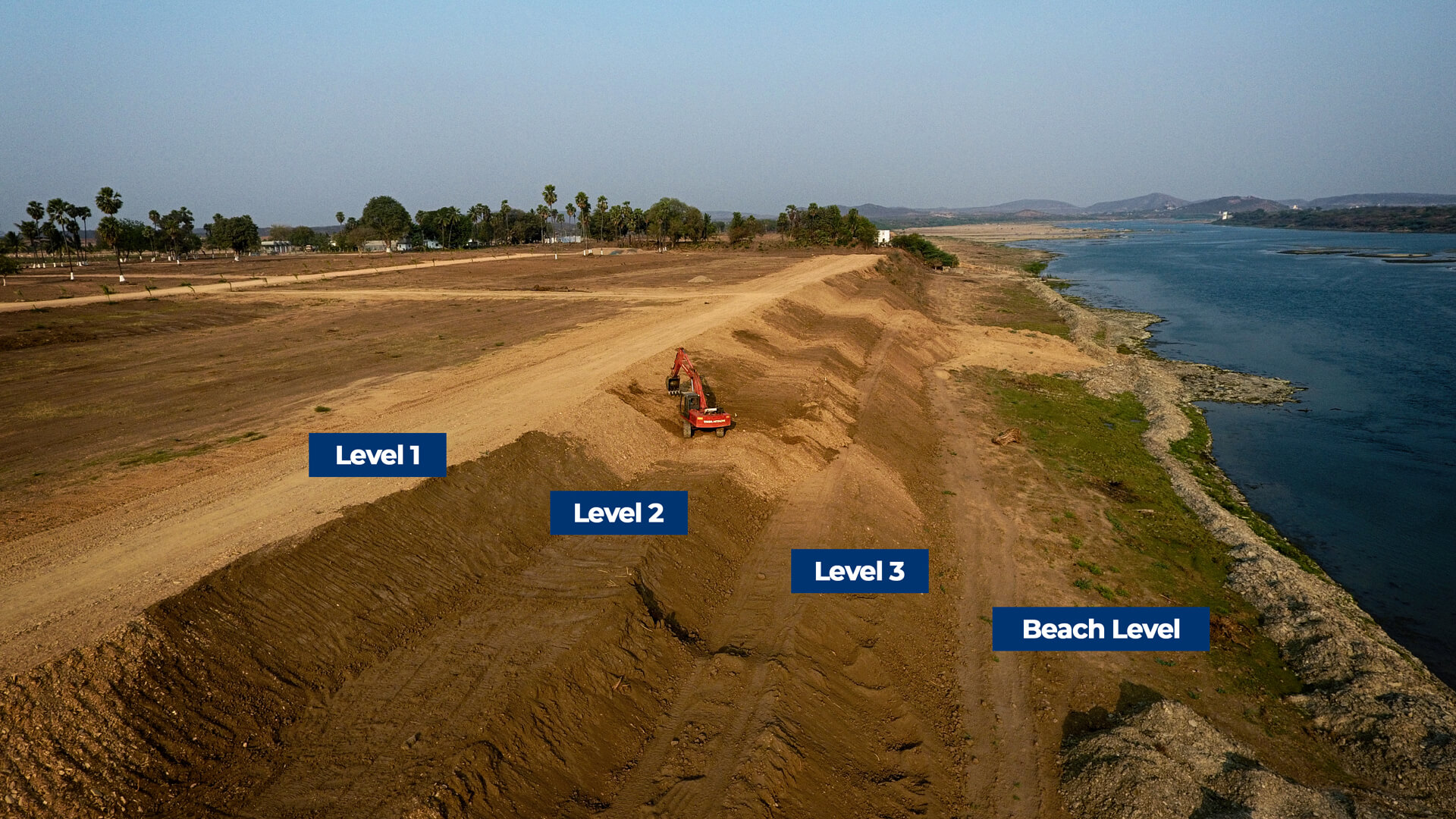 Actual Photo of Completed Boulevard
(landscaping & beautification now in progress)
Alakananda

directly touches the Krishna & Paleru Rivers

with a staggering

3 Kms Long

River Bund / Frontage!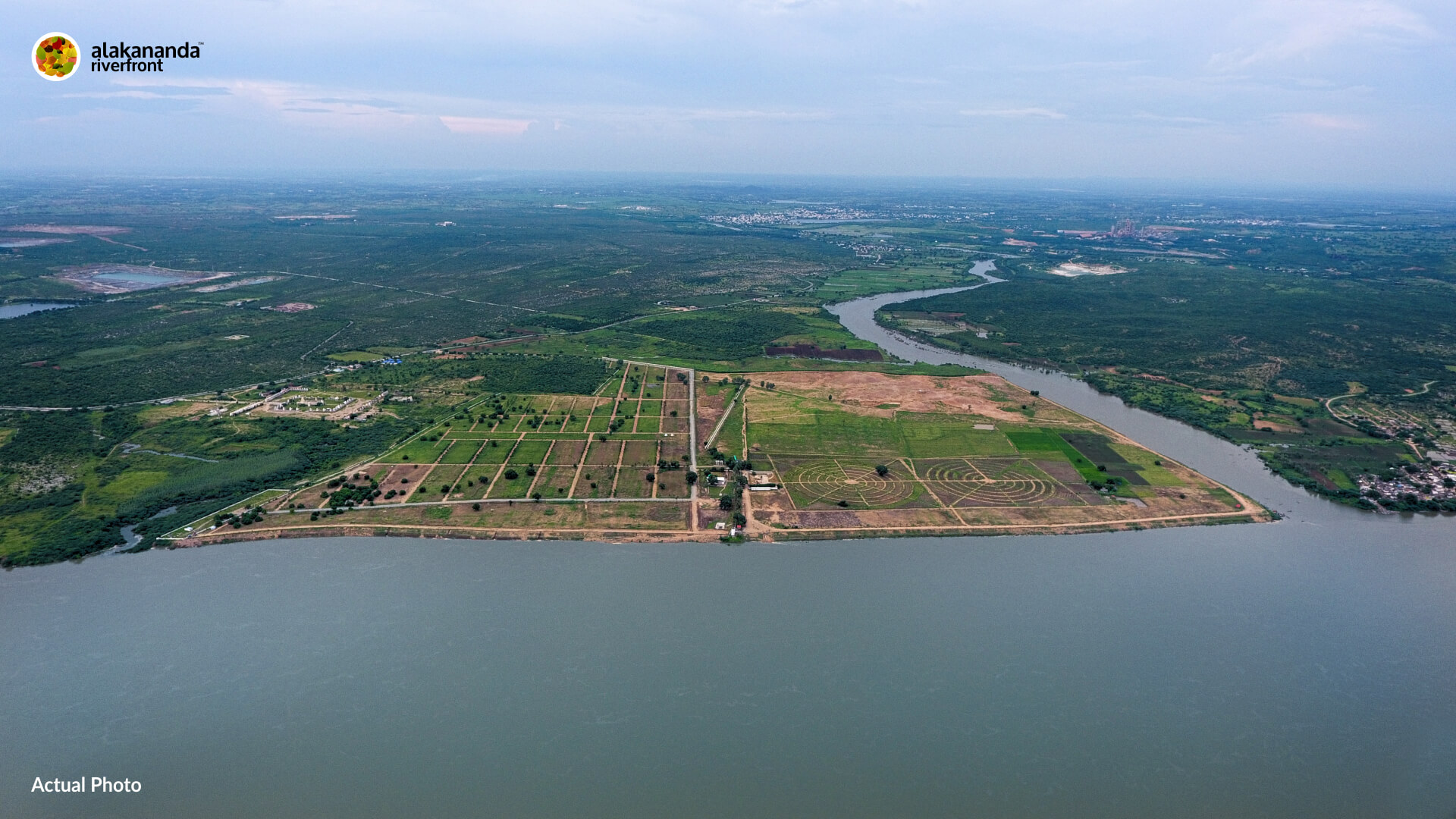 Shot from a drone over Krishna River, overlooking Alakananda
(Phase 1 of 117 Acres is to the left, identifiable by the plotted section)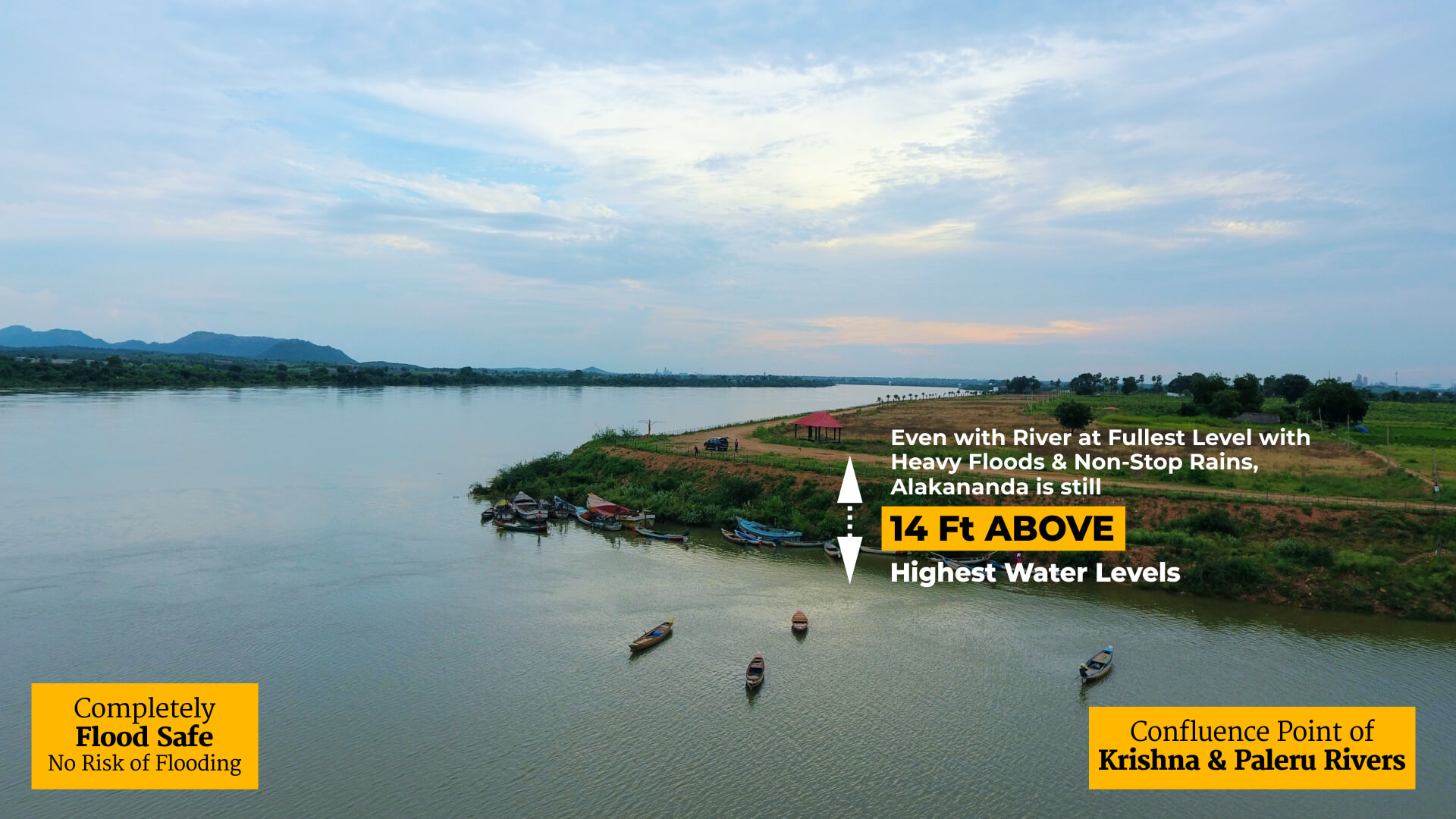 Due to its massive height of 40 Feet above water levels, 
Alakananda is absolutely safe and protected from floods as you can see above & so you never have to worry about flooding or water coming into the layout…

Riverfront Terraces
for Multiple Parties at our Private Boat Jetty!
After hosting a few dinner parties on the riverfront, we decided to spend almost Rs.1 CRORE to upscale the entire Private Boat Jetty area which was never planned for before!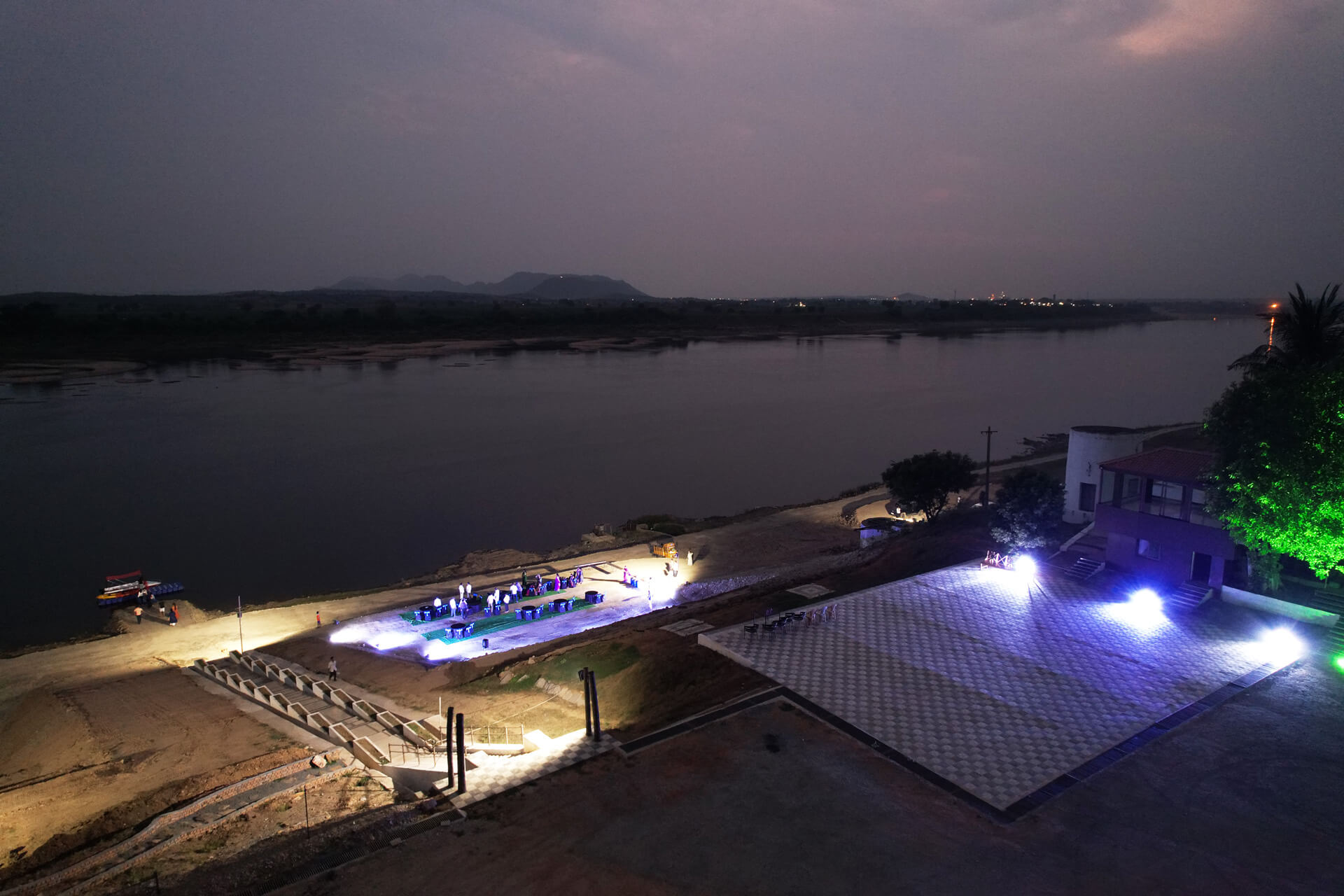 Drone Photo of the 1st Housewarming Party (Cocktail Dinner) hosted by us right next to our Boat Jetty (during partial completion).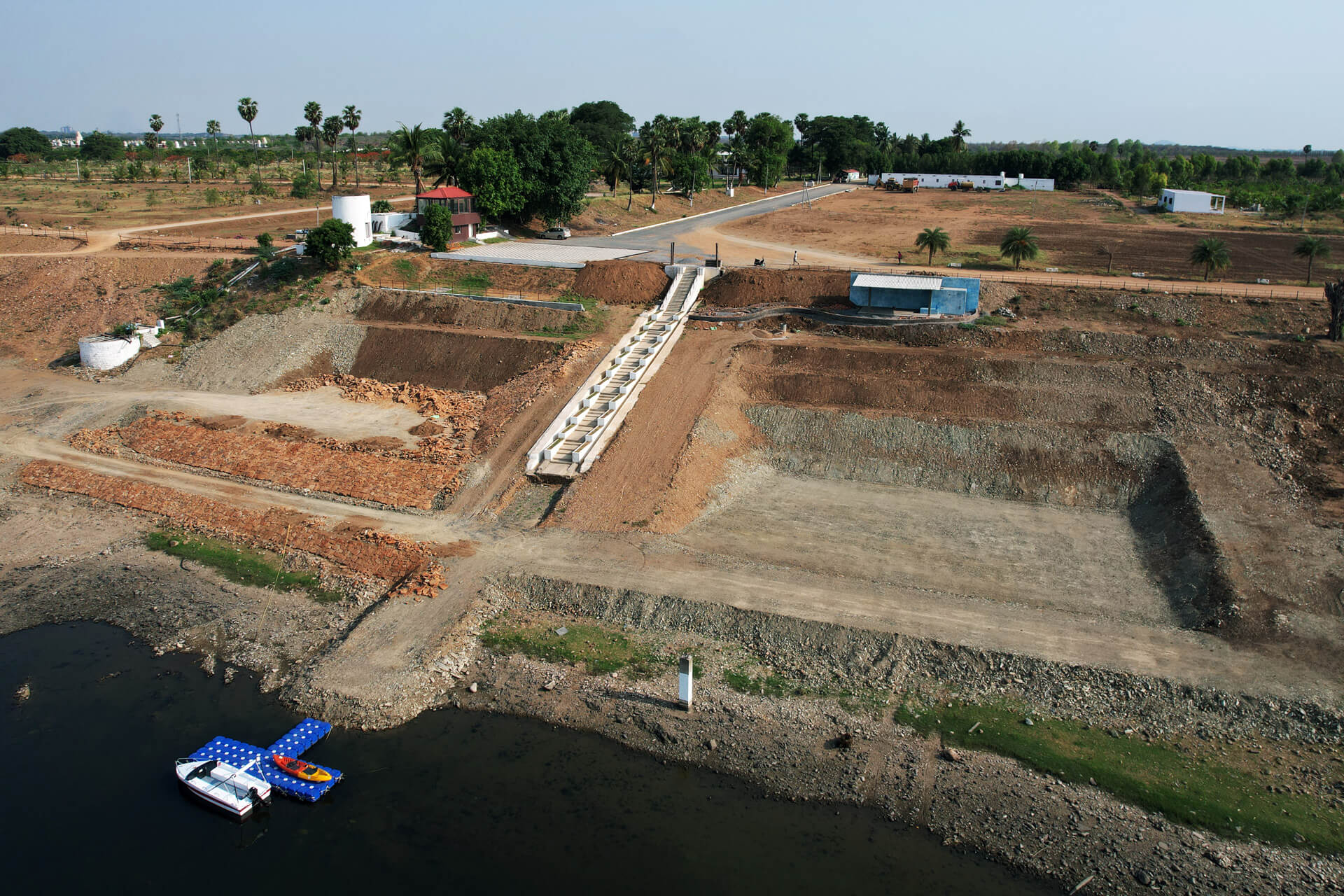 Beachfront Party Zones
This includes creating multiple steps / terraces on the river bund to create multiple zones for lounging allowing multiple groups to enjoy the place simultaneously.
The last level near the river will have a massive sand court for Beach Volleyball, frisbee and other outdoor sports.
And a party zone capable of hosting almost 500 people, literally touching the water!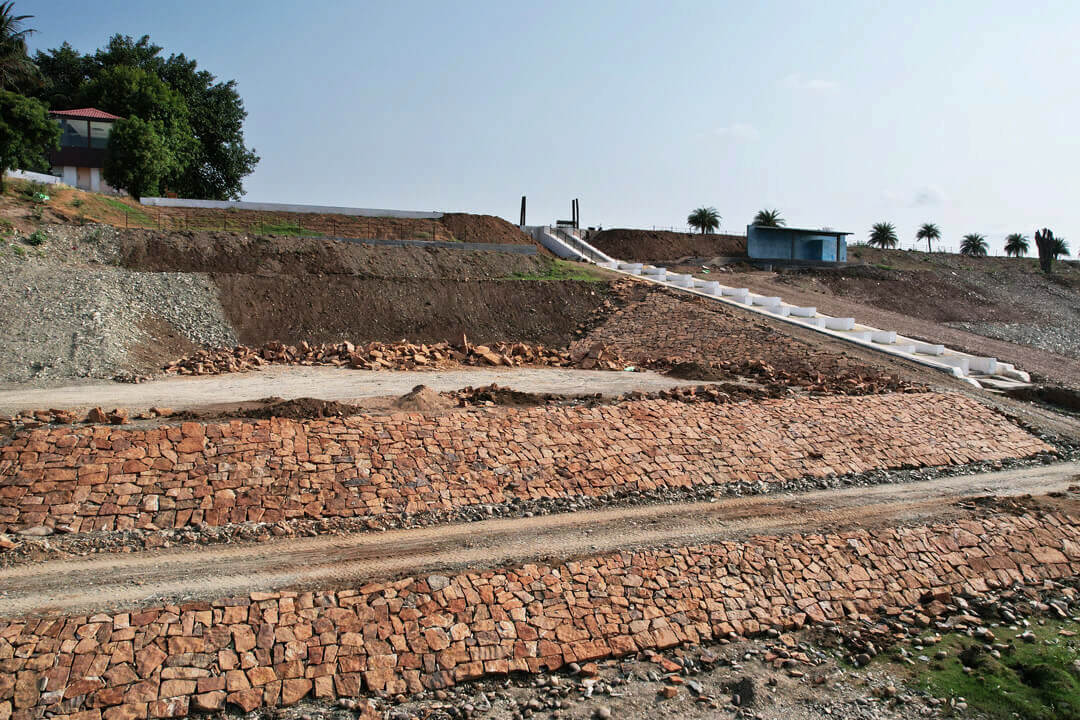 Reinforcement & Landscaping
We are reinforcing each terrace with stone pitching to avoid soil erosion during rains and this involves over 200 TRUCK LOADS of stones and over 20 people working non-stop for 2 months!
Landscaping and beautification of the entire space will be completed by July / August or so with multiple flowering varieties.
Special focus is on reinforcing the top soil through plants like Bougainvillea, Aloe-Vera, etc. – which are hardy plants with almost zero maintenance and also hold the soil very firmly with their dense roots.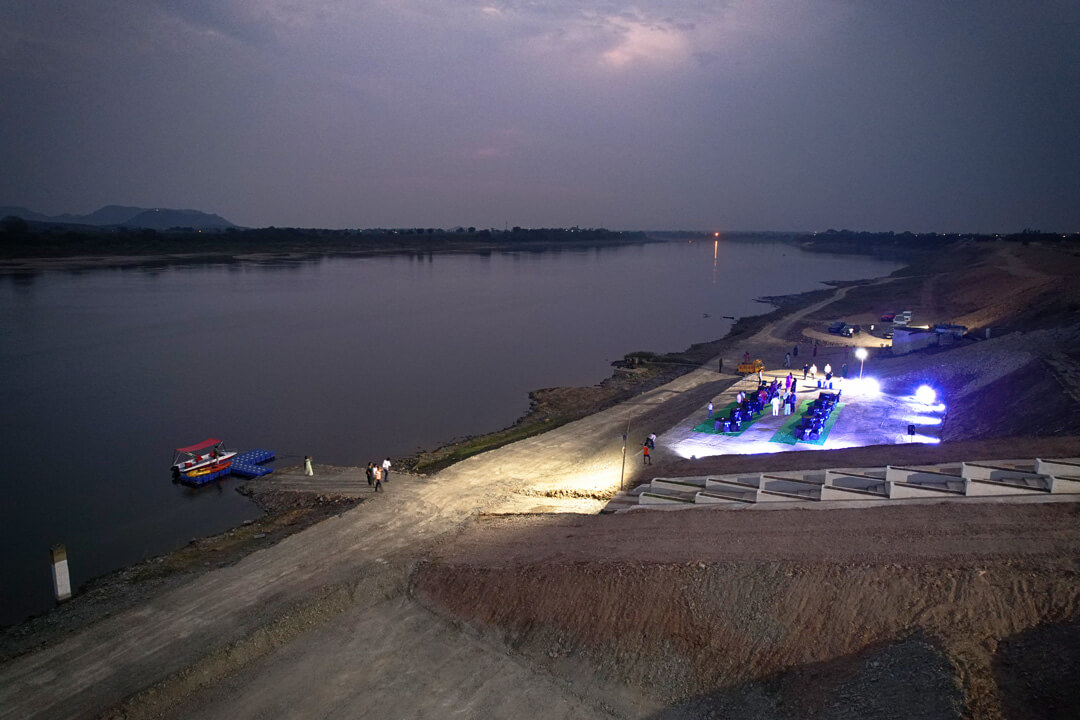 Overlooking 10,000 acres of Forest Land & Hills
– 100 Seater Outdoor Restaurant / Cafe on the top terrace
– Angler's Lounge (fishing) along with Open-to-Sky Bathing facility
– Beach Volleyball with Night Lighting
– Sunset View Point
– Children Play Area
– Private Boat Jetty
– 500 People Capacity Party Zone
– Car Parking (50 slots) with a ramp to take your own boat down to the river!
This will be everyone's favourite spot in Alakananda!
Imagine beautiful sunset evenings with your family, with water sports, beach volleyball matches, fishing and many more activities to keep you entertained, followed by moonlit cocktail dinners by the Krishna river!

Underground Electricity & Stormwater Drains Completed
for 1st Batch of plots…
In the TWO 40 feet roads where the 1st set of 3 houses have come up, we have completed the below :
Underground Concrete Conduits

for Armoured ElectricalCables, Water Pipelines, Sewerage Pipelines and Fiber Optic Cables, with Footpath above them.


.

Underground Storm Water Drains

with Footpath above them.


.

4 feet wide zone between the above underground conduit and drain for Avenue Plantation (with Drip Lines wherever required) and Street Light Poles.
Work order has already been released for the next TWO 40 Feet Roads where another 3 villas are coming up and after perfecting the above, we will complete all lanes before opening Phase 2 for not less than Rs.14,000 per Sq Yard by next year Ugadi season.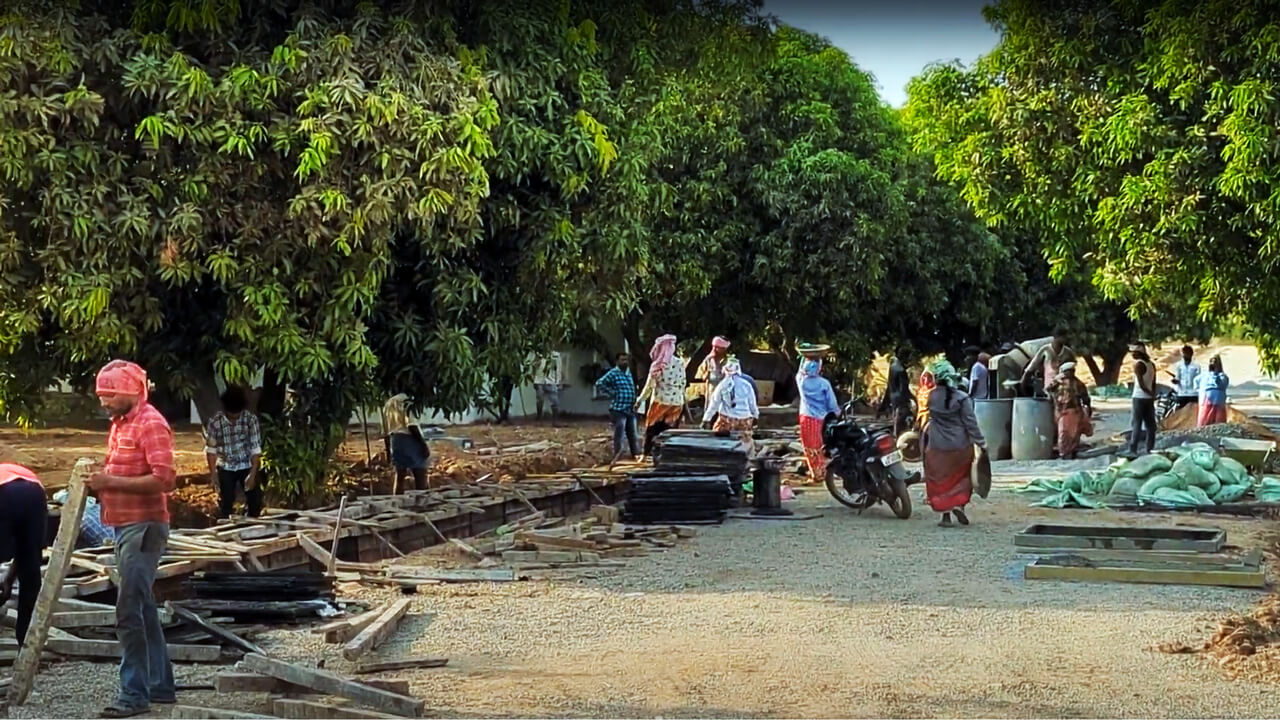 Underground Drains being laid…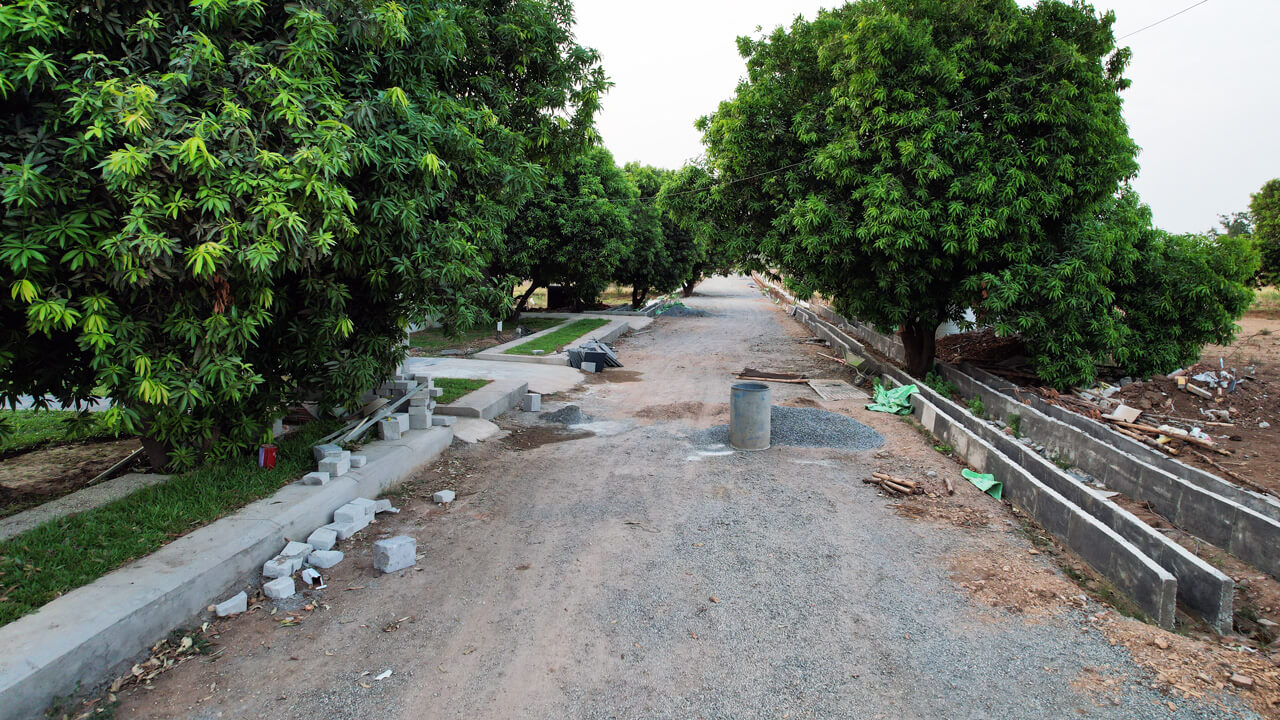 Drains civil work completed
The next step is to complete the wet mix layer followed by bitumen (Black Top). Street lighting and footpath landscape will also be completed in parallel, giving visitors a full fledged MODEL STREET to visualise the high specifications being followed by us.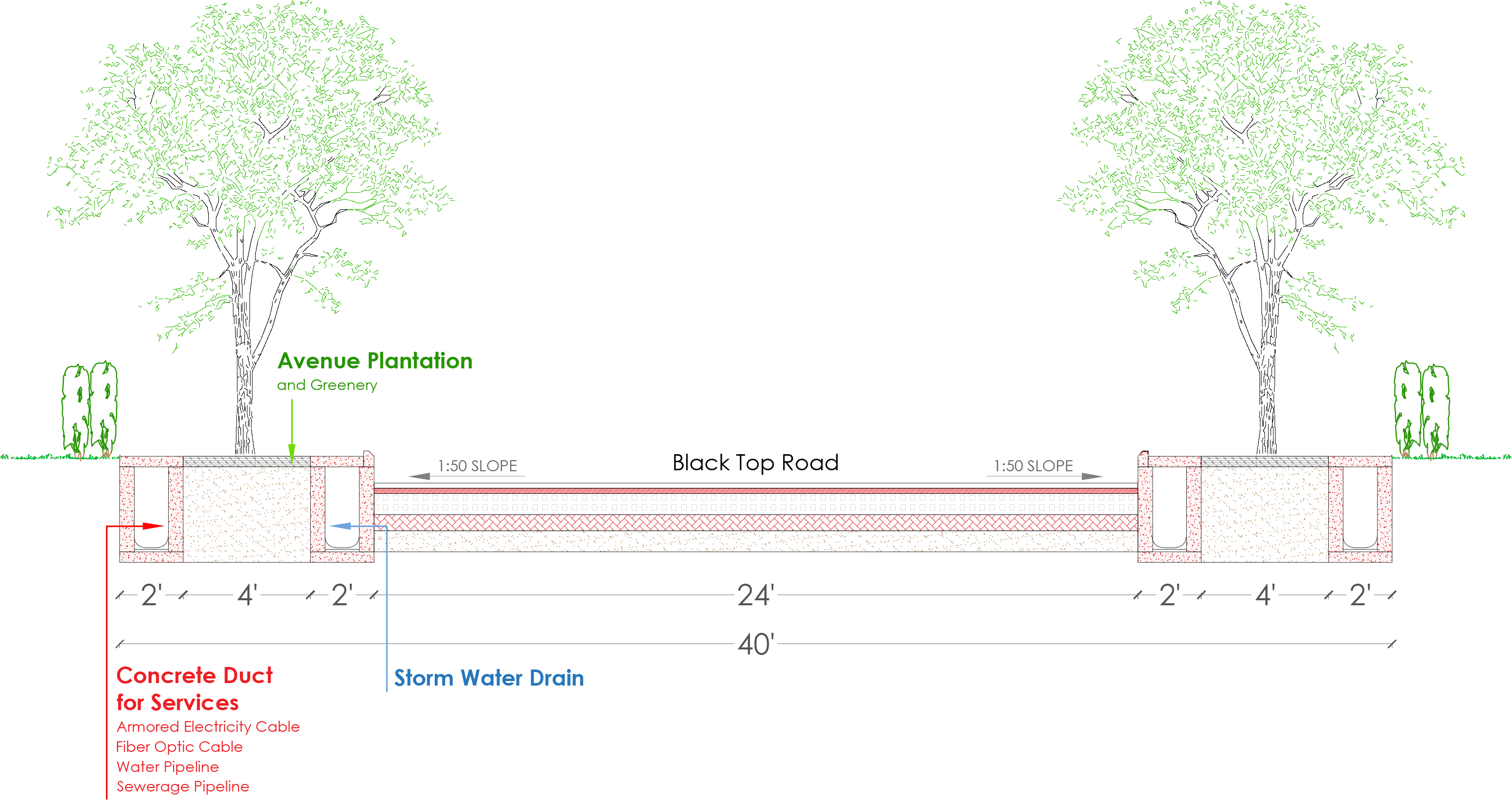 Cross-Section of Internal 40 Feet Roads (Architect Drawing)

Main Road Bituminization as per NH Standards
In-Progress
Elaborate road works + Drains & Kerbing works on the entire stretch of 80 ft / 60 ft Main Road (spanning 3 kms from the main gate to the Boat Jetty and to the SGS Ashram) are in progress and will be completed before active rainy season if all our planning goes well.
The entire stretch will be metalled – BT roads with unique 8 Feet footpaths lined with ornamental garden stretches on both sides, giving it an almost runway like feel with NO MEDIANS in the centre of the main roads.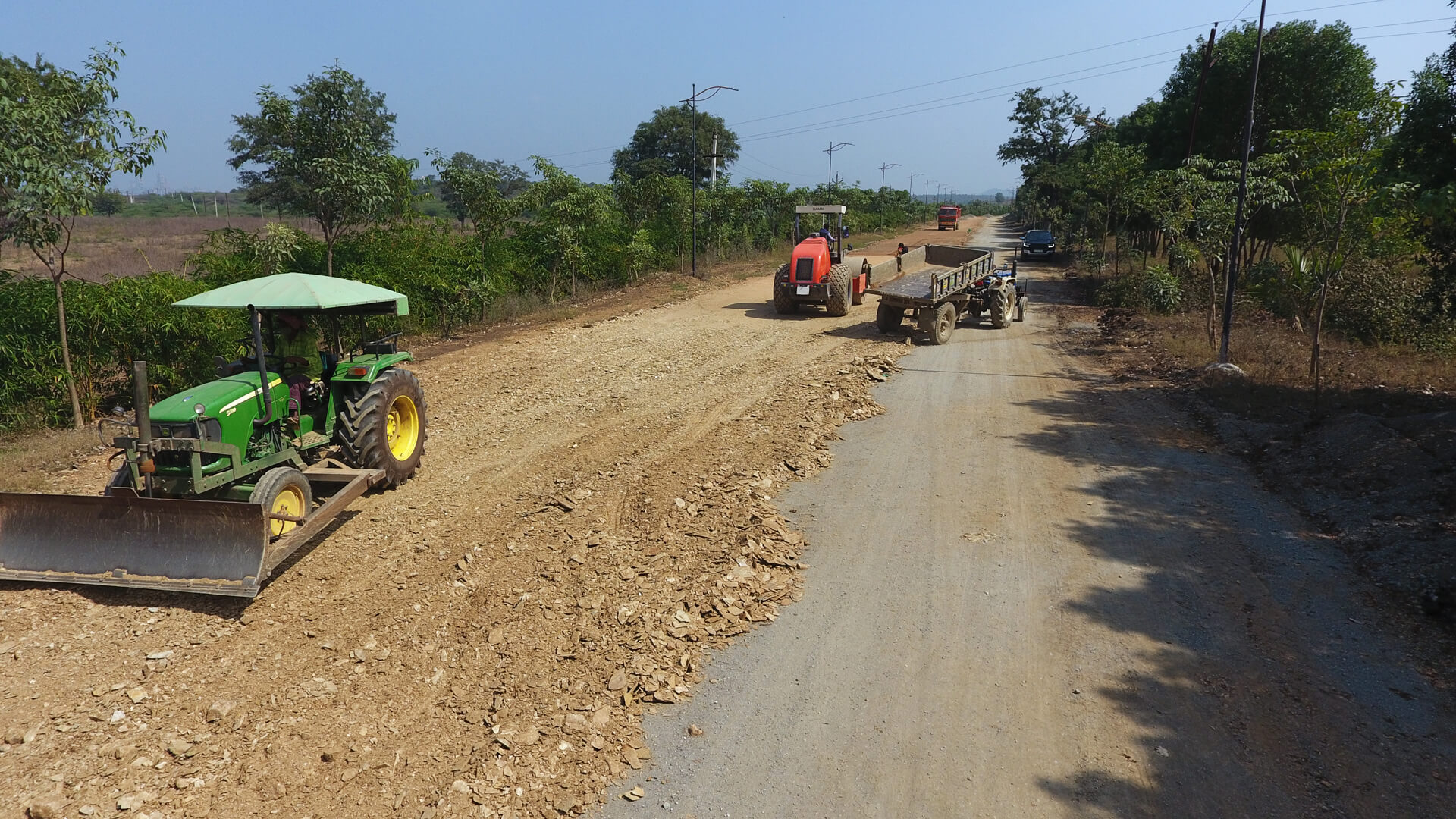 Sub-grade layer compaction and granular sub base layer completed, wet-mix and bitumen layers to be done shortly.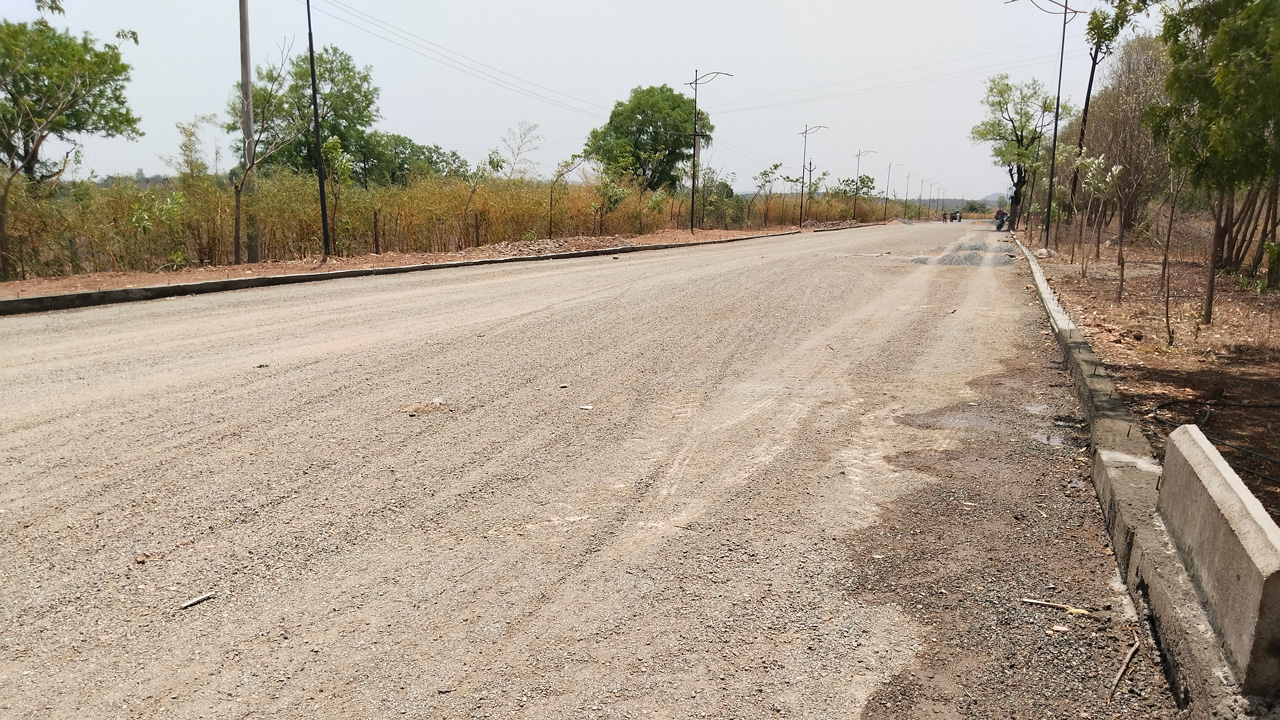 Kerbing work in-progress along with 12 feet deep rainwater harvesting pits.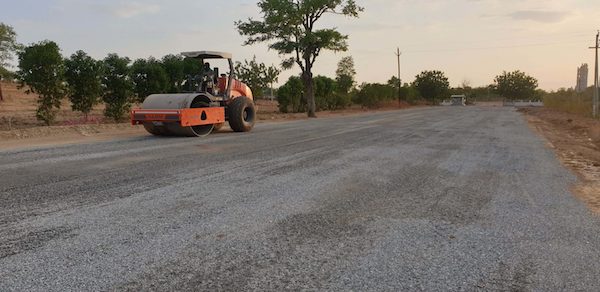 Wet-Mix / Jelly Laying & Rolling in Progress…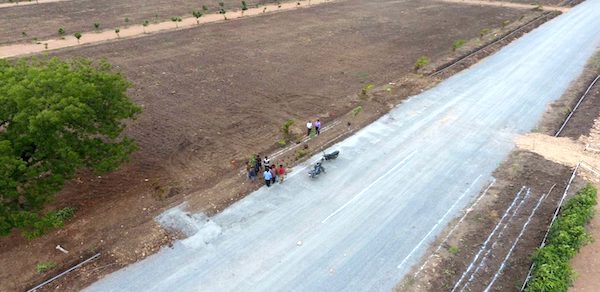 Drains Marking & Digging in Progress…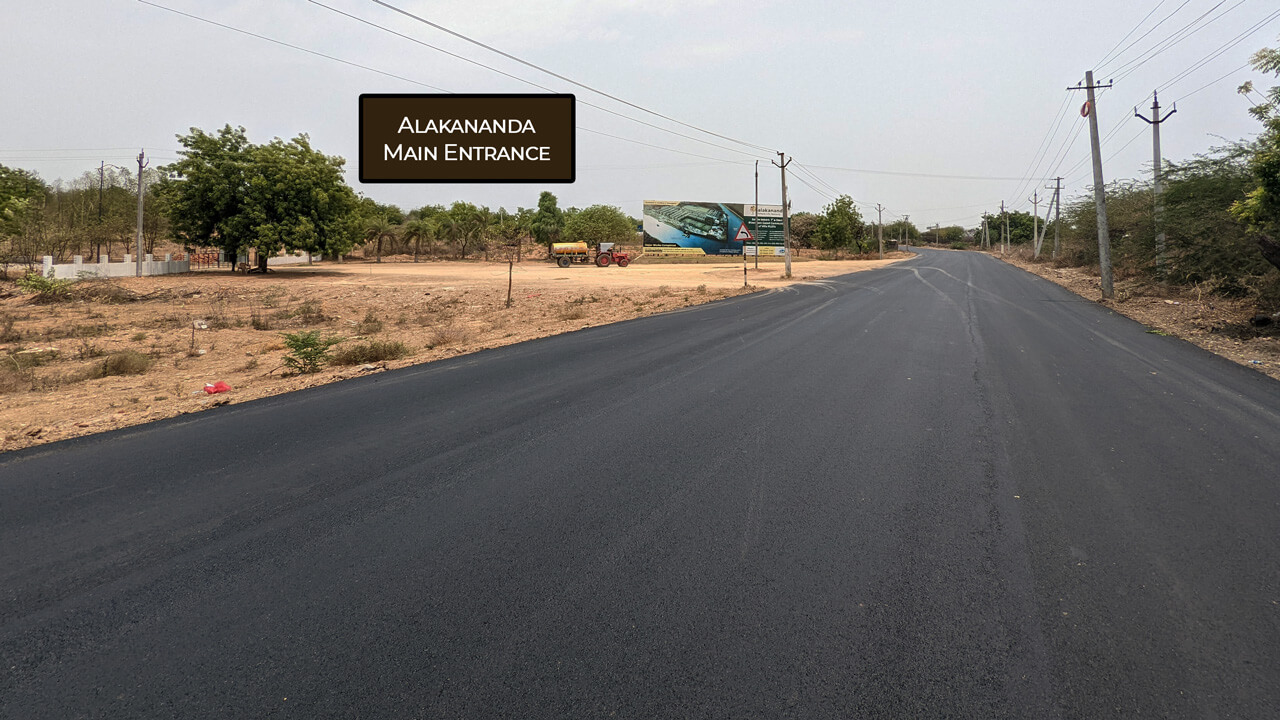 The 80 Feet Main Road from the HYD – VGA Highway (NH-65) has been recently relaid completely till Alakananda and beyond (till the upcoming cruise terminal land)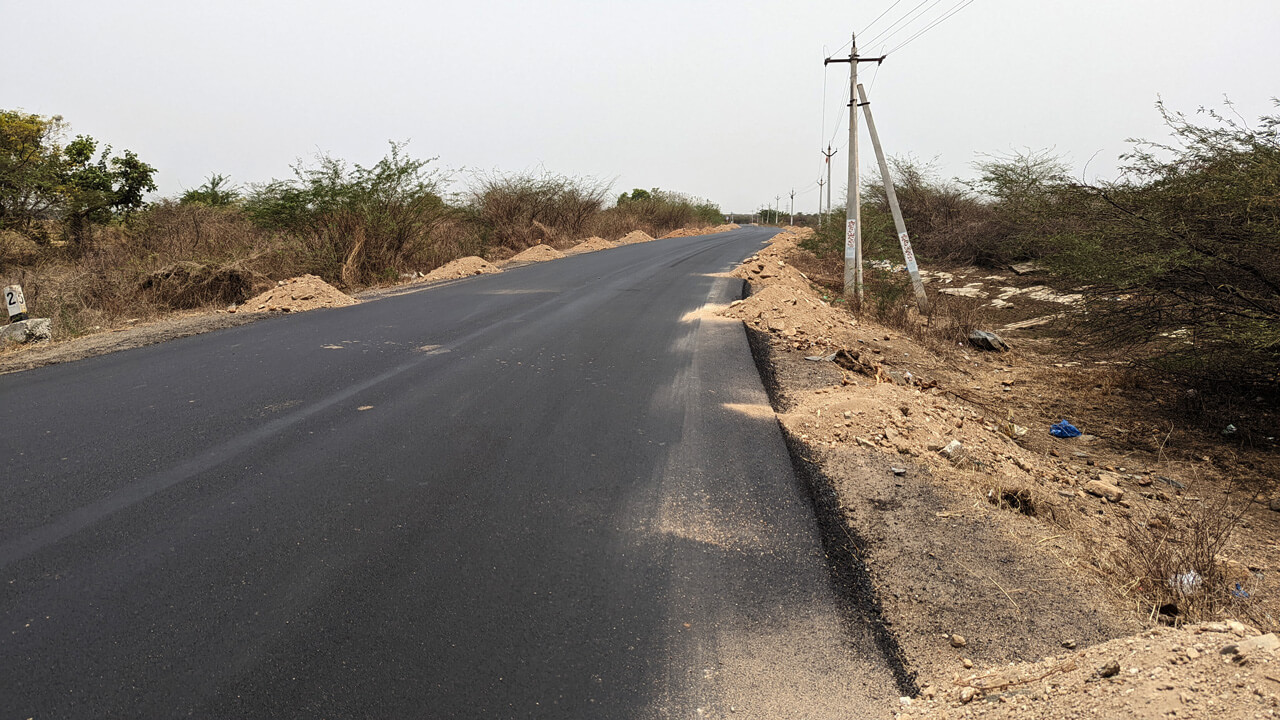 Expansion of this main road has also started in a basic way, with earth / soil being dumped all along the sides for leveling and preparation of the sub base.

"amaara" – 5 Acre Club House
with 2 AC Lounges with Breathtaking views of the River & the Community on the 1st & 2nd floors
Phase 1 Fully Operational
Phase 1 of clubhouse is almost complete, including a full-fledged commercial kitchen, an AC mini-banquet room, a games room, a manager's room, a garden bar / lounge, multiple party lawns for different groups in different zones and a media room on the ground floor.
All these facilities are 90% complete and will be fully-operational in the next few weeks :
100+ seater Banquet Hall on the 1st floor (with a kitchen below),

overlooking a stunning 3 kms long Riverfront!




.



AC Cafe / Restaurant with Outdoor Patio (90 Seater) : Commercial Kitchen with Chinese, Continental and Tandoor Stations along with cold storage is getting completed.


.



Multiple Party Lawns (500 to 800 Guests capacity)

for wedding celebrations, birthday parties, etc. as this is the MOST EXOTIC ambience one can experience in this region




.



Air-Conditioned Indoor Games Room on the 2nd floor overlooking the river


.



Resident Manager's Room, to handle all club activities


.



Garden Bar and Seating


.



Media room for Visitor Presentations
.


and much much more!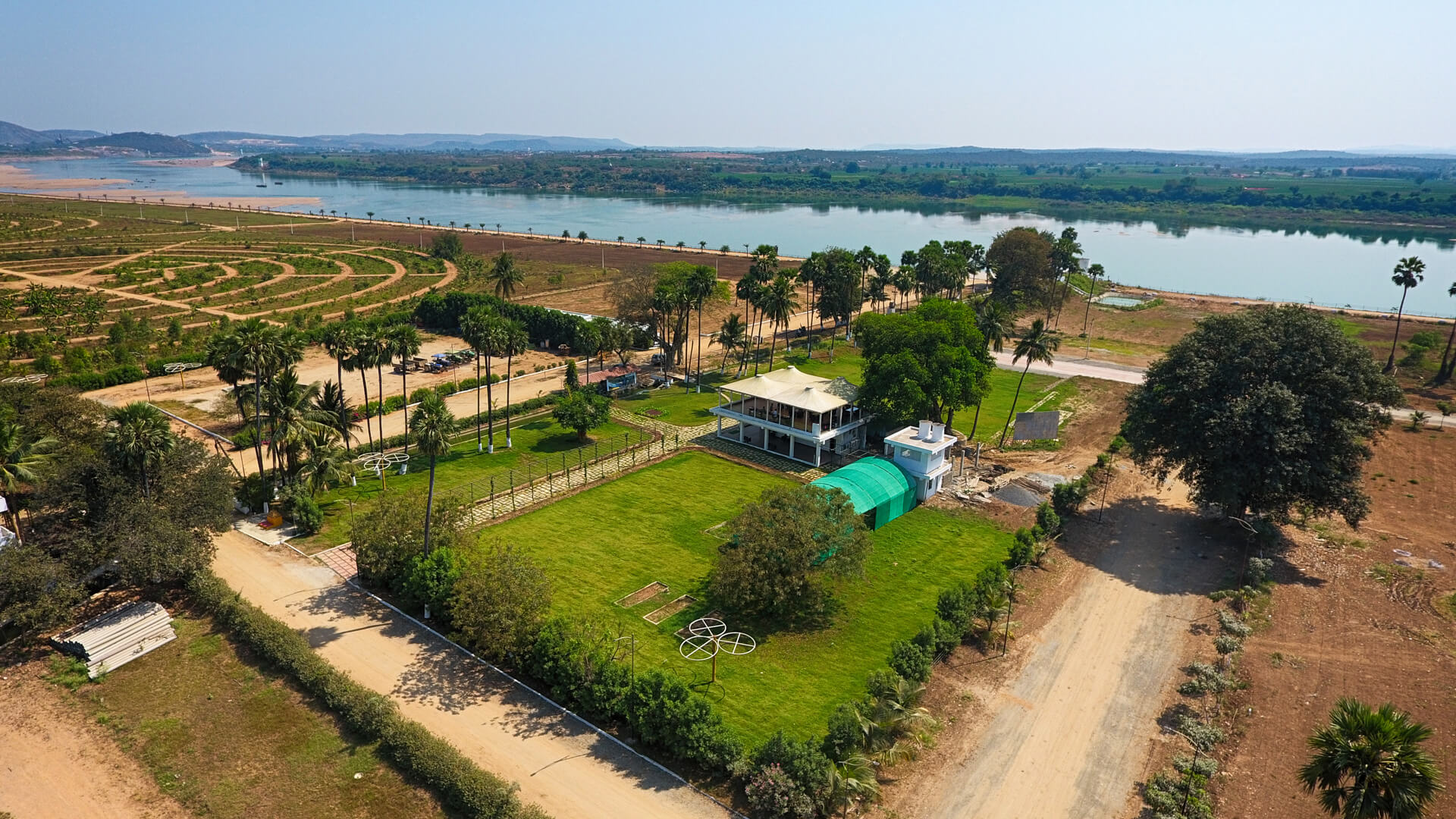 5 acre Riverfront Clubhouse overlooking the Krishna River – Operational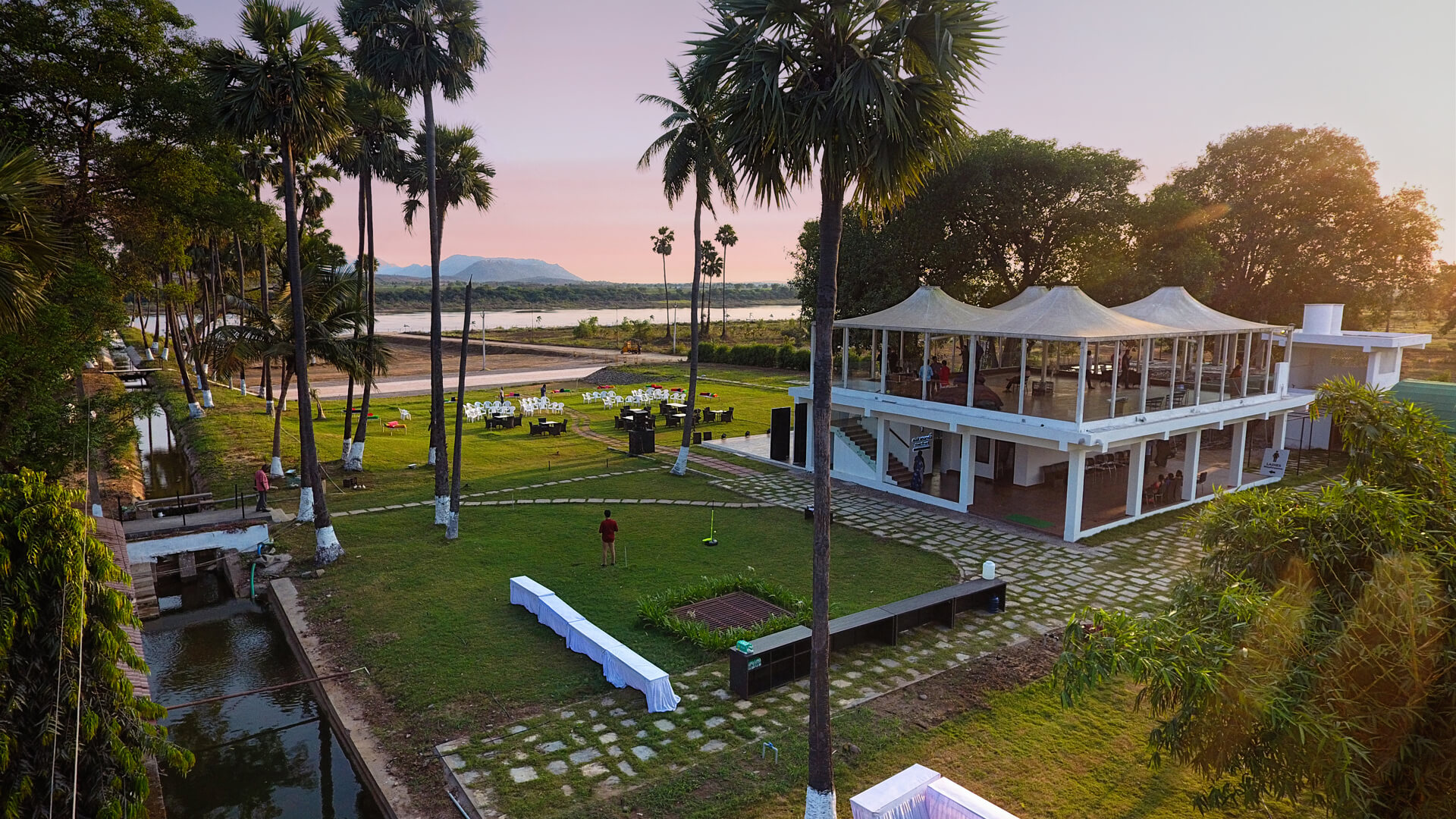 1st Building of Clubhouse overlooking the Krishna River
Capable of hosting events of upto  500 People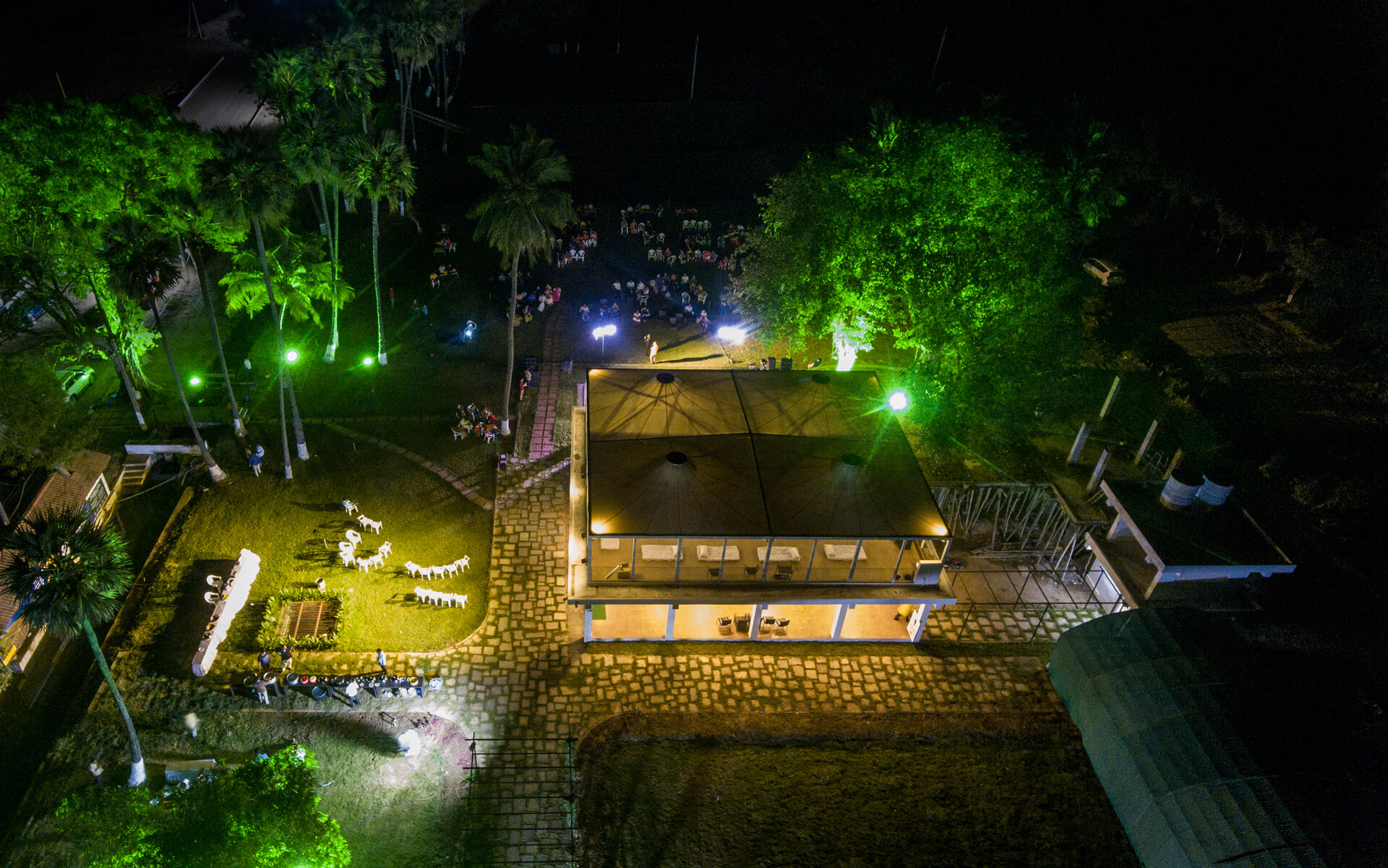 Drone View of an overnight event
at the Clubhouse with over 200 People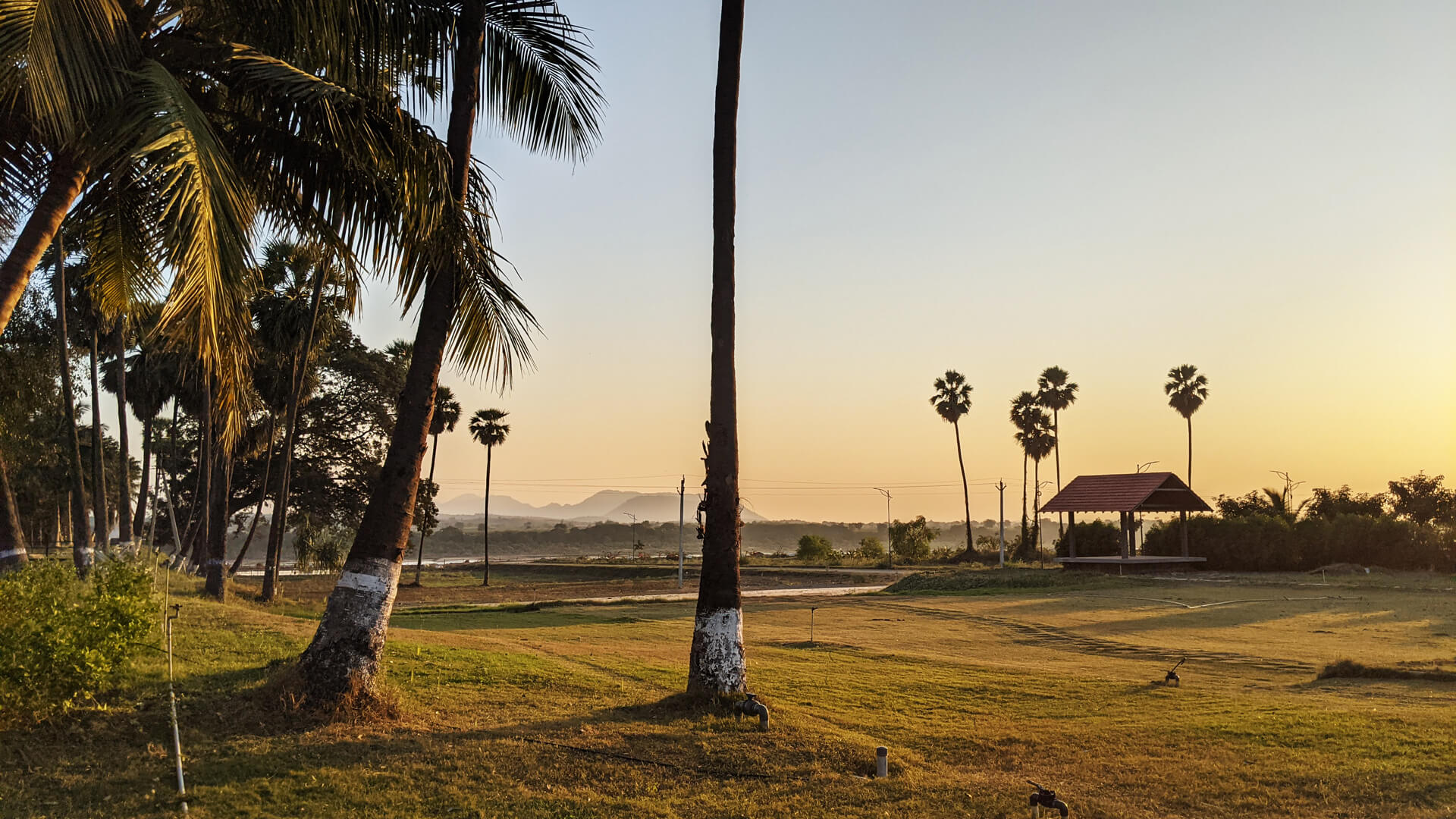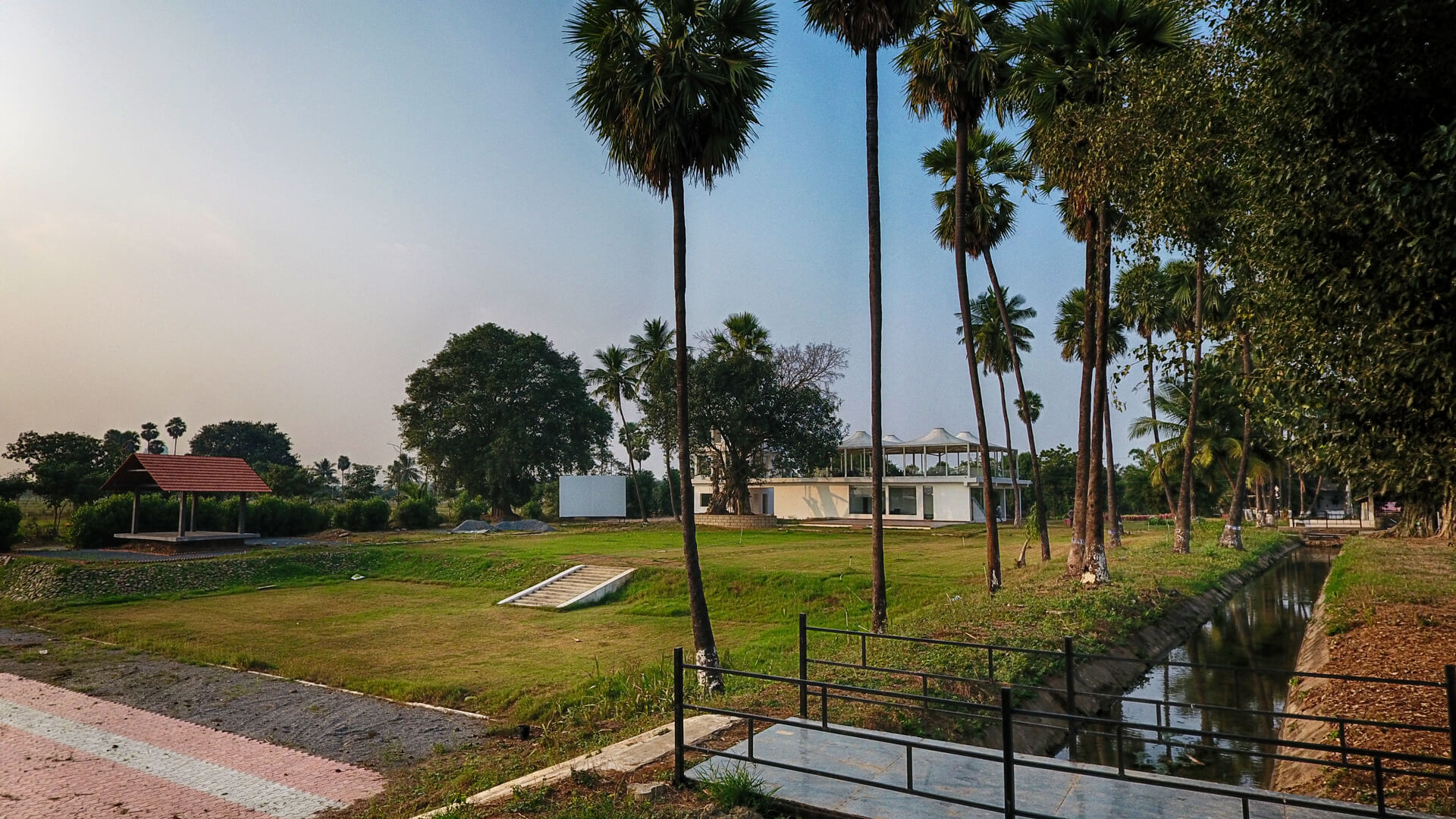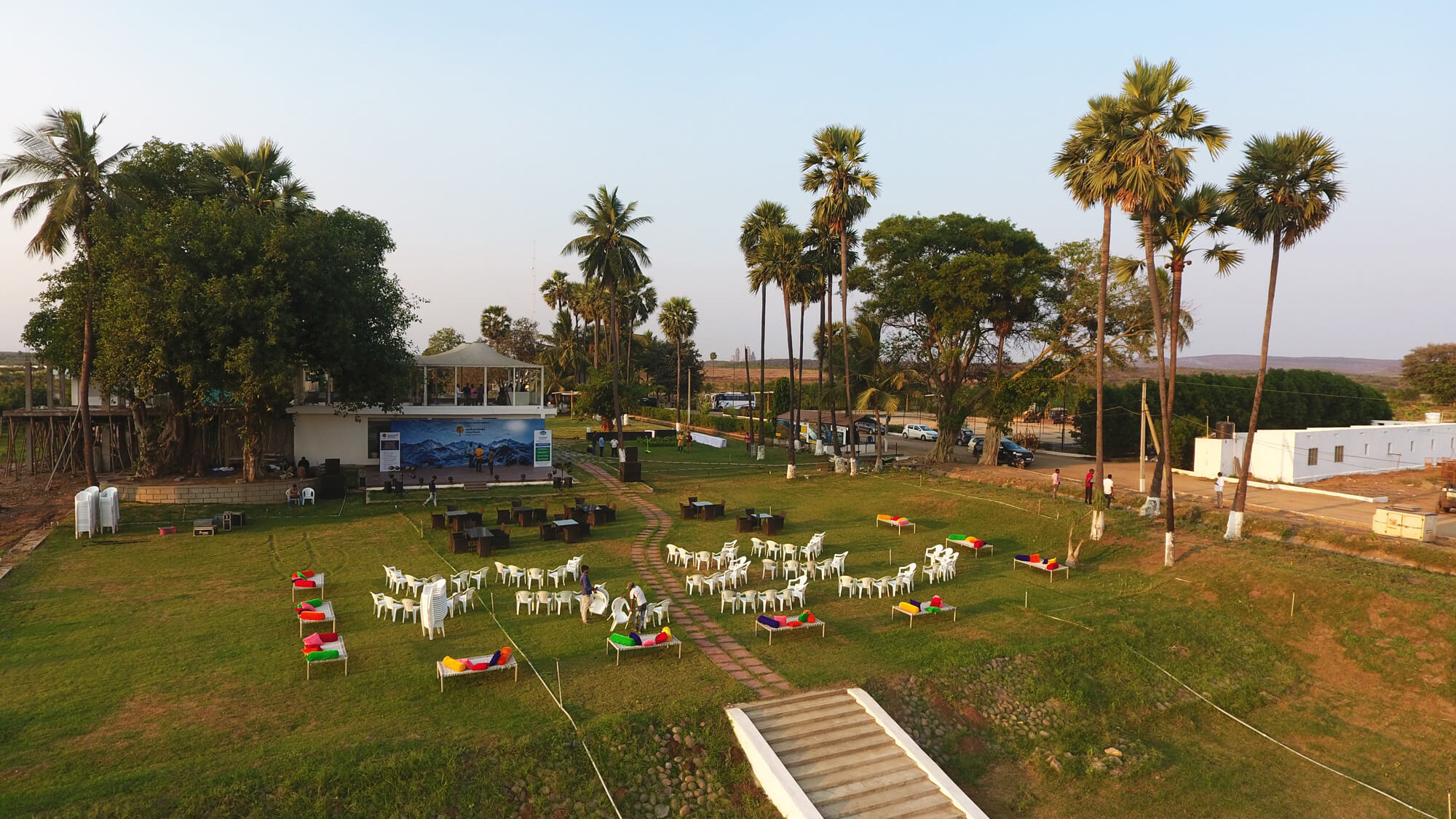 Drone View of an Evening Party
at the Clubhouse for a group of 100 People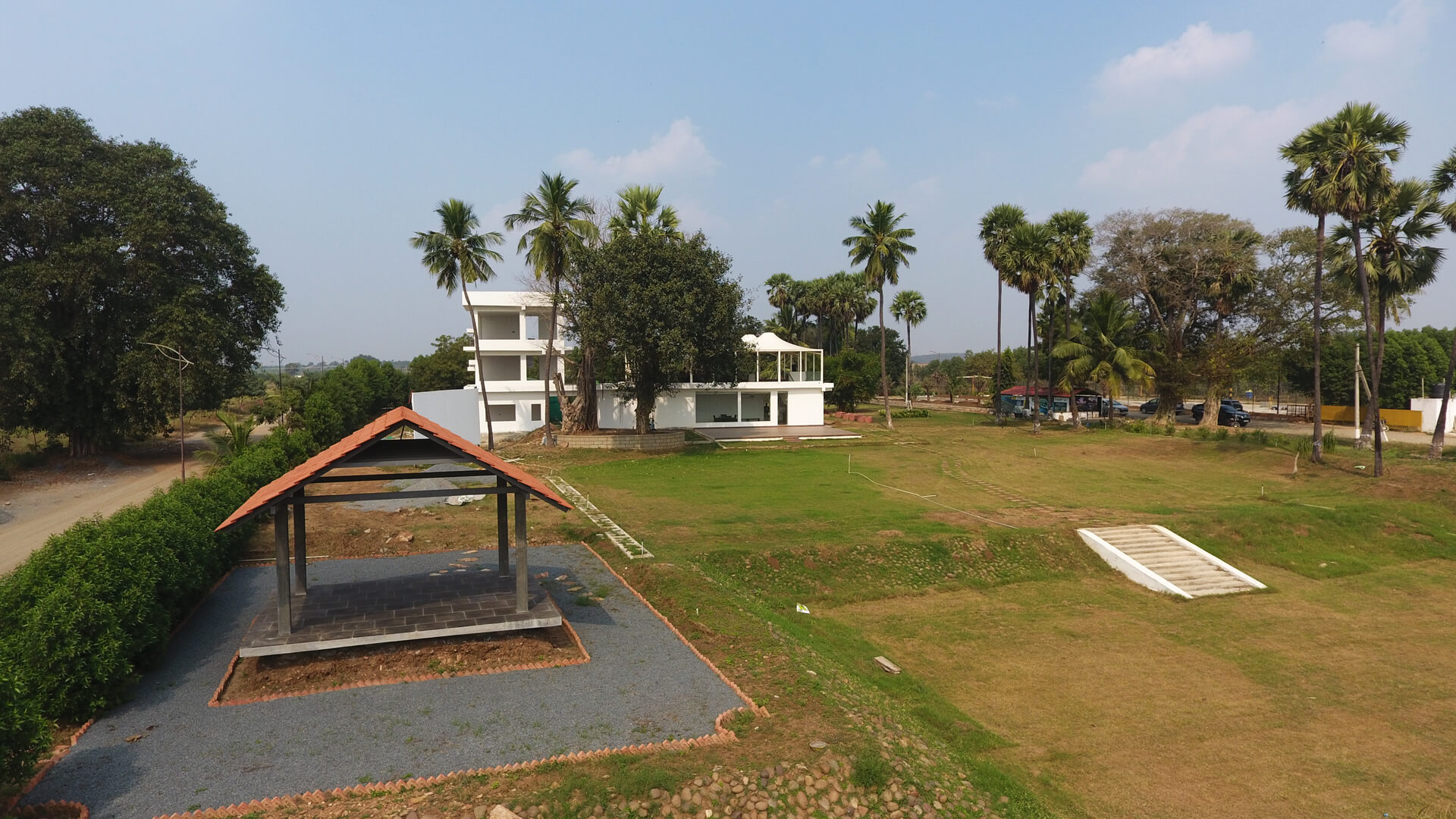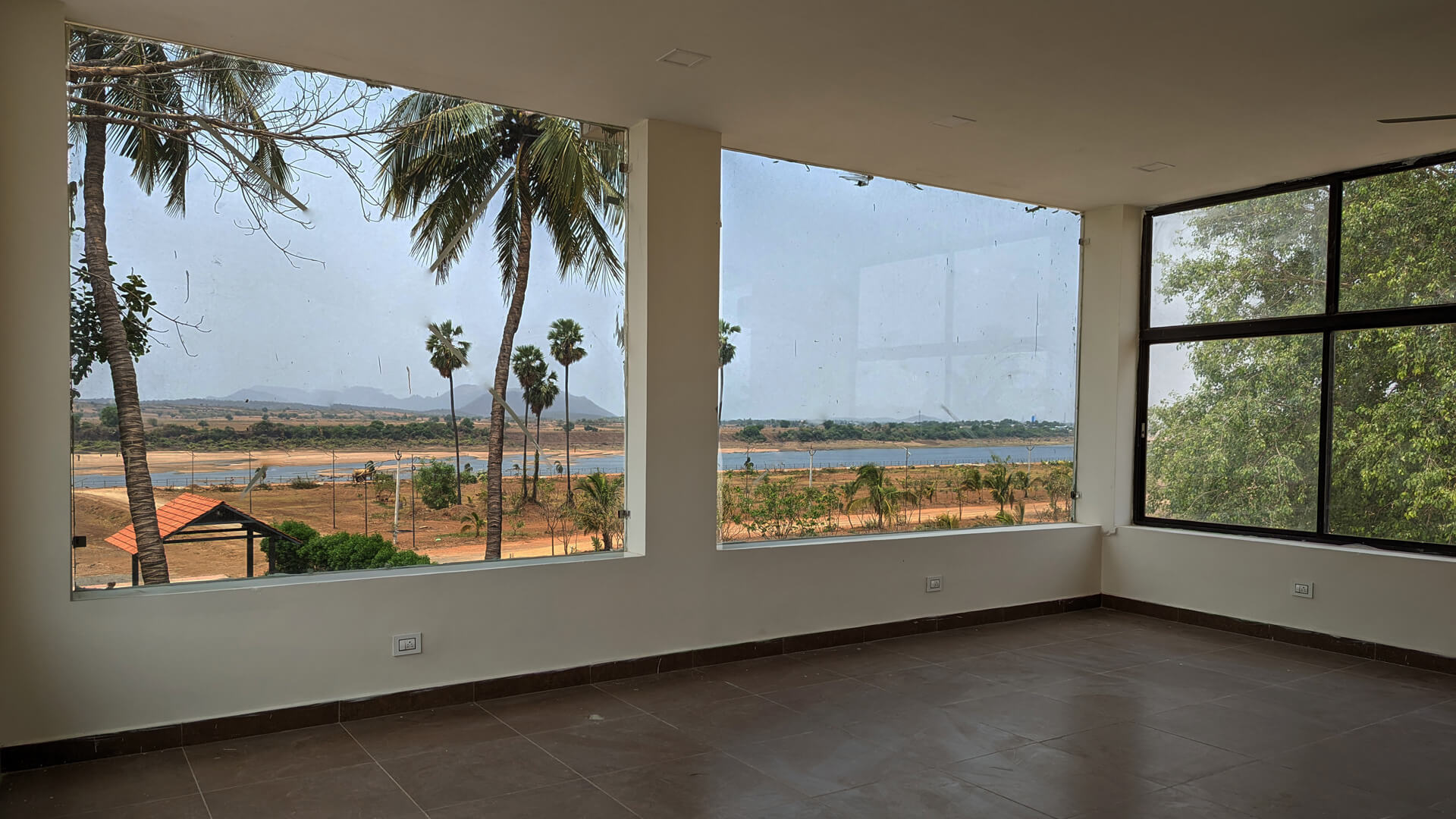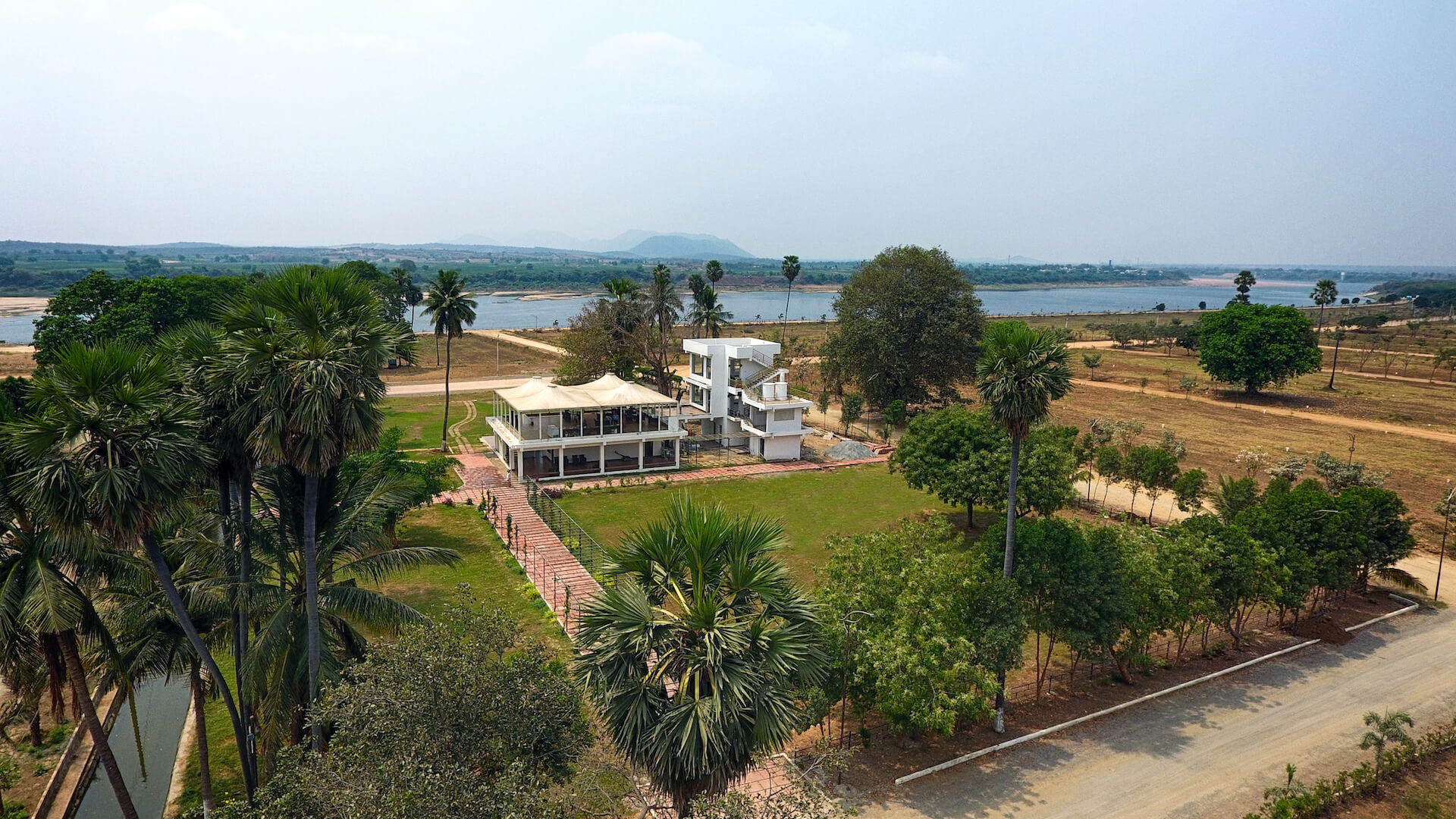 Horse Riding Arena
Operational with 2 Race Horses!
We tied up with the Hyderabad Polo Club to buy 2 trained race horses along with riding equipment (saddles, stands, etc) and have also appoint experienced jockeys who are now living in the campus permanently.
The stables are now complete and the horses and jockeys are on site with full preparedness for plot owners and visitors to start going for assisted rides and even learn going around themselves!
We have already created a large practice arena for visitors to try out horse riding with 100% safety (we can even offer horse-riding classes for a reasonable fee).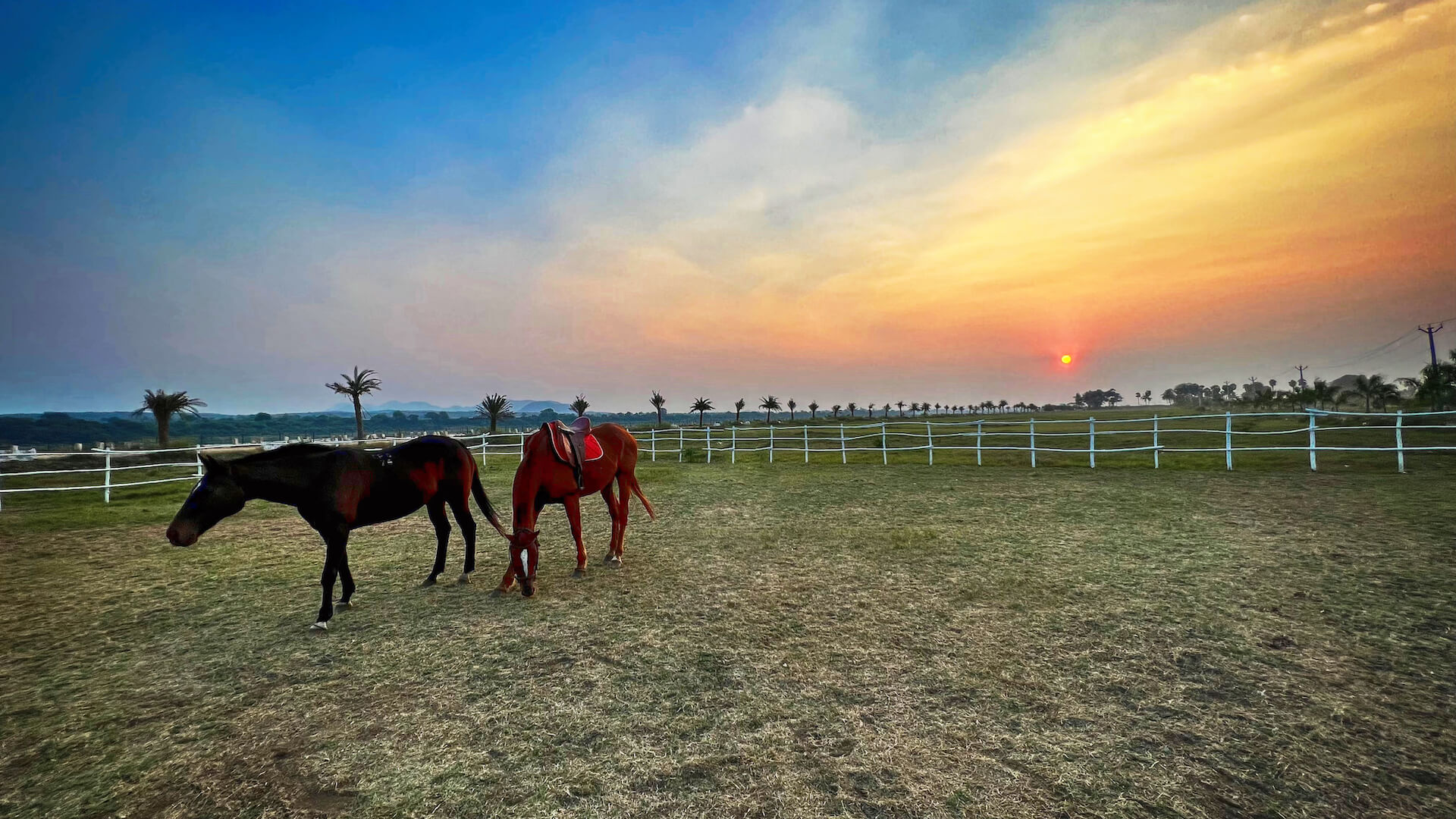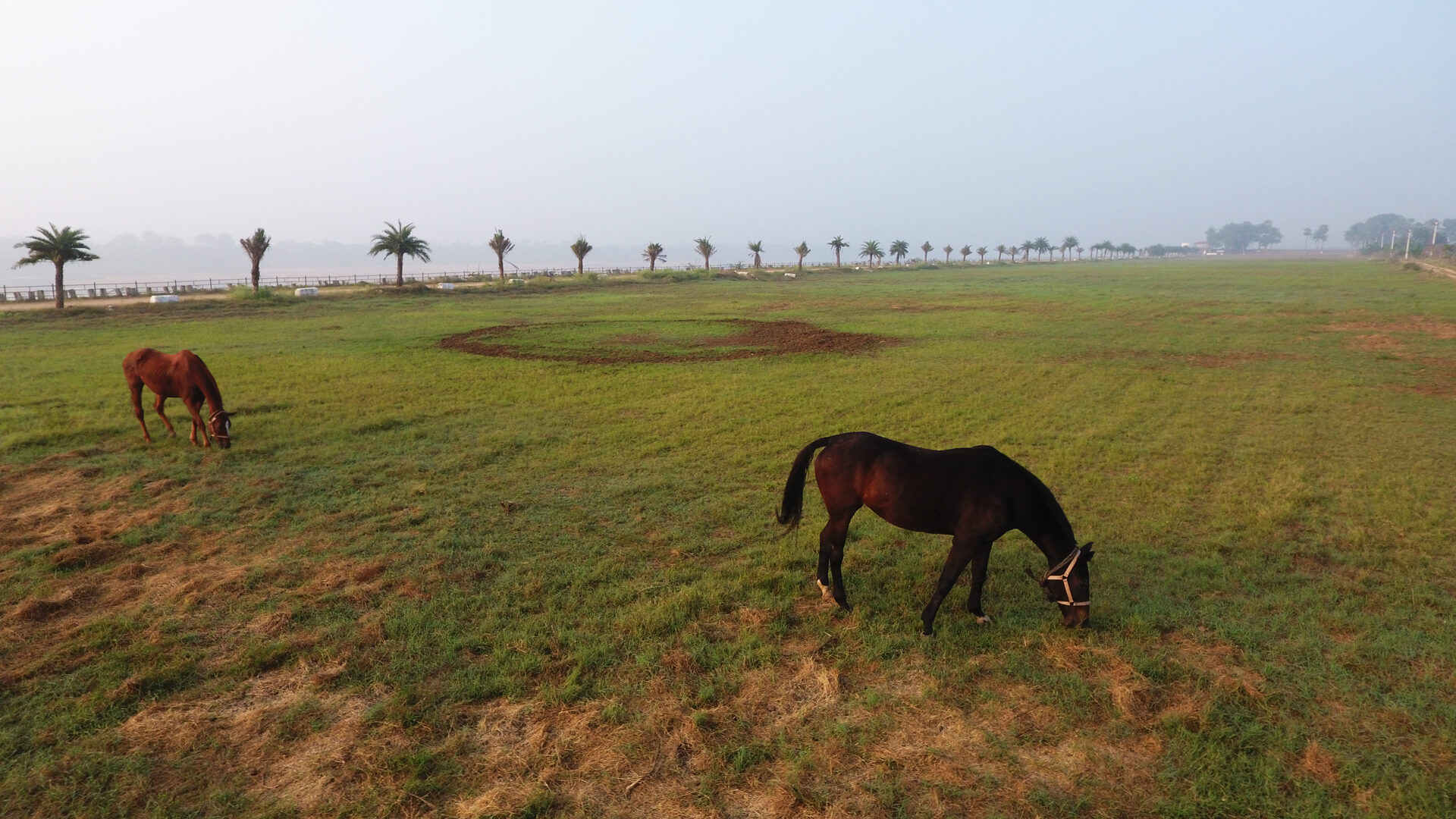 Private Boat Jetty with Watersports
1st time in South India for a Residential Community!
Boat Jetty is already operational for our plot owners & Guests to enjoy Speedboat & Canoe rides on the grand Krishna River!
(operated by trained & Govt Certified Staff at site 24/7; water scooters and cruise boats will be added in a few months as per demand)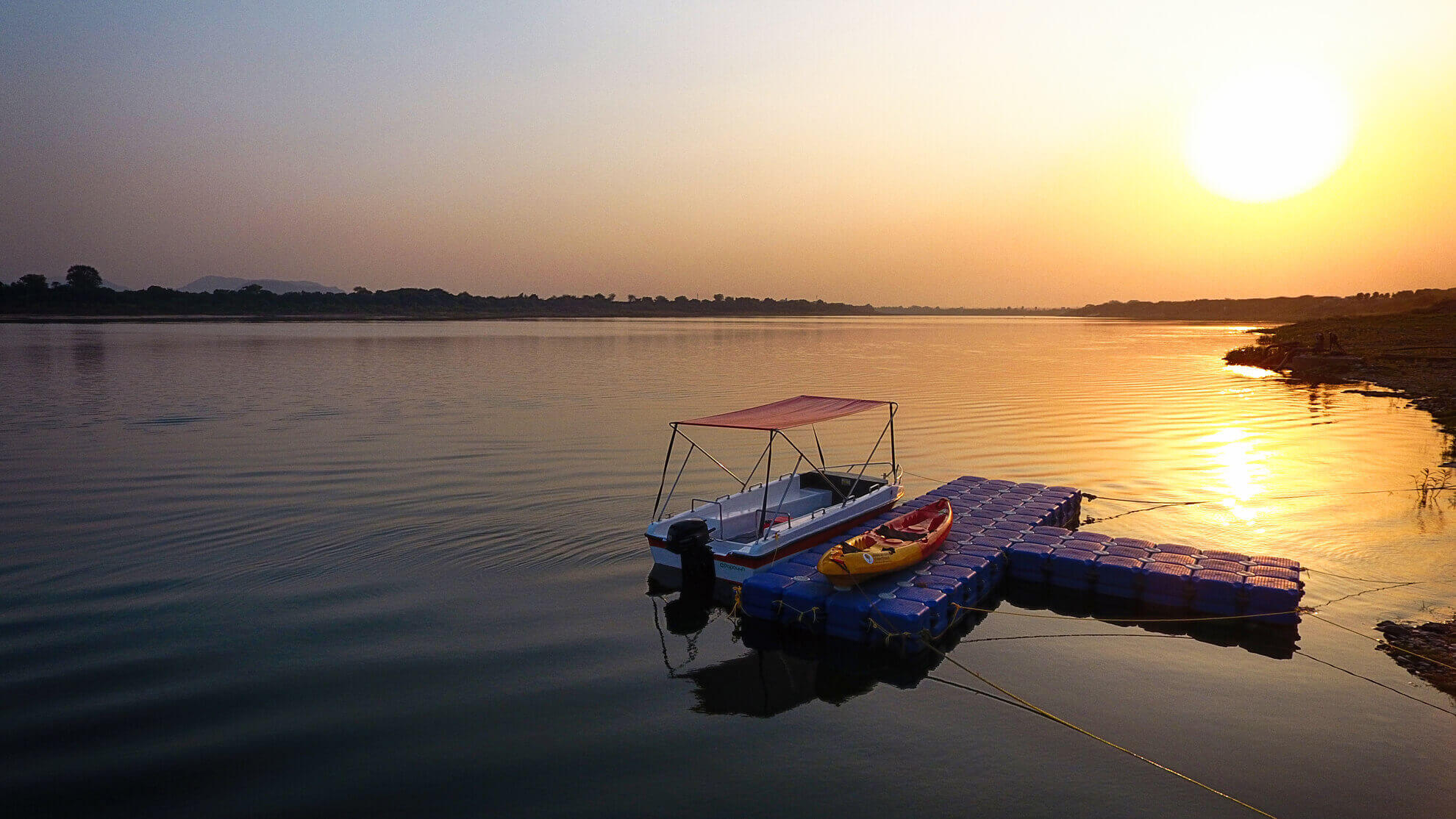 Our own Private Boats for you to enjoy at your will & wish (paddle boat + single-seater canoes + double seater kayaks + 6-seater powered speedboat with a licensed driver) and meant only for plot owners and guests (we will not be marketing this or selling tickets etc to outsiders)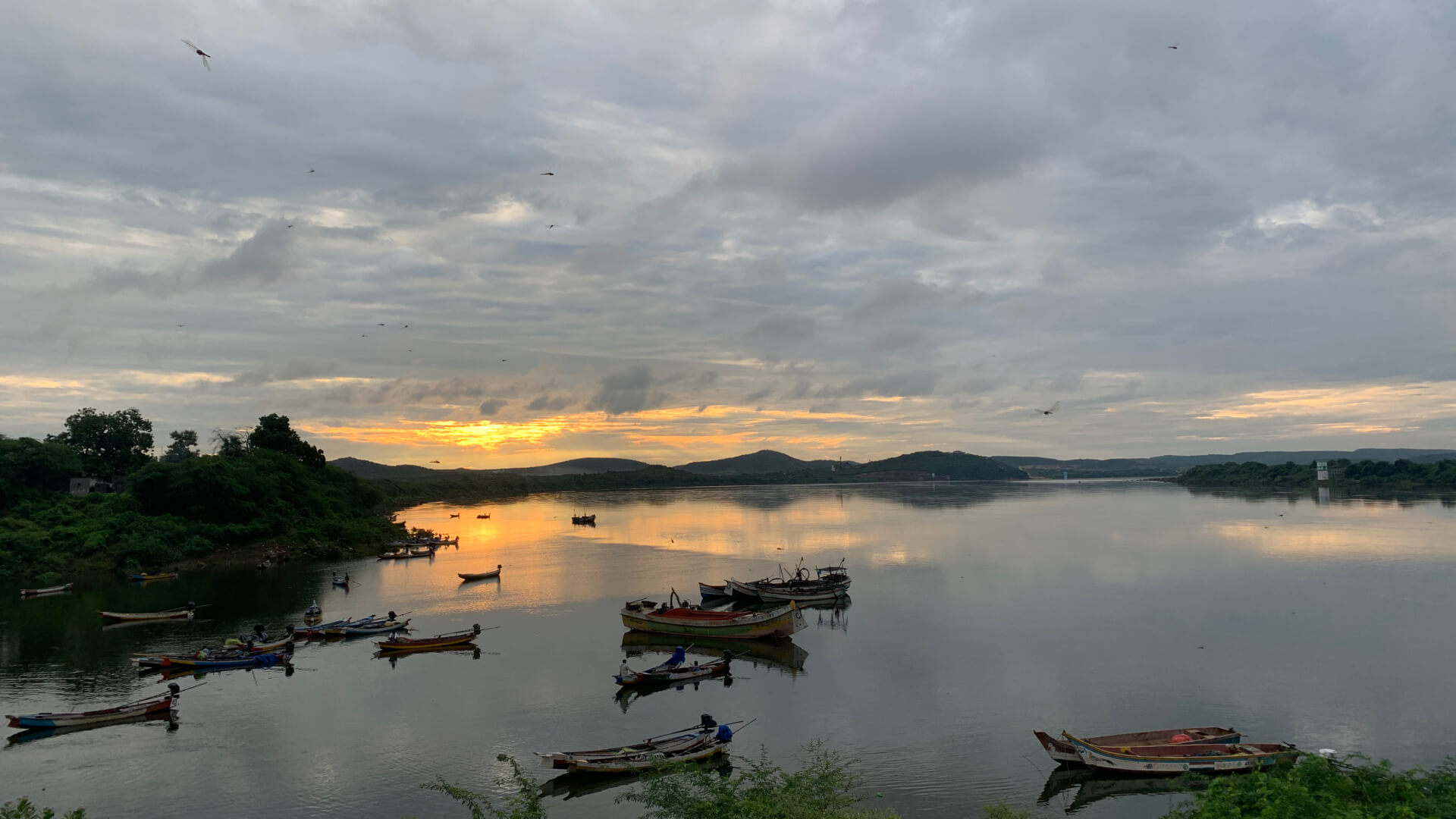 Fishing Boats on Paleru River @ Alakananda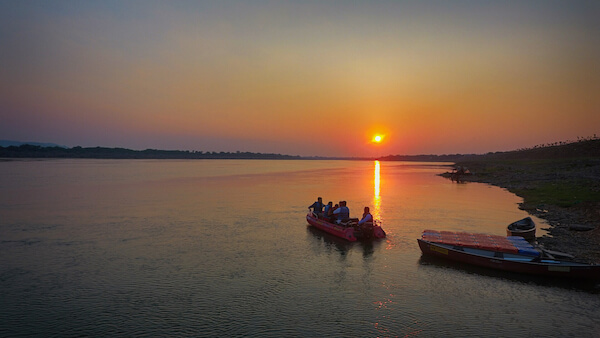 Sunset Boating by Guests @ Alakananda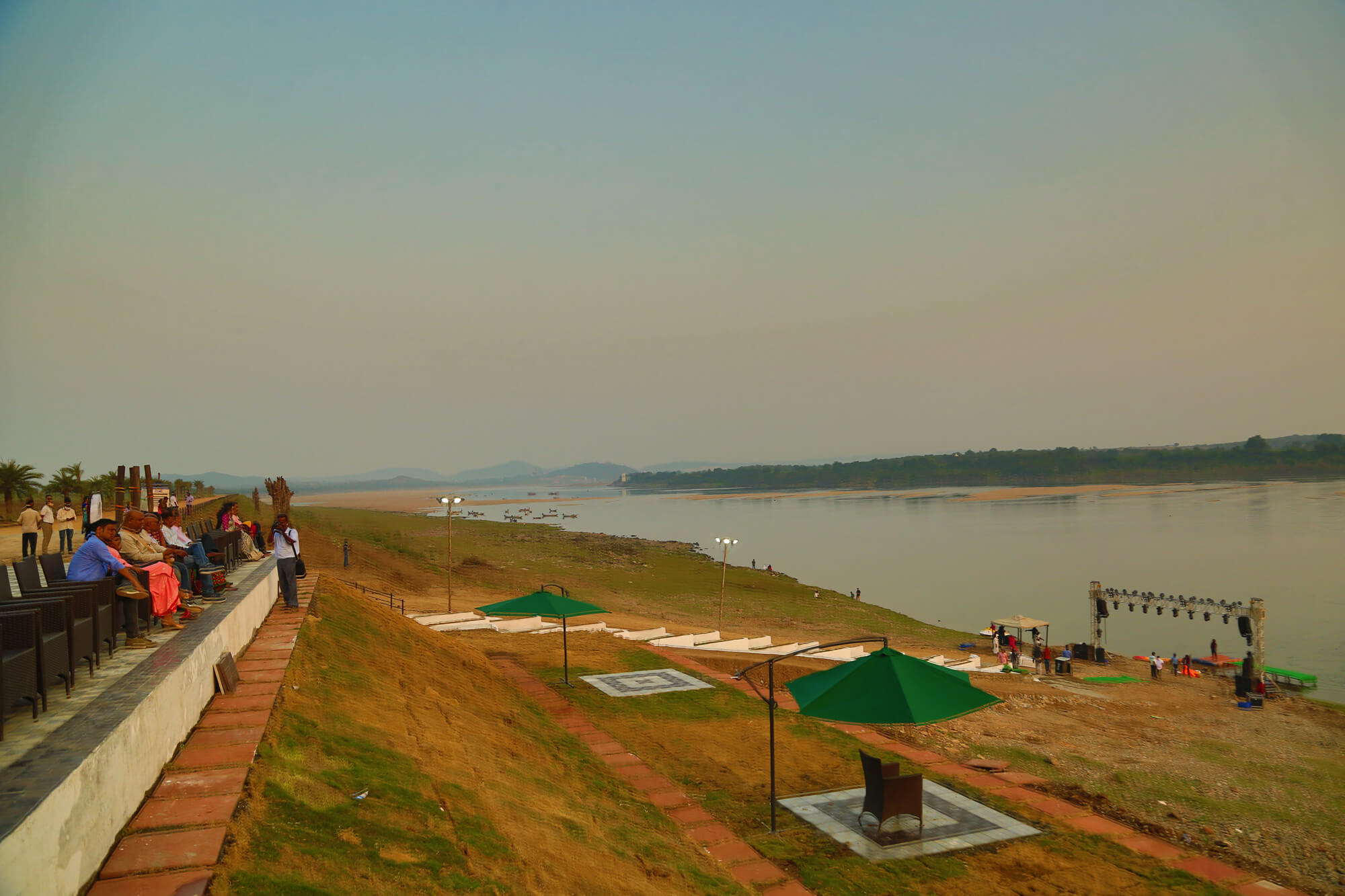 Enjoy stunning sunsets & sunrises from multiple decks and lounges along the Krishna river with food carts & kiosks (almost completed as shown in the Beach Party Zones images previously)

40 Acres Botanical Gardens

1st time in India for a Residential Gated Community!
25,000+ plants spanning 52 varieties!
10,000 plants of 17 varieties already on the ground, with 15,000 to be added this rainy season.
Goshala for

Purest Milk

& Farm Fresh Eggs
Daily Fresh Organic Fruits & Vegetables for residents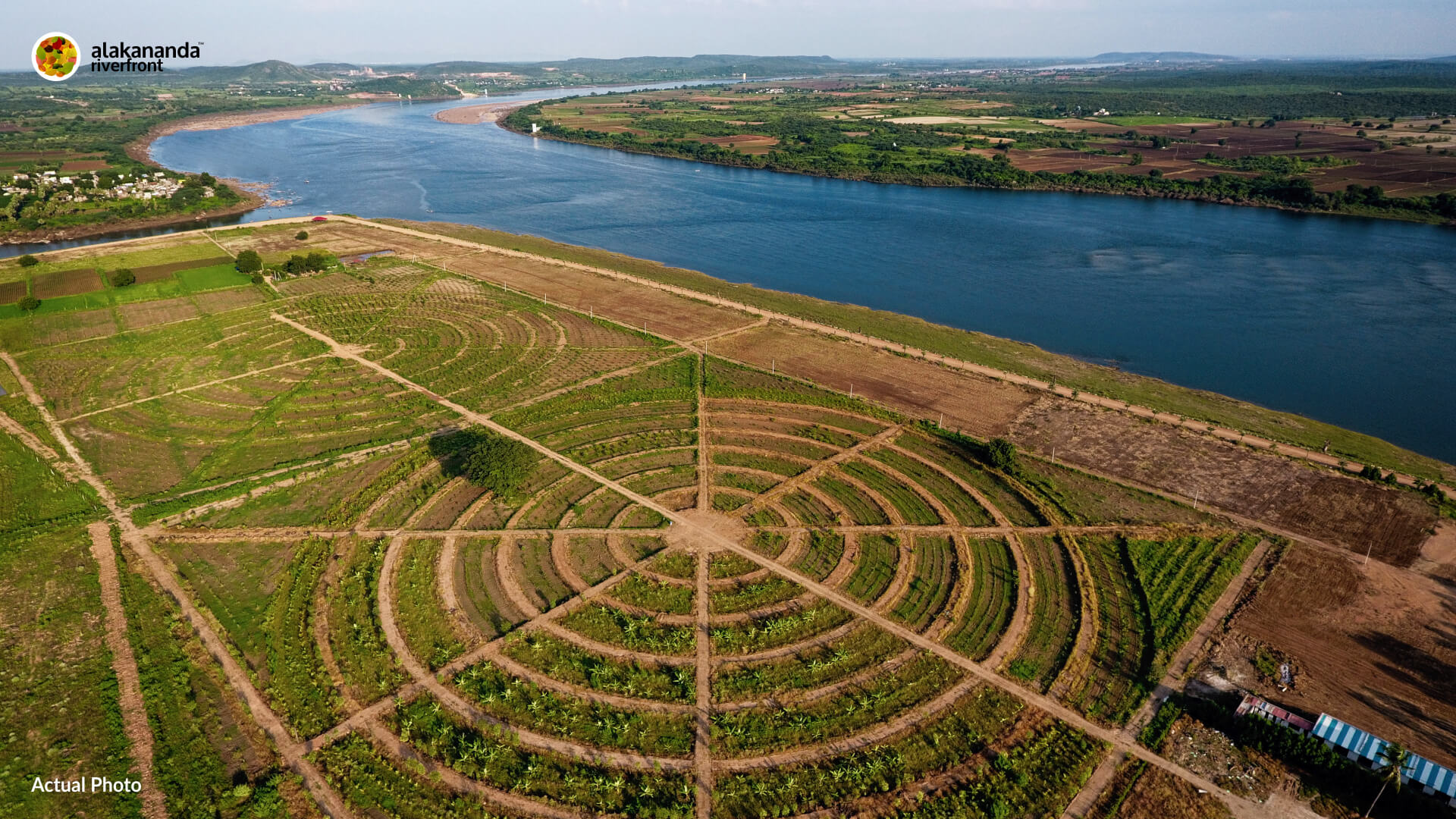 We have created 2 circles of 20 acres each, with 7 concentric 12 feet wide paths for electric cars / golf buggies & walking trails for plot owners to go around & experience the 25,000+ plants spanning 52 varieties!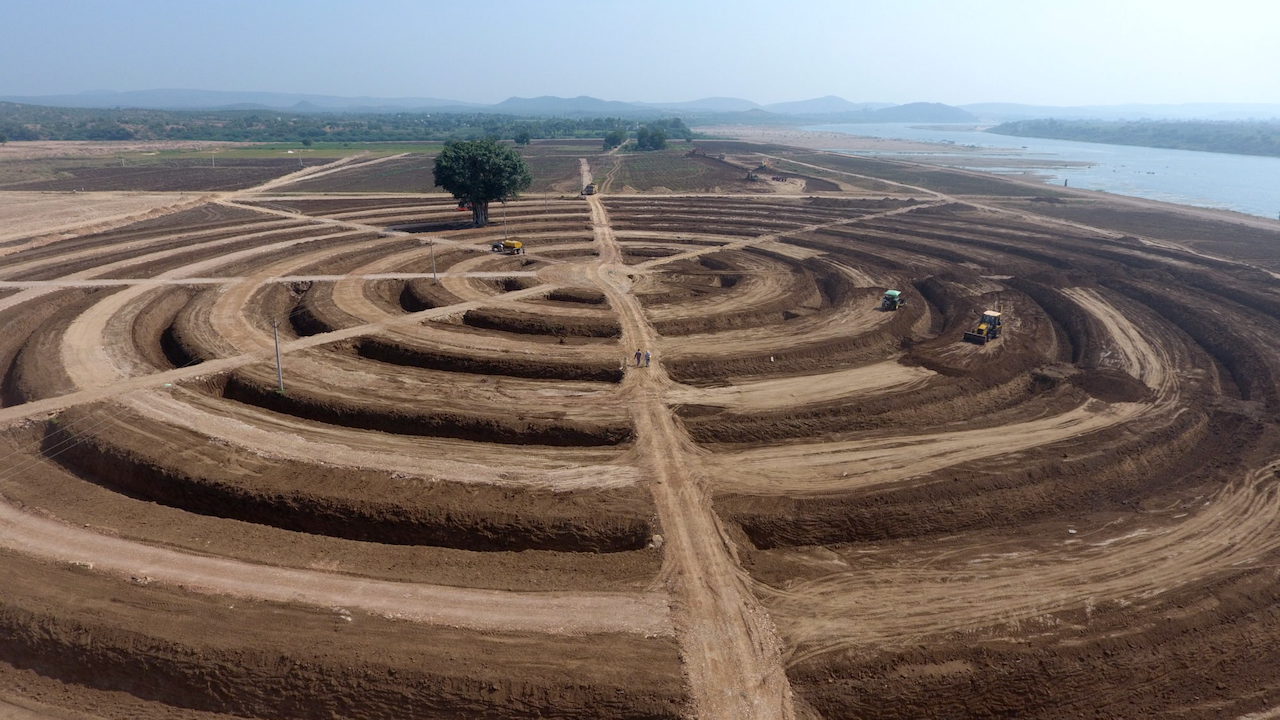 Old Photo : Concentric Circles being formed…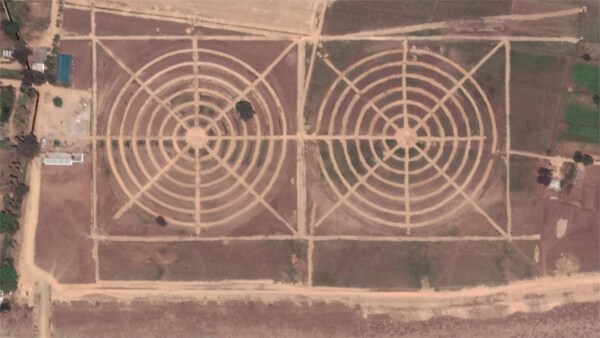 Old Photo : Satellite View in 2020 while work was in-progress…
1.2 km Long Man-Made Canal
A unique feature that will be used for irrigating entire township and also as a walking track & leisure space with 300 coconut trees on either side for a shaded walk-way, and swans, ducks and other friendly animals to create an exotic ambiance!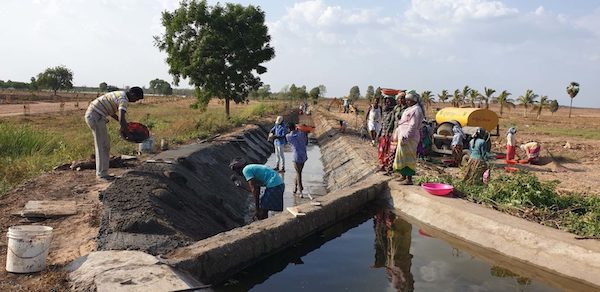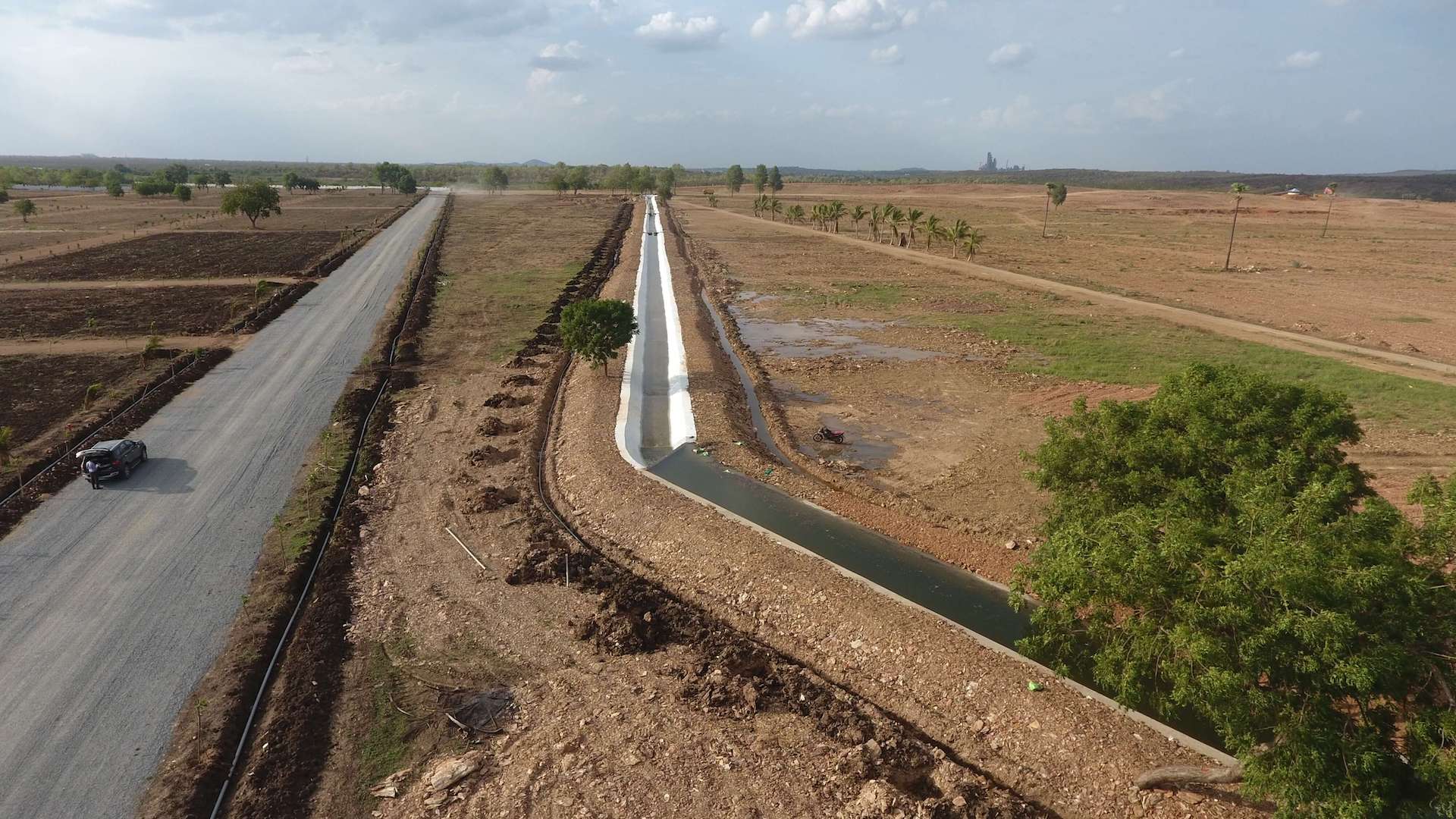 1.2 Kms Long Canal Parallel to 60 feet Main Road

Angler's Lounge / Fishing Deck

By the Krishna River
Situated right next to the Private Boat Jetty, this Angler's Deck can host small groups of fishing lovers, with an open to sky shower!
(landscaping & finishing works along with furniture will be completed in the next few weeks)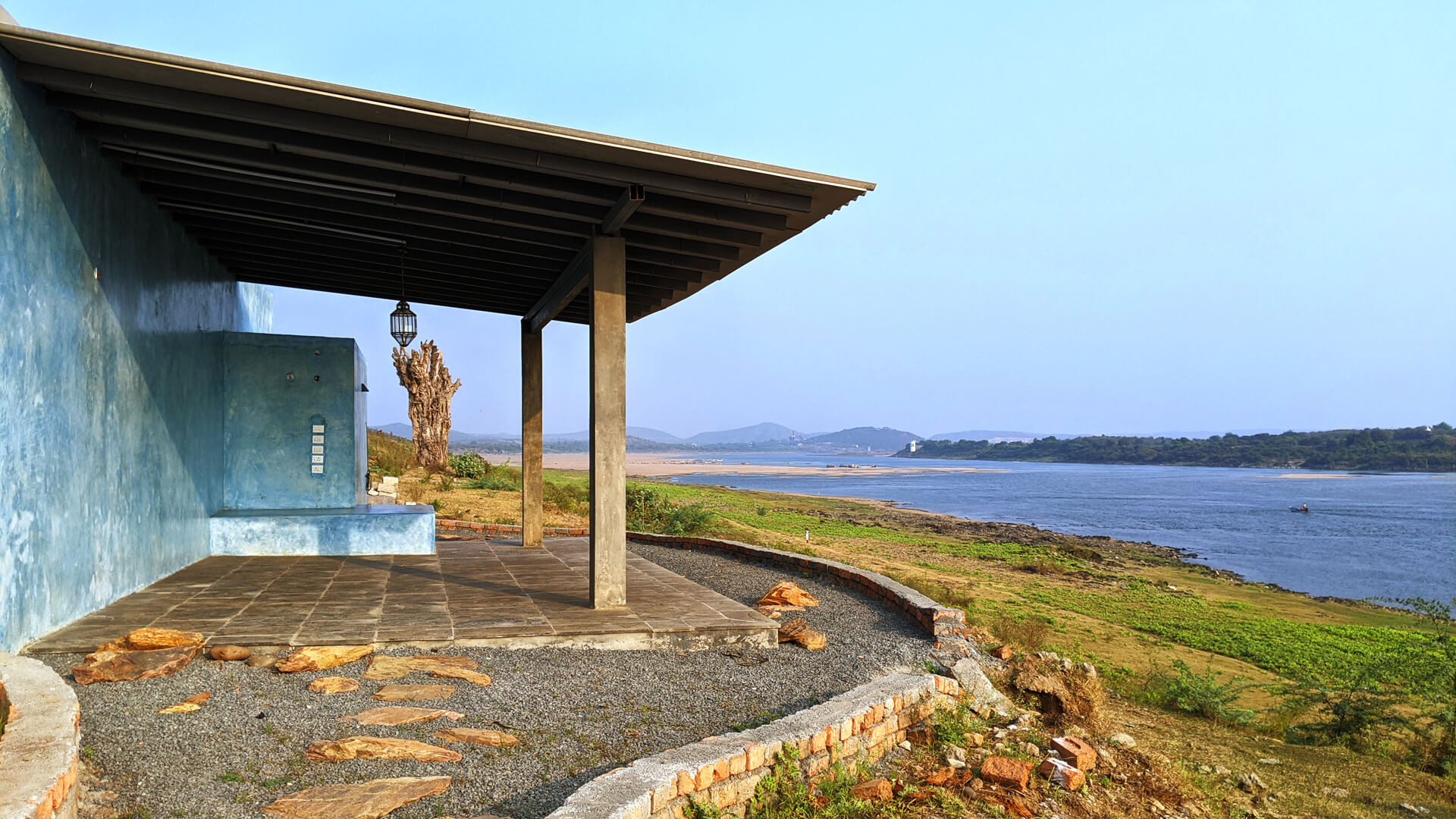 1st Batch of Villas already Completed
Delivered & Occupied by owners!
As shared previously, many plot owners have finalised their villa designs by selecting from among 12 templates developed by our dedicated team of architects – ranging from 1 to 5 BHK.
Construction is being done through us as we have positioned almost 40 skilled masons from Auroville, Pondicherry due to their proven expertise in doing a fine construction work.
We are glad to confirm that 3 such villas have been FULLY COMPLETED & OCCUPIED by the owners & we had the privilege of hosting the 1st housewarming ceremony for a 3 BHK owner & their relatives & friends at a brand new Riverfront BEACH PARTY ZONE (already shown to you previously)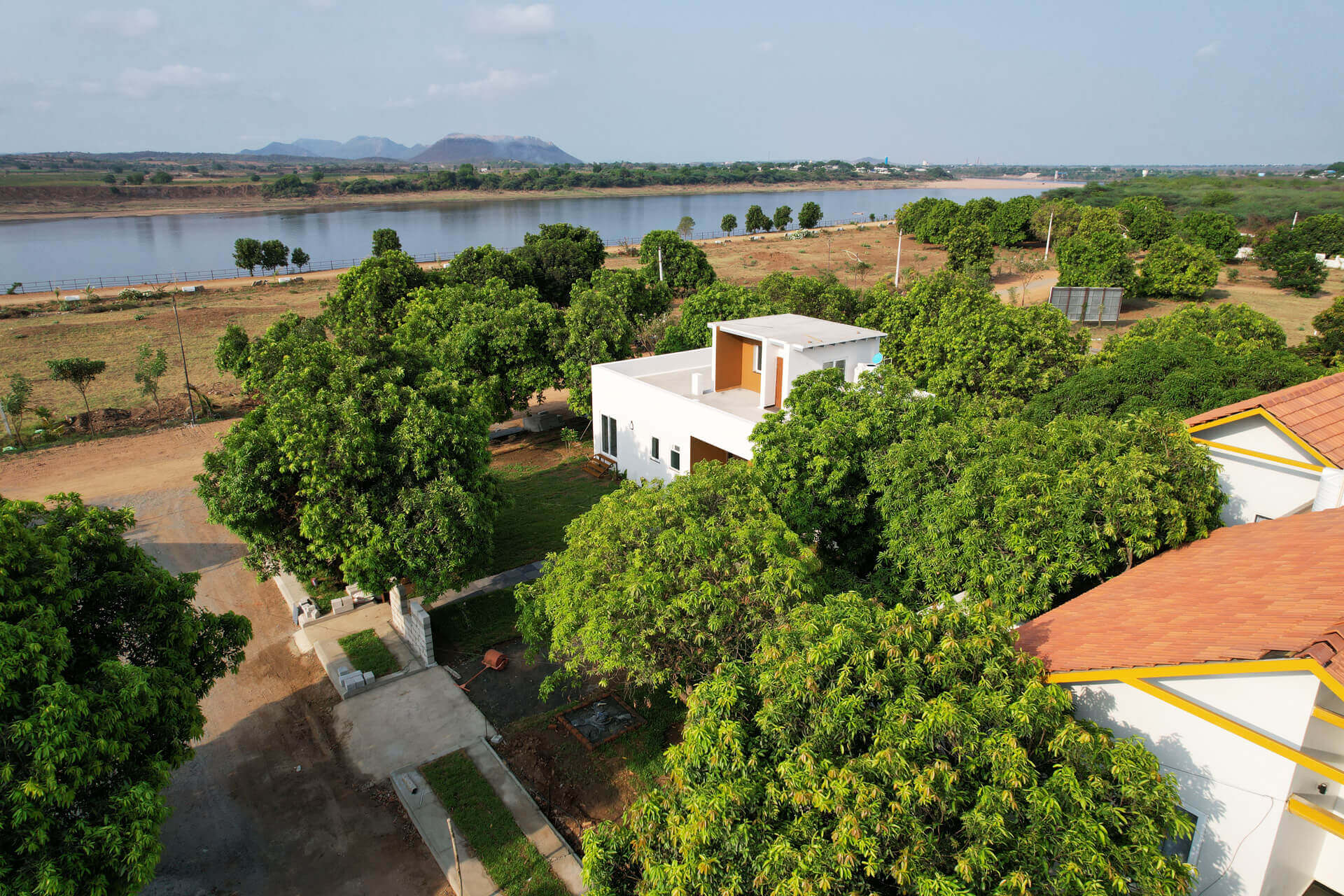 REAL PHOTO / Drone Shot of Completed Villas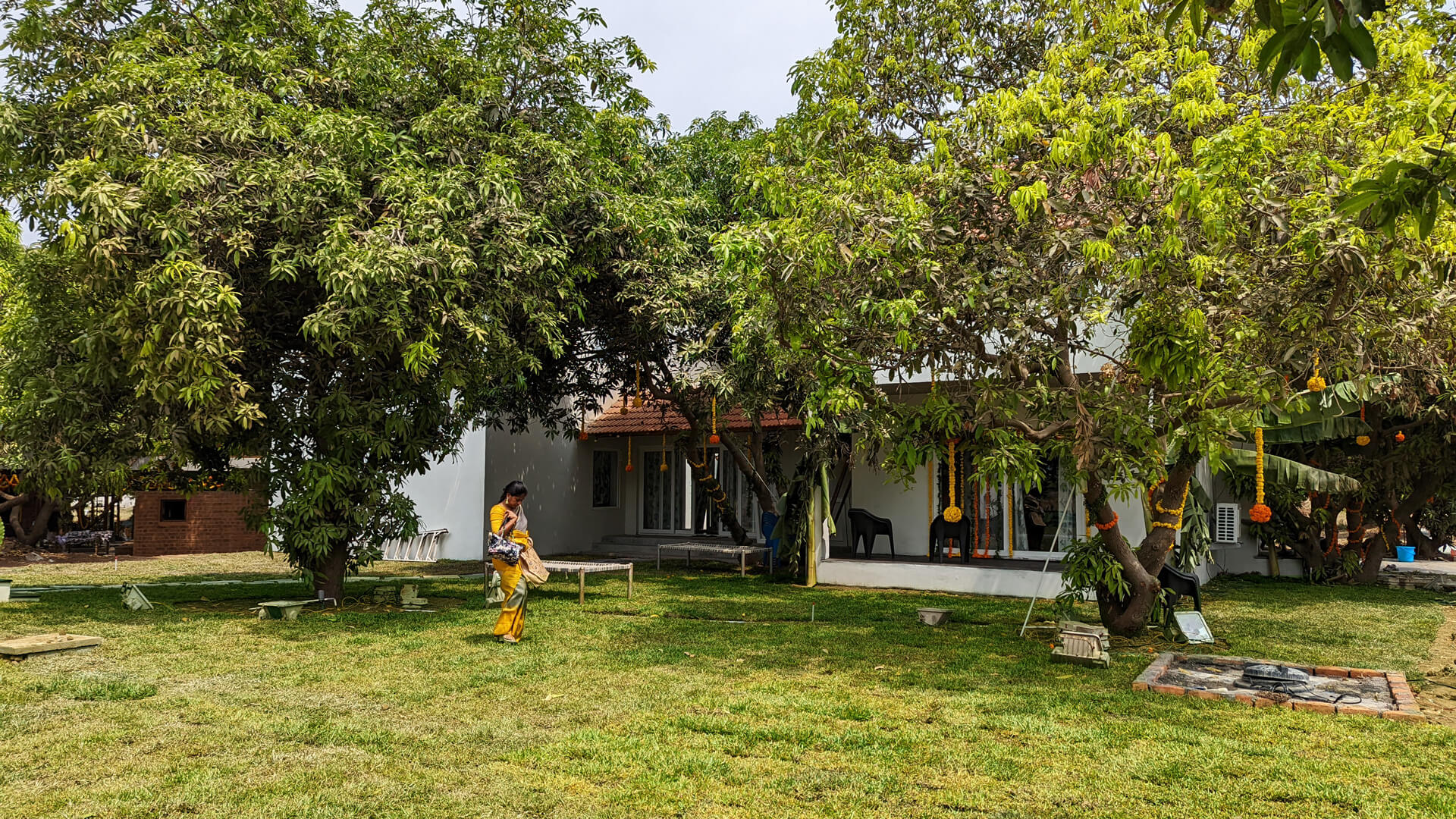 Plot Size : 444 Sq Yards
Villa Size : 3150 Sft
Villa Cost : Rs.96 Lakhs
A retired couple who lived in Detroit (USA) for 15 years moved back to Hyderabad and were looking for a waterfront home for a long time and after an extensive search, found the perfect retirement nest in Alakananda!
They plan to stay in Alakananda for 5 months a year to begin with and after 2 years, start living permanently in Alakananda!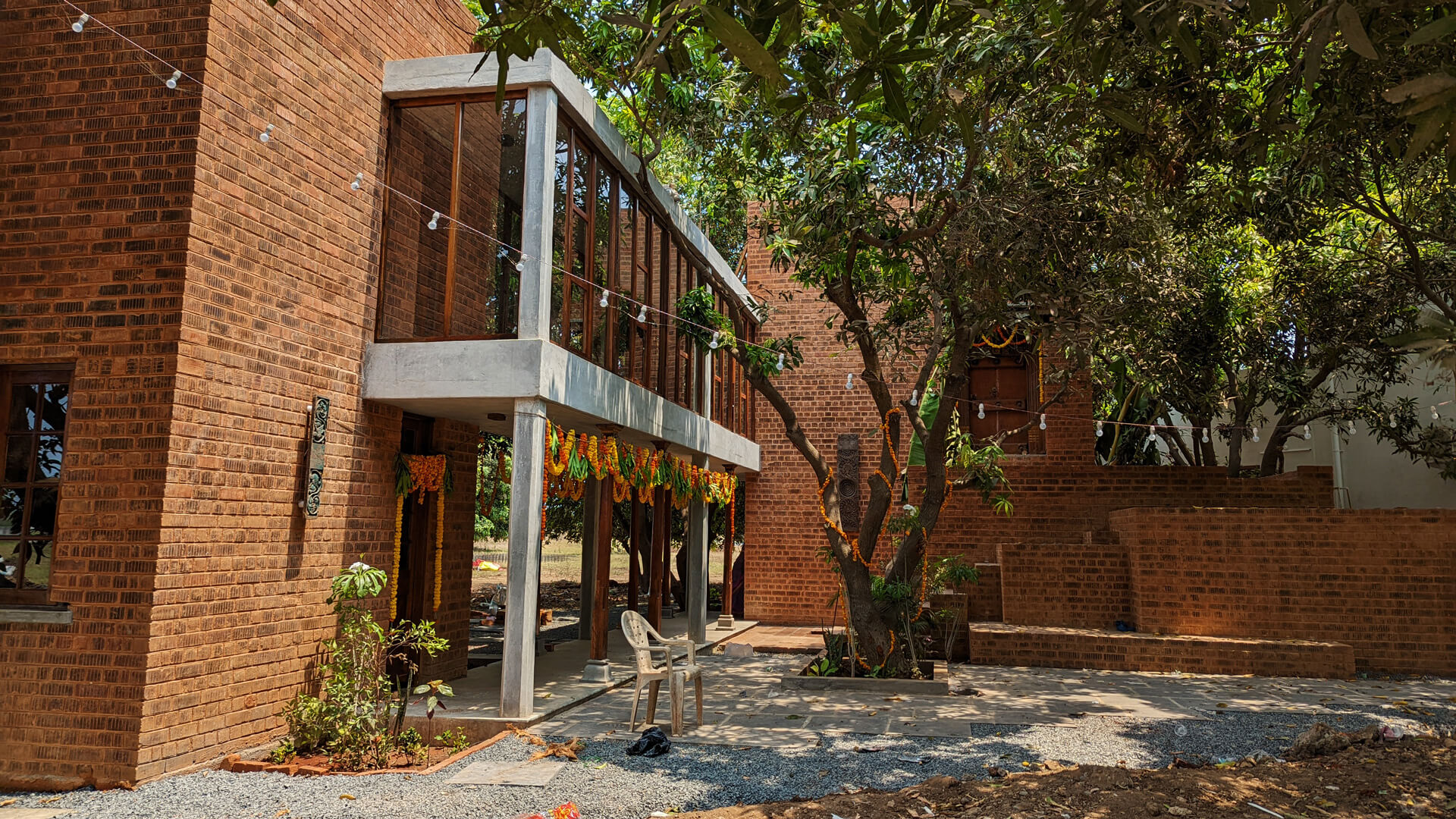 Plot Size : 444 Sq Yards
Villa Size : 1800 Sft
Villa Cost : Rs.65 Lakhs
With a very unique design and even rarer 6 FULLY GROWN Mango trees within the plot, this 2 BHK designed & built for a famous actress in the Telugu and Tamil industry is surely a one-of-its kind in South India!
This actress plans to use it as her private retreat and also invite her film industry friends to stay and also work on their ideas, being a perfect getaway place in its category closest to Hyderabad.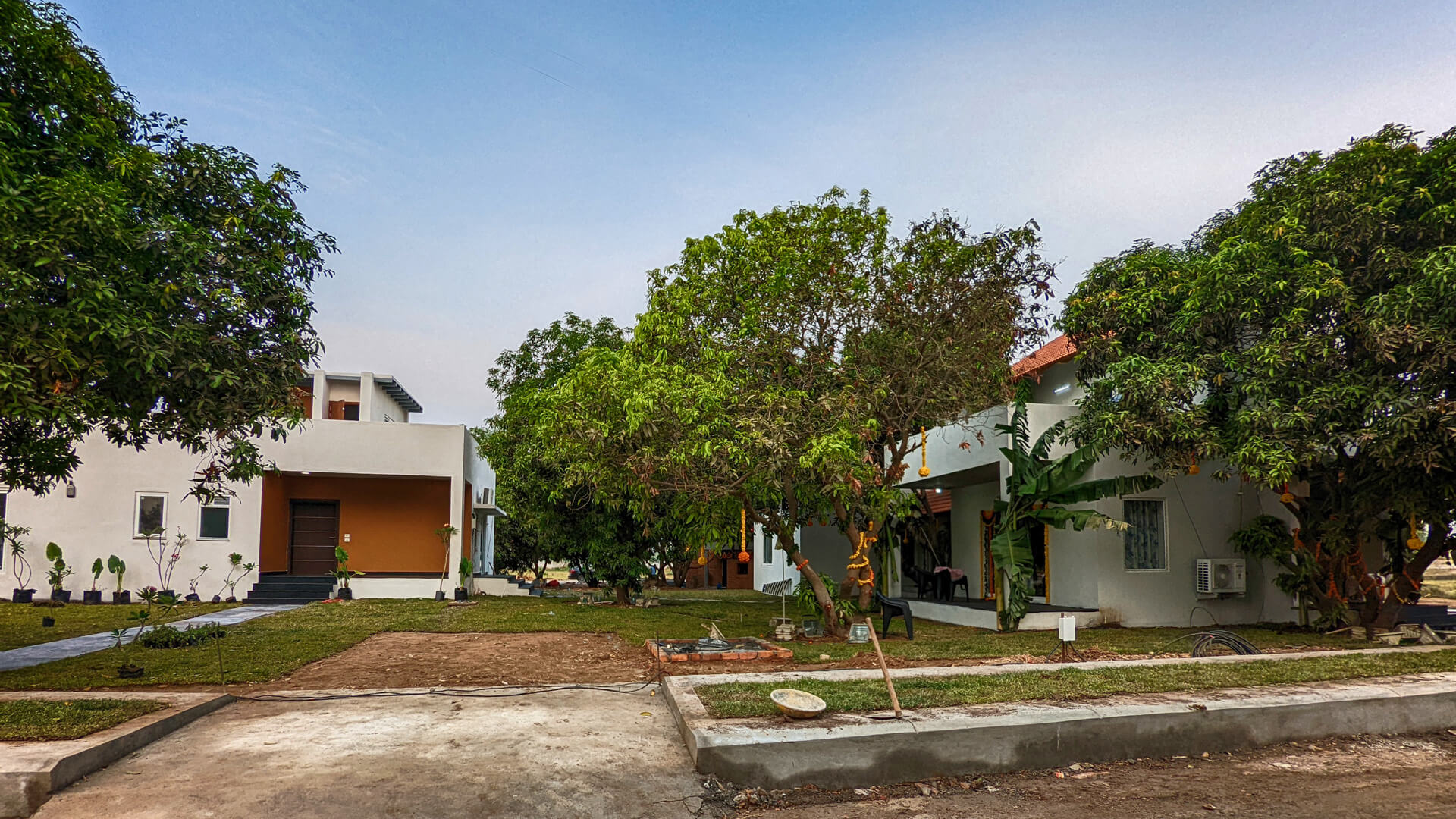 Plot Size : 805 Sq Yards
Villa Size : 1300 Sft
Villa Cost : Rs.41 Lakhs
The owners live in Hyderabad and their son who lives in the Bay Area (California, USA) would use it as a family retreat when in India.
They invested purely out of passion of wanting a riverfront house!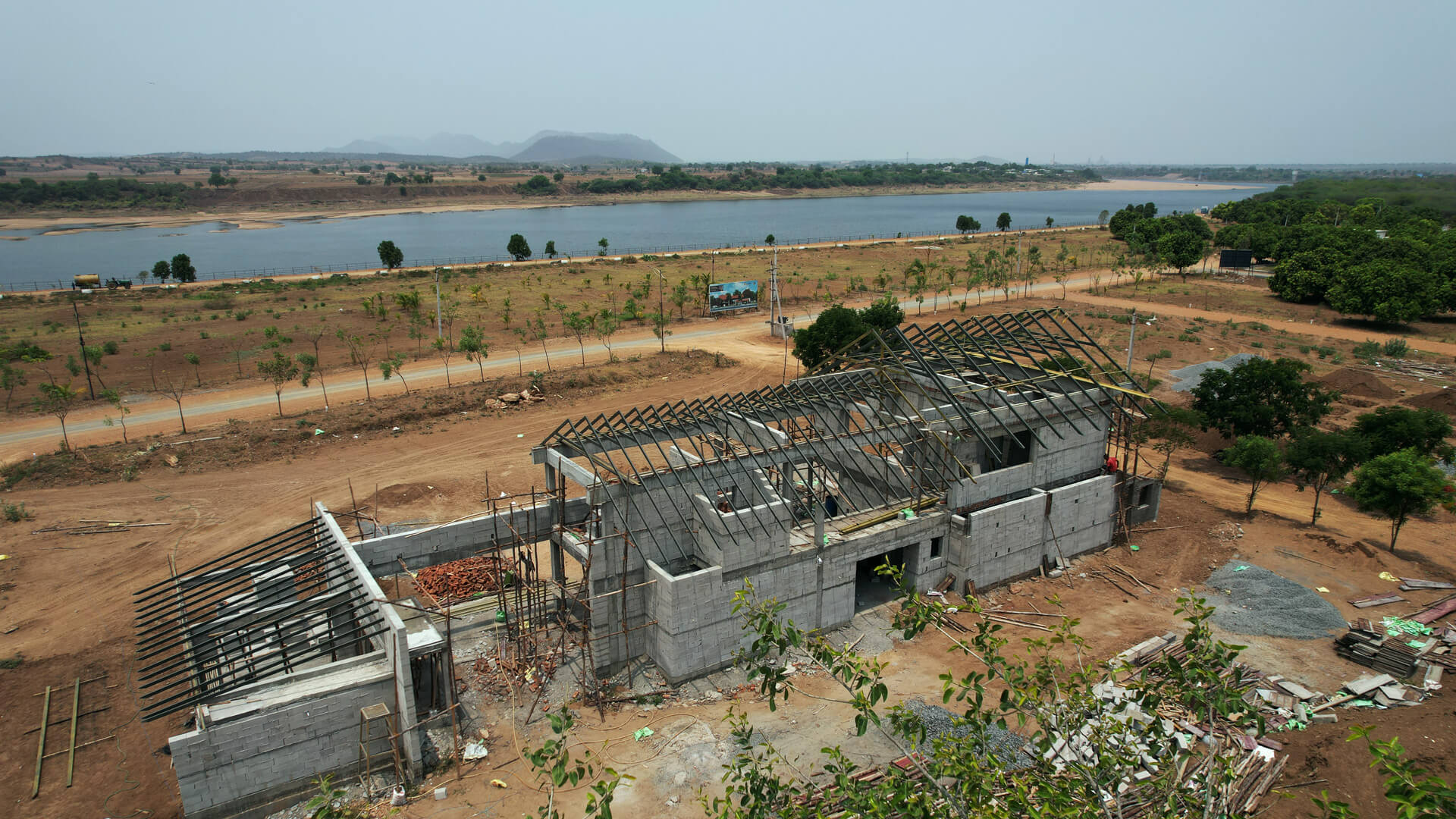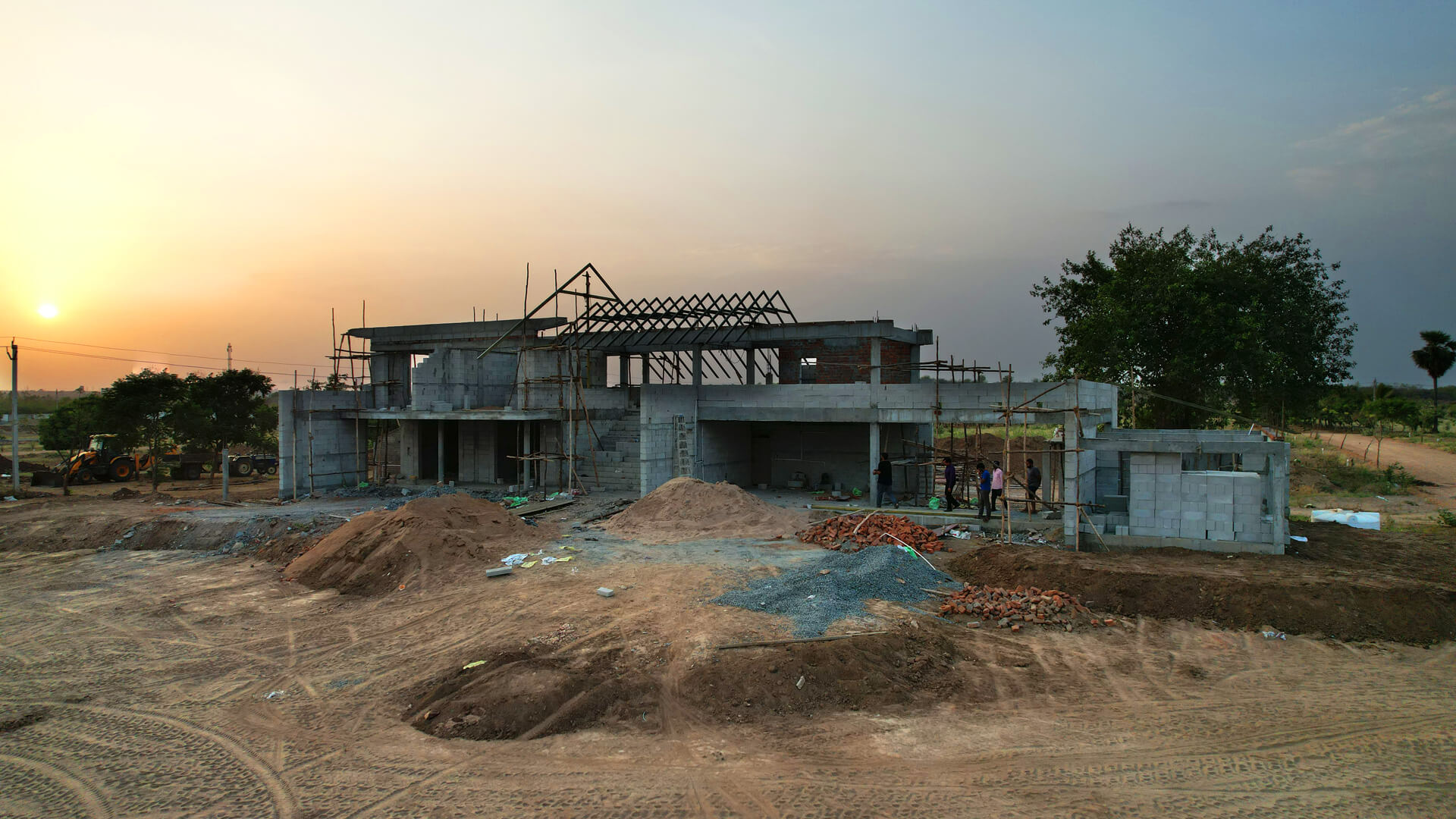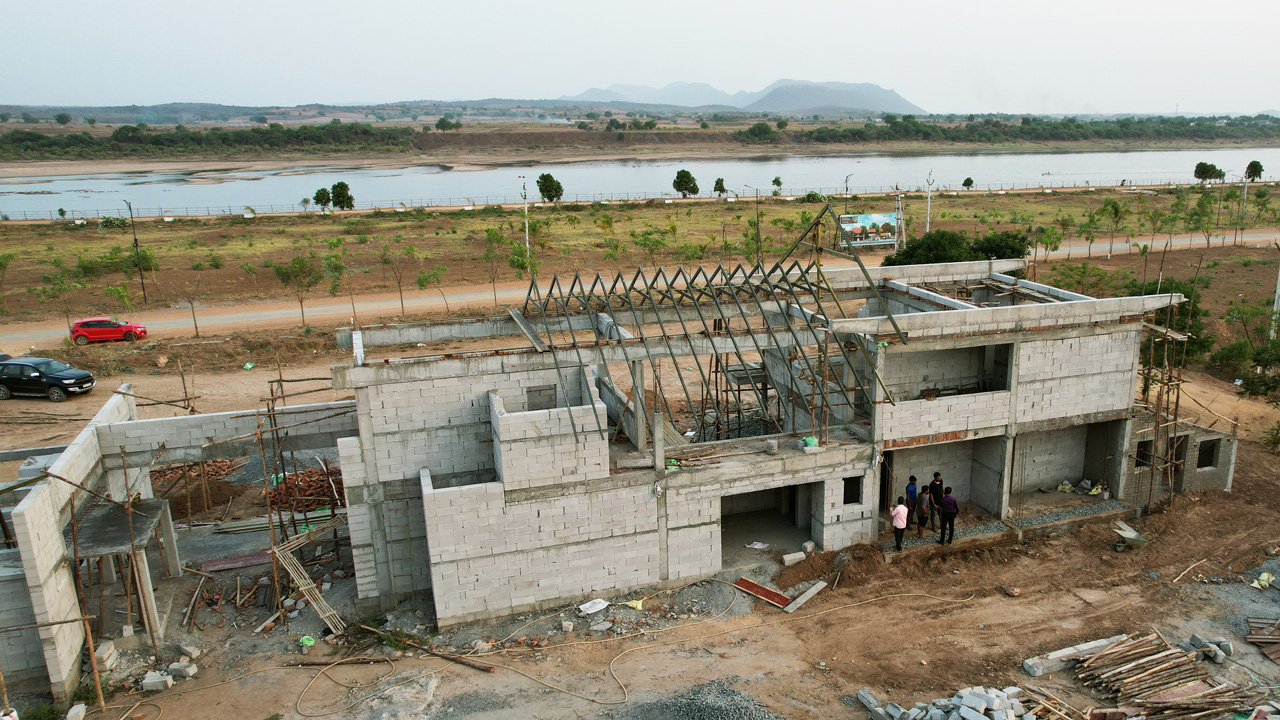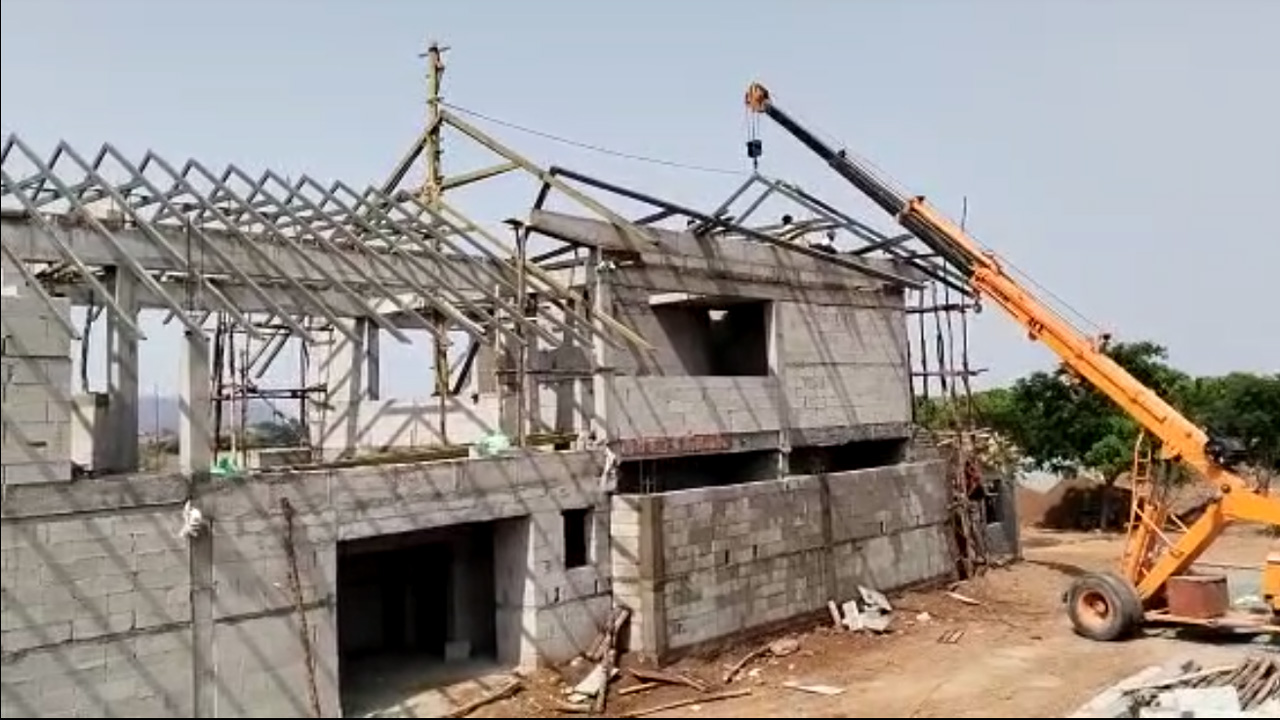 Landmark 4 BHK Riverfront Villa
Plot Size : 888 Sq Yards
Villa Size : 5600 Sft
Villa Cost : Rs.1.7 Crores
Being built for a celebrity doctor & Founder of nationally famous Sunshine Hospitals – Dr.Gurava Reddy – will be a benchmark in its category in all of Telangana and Andhra for its most unique architectural style and undisturbed river views!
With completion aimed for August 2022, this will dramatically elevate Alakananda's vision in people's eyes by being the best example of  true riverfront living!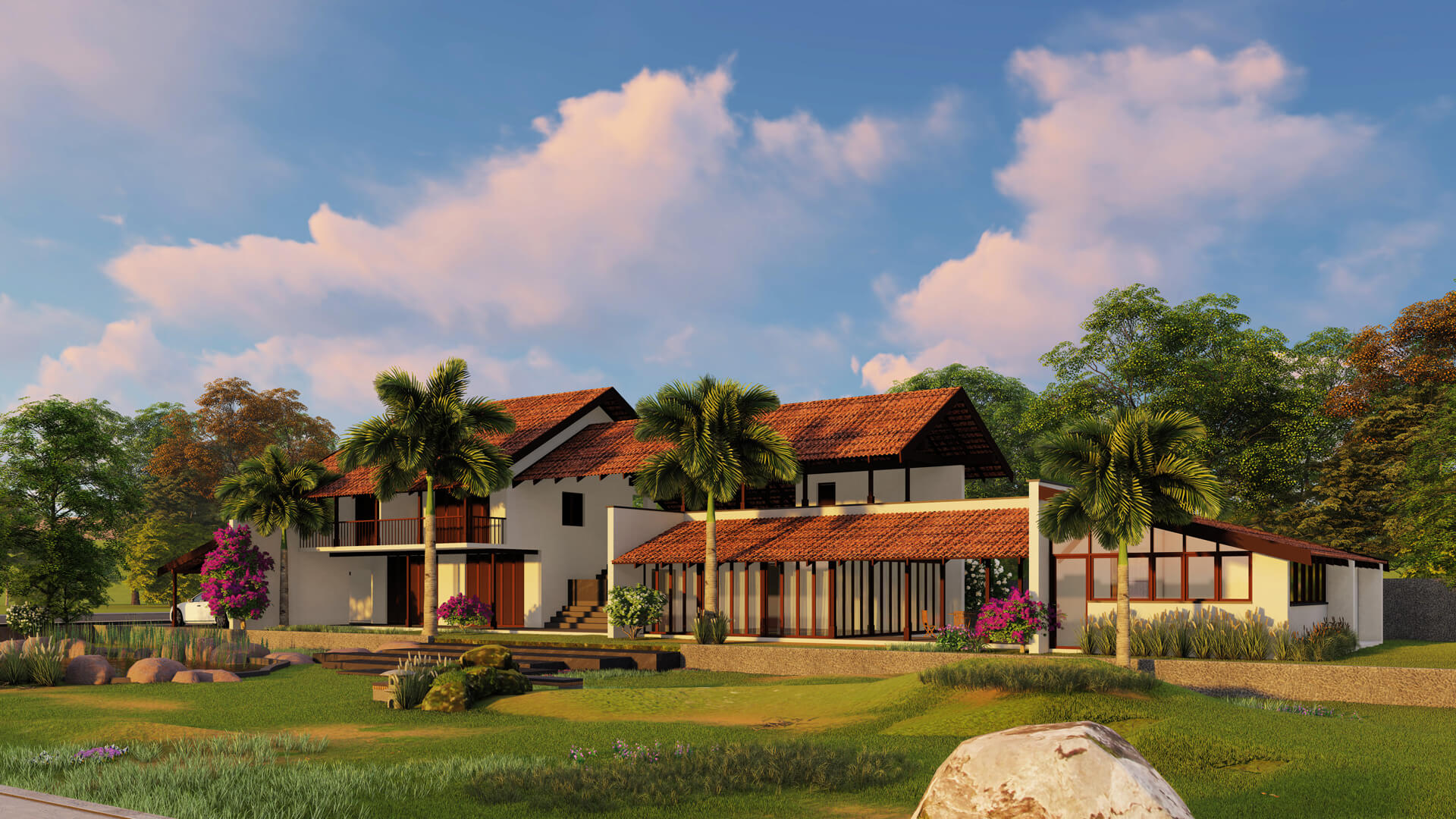 Artistic Drawing of the Final Look & Feel of Dr. Gurava Reddy's 4 BHK Villa when completed by us in August 2022

Staff Accommodation / Labour Quarters
Almost 100 permanent workers on site now…
including masons, carpenters, painters, fabricators and 2 civil engineers for house construction + agricultural labor for Botanical Gardens & Landscaping + A jockey (horse) trainer + govt certified boat driver for Boat Jetty + full-time cook living on campus for guests staying overnight and also to provide breakfast, lunch and dinner for all visitors and lastly, a Resident Senior Manager overlooking all above staff activities and to ensure safe health practices in the campus.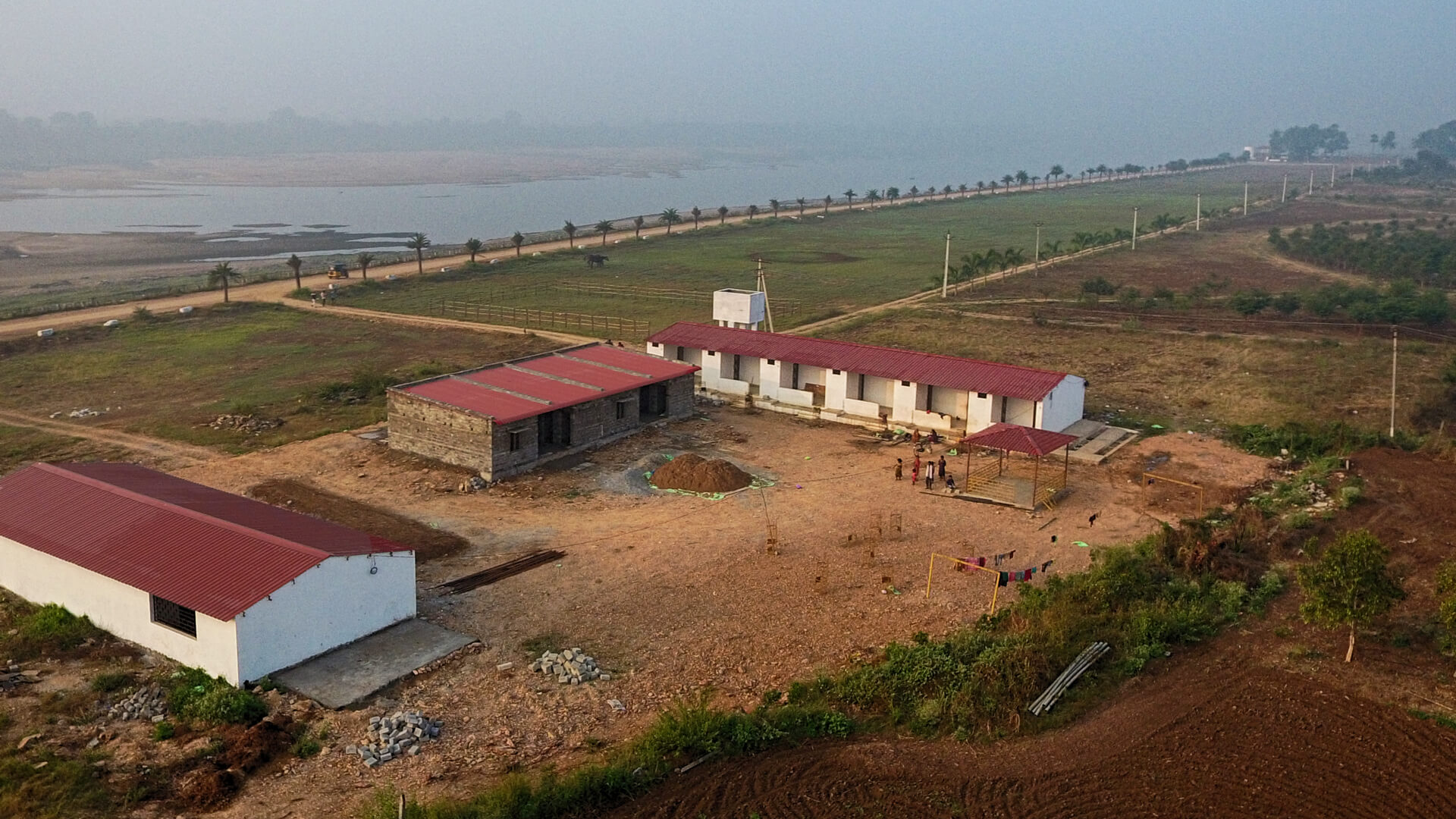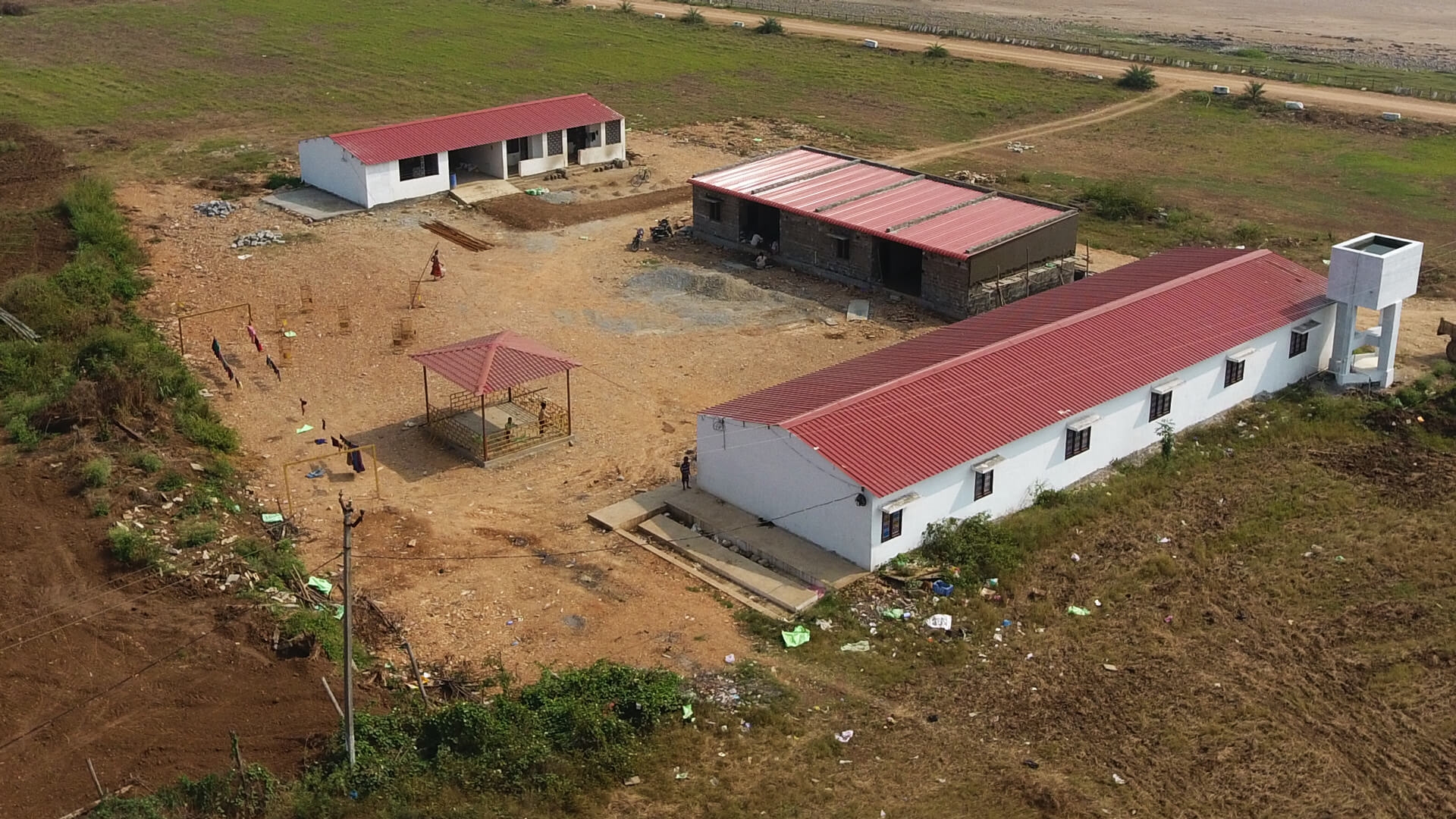 SGS Ashram

Inside our Property, adjoining Koti Lingala Temple
Sri Ganapathy Sachchidananda Swamiji's Ashram is being built on 2 acre portion at one corner of Alakananda – adjoining Koti Lingala Temple boundary and touching the Krishna River…
(they will start by constructing a Shivalayam, Guru Nilayam, Yagnashala and guest rooms)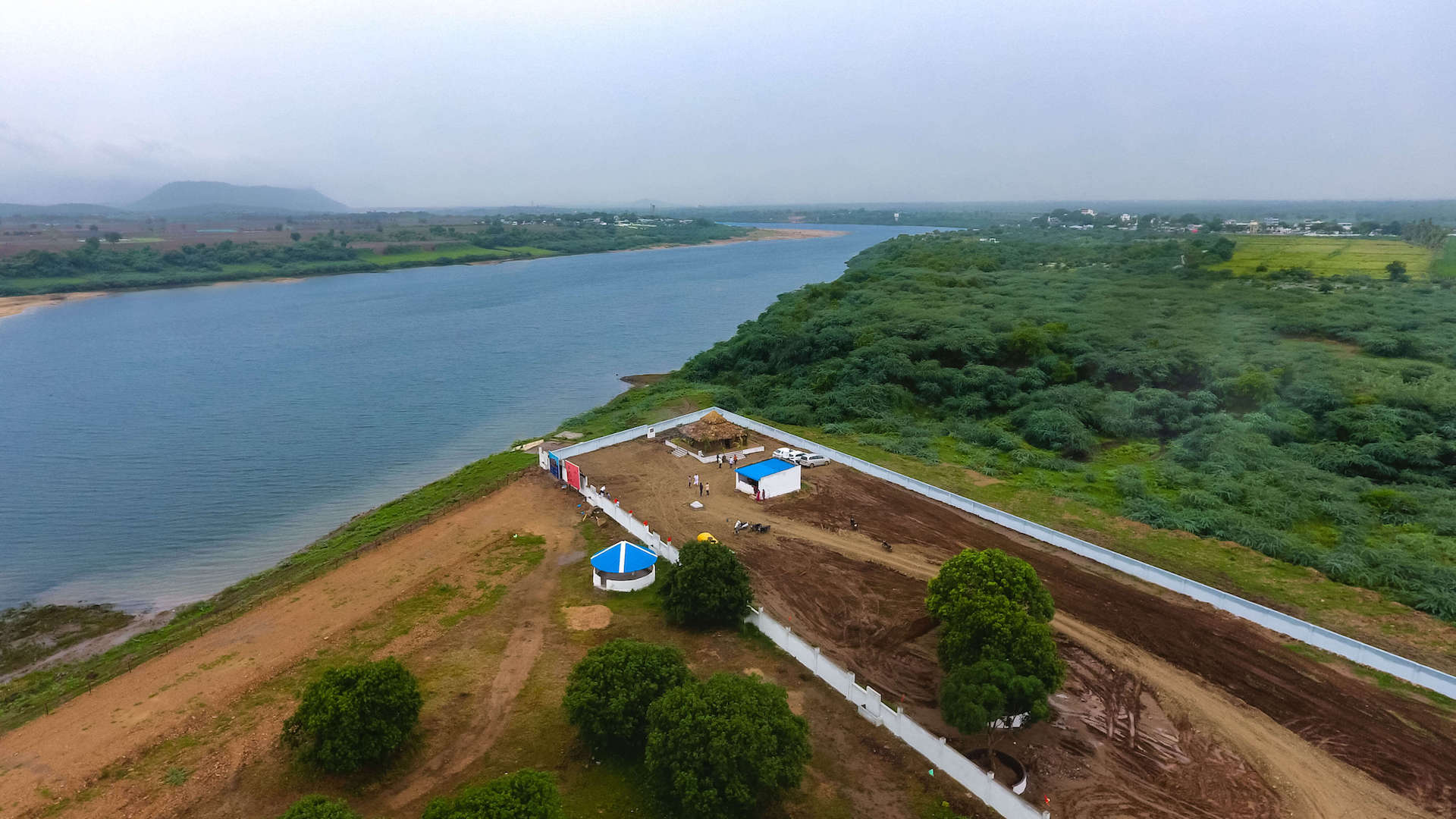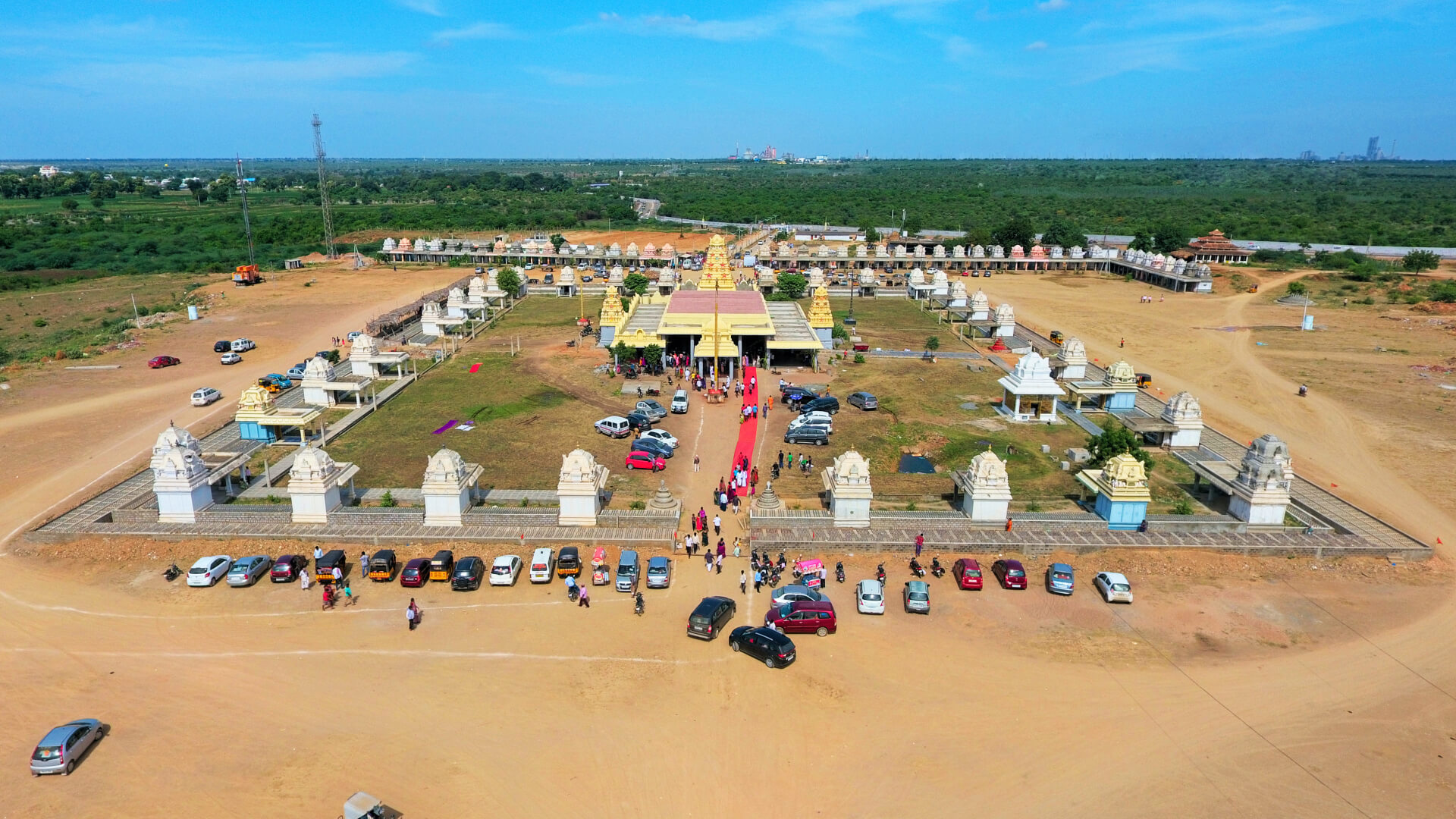 Koti Lingala Temple right next to Alakananda
already having over 3 lakhs Shiva Lingas installed 
– where you too can visit and install a Shiva Lingam in your family's name with your own hands and hence becoming very popular across Telangana & AP…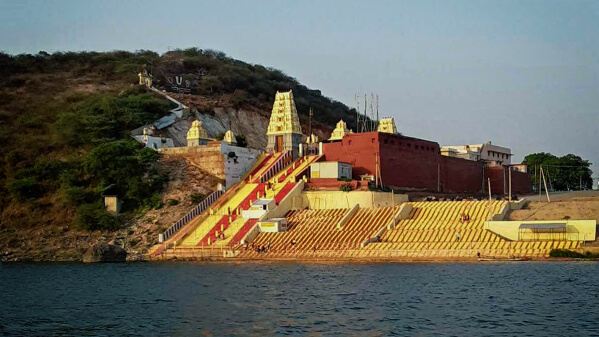 Sri Yogananda Lakshmi Narasimha Swamy Temple, among the most popular in this region – popularly known as Vedadri Temple – is just 5 minutes by boat from Alakananda
Luxury Rooms

in our Guest House
We are seeing continuous demand of many prospective investors wanting to stay overnight to experience the place at its best and also from existing plot owners who have been planning to finalise their villa construction plans…
(as of now more than 30 plot owners have expressed their plans to get started in the near future)
For this, we finished construction of brand new guest rooms which are now fully furnished and ready :
1 suite room with a living room and a modular kitchenette (with a fridge & microwave) which can host up to 4 guests (with 2 extra bed rolls).


.

2 large rooms which can host up to 4 guests EACH (with 2 extra bed rolls).


.

2 small rooms which can host 2 guests EACH…
With this, we can host groups of 20 to 25 people comfortably, and if the visitors don't mind an informal stay like marriages, family functions, etc, then upto 40 people can be accommodated).
We will be adding some more rooms in the coming months as these 4 rooms are not sufficient and we are having to turn down many requests each week!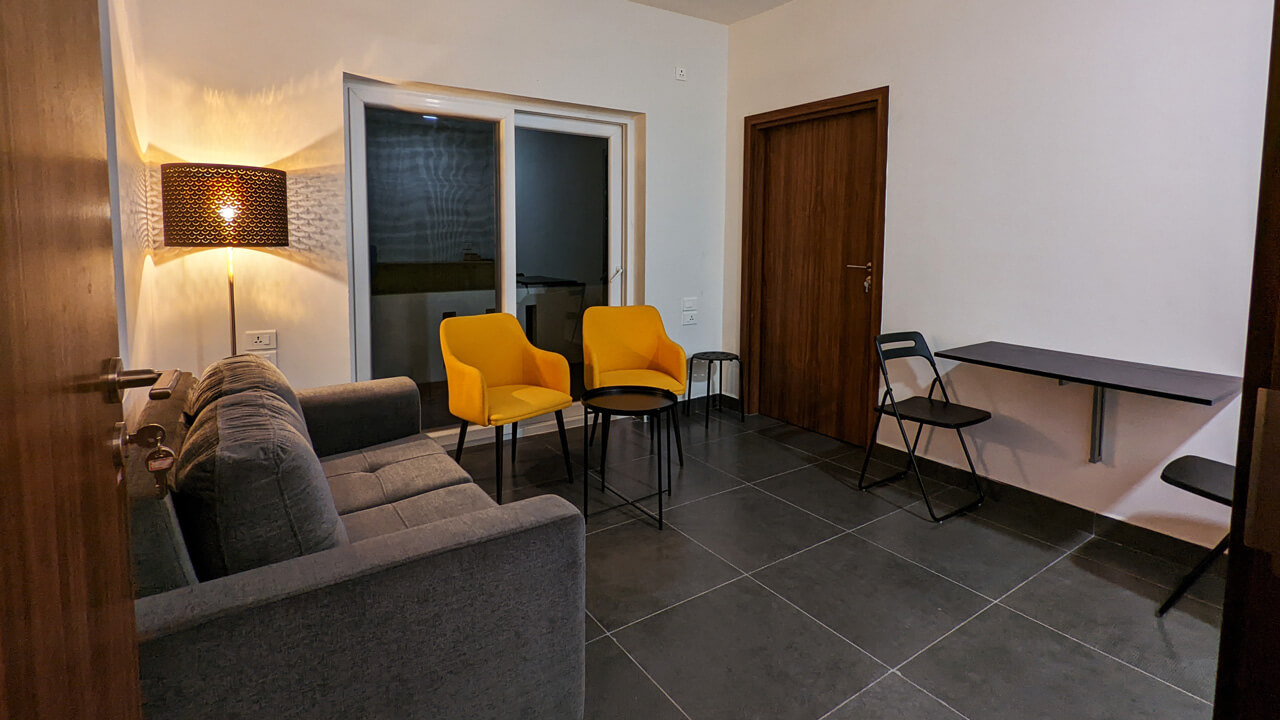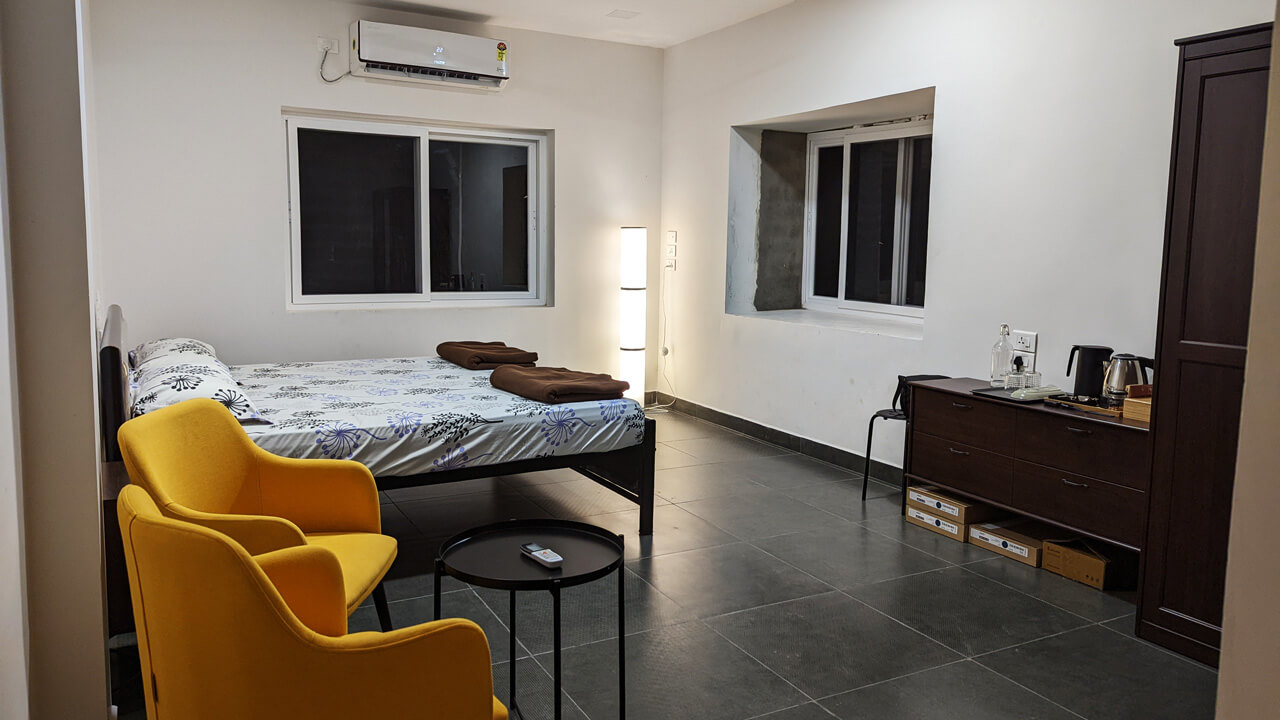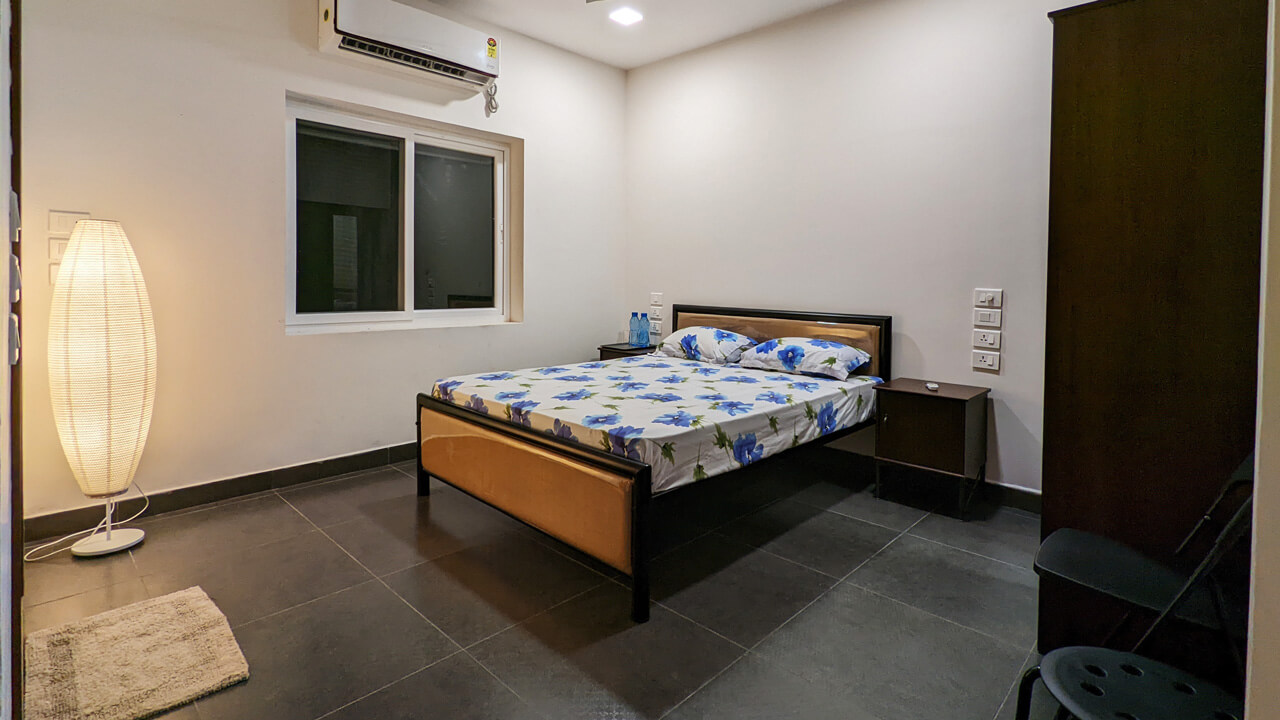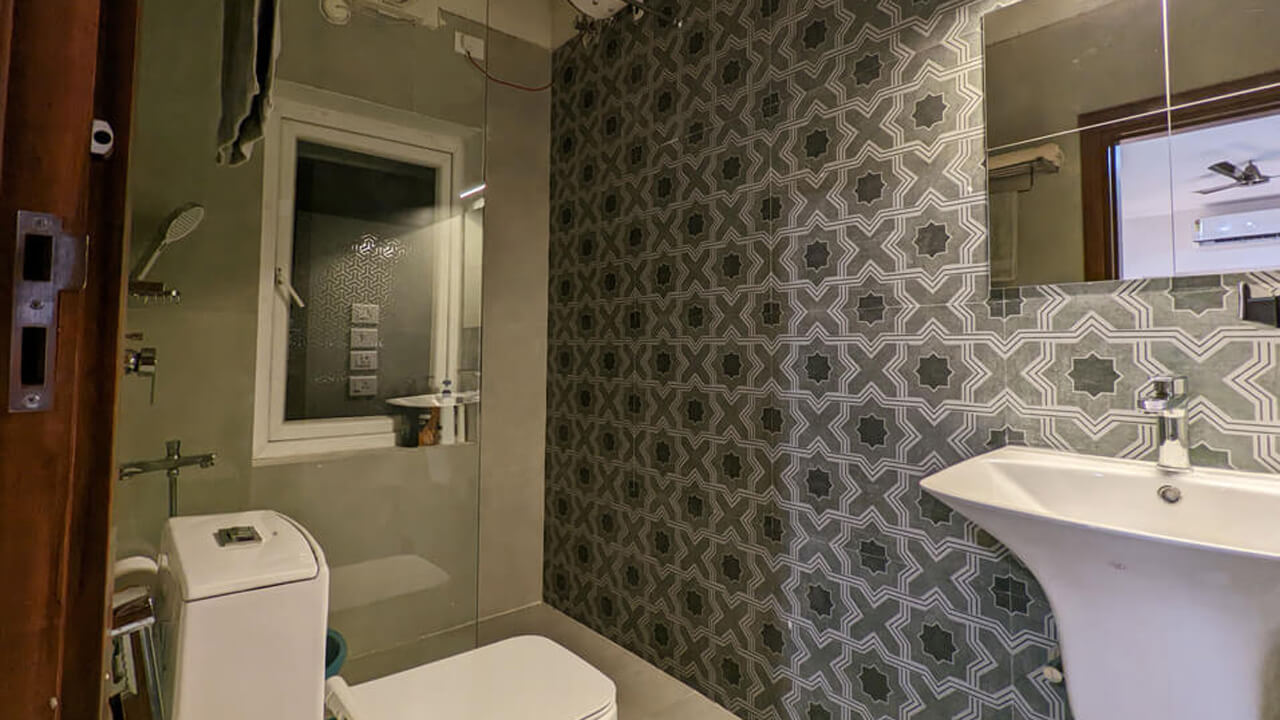 Major Landscaping Works Completed

Dedicated Team of Gardeners led by an Expert Horticulturist in place to manage entire 310 acres…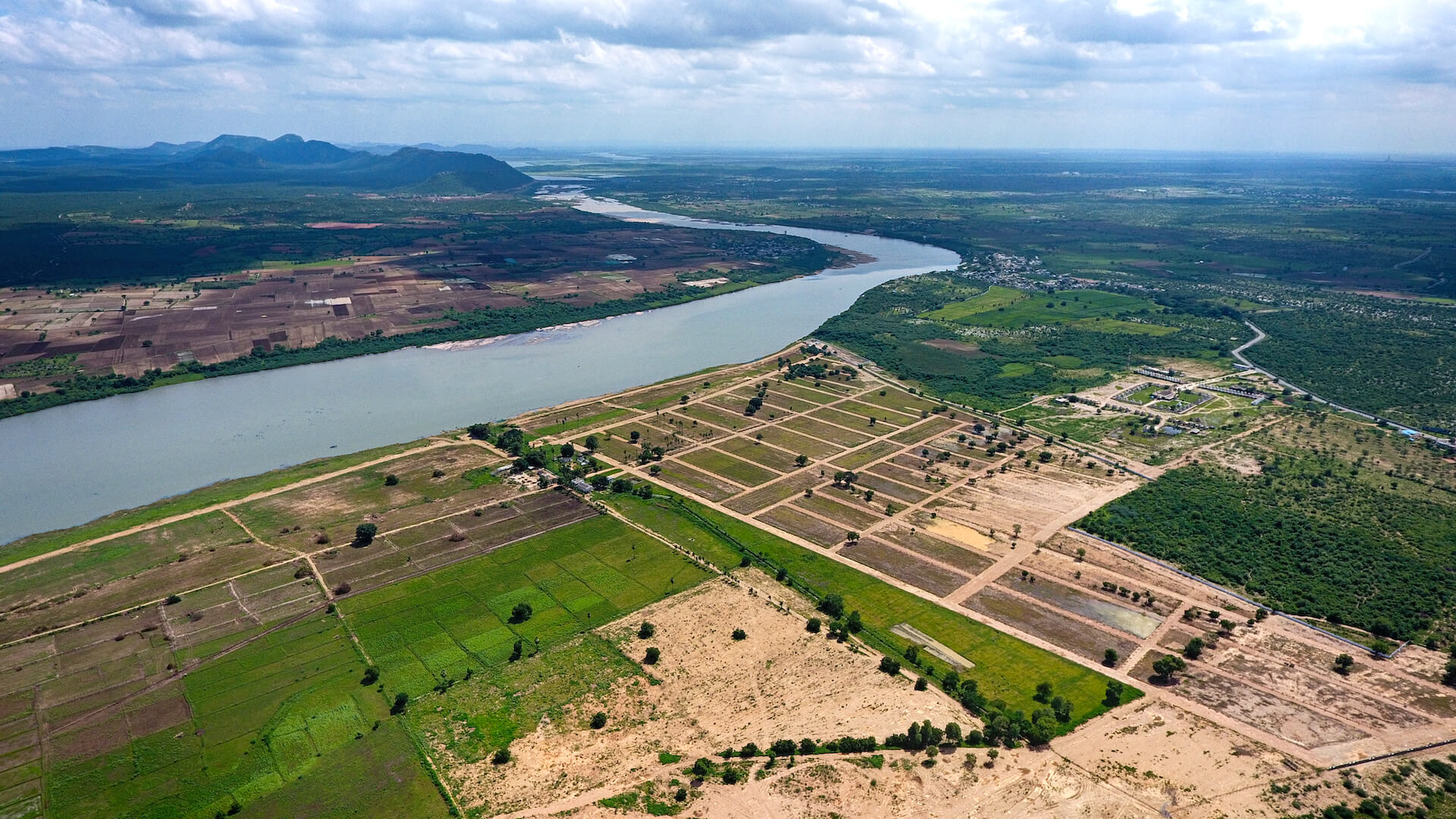 Close-up of Phase 1 at Alakananda with Pulichintala Dam in the background
(this is a very old photo – a lot more work has happened after this was shot – but this is still being shown here for you to see the stunning, lush green surroundings of Alakananda!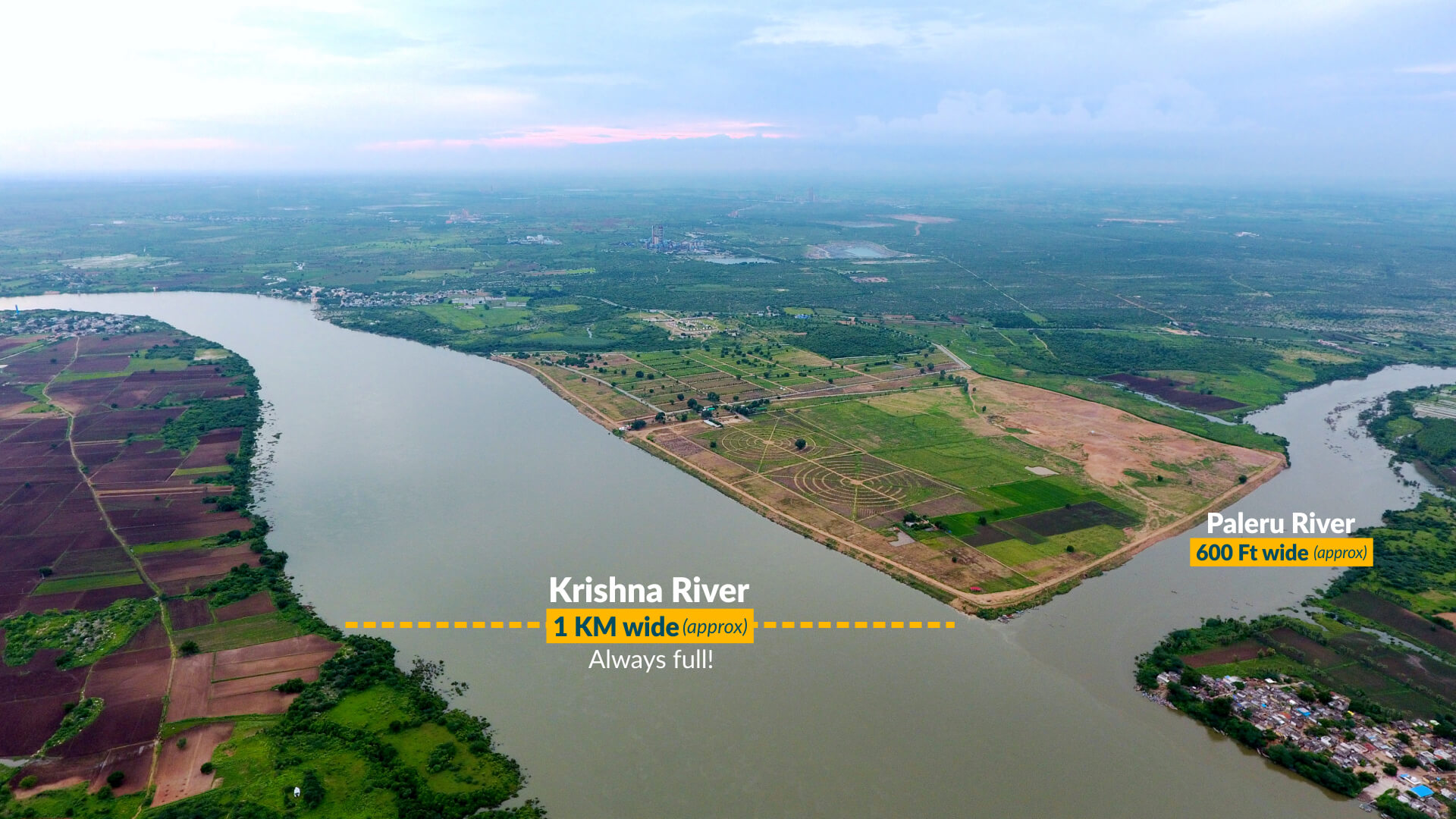 Meeting point of Krishna & Paleru Rivers, showing entire 310 acres of Alakananda (Phase 1 of 117 Acres is to the left, identifiable by the plotted section and the empty space behind the circular Botanical Gardens is Phase 2 & 3)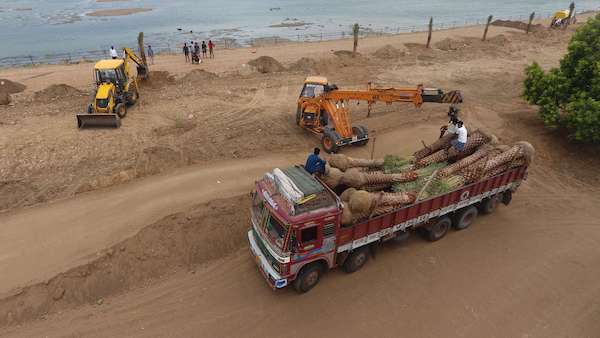 Installation of Date Palm Trees on Riverfront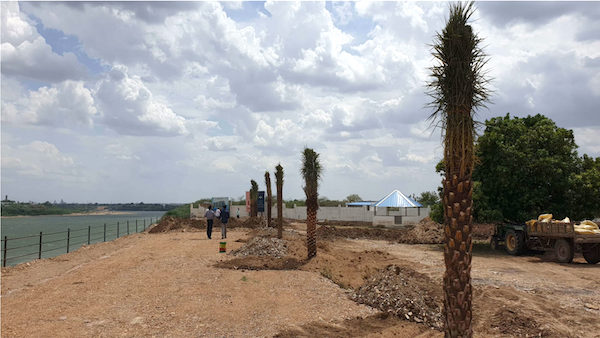 Installation of Date Palm Trees Completed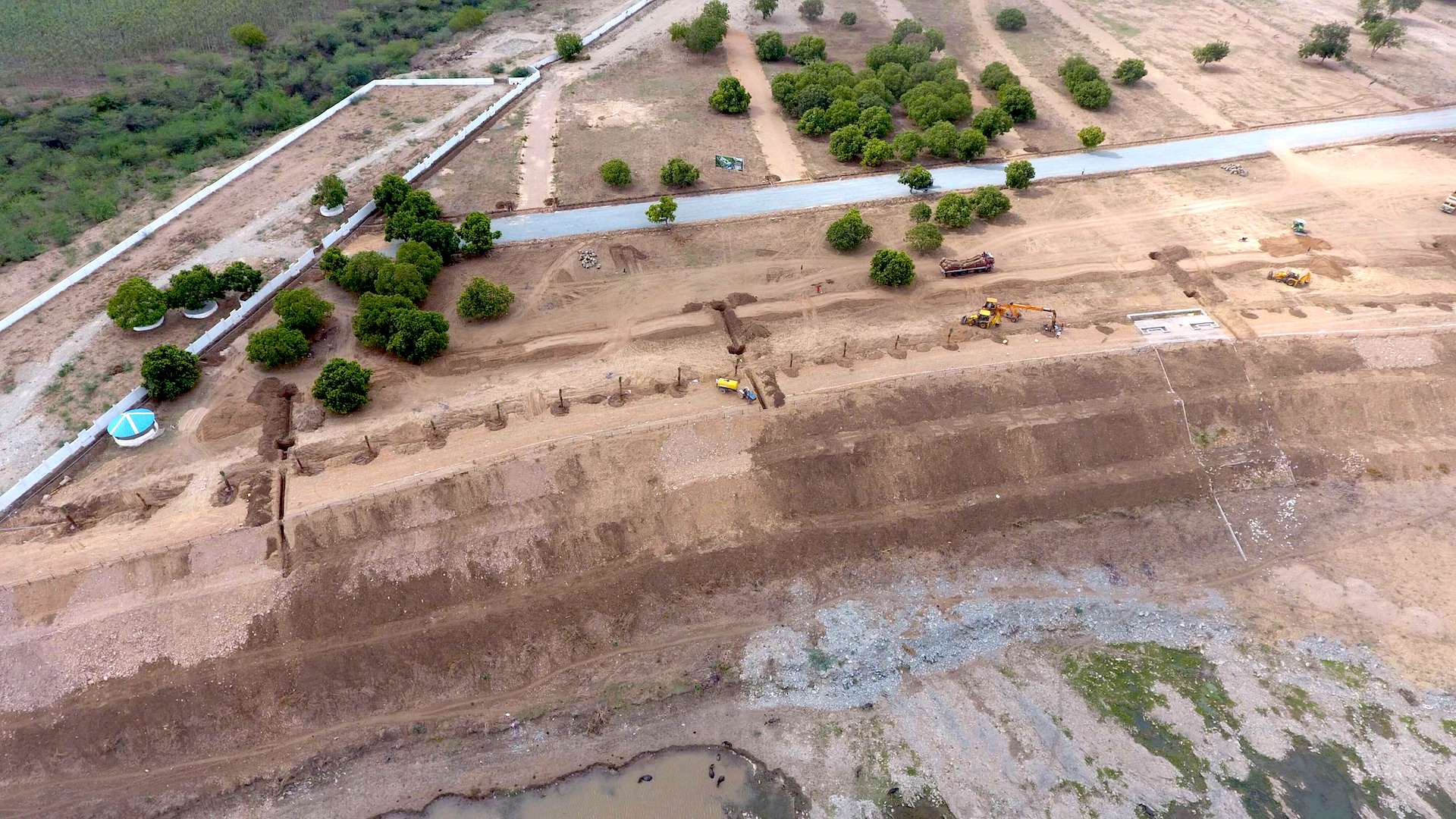 Massive 3 km Riverfront Boulevard Drain Formation & Landscaping Works with 3 Levels across 27 feet height (SGS Ashram in Alakananda on the Left)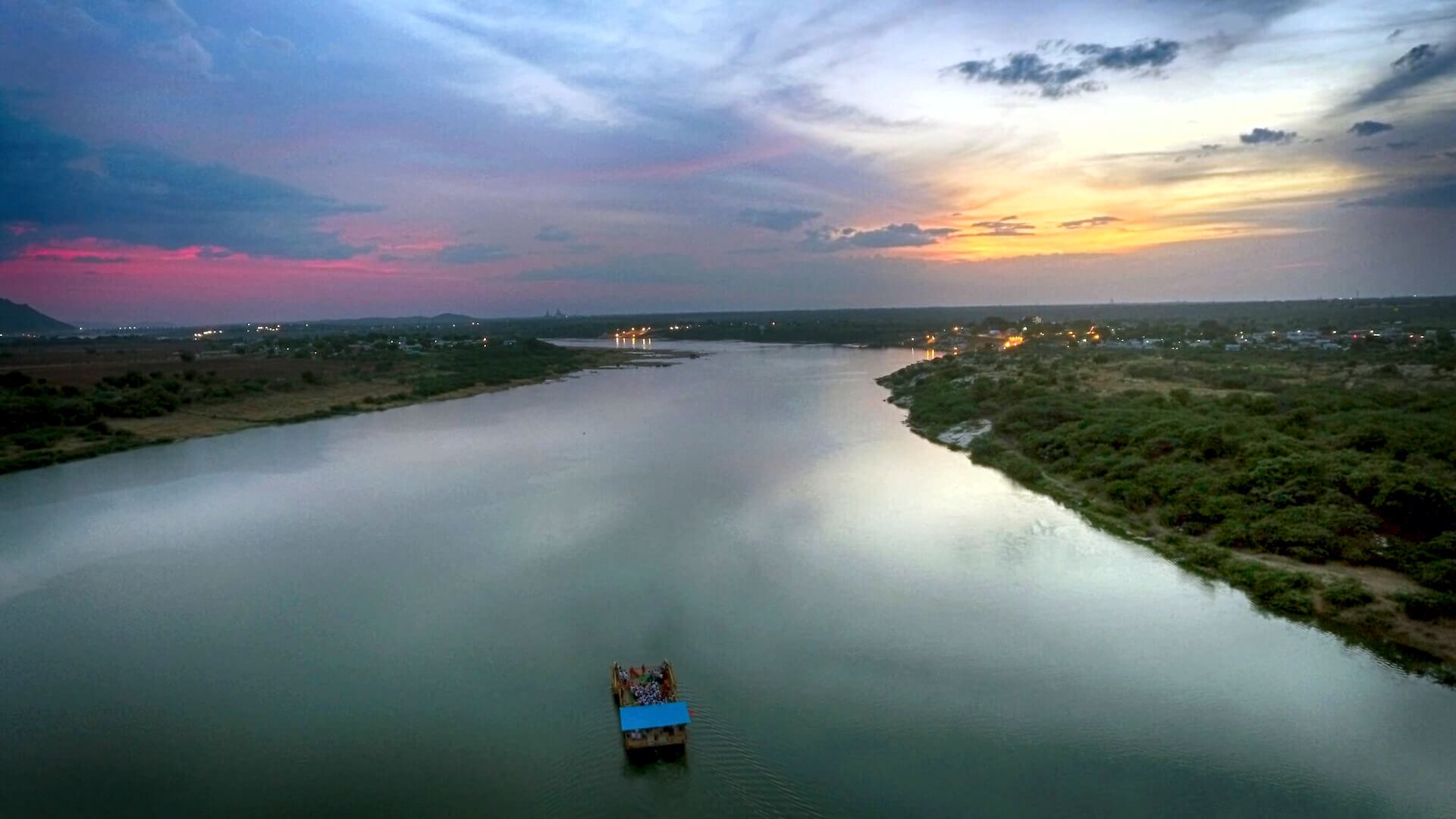 Alakananda with Muktyala Fort (Heritage Status) & Pushkar Ghats in the backdrop (Alakananda is the land on the right and this photo was taken BEFORE land was cleared & leveled and so, please ignore the bushes!)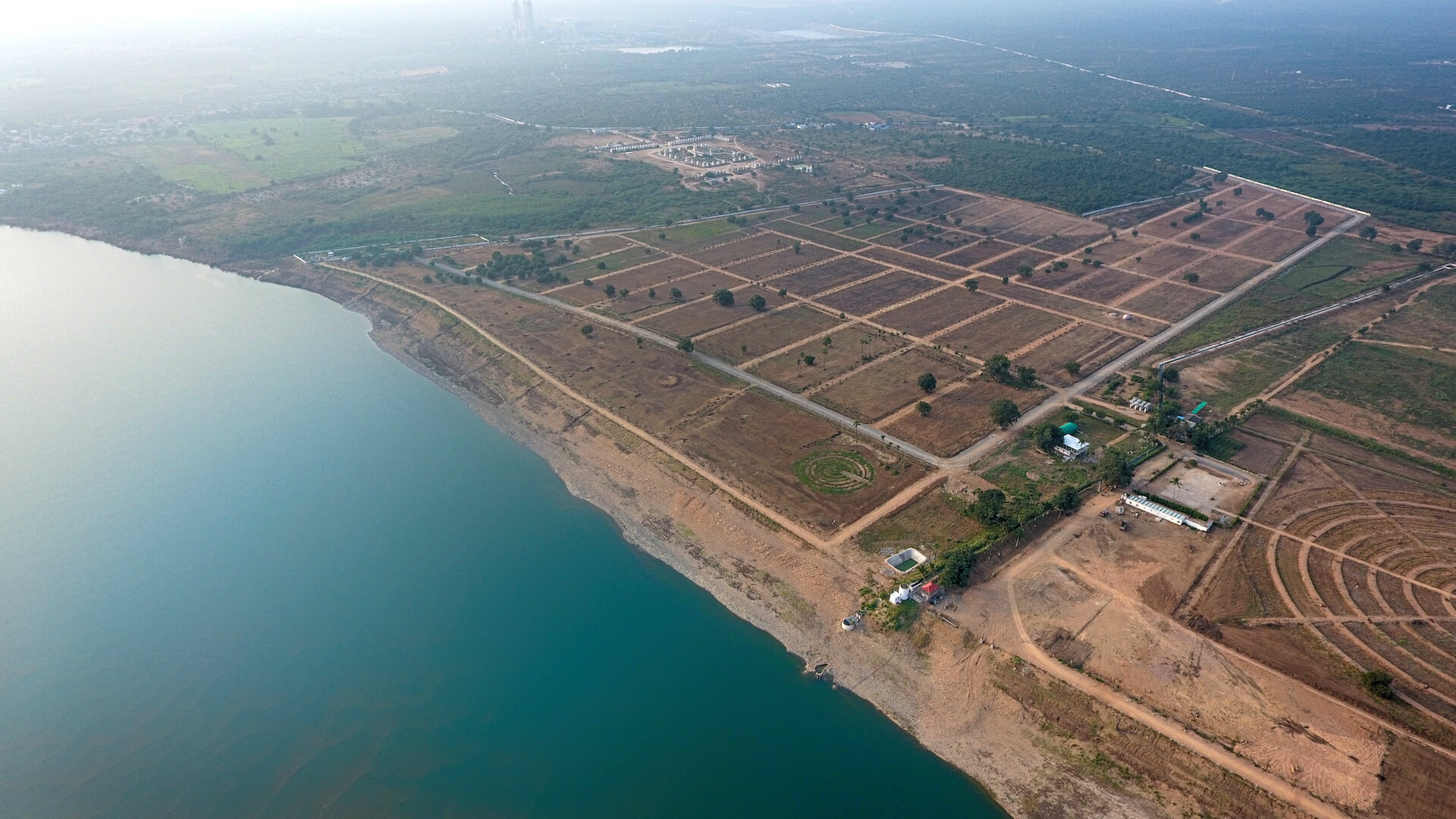 [Old Photo] Close-up of Phase 1 at Alakananda with Koti Lingala Temple in the background (the temple is literally next door, sharing boundary wall with us)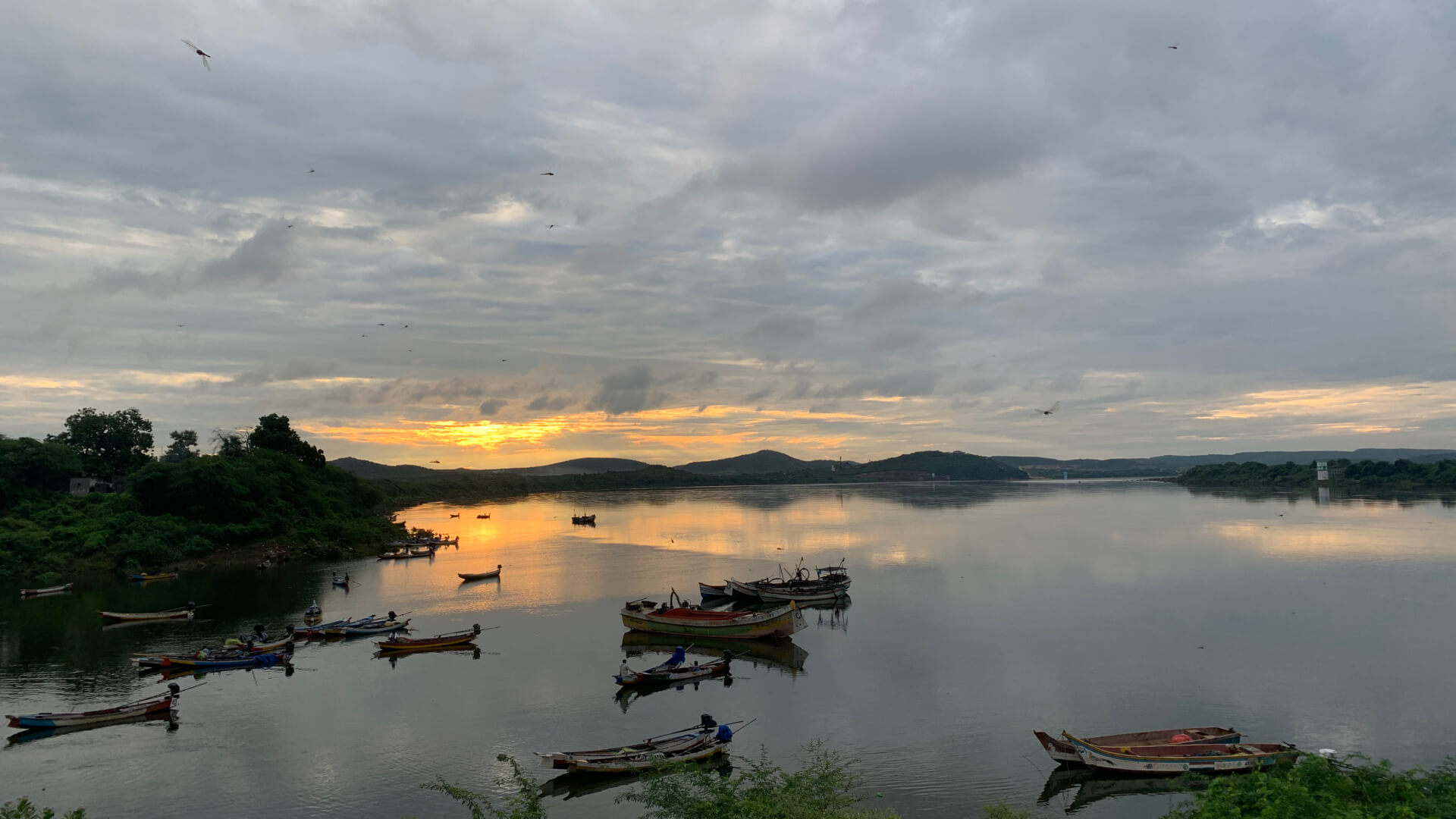 Stunning Sunrise at Alakananda : Shot at the meeting point of both Krishna & Paleru Rivers, overlooking the Vedadri Temple…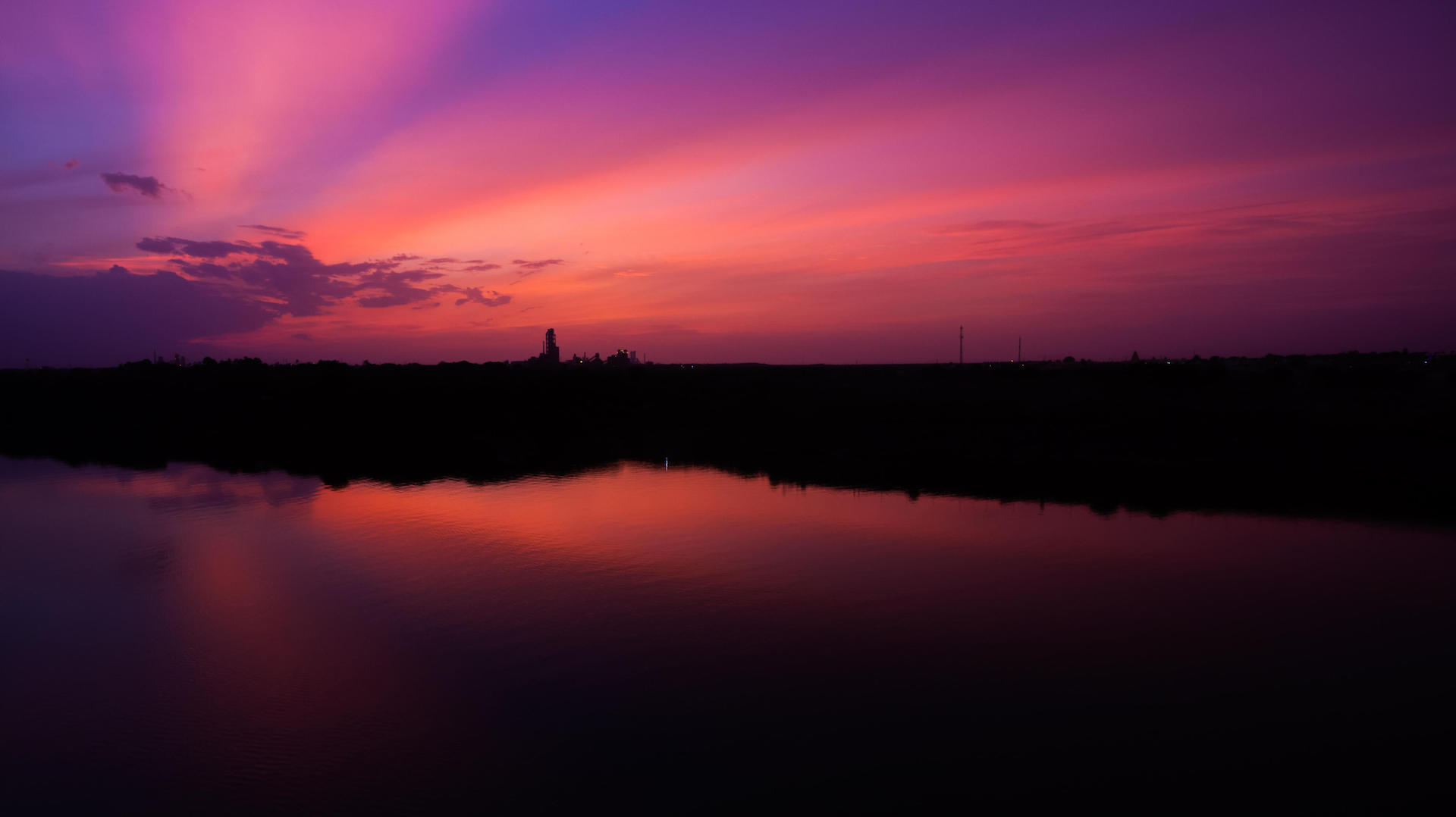 Stunning Sunsets at Alakananda : Shot from over the Krishna River, overlooking Alakananda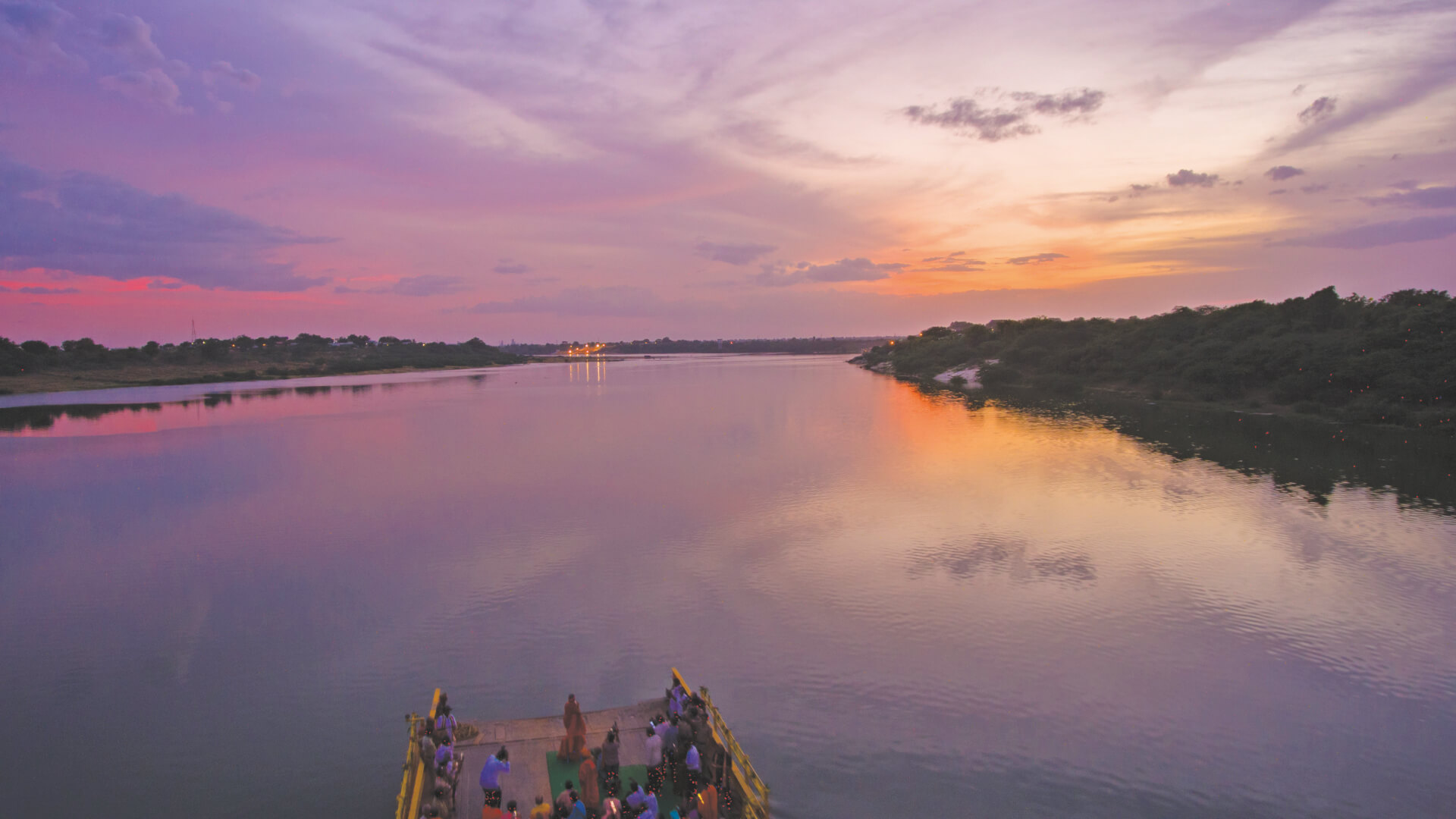 Stunning Sunsets at Alakananda : Shot from over the Krishna River, with Alakananda on the right (this photo was shot when we took Sri Ganapathy Sachchidananda swamiji on a round of boating when he came to lay the foundation stone for his Ashram at Alakananda)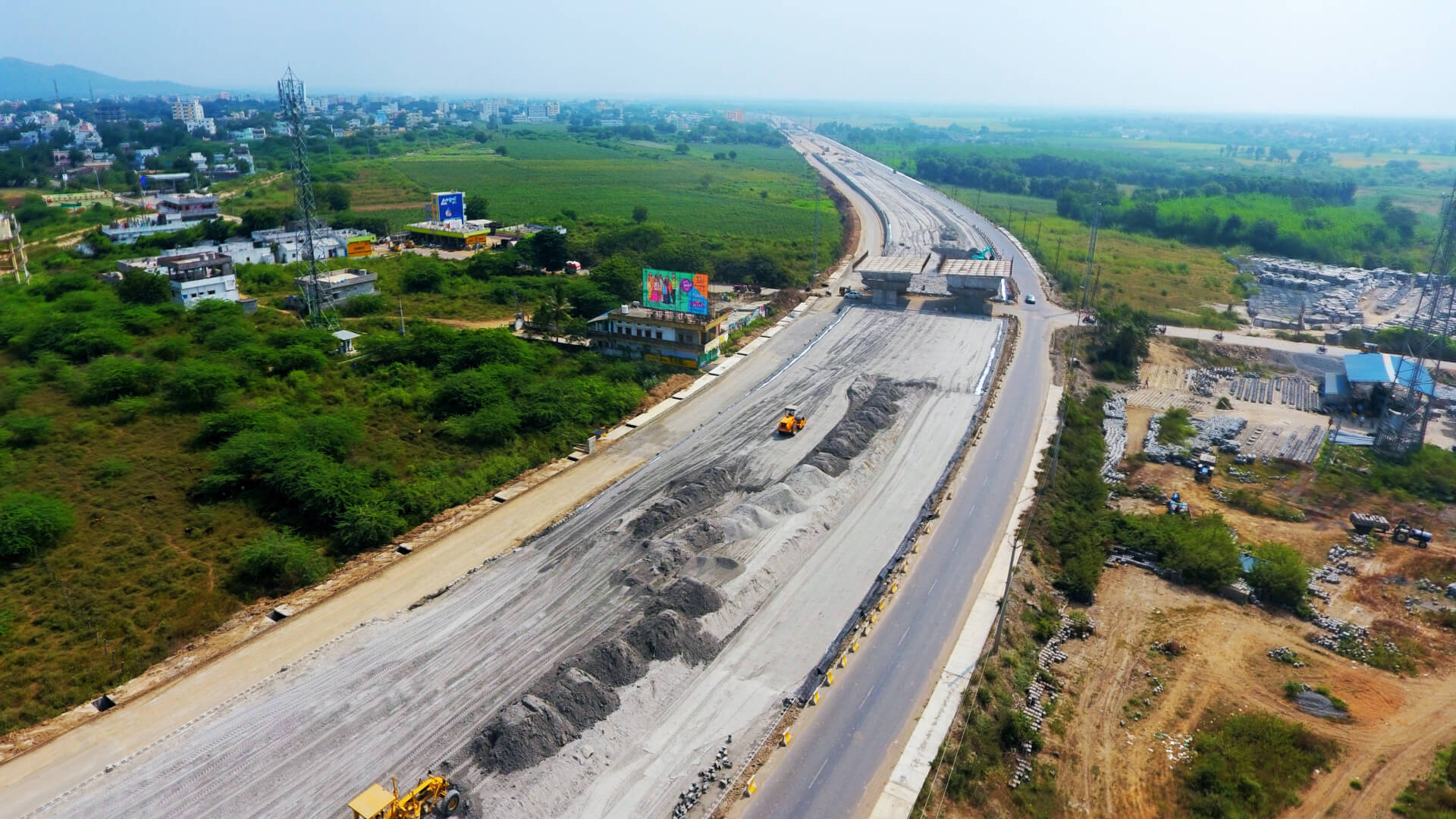 Expansion of the 4 Lane to now 6 Lane Hyderabad to Vijayawada to Machilipatnam National Highway No.65 which will further reduce travel time to Alakananda from Hyderabad and Vijayawada, making it a lot easier for people to visit on a regular basis!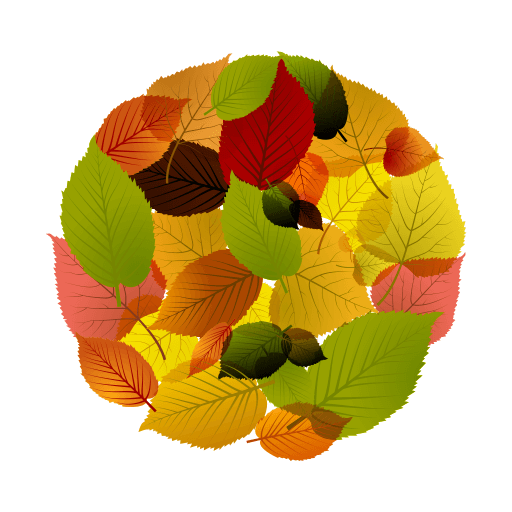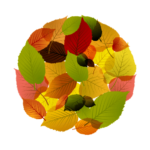 Be part of the best ever Gated Community
of Andhra Pradesh & Telangana
Pre-Launch Now Open
Get the plot of your choice at inaugural rate!
IMMEDIATE REGISTRATION
Construct whenever you want (no deadlines)
1st batch of homes already under construction!
Click Here to View Plots & Villas at Alakananda
Invest today at a discounted rate before we open bookings to the general public at a higher rate in the coming months!