Located in

CENTER

of Telangana & Andhra!
Thus appealing to people of BOTH states!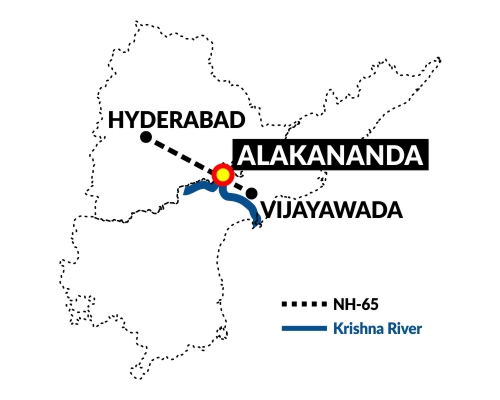 Cradled by the KRISHNA & PALERU Rivers on two sides and the famous KOTI LINGALA Temple + the SGS Ashram on another side, with sweeping river views overlooking the historic VEDADRI Temple – you will be in one of the most exotic locations of India!
Gateway to


Andhra & Telangana
Located conveniently close to the border of Andhra & Telangana and strategically BETWEEN Hyderabad, Vijayawada & Amaravati Capital Region, Alakananda is attracting the attention of people of BOTH sides!
Just 12 minutes off Hyderabad – Vijayawada NH65

, connected via a brand new 120 Ft wide, 4 Lane Bitumen Road leading all the way to our main gate!


.

HYDERABAD :

2.5 to 3 hours

(185 to 230 Kms, depending on which side of Hyderabad you are coming from)


.

VIJAYAWADA : 75 minutes (78 Kms)


.

Khammam & Suryapet : 60 to 75 minutes (55 & 70 Kms respectively)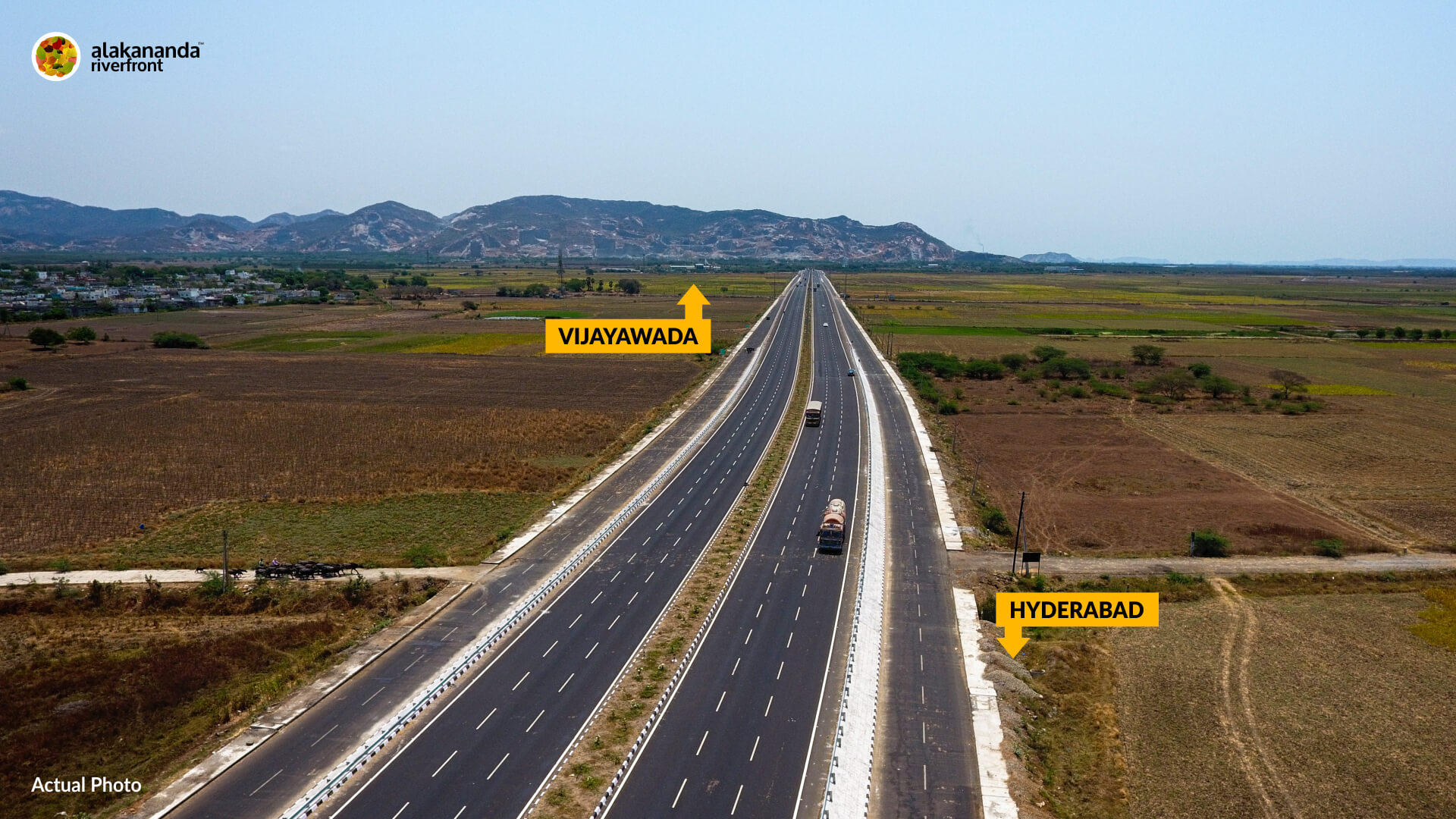 6 LANE EXPANSION  of existing Hyderabad to Vijayawada NH-65 is in advanced stage, making it very easy for you to reach from either sides! (above photo shot near Nandigama)
Reach Alakananda via a

Super-Fast, 6 Lane National Highway!
Excellent Connectivity to
Hyderabad

&

Vijayawada Sides
Imagine zipping along a newly UPGRADED super-fast 4 & 6 lane NH with multiple food courts along the way to keep you recharged! This is already a favorite stretch for bikers & cyclists too, due to the smooth, safe & congestion free roads.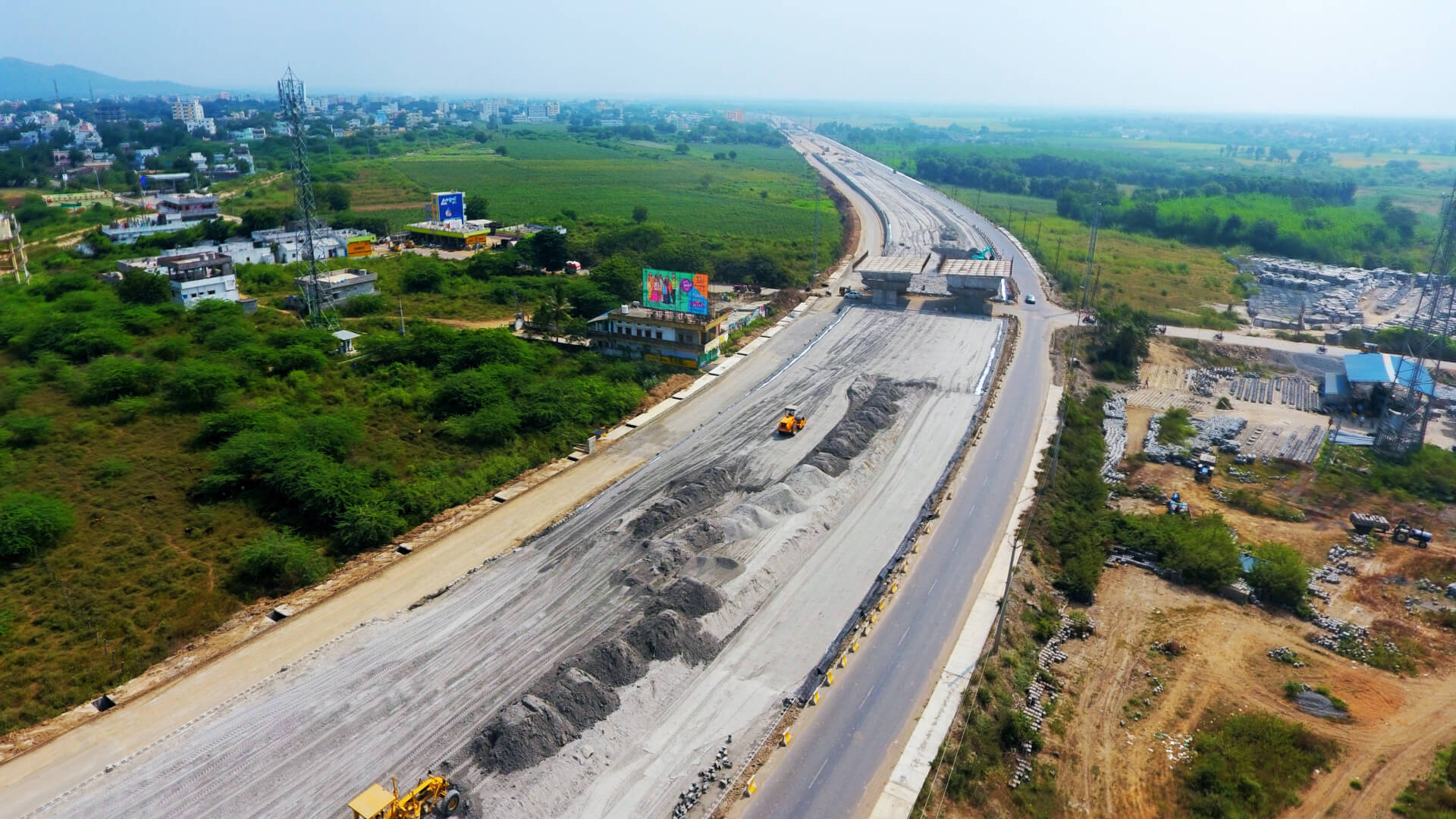 6 Lane Expansion of Hyderabad to Vijayawada NH is completed from Vijayawada upto Nandigama near the state border as seen above & hence you can reach Alakananda in under 75 minutes from Vijayawada & just 2.5 to 3 hours from Hyderabad (and once 6-laning is completed upto Hyderabad ORR, you may reach even faster!)

Alakananda is also right next to the upcoming

Inland

WaterWays

Cruise

Terminal

–

which is the

starting point of National Waterway (NWW) No.4

on the Krishna River
(explained further below)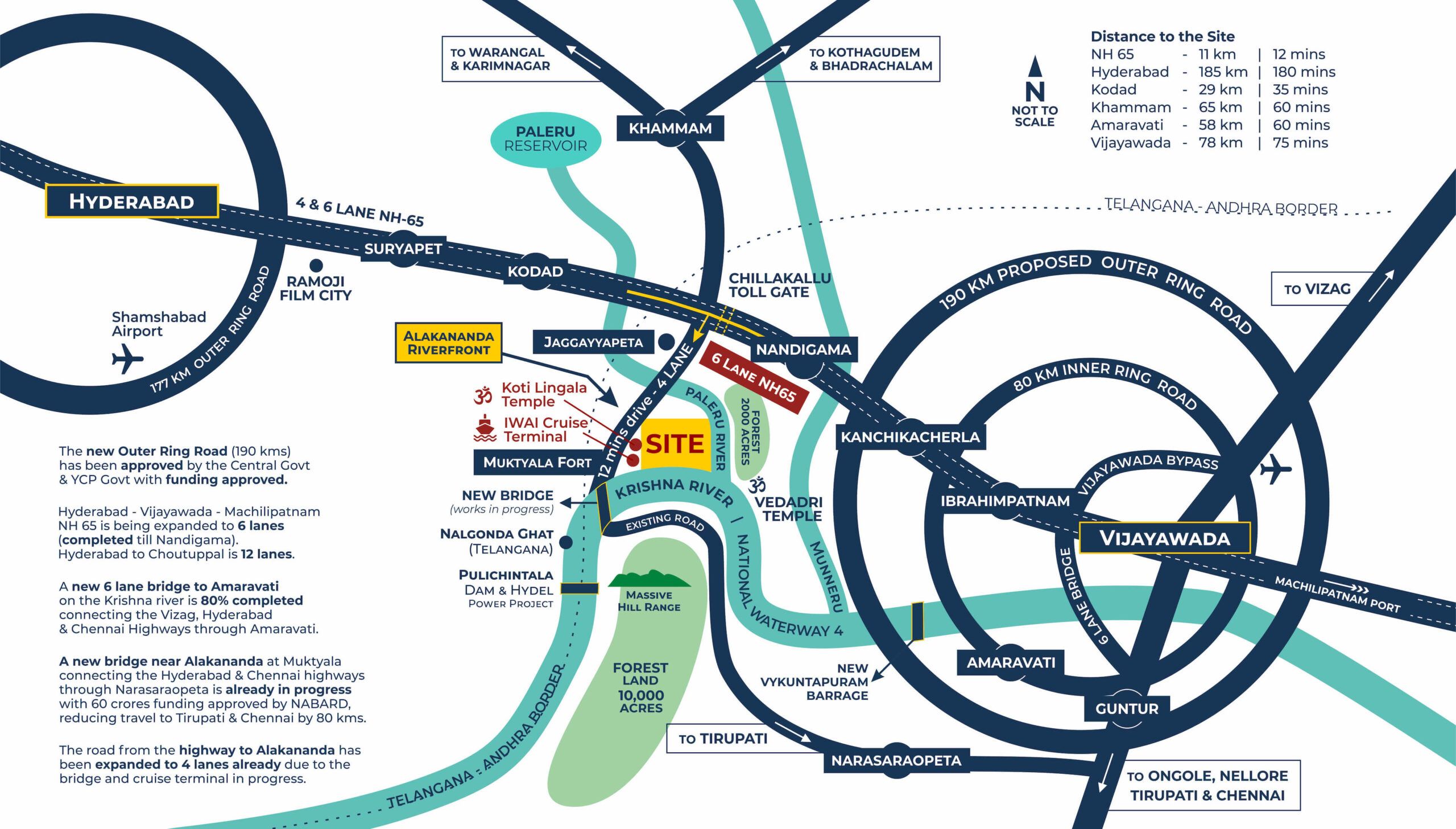 New BRIDGE across Krishna River

, coming up right

NEXT

to Alakananda!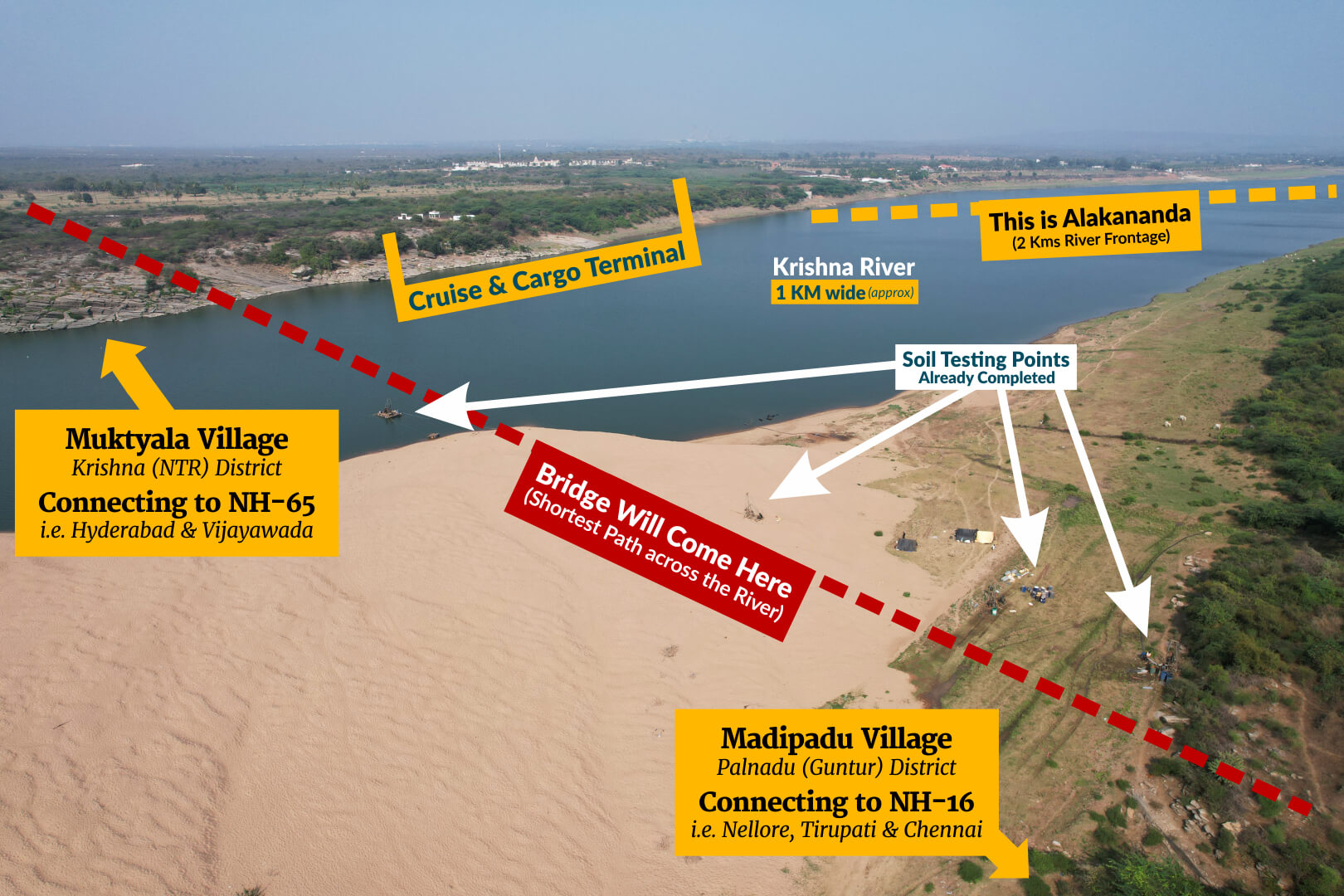 Soil Testing Completed
& NABARD (Central Govt) funding secured.
The bridge announced by the YCP govt a few months ago has now been confirmed with funding of about Rs.62 crores sanctioned by NABARD (Central Govt).
Detailed Project Report (DPR) is also in the final stages and the foundation stone ceremony is expected to be completed in 2 to 3 weeks, following which the works are to begin.
This bridge will CONNECT the Hyderabad Highway (NH-65) to the Chennai Highway (NH-16)
This is how you will travel on this NEW ROUTE : Hyderabad NH-65 > Alakananda > Muktyala > Madipadu > Sattenapalli > Narasaraopeta > Chilakaluripeta > Chennai NH-16.
…bringing Hyderabad closer to Tirupati & Chennai by almost 100 kms or 2 hours!
It will also connect the most vibrant & economically leading towns of TELANGANA, like :
– Khammam & Warangal
– Suryapet, Kodad & Miriyalguda
– Bhadrachalam & Kothagudem

…to ANDHRA's economic power centres, like :
– Guntur & Narasaraopet
– Nellore & Ongole
– Tirupati & Kadapa, etc
…without having to touch Vijayawada or Guntur, drastically CUTTING TRAVEL TIME & DISTANCE between TS & AP!
This will skyrocket our project prices – besides making it all the more CENTRALLY LOCATED for those who would like to lead a peaceful life away from the hustle & bustle of city life, while still being well connected at the same time.
This will make Alakananda's location a true

GATEWAY to both Andhra & Telangana

as always envisioned by us, right from the beginning!
Above will benefit all Andhrites of RICHEST districts of TELANGANA to find a golden opportunity to invest in their home state just in a radius of 30 minutes to 1 hour (eg. Khammam, Kothagudem, Bhadrachalam, Kodad, Suryapet, Miryalaguda, Madhira and so on) and also dreaming of weekend homes or final retirement homes.


Rapid Completion of

4 Laning of Main Road from NH-65 to Alakananda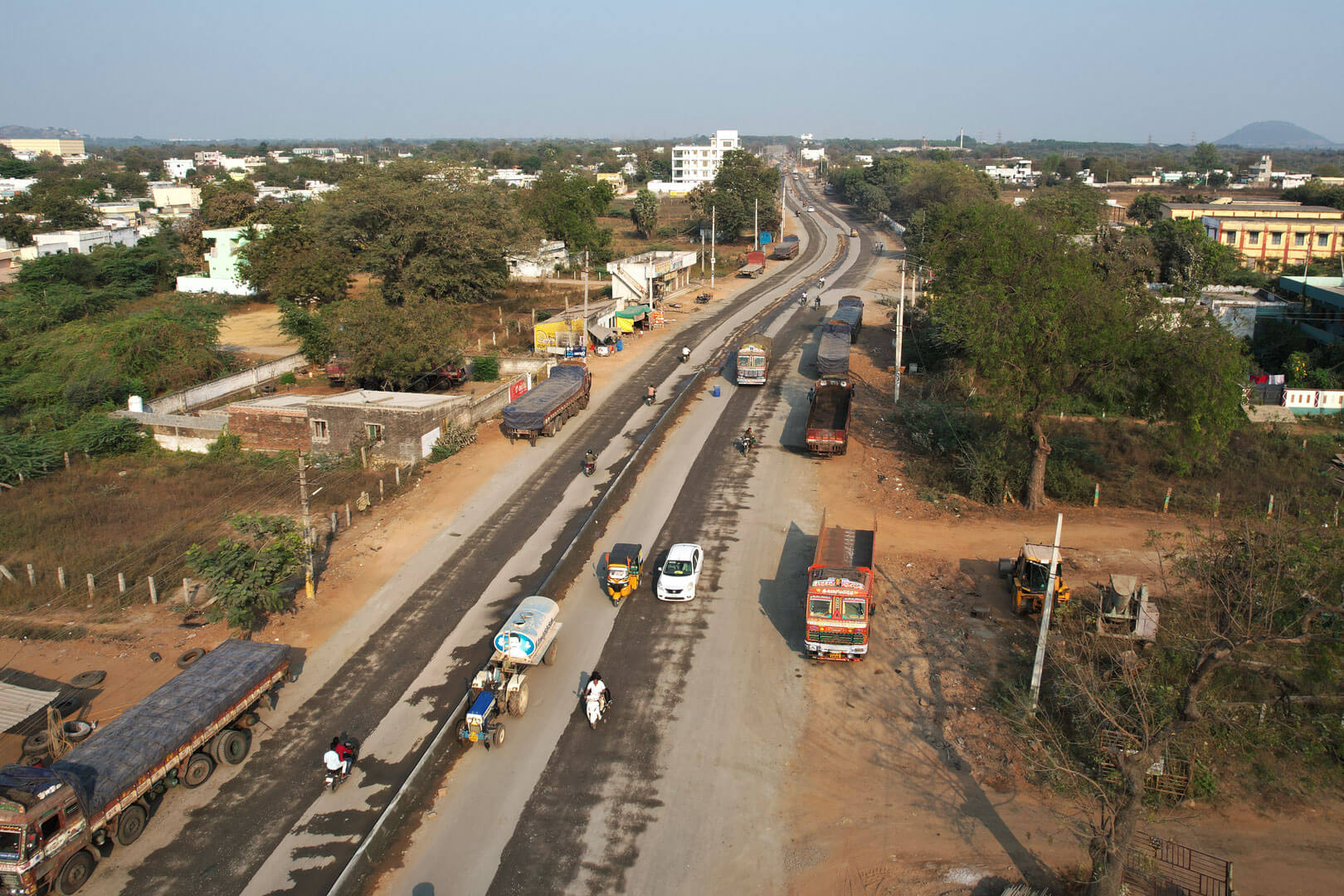 Work is already
90% complete!
The 80 feet wide access road to Alakananda from the highway is now a 4 Lane Highway – more than 100 feet wide!
The existing access road itself is surprising most visitors as they usually expect a riverfront land like Alakananda is at least 1 or 2 hours off the highway through small and rough village roads. 
Now, with the Phase 1 of the 4 lane road, access from the highway is just 15 mins ! 
Phase 2 spanning just 8 kms (all the way to Alakananda), has also been approved and clearing works have already begun with completion expected in 4 to 6 months, bringing down the travel time from the highway to just 12 mins !
The road is now as good as a 4 Lane National Highway all the way to Alakananda!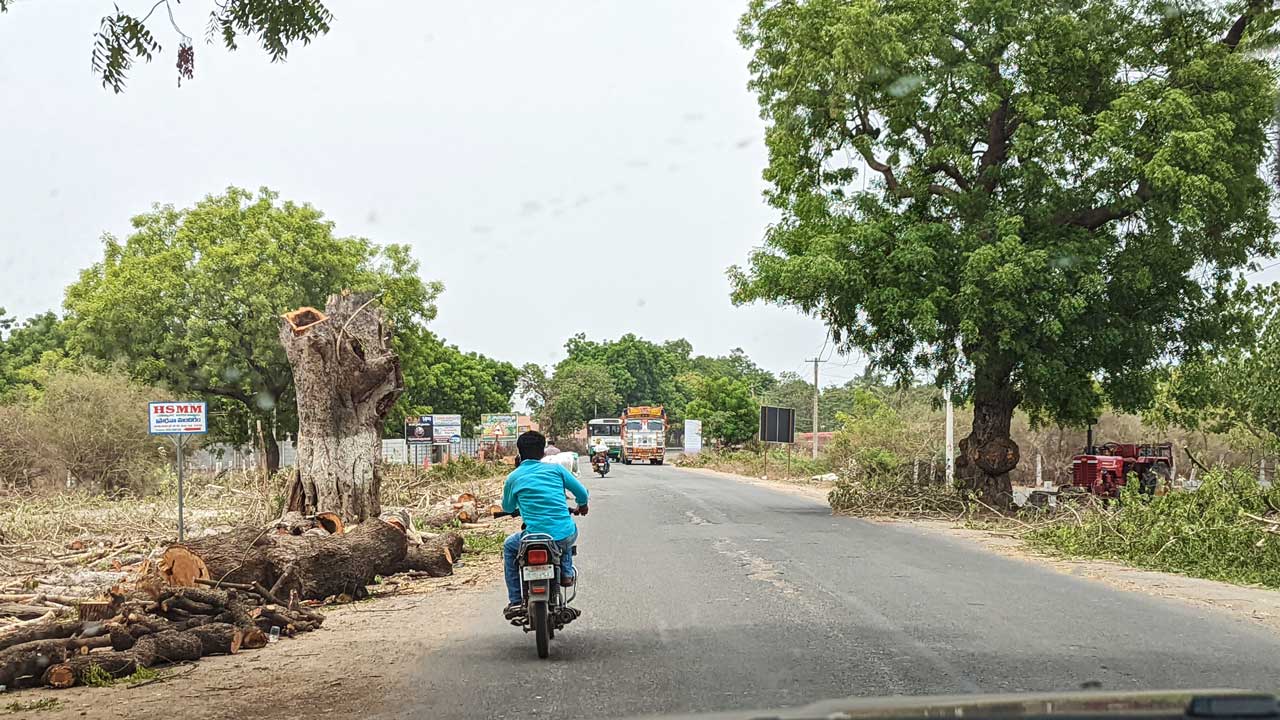 Photo of the Main Road BEFORE 4 Lane Expansion…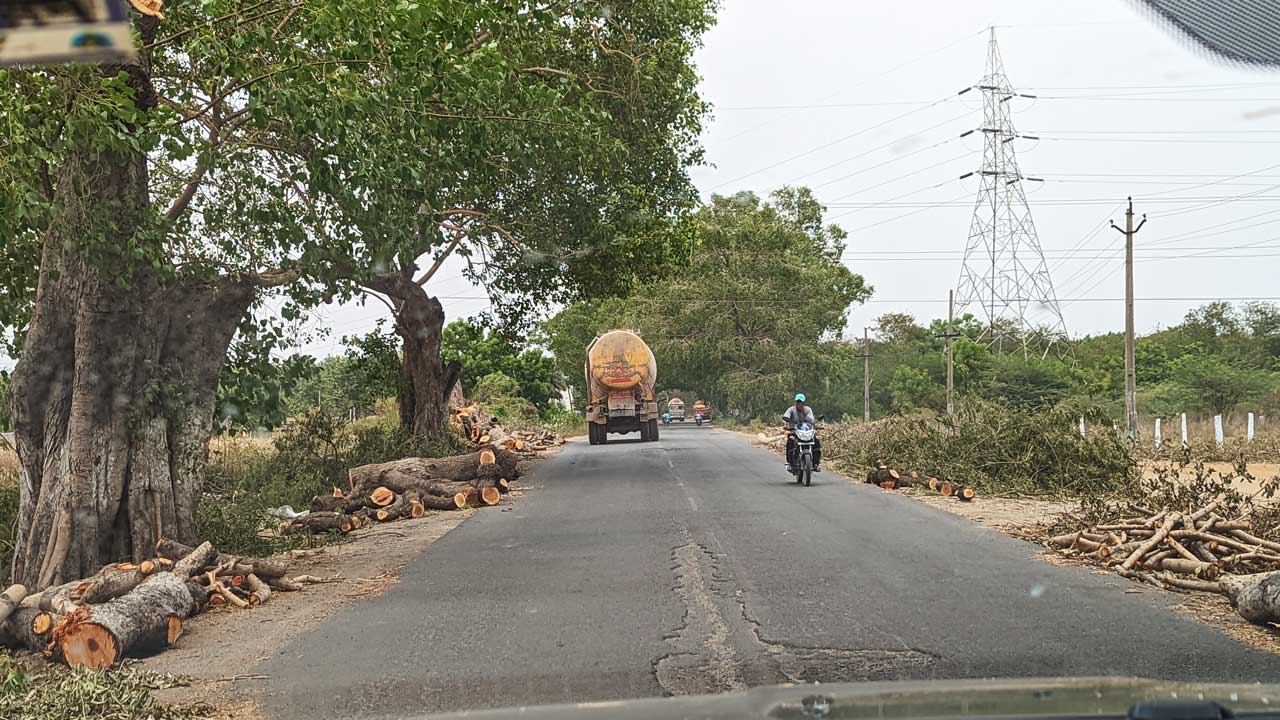 Photo of the Main Road BEFORE 4 Lane Expansion…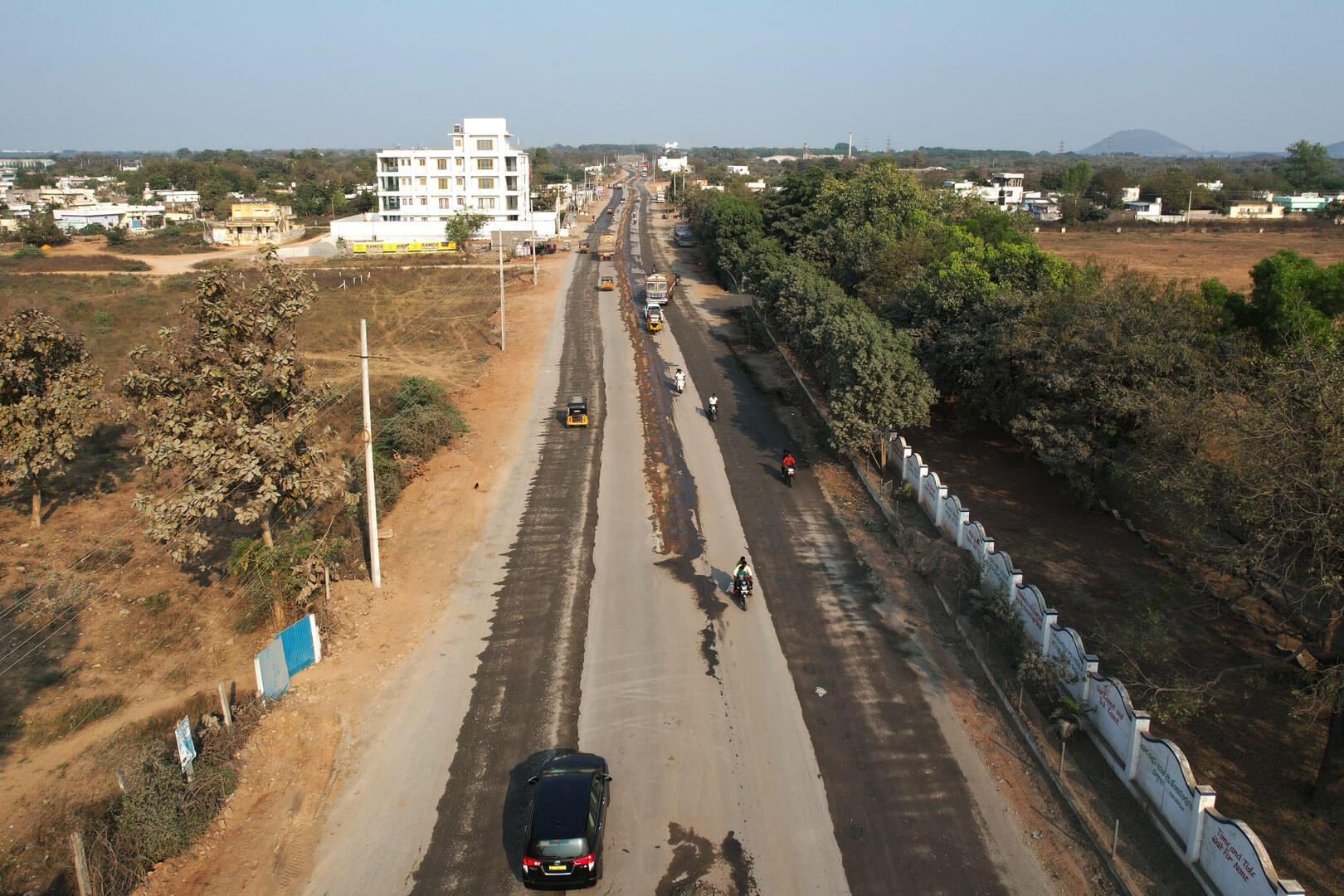 Photo of the same main road AFTER 4 Lane Expansion!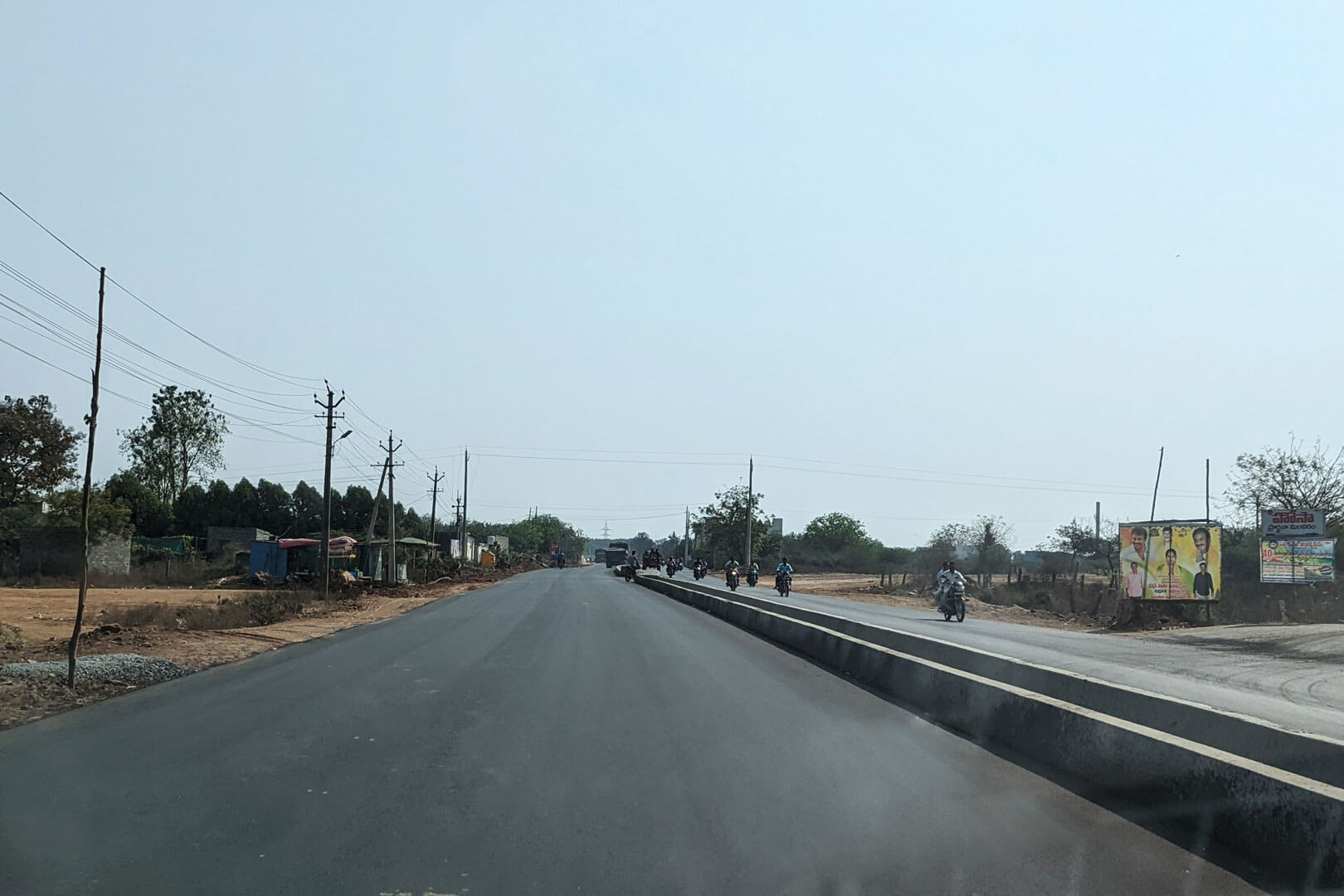 Photo of the same main road AFTER 4 Lane Expansion!


Inland WaterWays Cruise & Cargo Terminal

coming up, right

next

to Alakananda!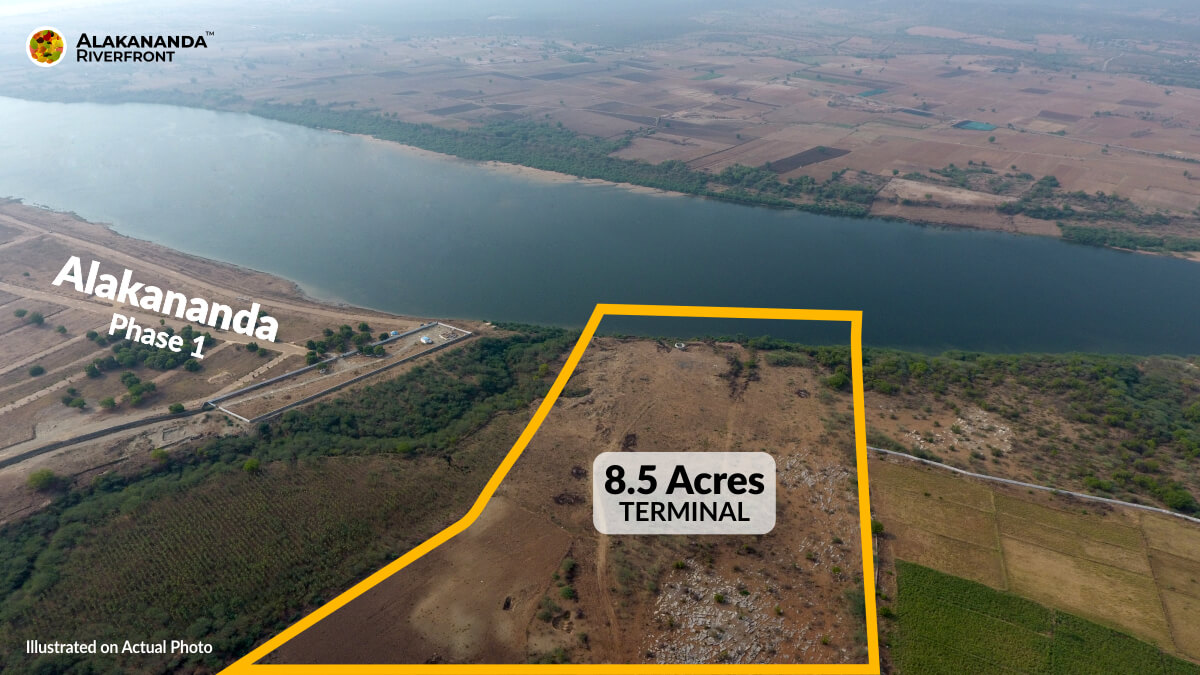 Land acquired

& Rs.51 Crores sanctioned by Central Govt, construction begins shortly…
Water transport is 5x CHEAPER, 2x FASTER & reduces pollution & traffic congestion by over 70%, compared to road transport.
And so as part of "Sagarmala" – the Central Govt's biggest infrastructure project to develop major rivers of India as shipping channels, the Inland Waterways Authority of India (IWAI) has begun developing the Krishna River as India's official National Waterway No.4 (similar to an NH, but on water!)
Once complete, this will allow year-round transportation of goods / construction material on the river and also create a very vibrant river tourism / water sports circuit along the Krishna River – unlocking tremendous traffic to this area, elevating Alakananda and its surroundings.
Govt of AP has recently incorporated the Inland Waterways Authority of Andhra Pradesh – in line with the objectives of the Inland Waterways Authority of India (Ministry of Shipping, Central Govt), to develop waterways within the state…
The state govt has also appointed an Inland Waterways veteran – who brings decades of experience, including establishing Seaplanes to the Statue of Unity (Gujarat) and setting-up of India's 1st Cruise Ship on the Ganges (a 52 days long luxury cruise, priced at around Rs.24 lakhs per person!) – as the CEO for this body to spearhead works aggressively…
This CEO has taken a personal interest to kickstart the Cruise & Cargo Terminal next to Alakananda IMMEDIATELY – within the next 3 to 4 months itself, with temporary machinery – while the permanent terminal is being built (which will take 8 to 10 months).
Plans are also underway to create a cruise experience on the Krishna river, to visit multiple tourist spots in a day's cruise – Durga Temple, Bhavani Island, Amaravati Buddha Statue, Vedadri Temple, Koti Lingala Temple & Muktyala Temple – the last 3 being right next to Alakananda!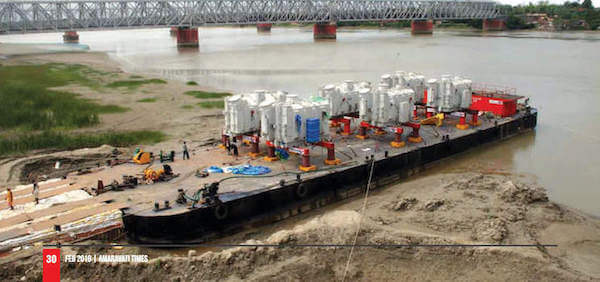 Dredging in Progress at Prakasham Barrage – Rs.144 crores has been spent already on dredging the Krishna River from Muktyala where our project is located upto Vijayawada, with an aim to start commercial and tourism operations by end of 2023…
River transport will become a regular habit for the general public (like how the metro rail in Hyderabad is an integral part of daily life), putting Amaravati & Vijayawada within 30 and 45 minutes by boat respectively from Alakananda – much quicker than traveling by road!
The roads will also be free of congestion as all heavy material like cement, sand & steel will be transported on the river, freeing up the highways – making it easier, faster & more pleasant for you to live here.
Infact the 4 lane expansion of the main road from NH-65 towards Alakananda  was expedited keeping in mind this terminal construction – and ofcourse the upcoming bridge on the Krishna river as well – and with road expansion completed, works on this terminal are set to begin on fast-track…


And best of all, Alakananda is located

safely between

Pulichintala Dam

(10 mins upstream) &

Prakasam Barrage

(downstream) – which means :
Absolutely ZERO RISK of flooding

as

water levels will be continuously monitored and maintained

as this segment is located between 2 dams which can control water outflow very precisely.


.

You will always

enjoy full water levels 365 days a year

 – giving you the best & most fulfilling water-sports experience and river views for life!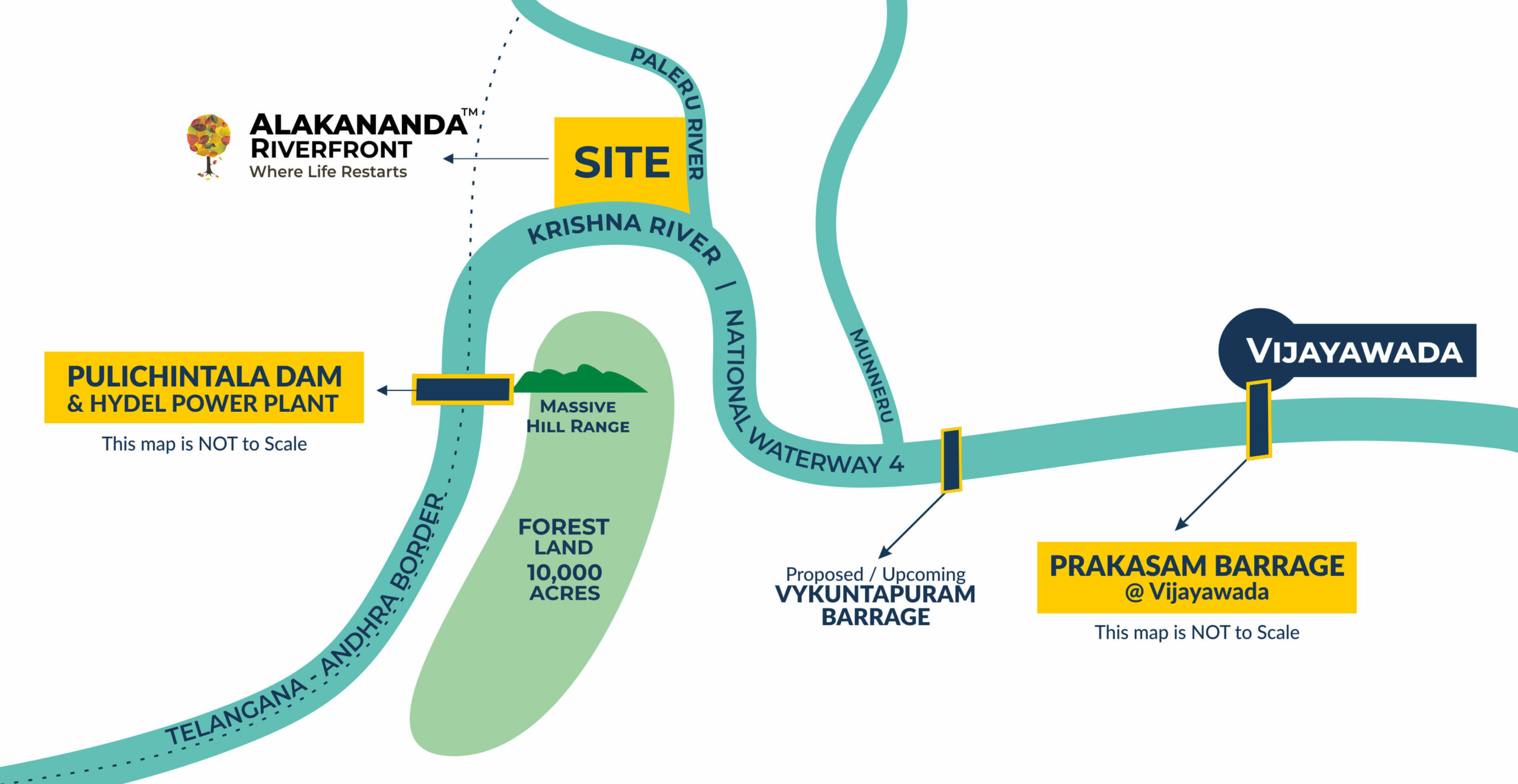 2 Dams on 2 Sides of Alakananda RiverFront – Ultimate Safety & Peace of Mind!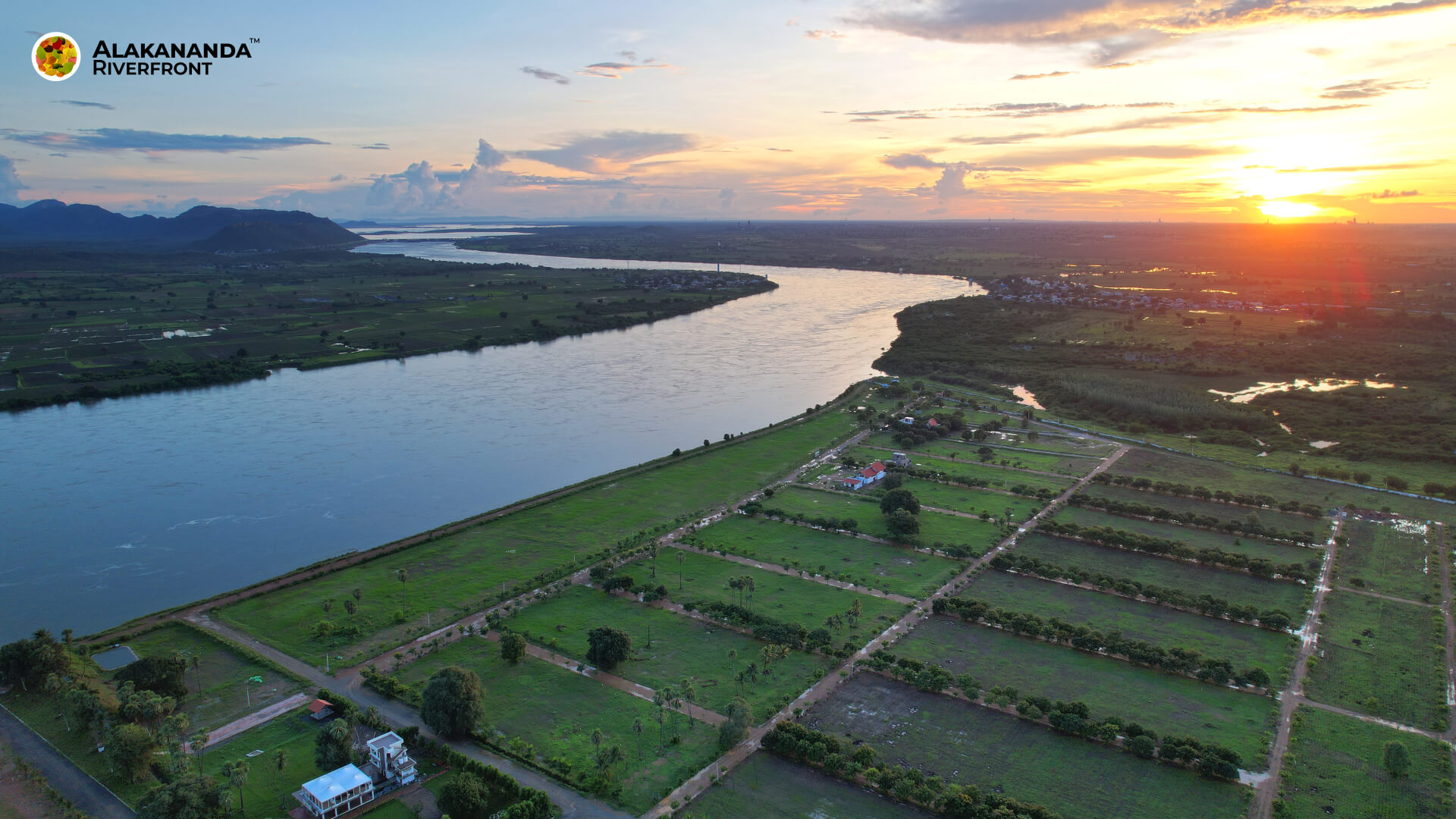 Real Photo / Drone Shot of Alakananda RiverFront – Major works of Phase 1 already completed!

Perfect Weekend Getwaway

 for over 5 lakh people!
Ideal Holiday Destination

for your family!
Located within 3 hours drive for 5,00,000+ people (considering just 2% of the actual population of Hyderabad, Vijayawada & all major zones/towns in between as the target market), Alakananda will be the perfect weekend getaway / holiday home with something for everyone – kids, adults & seniors!
Kids – water sports, plethora of outdoor and indoor sports along the 3 Kms Long riverfront boulevard!


.

Adults – golf driving range, water sports & river cruises, wellness center, botanical gardens, organic farming


.

Seniors – SGS Asrham (Sri Sri Ganapathy Sachchidananda Swamiji) within Alakananda, Koti Lingala temple right next door (2nd largest of its kind in India), famous Vedadri temple (just 10 mins by boat) and the 3 km riverfront boulevard for morning & evening walks along the Krishna river!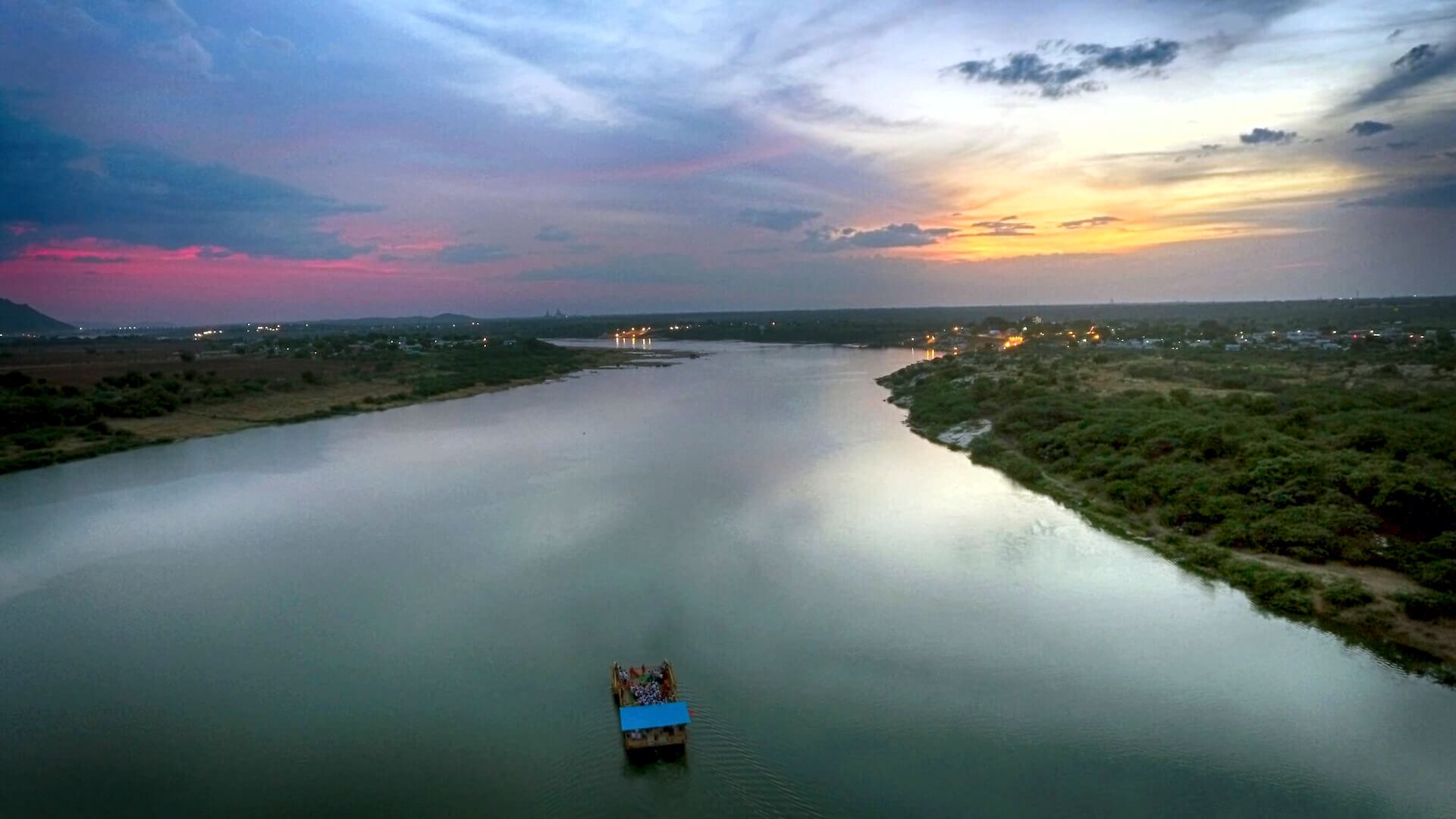 Sunsets on the Krishna River at Alakananda RiverFront (Real Photo / Drone Shot)



Pleasant Weather & Unbeatable Views
With a massive 3 km frontage to 2 rivers, over 12,000+ Acres of lush green surroundings & without any high-rise constructions to obstruct wind flow, you will experience a constant breeze at Alakananda and enjoy a refreshingly cool & pleasant weather year round – without the humidity or mugginess you would have to suffer in other parts of TS & AP!


Fertile Soil & Fresh Water yearlong!
Due to the never-ending year-round availability of mineral-rich fresh river water, this region has one of the most fertile soils for agriculture – which means you enjoy the best organic lifestyle of growing your own fruits & vegetables & beautiful home gardens!


Back to Your Roots
The overall ambience of Alakananda will be a seamless mix of contemporary and rustic, to provide a simple yet modern lifestyle. With an overall atmosphere of serenity, it will focus on organic living and an active lifestyle, striking a balance between the two.


Koti Lingala Temple right Next Door!
This is one of India's largest temples of its kind (with 120 mini-temples already constructed and 3 lakh Shiva Lingas already present) and is located literally on the boundary wall of Alakananda! With its aim of installing another 97 lakh Lingas, this is becoming a big tourist attraction – and you have the luxury of having it right next to you!


Vedadri Narasimha Swamy Temple
Located just 5 minutes down the river from Alakananda, this temple is very popular with a huge land bank in its control giving it a huge spiritual tourism potential on the likes of Yadagirigutta near Hyderabad & is already a very popular destination during Krishna Pushkaralu.

SGS Ashram on Campus
We have donated 2 acres of riverfront land for construction of Sri Sri Sri Ganapathi Sachchidananda Swamiji's Ashram. Declared "Datta Peetam" by Swamiji himself, this will be a positive force for the township & is already attracting the attention of his global base of affluent followers!
Near Alakananda, the Krishna River turns to the North & then East – an occurrance called "

Uttara Vaahini

" – considered

highly auspicious

according to Hindu mythology!
Invest today at a discounted rate before we open bookings to general public at a higher rate shortly!