Are you allowed to construct on the riverfront?
YES, Alakananda RiverFront is

FULLY

compliant with

River Protection Rules
To regulate activities in the coastal areas, along river banks and major water bodies in India, the Environment Protection Act, 1986 of India was setup under the Ministry of Environment, Forests & Climate Change (MoEFCC), Govt of India.
According to this law, an area of 100 meters or 330 Feet from the river banks / canals / creeks / estuaries / backwaters is declared a "No Construction Zone" – where NO permanent structures can be constructed.
This 100 meters buffer-zone from the river banks is also famously known as the "Coastal Regulation Zone (CRZ)".
For a major river like Krishna, this limit is 100 meters (330 Feet) from river banks and for a smaller river like Paleru (technically considered a rivulet), the limit is 30 meters.
But beyond this buffer zone, construction is fully permitted according to the existing local regulations.
So following these norms, we have ensured to leave a clear 100 meter / 330 Feet setback from the Krishna River – sacrificing almost 48 acres or 1,50,000 Sq Yards of priceless riverfront land, which is worth  approx Rs.98 Crores just at the Pre-Launch Price – to ensure that residents don't have any issues in getting permissions.
This is infact what makes this project impossible to replicate and hence a true value-buy as a family asset for generations to come…
See the drone photo of Phase 1 below, showing the massive setbacks as explained above…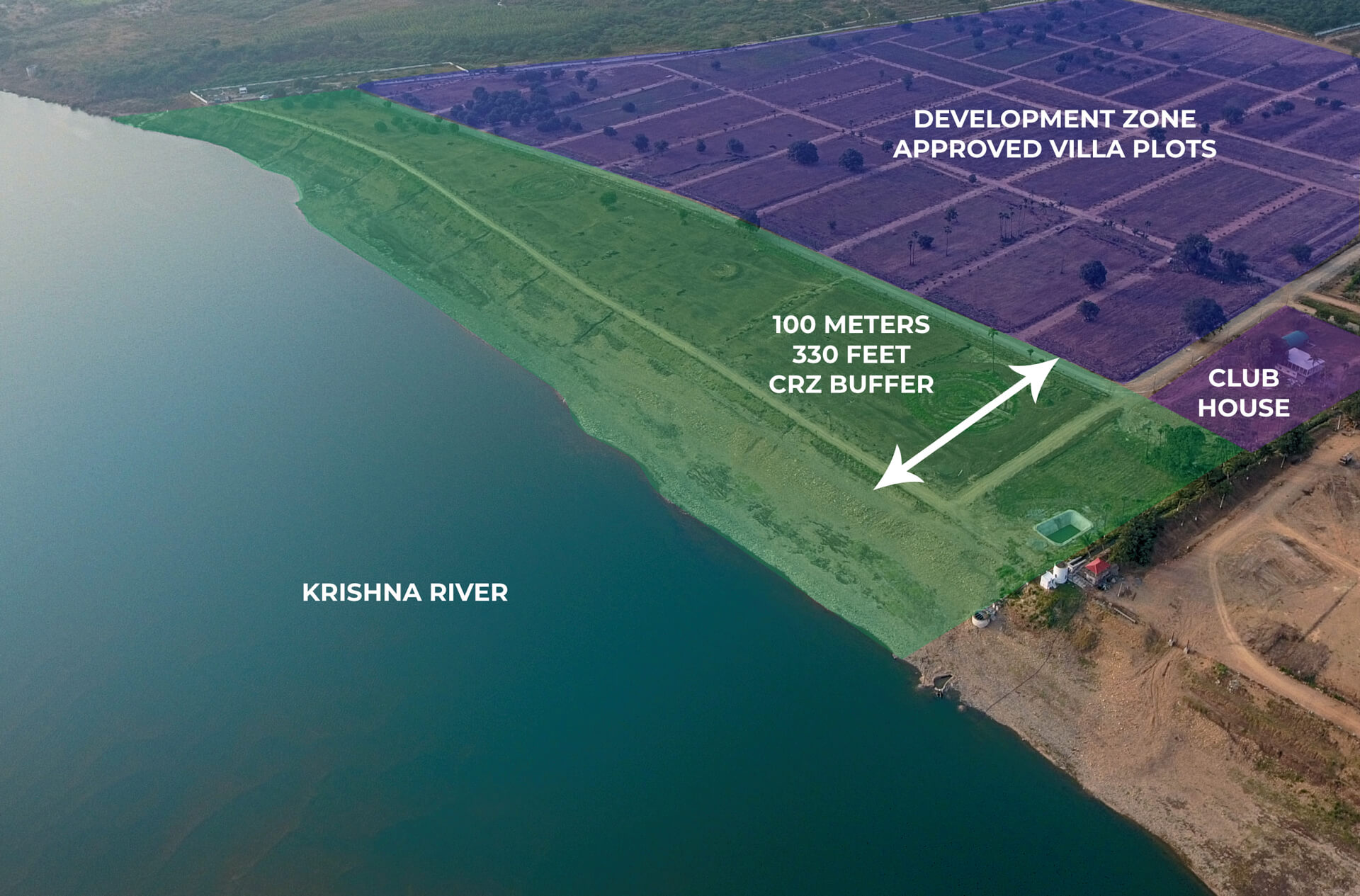 Drone View of Alakananda Phase 1 showing the massive setbacks being maintained (almost 48 acres!) from the river banks, as per Central Government Rules.
1st Riverfront House already under Construction!
with

ALL

permissions in place…
Building permissions for villas / individual homes will be issued for lands BEYOND the 100 meter (330 feet) line by the competent authority, which is the CRDA in this case, as per local building laws.
Infact the 1st house @ Alakananda – that too pure riverfront plot, closest to the river – is already under-construction with FULL permissions from CRDA…
800 Sq Yards premium plot, 1100 Sft Built-Up area, only Ground Floor to begin with (and provision to add 1st floor later) for an NRI from Chicago whose family circle from Hyderabad & Vijayawada will use it as a holiday home once-in-a-while and rent-it-out on home stay basis (managed by us as done for few other houses which are also coming-up here)
Building plans were sanctioned by the CRDA within 21 days and construction has already started.
And this means that you too can begin construction of your house right away if you wish, without wondering if you will get permissions or not as we have already proven it with this case!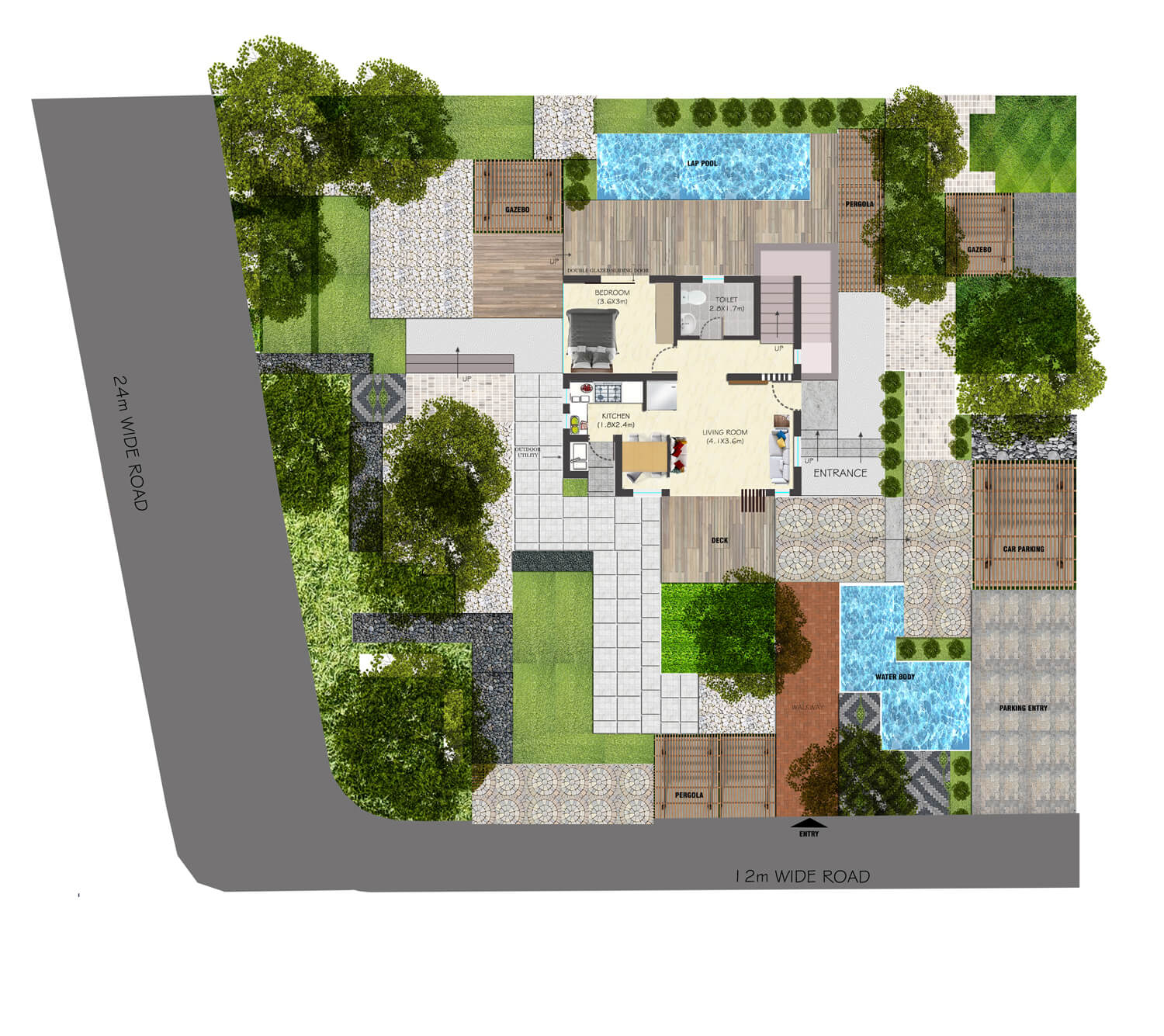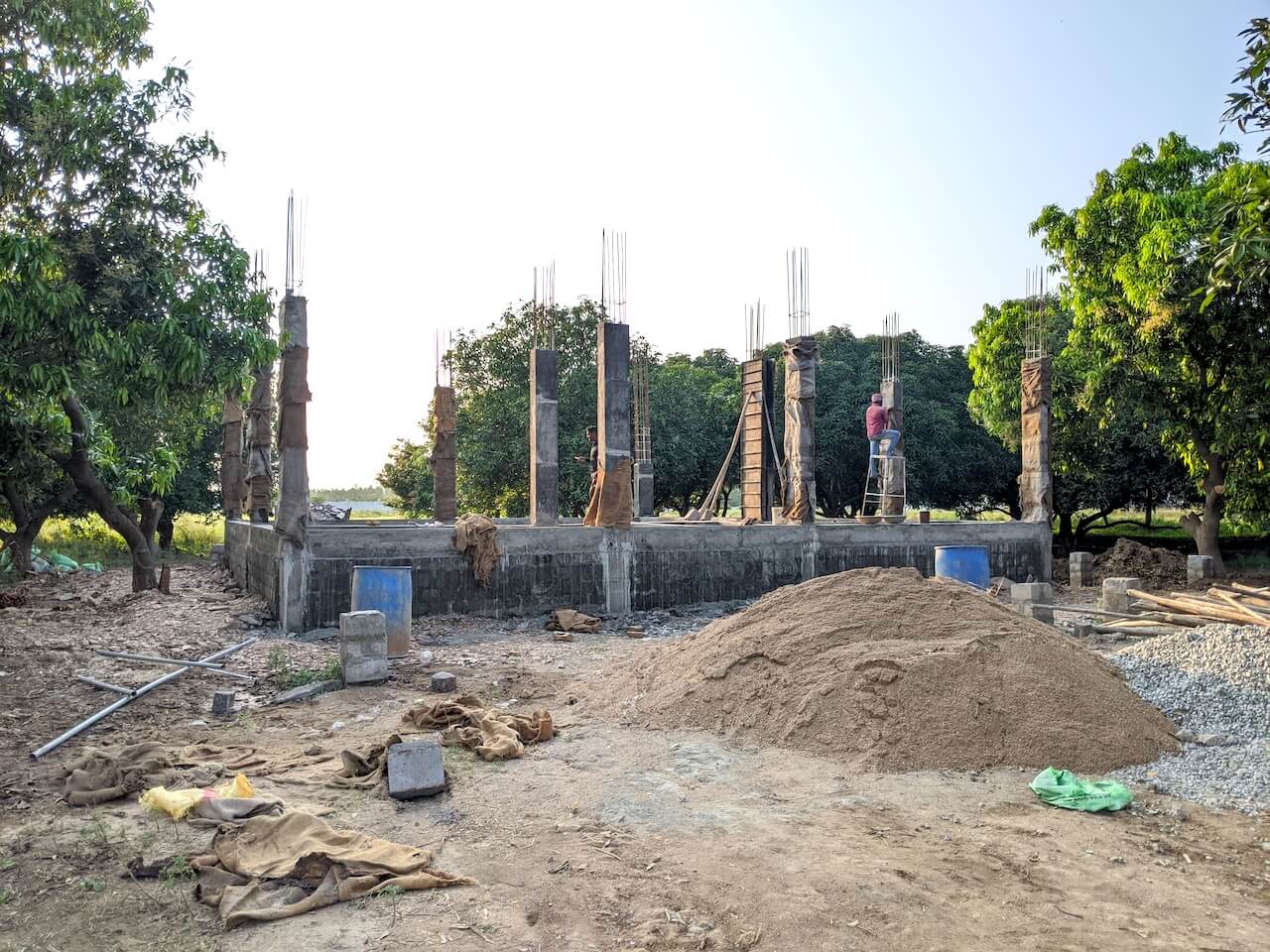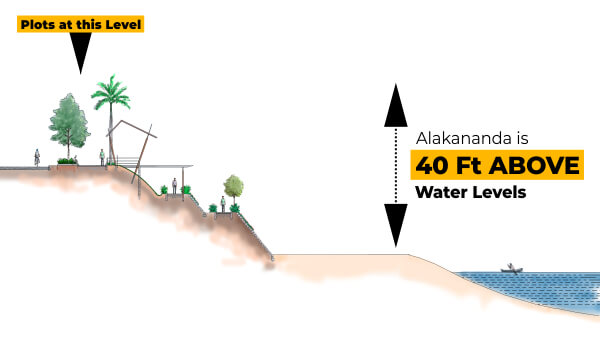 Located 40 Feet

ABOVE

water levels
You are located 40 Feet above water level @ Alakananda – which means ZERO chance of flooding – as water will have to rise 40 feet and then travel 330 feet inside before it touches the 1st house of the campus, which will never happen!
(even in the recent Krishna river floods in August 2021 & before than in October 2020 – which was the worst in the last 70 years memory of people in this area – Alakananda was not at all affected, proving beyond doubt that you will never face any flooding related issues at Alakananda)
Located between 2 Major Dams for Safety 365 Days a Year
And because we are located in BETWEEN the Pulichintla Dam upstream and Prakasham Barrage downstream, water levels between these 2 dams are constantly monitored and regulated – hence there is no scope of unforseen / sudden floods etc.
Most Exotic Private Residential Riverfront in India!
Instead of leaving this massive 48 acre CRZ buffer zone empty, we are developing it to have :
beautiful landscaped gardens
Jogging & Cycling tracks
Children's play areas
Golf Driving Range
Botanical Gardens
Outdoor Sports
Open-Air Gym
Pet Gardens
Skating Rink
Fishing Decks
Horse Riding Arena
Heritage Display Zones
Riverfront Amphitheatre
Yoga Zones & Meditation Arena
Childrens' Play Areas (multiple zones)
and many other such common amenities…
(the Govt rules allow such facilities as these are more greenery based and considered temporary structures)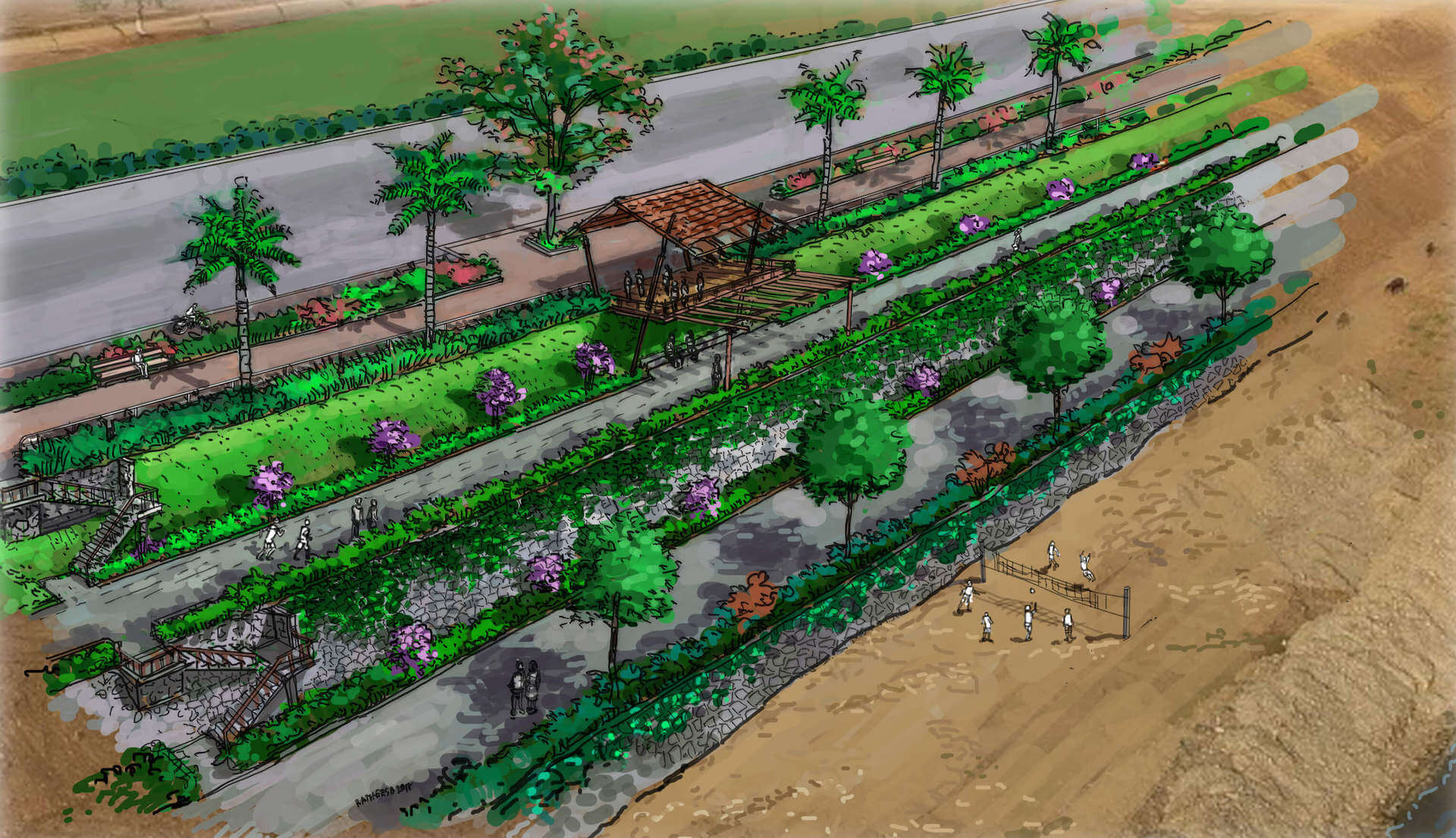 Artistic Rendering of the Riverfront Boulevard at Alakananda
It has been vertically split into 3 lusciously landscaped platforms, making it a one of its kind in India!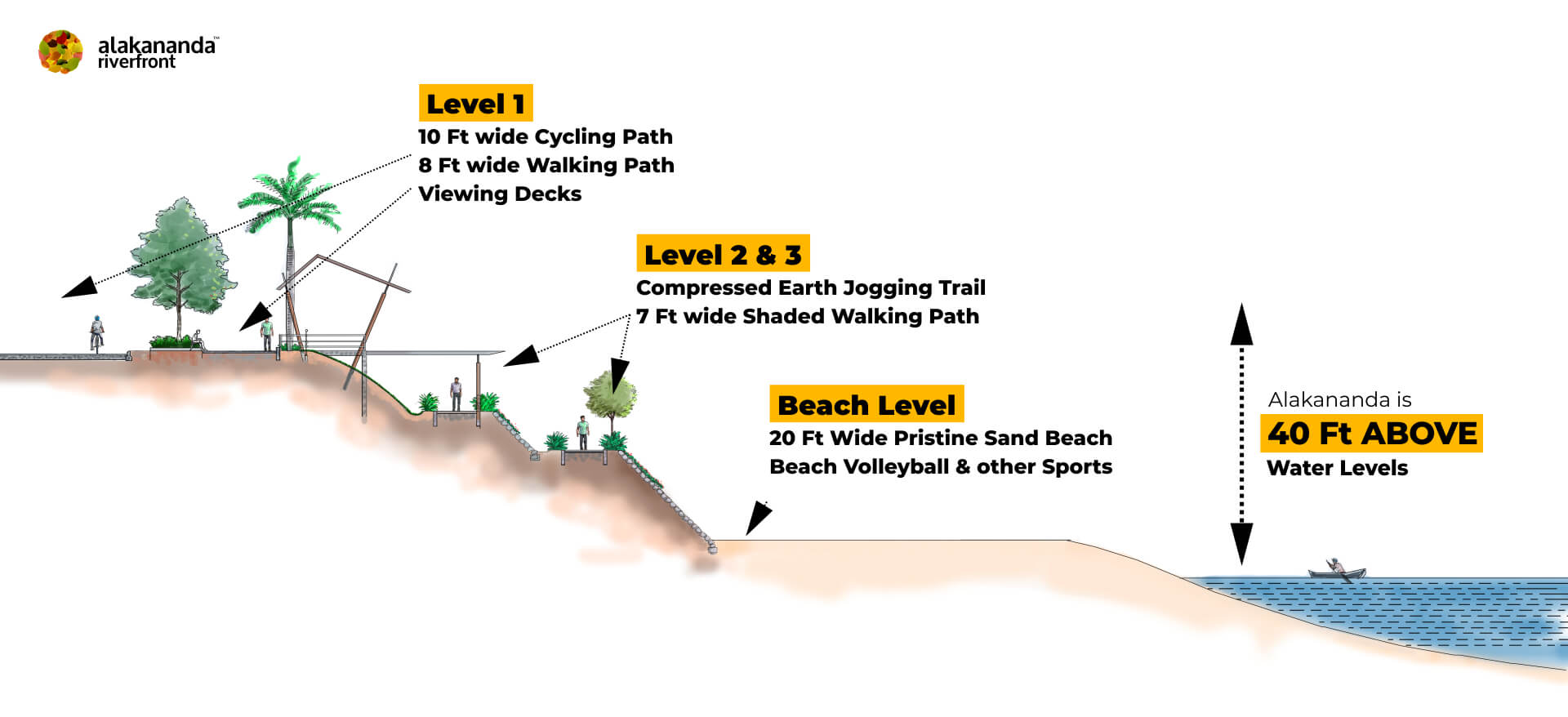 And now you will be surprised to see the actual photo below as this work is already 70% completed!
12,000 truck loads of earth had to be dumped and consolidated over several months to create this – making this absolutely safe and a truly one-of-its-kind in India!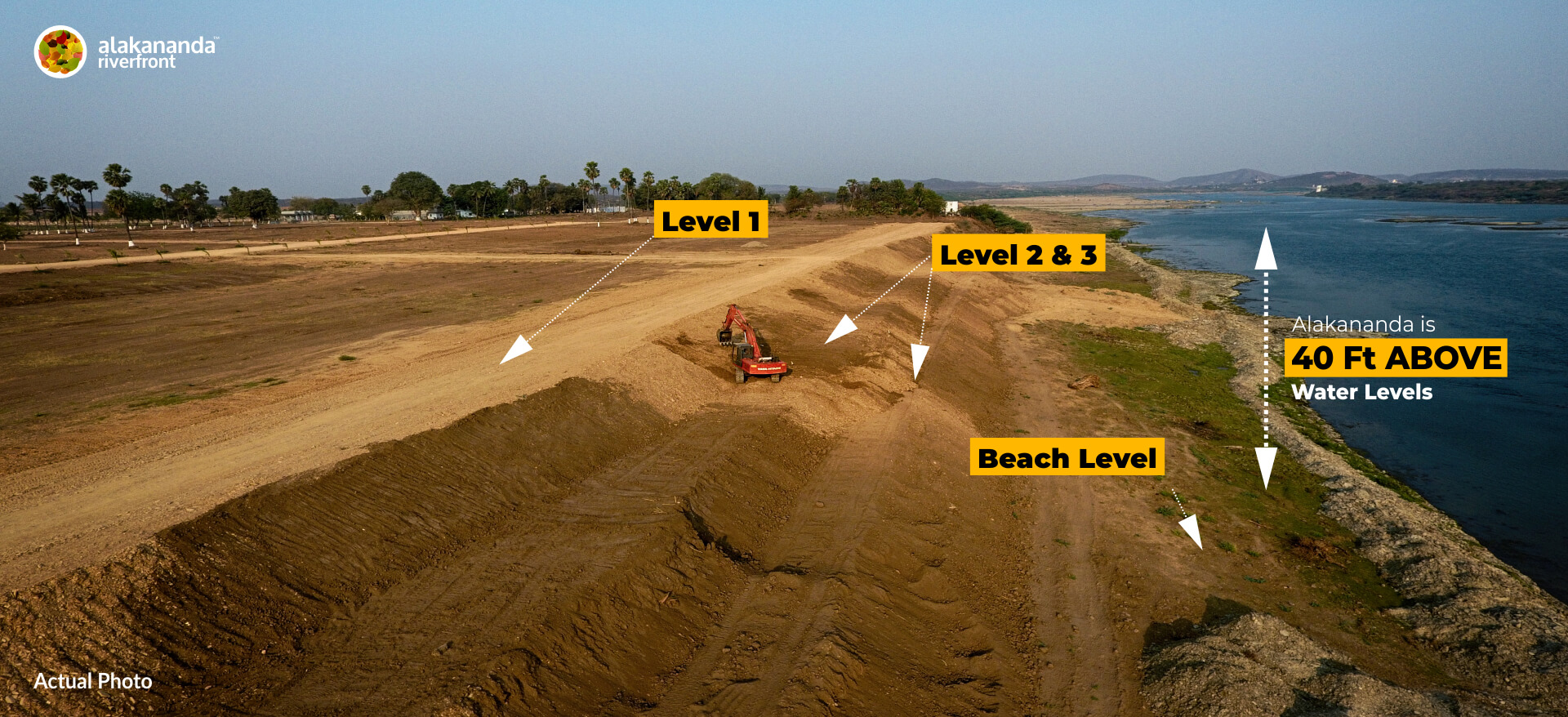 Be part of the best ever Gated Community
of Andhra Pradesh & Telangana
Pre-Launch Now Open
Get the plot of your choice at inaugural rate!
IMMEDIATE REGISTRATION
Construct whenever you want (no deadlines)
1st batch of homes already under construction!
Click Here to View Plots & Villas at Alakananda
For Site Visits & Enquiries :
If you would like to know more about the availability and price of the villa plots, please feel free to get in touch with our team member who showcased Alakananda to you.
Invest today at a discounted Pre-Launch Rate before we open bookings to the general public at a much higher rate in the next few months!