Making this one of the

LARGEST

common areas EVER done in a residential community in India!
In addition to the usual amenities, outdoor sports & other facilities, this open space also includes :
48 acres for riverfront BUFFER ZONE (100 meters or 330 Feet from the river bank is kept as green landscaped open areas –

WITHOUT

any construction allowed in this zone abutting the river, to comply with Coastal Regulation Zone i.e. CRZ Rules of India)


.

40 acres for One-of-its-kind Botanical Gardens
and much more that you will enjoy as part of this truly rare and once-in-a-lifetime waterfront experience at Alakananda!
Private Boat Jetty
with WaterSports!
Golf Driving Range
& Putting Course
Horse Riding with
Resident Trainers!
40 Acre Riverfront
Botanical Gardens
Waterfront ClubHouse
with Multiple Party Lawns
Holistic Health
& Wellness Center
Spiritual Hub
Temples + Ashram
Senior Citizen
Active Living
Botanical Gardens for
Organic Fruits & Veggies!
Meditation, Yoga &
Reflexology Zones
Telugu Vaibhavam
Village & Art Center
SGS Ashram
"Datta Peetham"
River Edge Jogging
Walking & Cycling Tracks
Amphitheater at
Confluence of 2 Rivers
Water Sports
with Supervised Guidance
Fishing Decks
on Krishna & Paleru Rivers
Outdoor Sports &
Adventure Zones
Convention cum
Marriage Hall
3 Star Guest Rooms
In-House Accommodation
Banquet Halls &
Party Lawns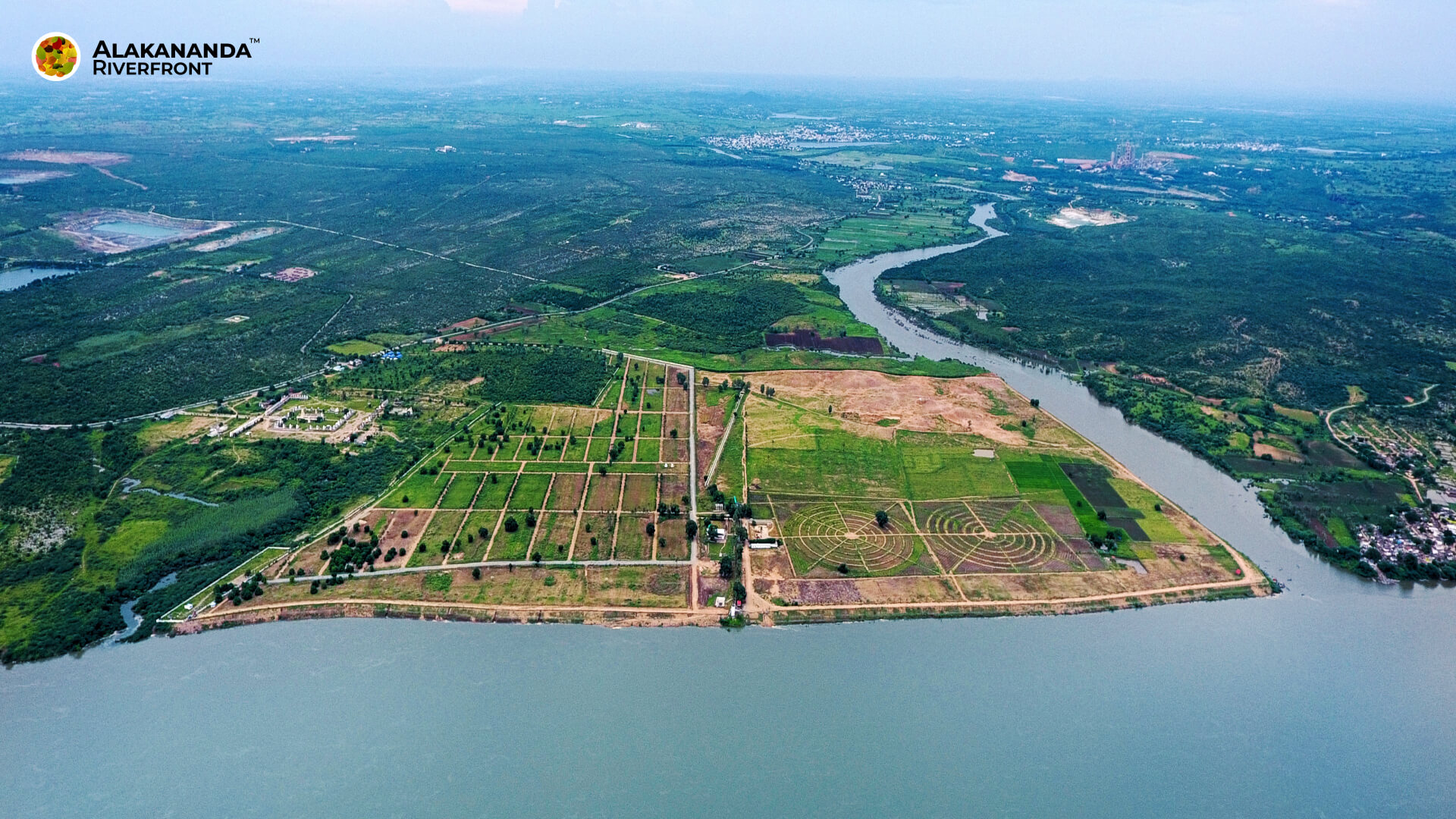 Major Works Completed! This is a REAL PHOTO / Drone Shot of Phase 1 of Alakananda…
3 Km Long

& 330 Feet Wide Riverfront Boulevard
Possibly one of the longest riverfront boulevards in South India, with a stunning 3 km frontage and massive 330 feet width (in line with river protection rules), this unique zone will host numerous activities with sweeping panoramic views of the rivers on 2 sides!
Towering 40 Feet ABOVE river water levels, it is split into 3 lusciously landscaped platforms with walking and jogging tracks, giving you a feel of running in the river!
Lush Landscaped Gardens
Walking & Jogging Trails
Dedicated Cycling Lanes
Shaded Sitouts Areas
Children's Play Areas
Skating Rinks
and much more!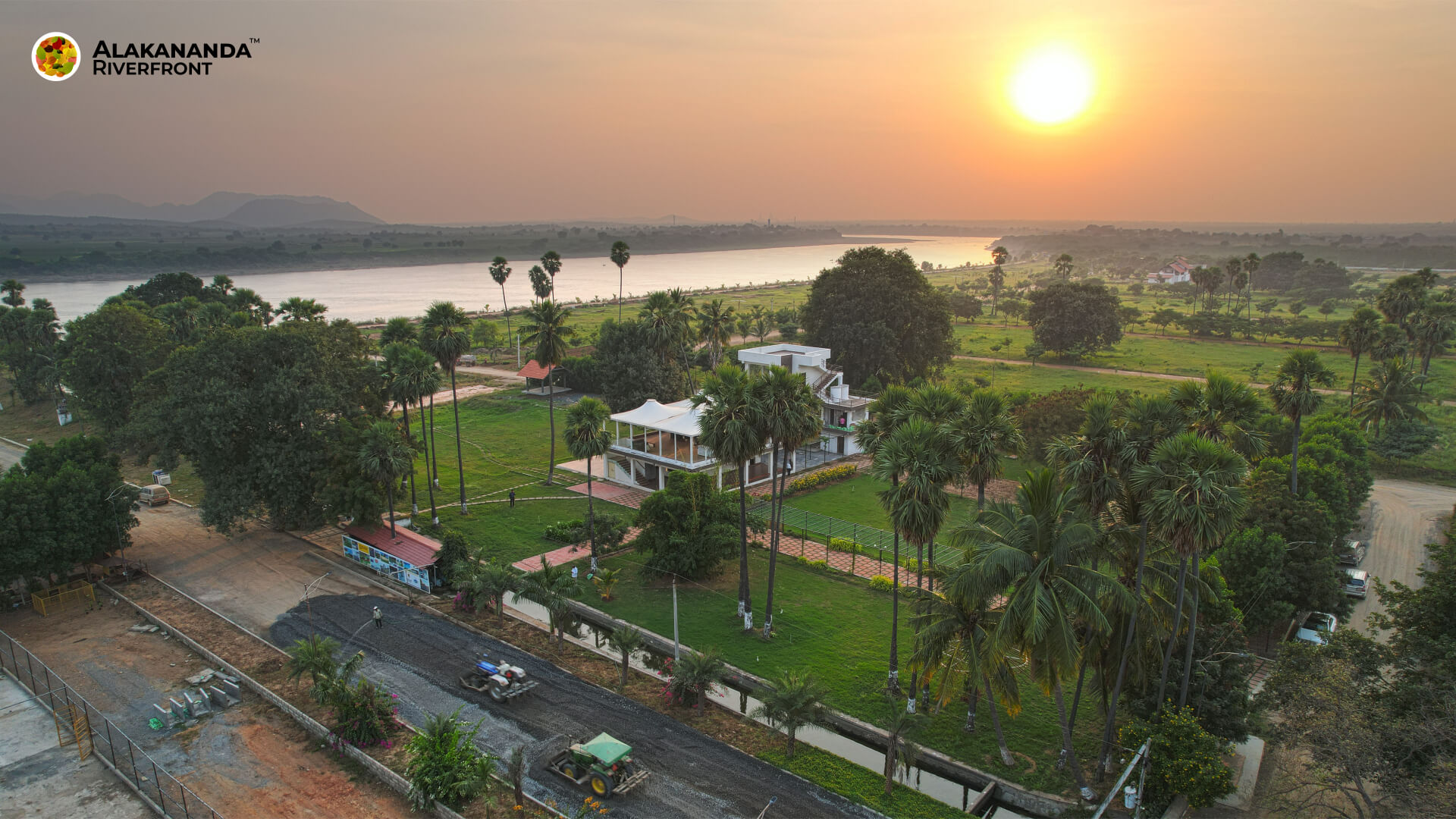 Amaara
20 Acre RiverFront Club House
Directly

overlooking

the stunning 2 KMS long, Krishna River!
Open to residents & their guests – but NOT to random visitors – and overlooking the Krishna River, the clubhouse at Alakananda will cater to your every desire!
Riverfront Lounge & Restaurant
(already operational)


.

800 Seater Capacity Party Lawns
(already operational)


.

3 Star ClubRooms i.e. Guest Suites
(already operational)


.

Indoor Games Room
(almost ready)


.

Infinity Swimming Pool
(work-in-progress)


.


and much more in the pipeline!
OUTDOOR SPORTS have their own, separate dedicated space – almost another 30 acres! – and are not counted as part of clubhouse, continue reading to know more on this…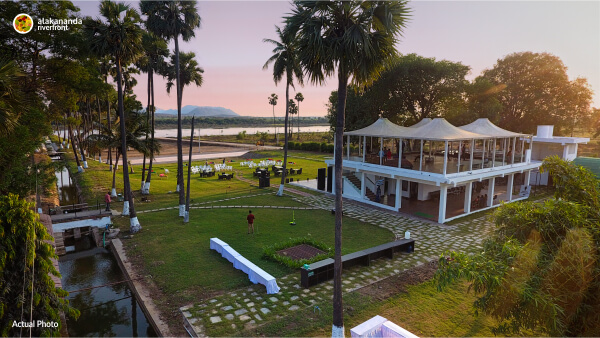 ClubHouse overlooking the Krishna!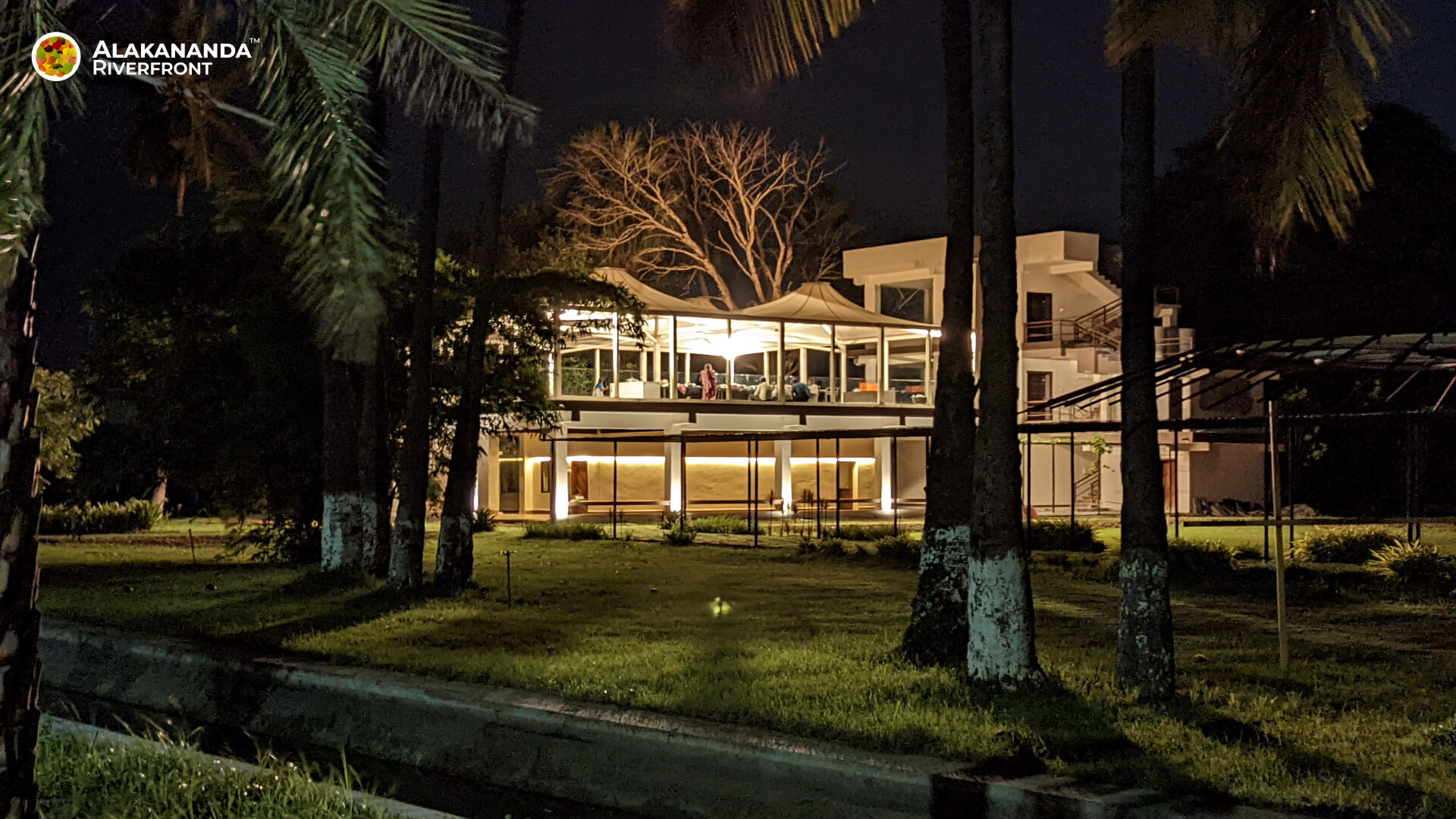 Night View of the ClubHouse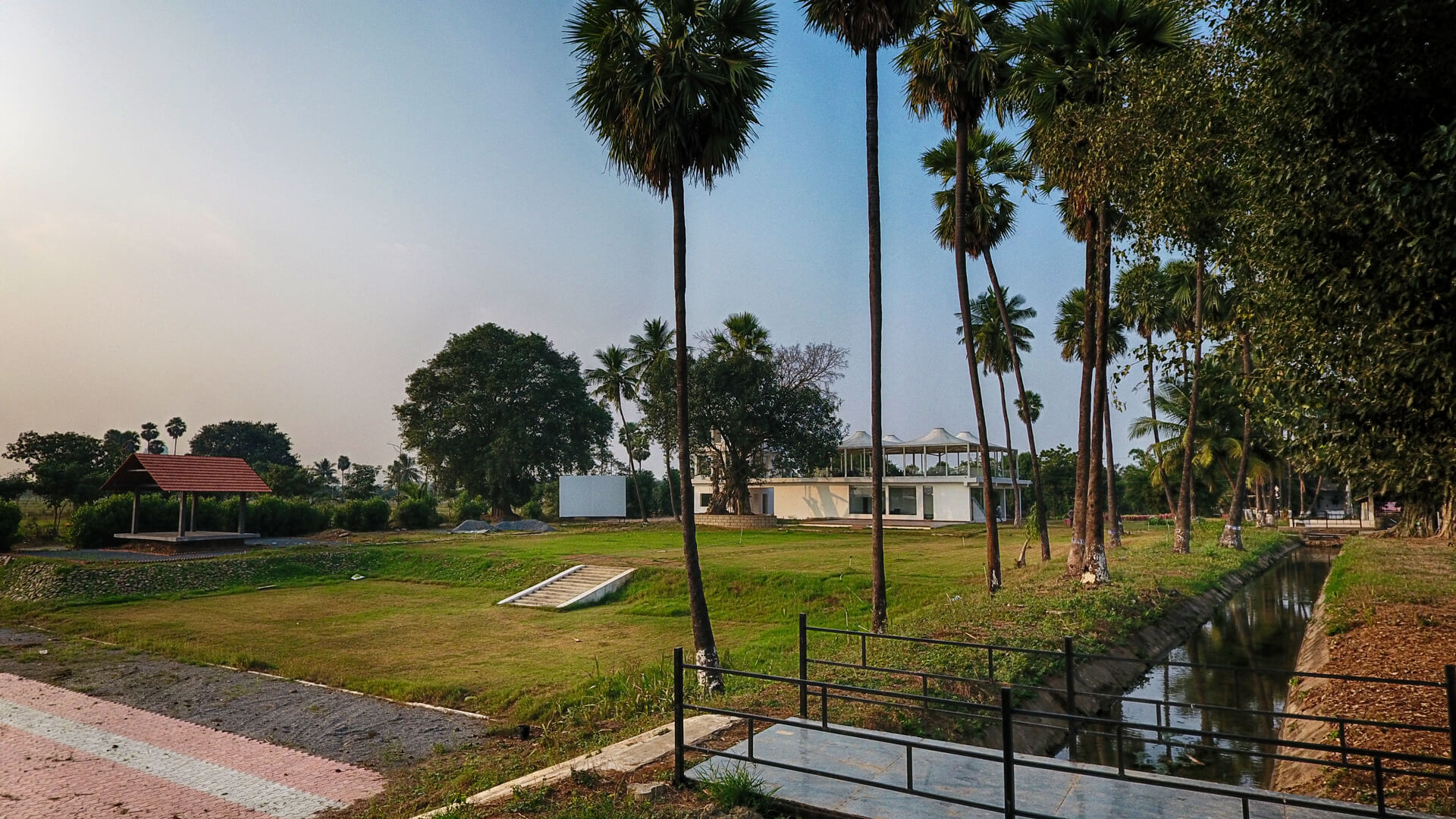 800 Seater Party Lawns spread around the ClubHouse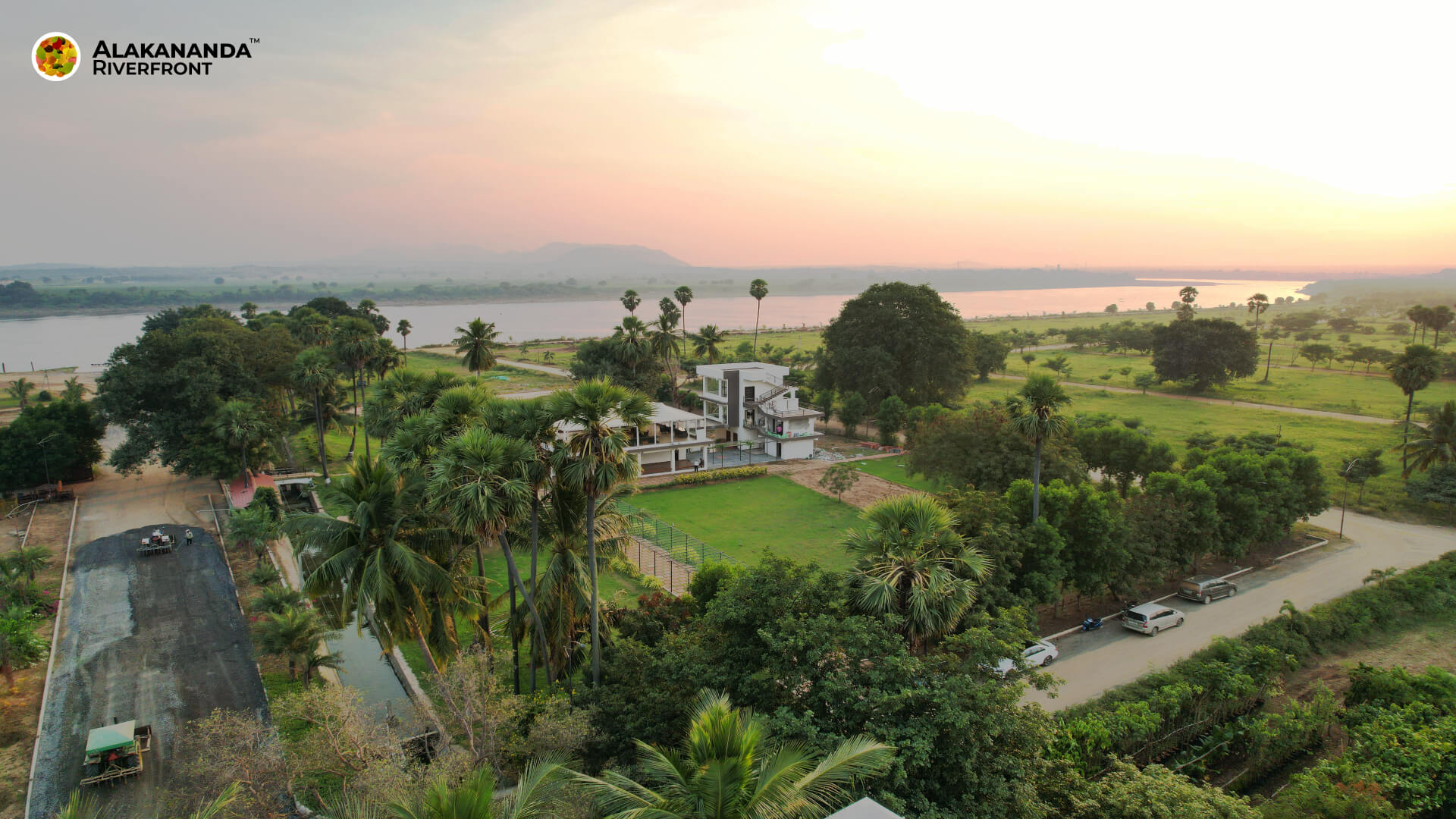 Metalling of Roads being done around the ClubHouse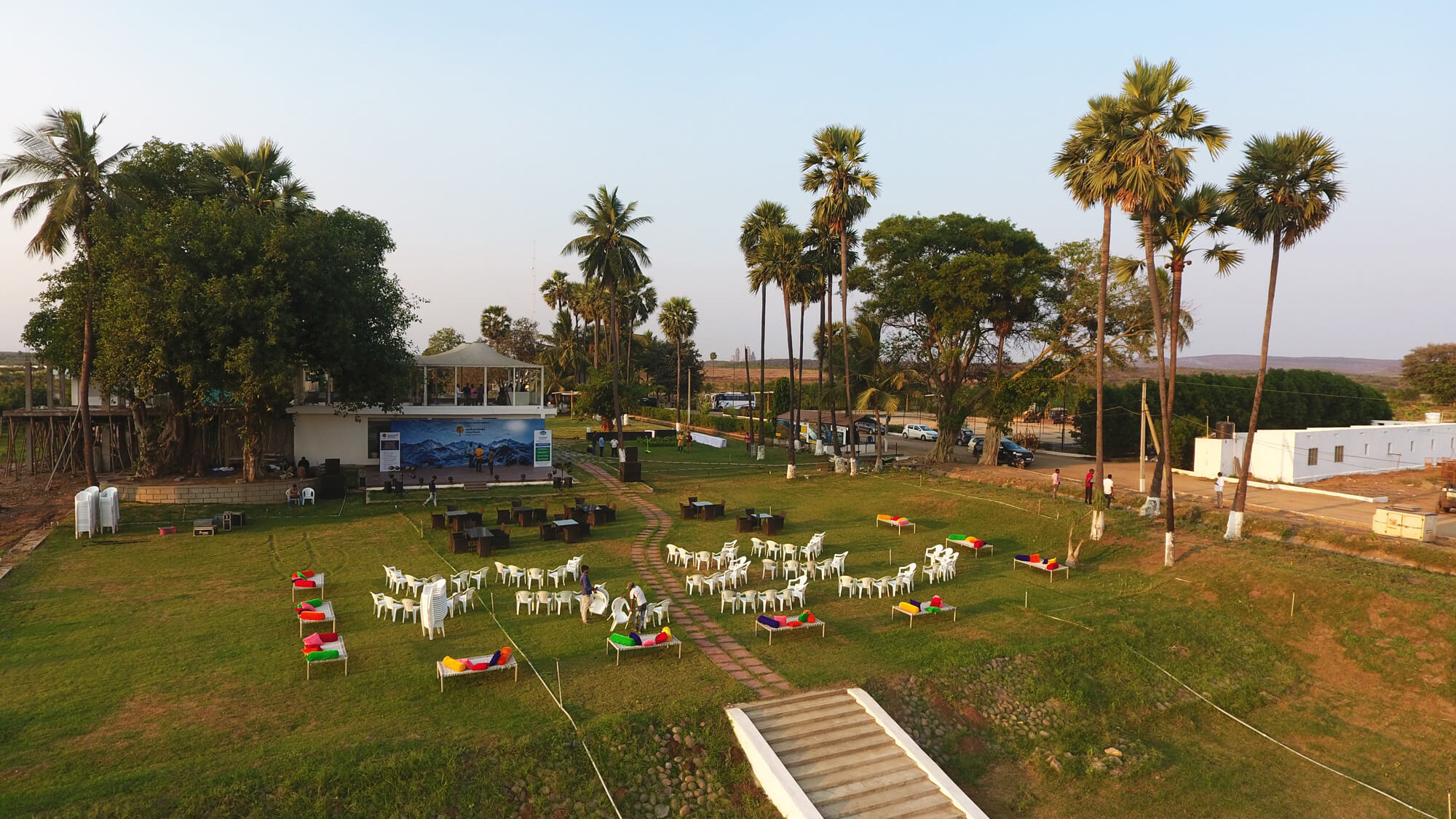 Photos of Maha Sivaratri Celebrations organised for our plot owners this year at the ClubHouse…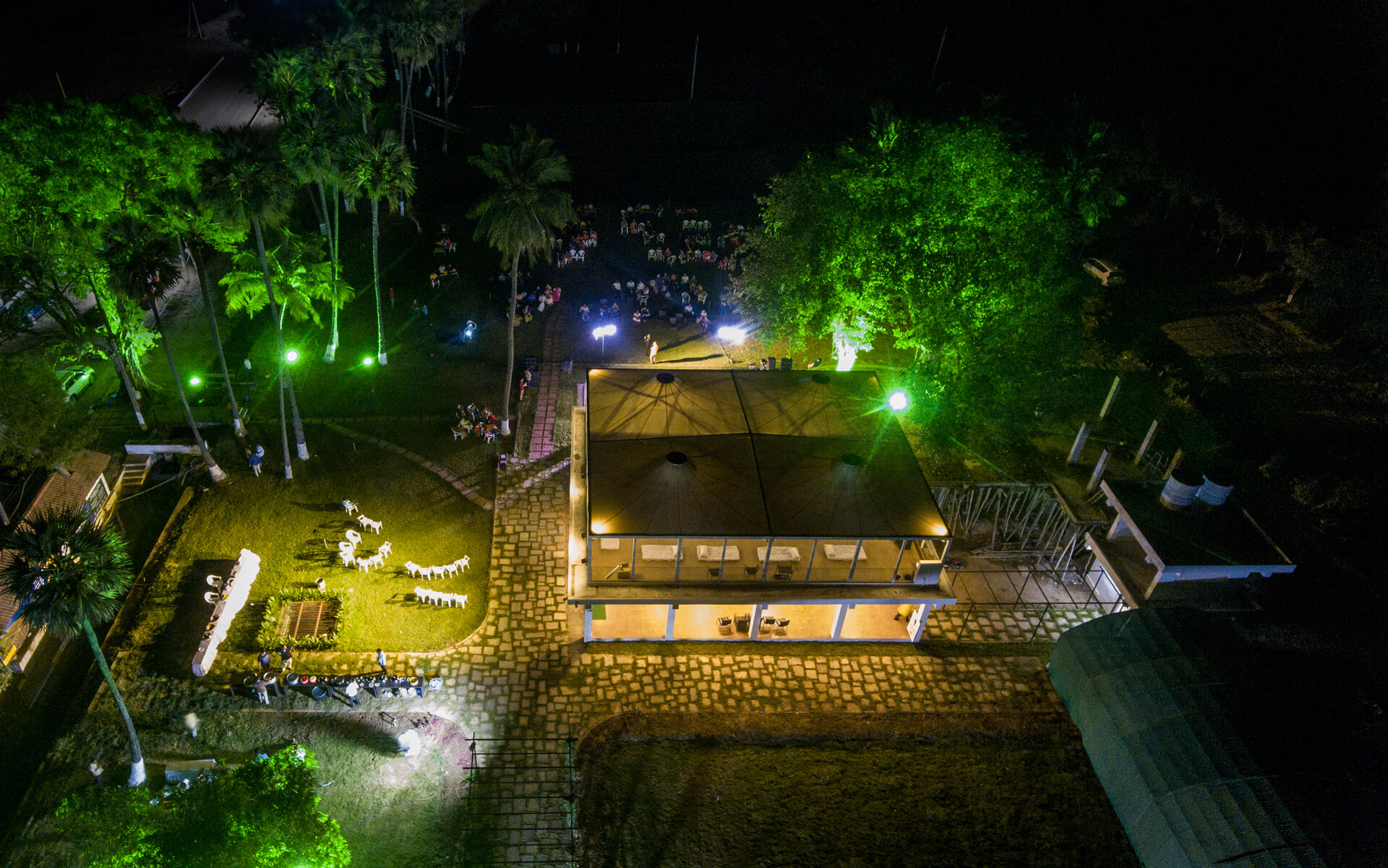 Botanical Gardens
22,000 Plants over 40 Acres!
52 Varieties of

ORGANIC

Fruits, Vegetables & Medicinal Herbs!
A 1st-of-its-kind feature for a residential gated community in India – and located right on the Krishna Riverfront – these gardens are home to over 52 varieties of medicinal, herbal & aromatic plants, and ORGANIC FRUITS & VEGETABLES!
Visitors will be treated to a rare insight into BOTANICAL DIVERSITY with varieties from all across India, with over 5 kms of walking tracks and a kiosk where they can buy saplings & organic manure from our on-site nursery.
Stroll through this tranquil garden by the Krishna River where you can see, smell, touch & feel various aspects of agriculture – a luxury you may have missed out on so far!
Perfect for your morning & evening walks, for kids & adults alike!
In-House Kiosk selling Fresh Produce


.

Reflexology Walkways with Aroma Garden


.

Goshala for Fresh Milk, Curd & Desi Ghee!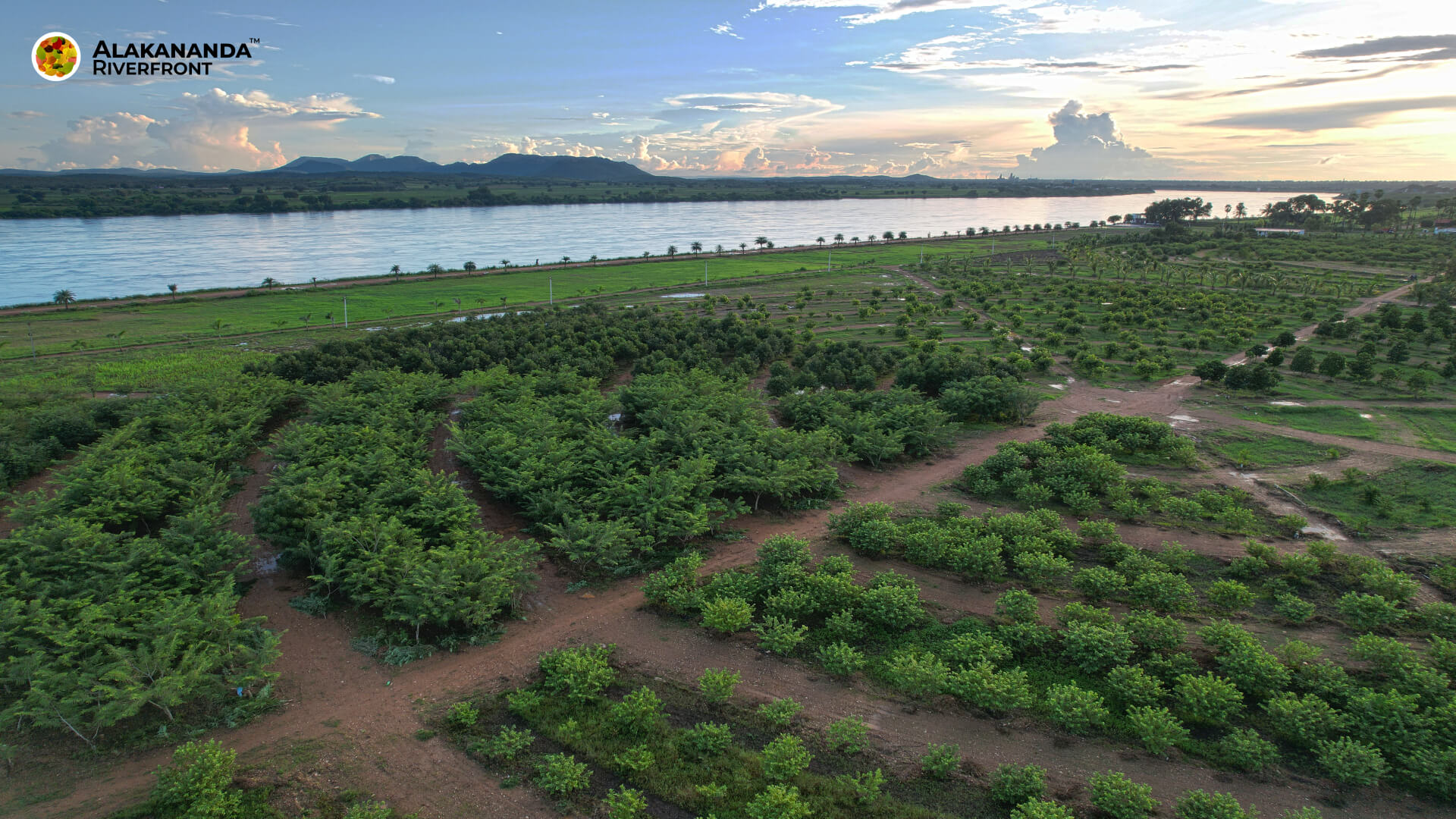 Actual Drone Photo : Plantation in advanced stages as you can see above, with 5 kms of circular walking paths – with each zone having different categories of plants – with 100% drip irrigation…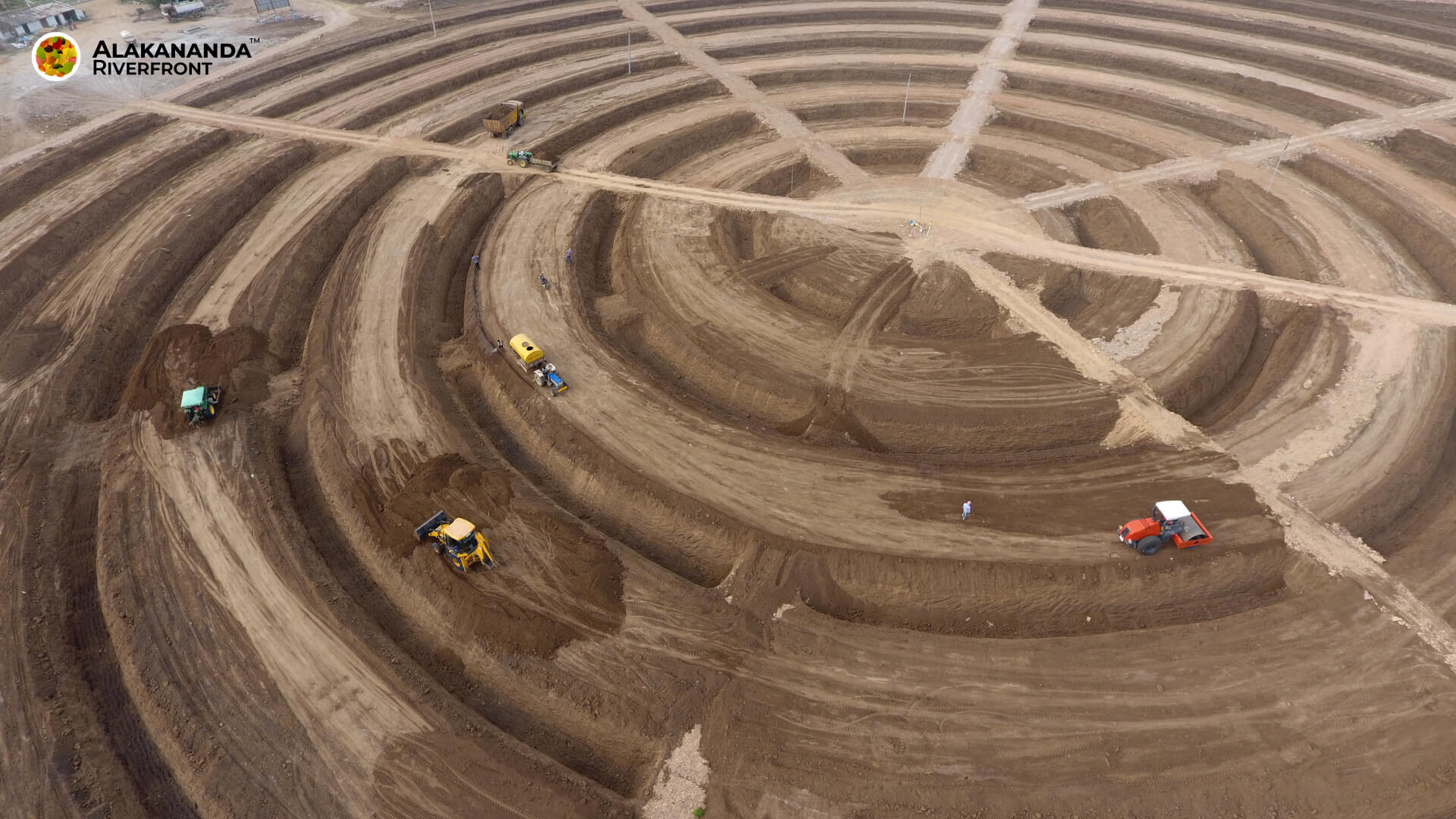 Concentric Circles being formed (old photo)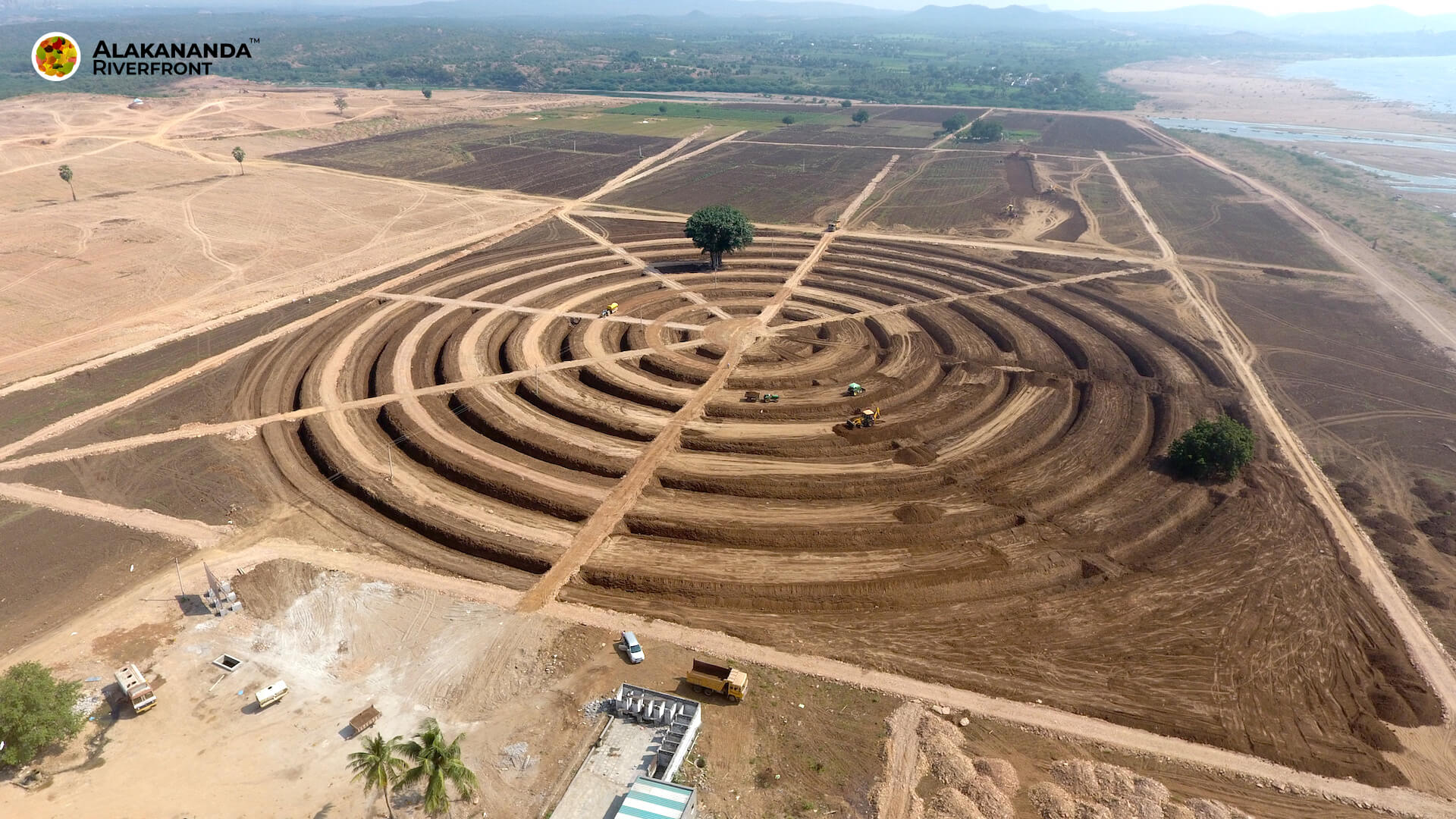 2 Sets of Circles, each spanning 20 Acres!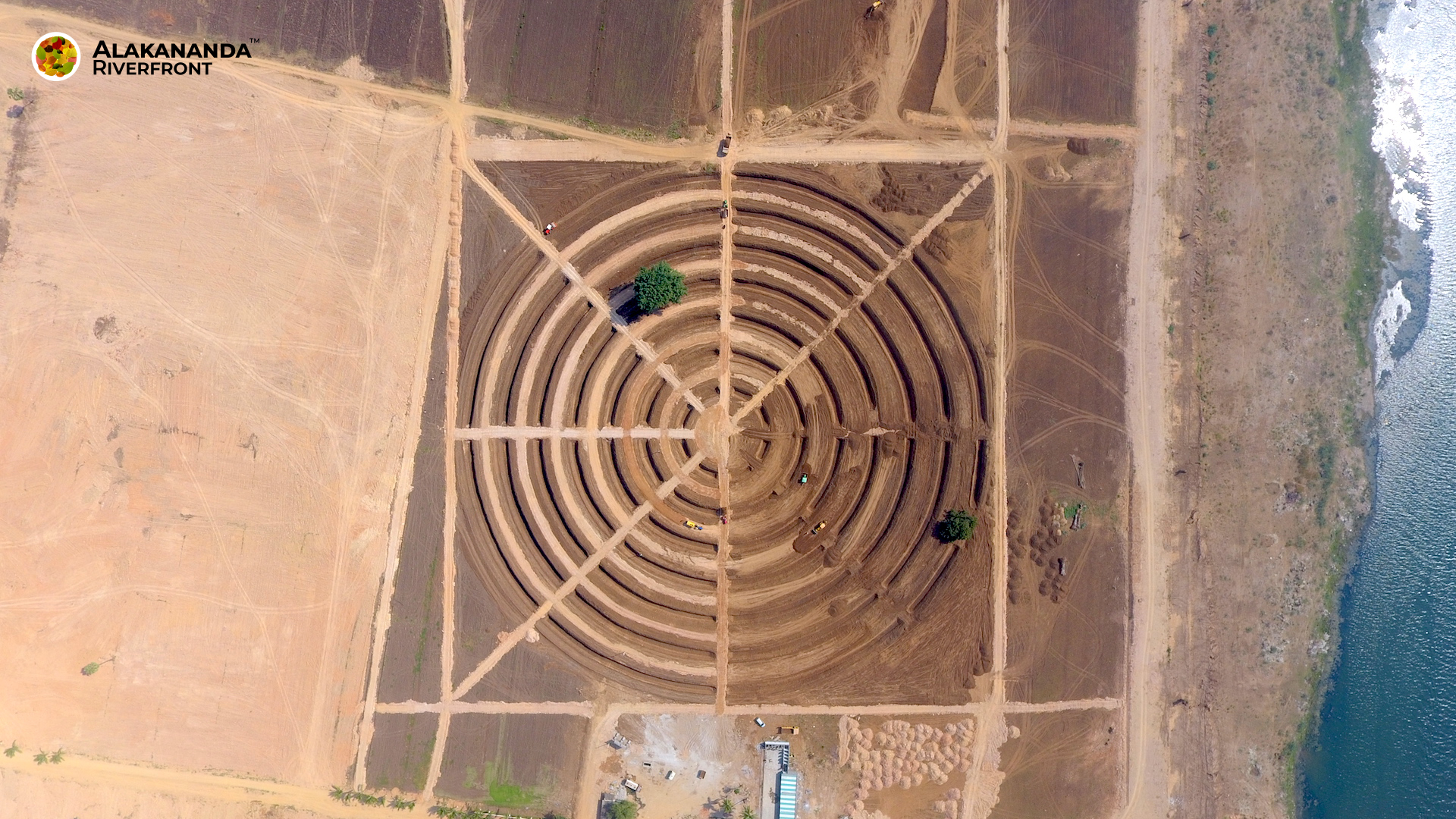 7 Concentric Circles in Each Set, total of 14 Rings across 40 Acres!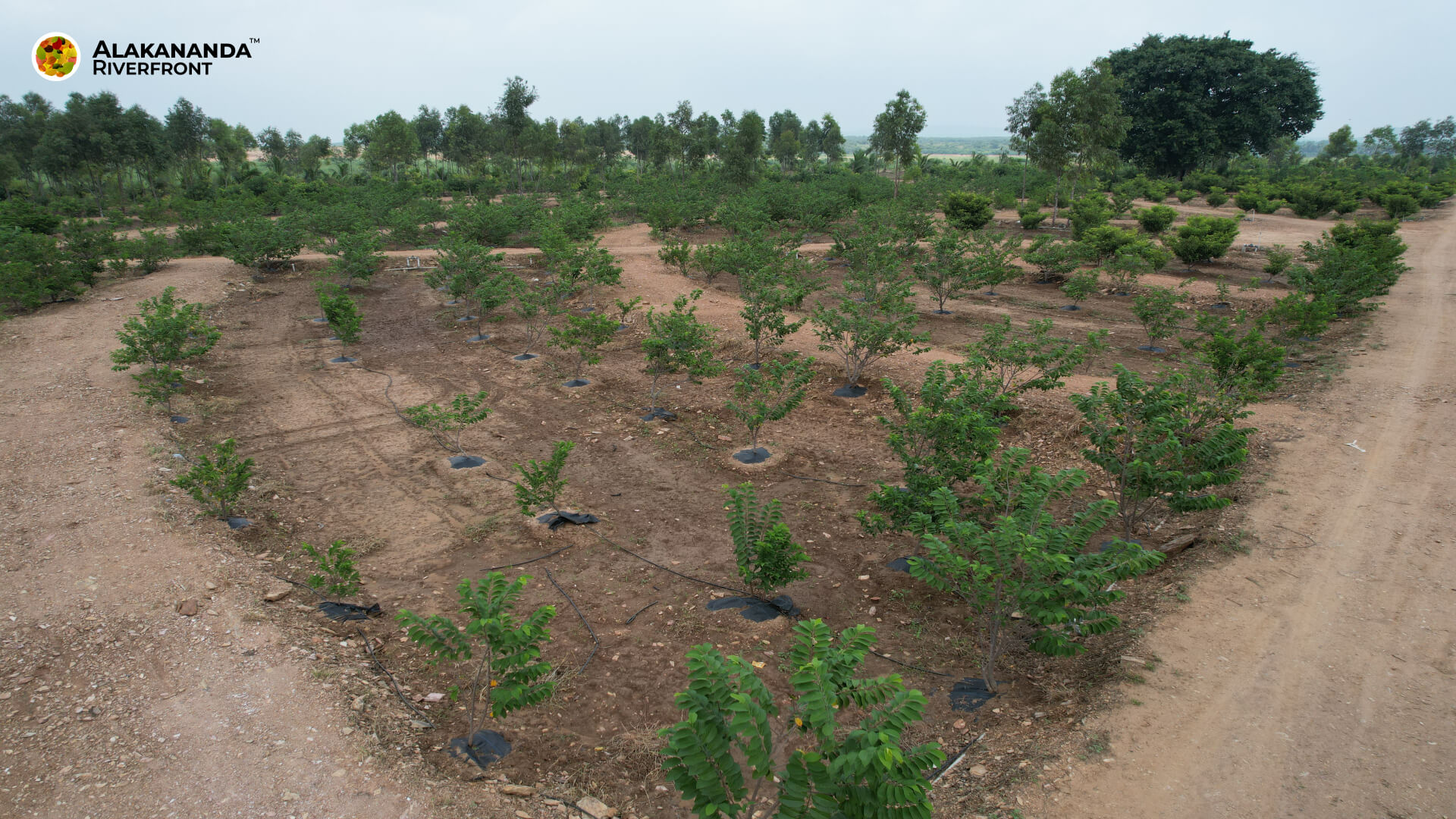 Weed Mats + Drip Irrigation Installed…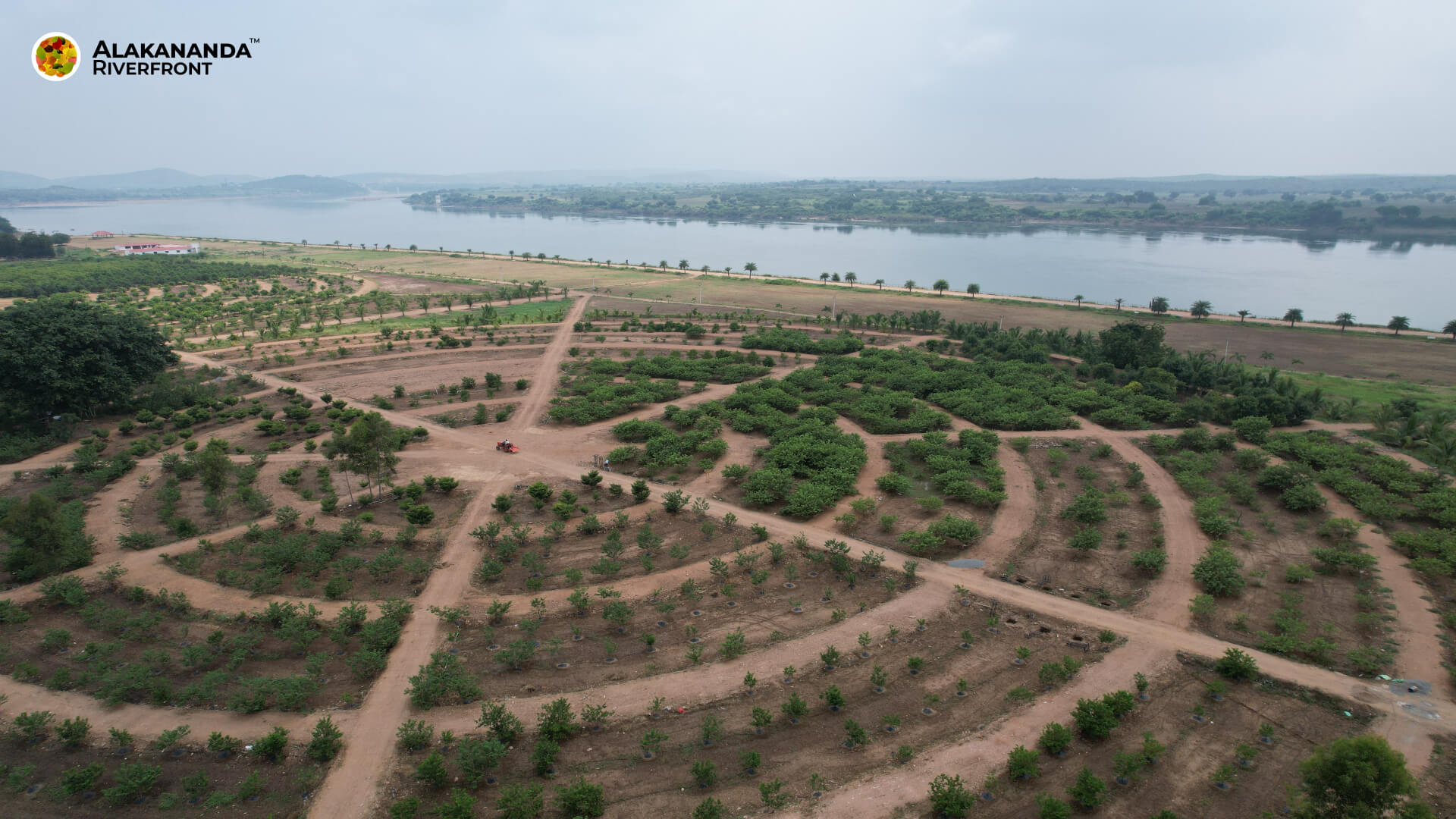 Both Circles Fully Formed & Planted…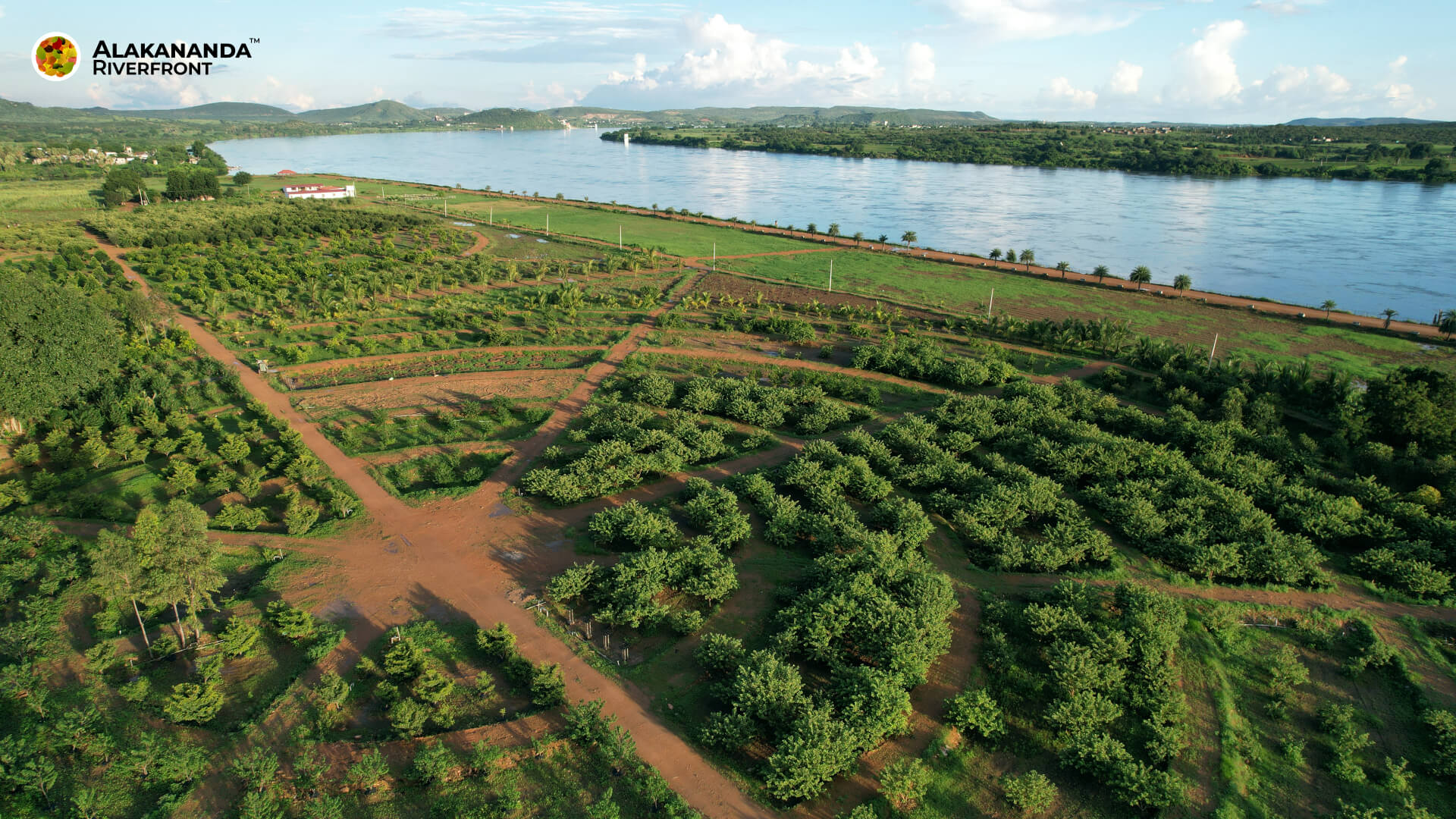 Private Water Sports!
Boat Jetty with Speedboats & more!
With All

Govt Approvals

&

Trained, Certified Staff

for a Safe & Professional Experience!
3 Kms of Non-Stop Water Frontage to Krishna & Paleru Rivers & a plethora of activities for people of all ages, make this a perfect ENTERTAINMENT destination for your family!
You may not find such a wide variety of sports, activities, and water sports, anywhere ELSE in Telangana & AP, making Alakananda the most preferred WEEKEND / HOLIDAY destination.
6 Seater SpeedBoat plus Kayaks & Canoes


.

Certified Boats with FULL Govt Permissions


.

Licensed Drivers with Safety Jackets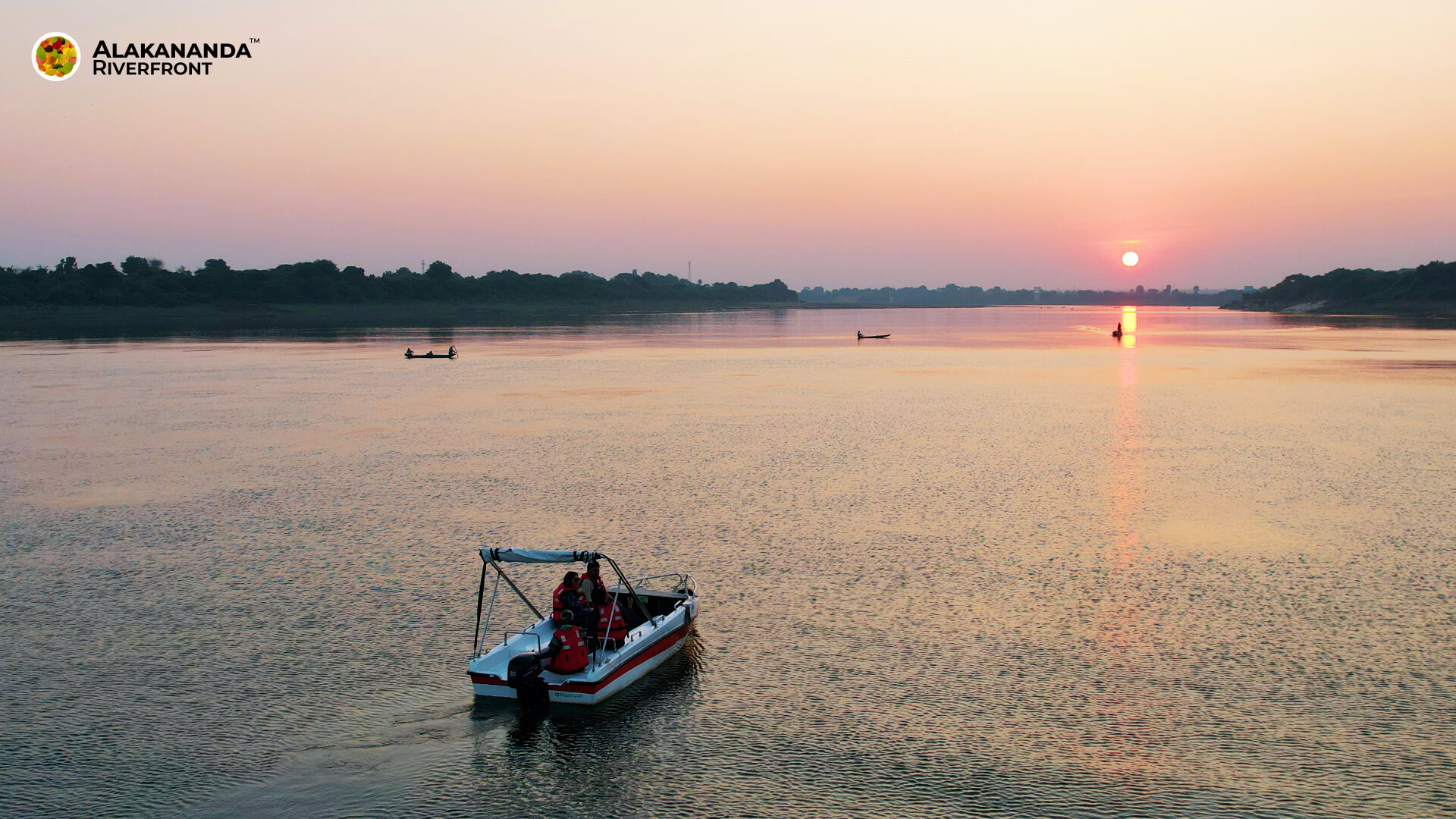 Actual Drone Photo of an Investor's family enjoying Speedboat on the Krishna River @ Alakananda…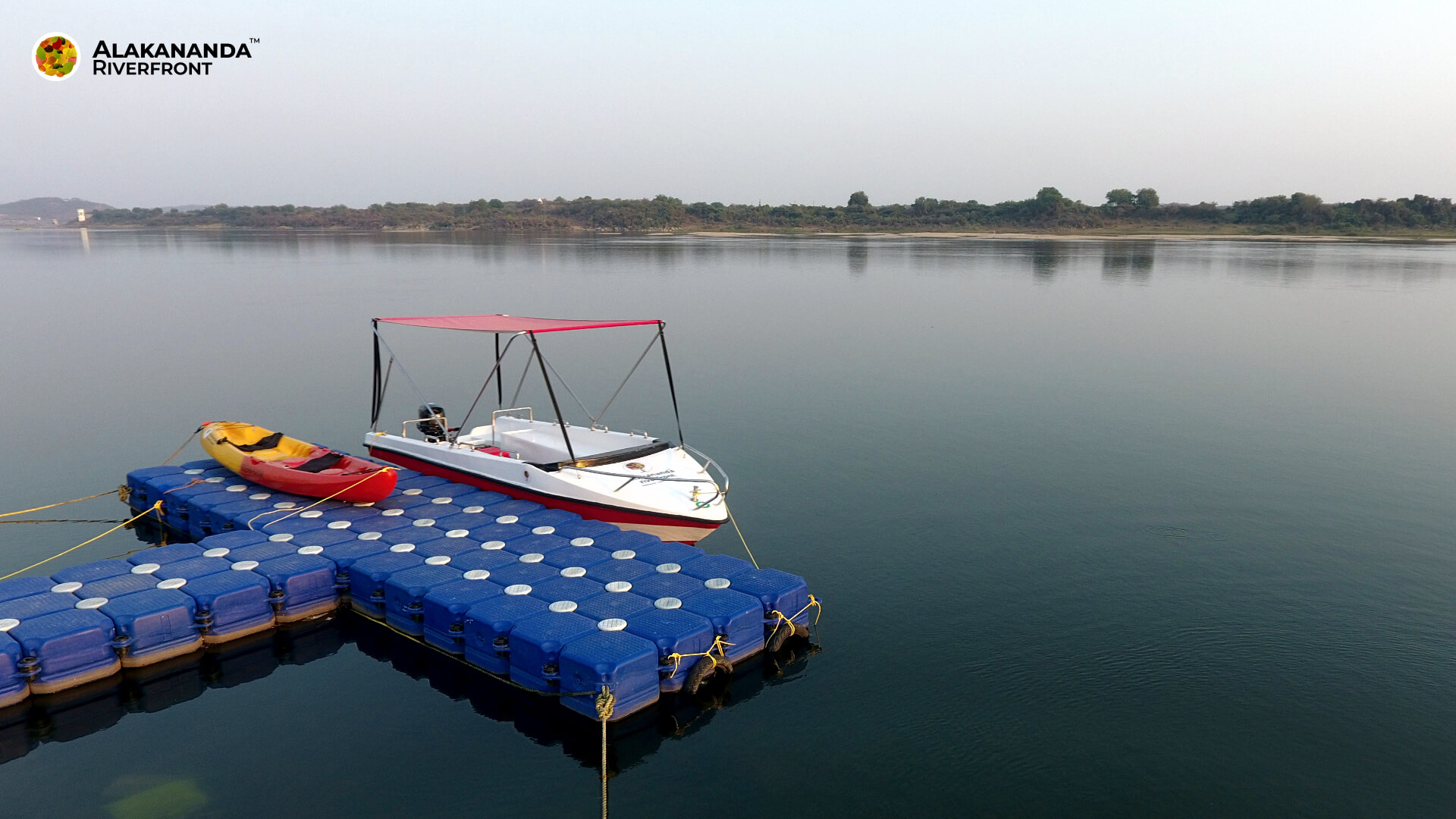 SpeedBoat + Canoes & Kayaks already on-site!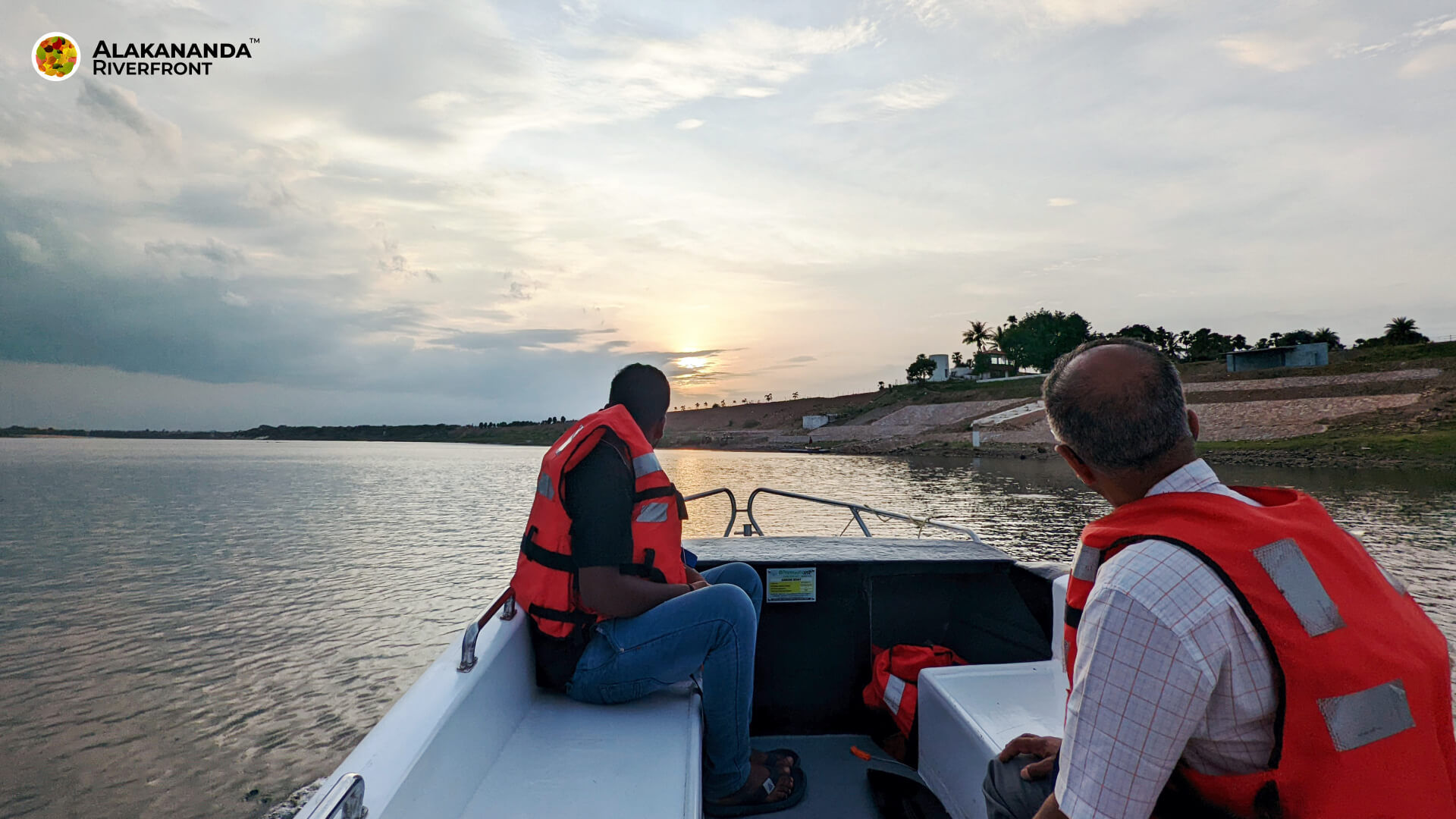 Certified Drivers with Life Jackets & other safety measures…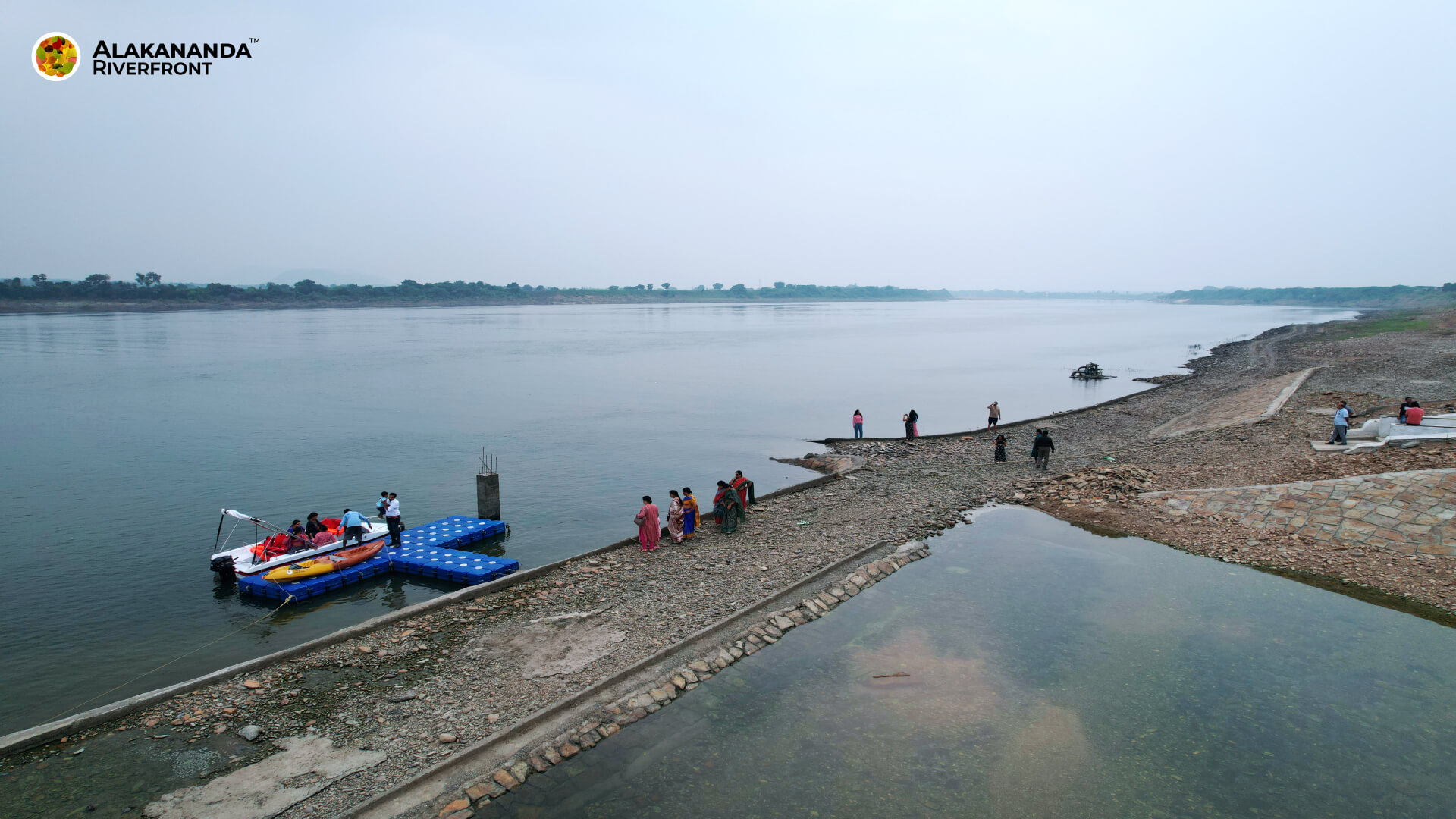 Existing plot owners are already enjoying the boating activities and jetty!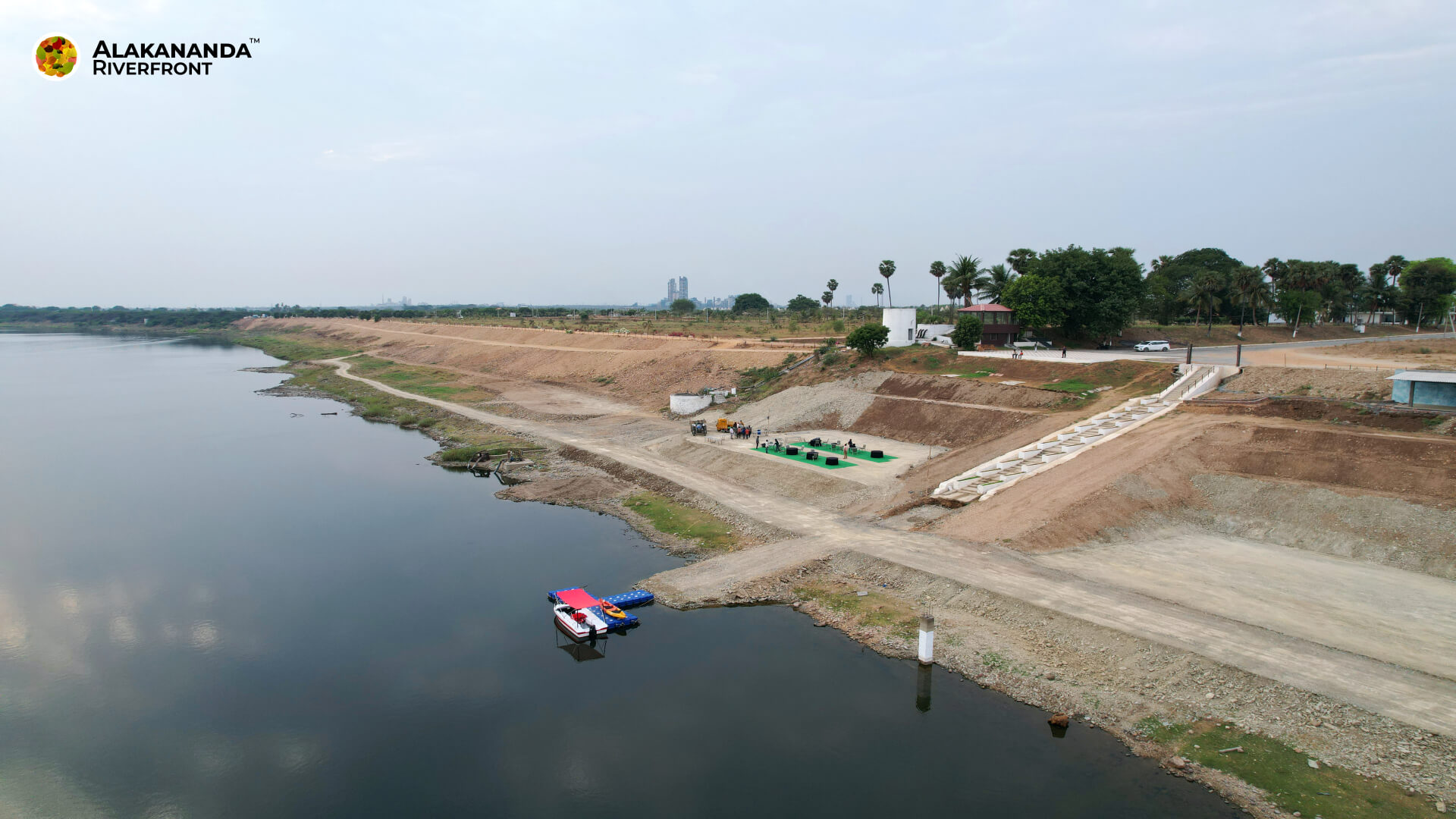 Landscaping & beautification works in progress along the Krishna River!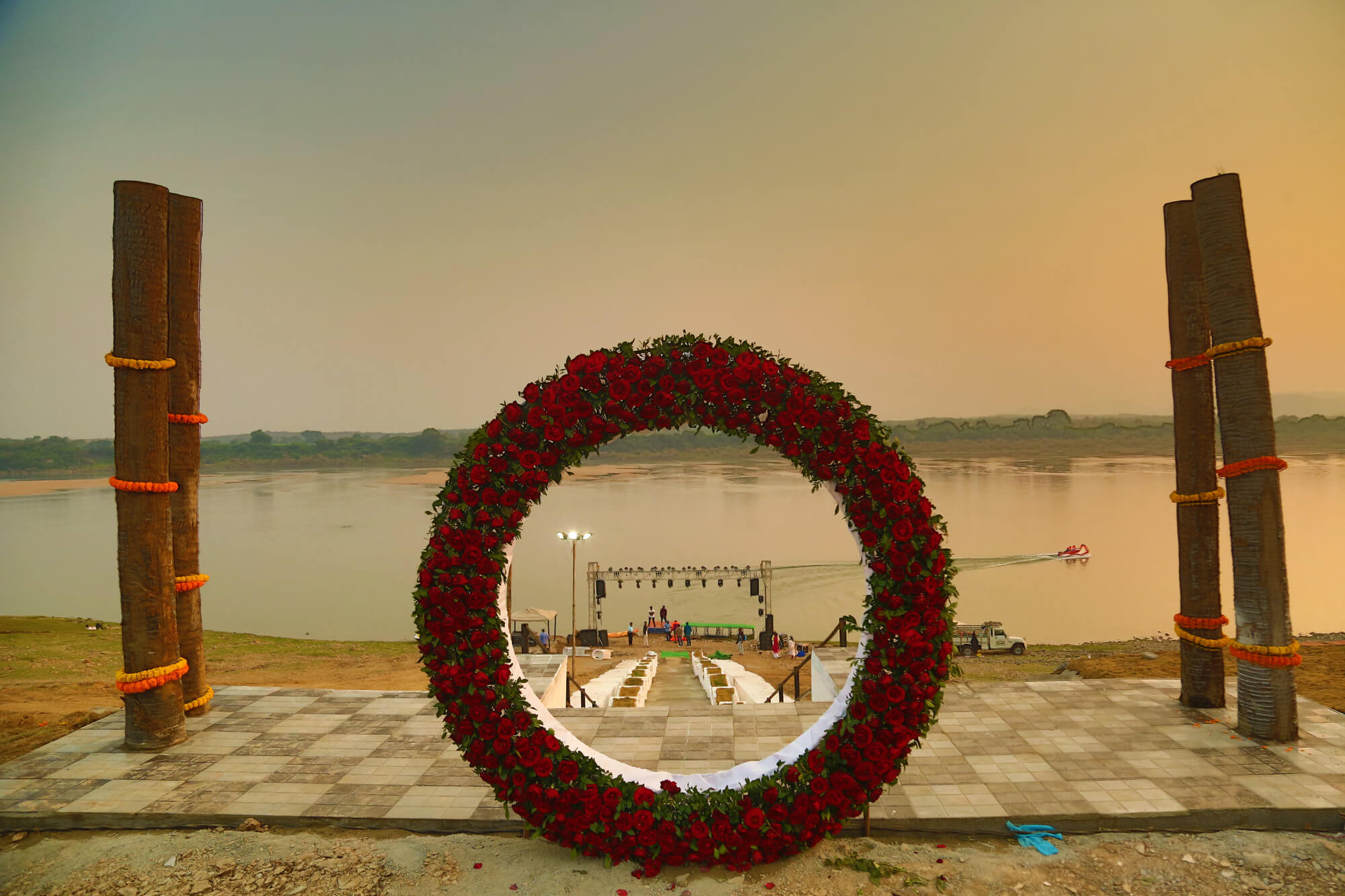 Horse Riding Arena!
Polo Club Race Horses for Adults + Pony for Kids!
With

Resident Trainer

+

Pro-Level Equipment

for an Authentic & Full-Fledged Experience!
Horses have already arrived at Alakananda from the reputed Hyderabad Polo Club and stables have also been built for them as a permanent accommodation – with dedicated staff to maintain all of this and to also teach our plot owners how to ride!
Race Horses + Pony from

Hyderabad Polo Club




.

Resident Trainer for you to Learn the Sport!


.

In-House Stables with Saddles & Equipment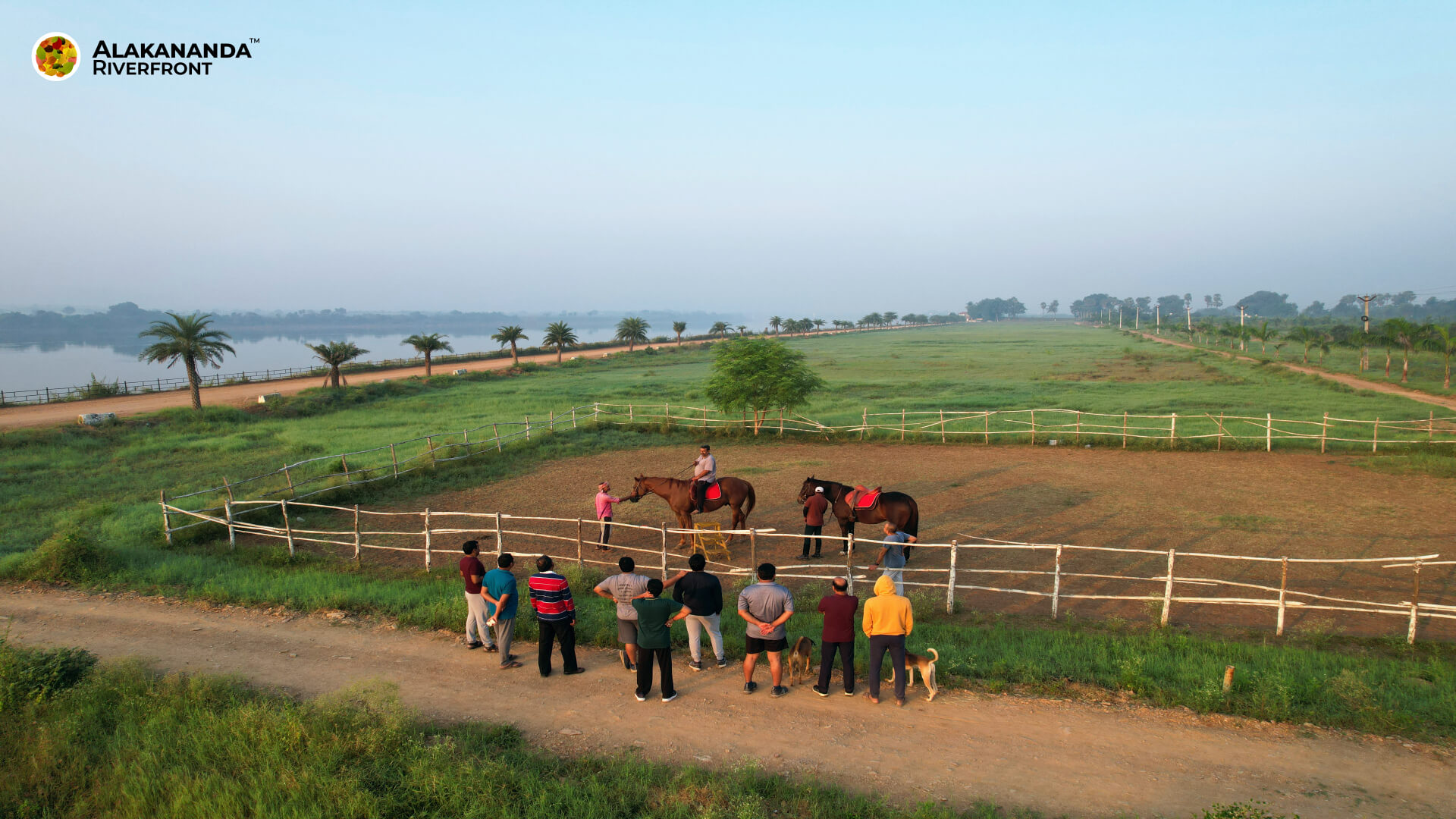 Actual Photo of Horse Riding Arena : Existing plot owners already learning Horse Riding @ Alakananada (fully operational)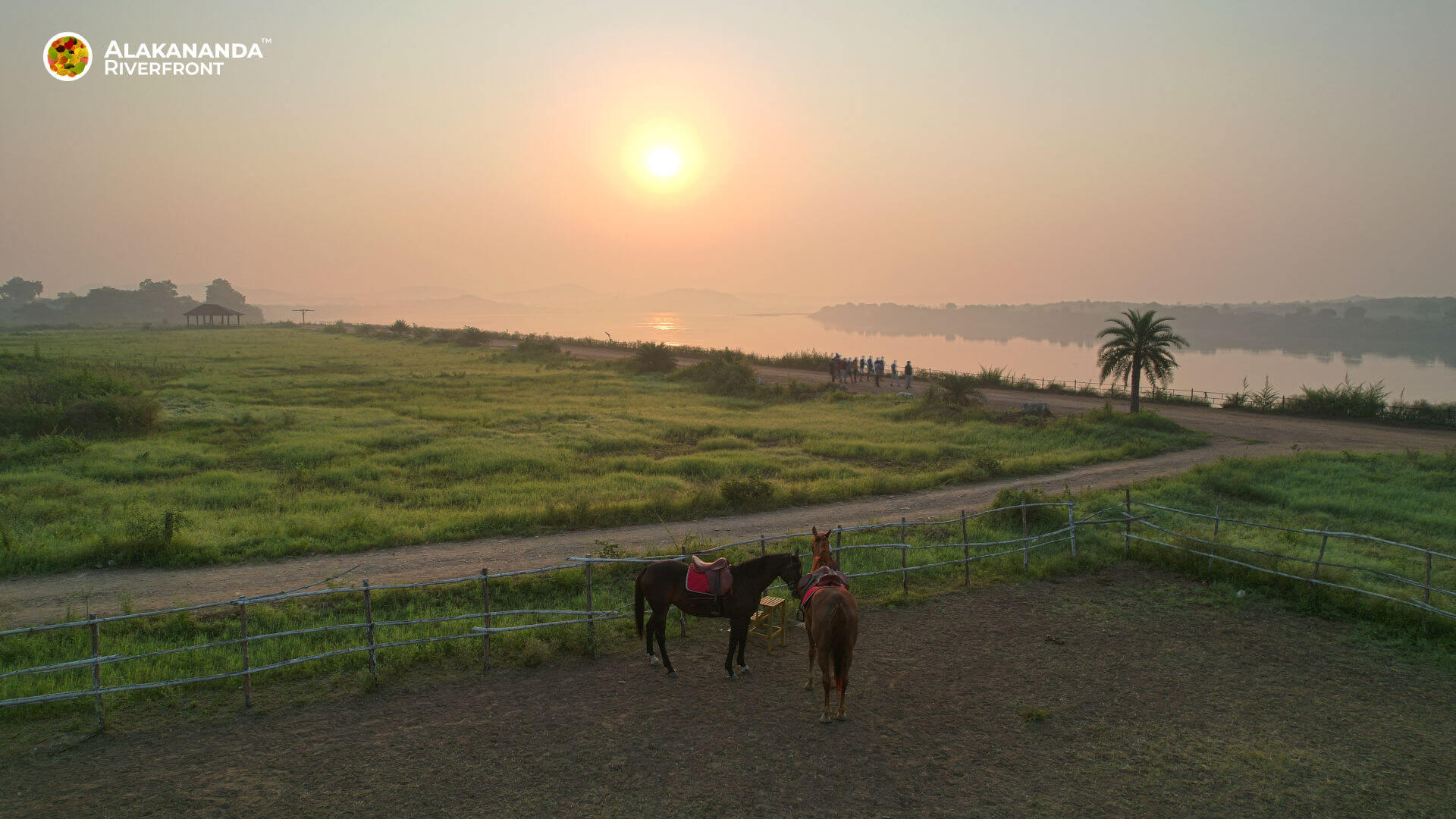 Professionally Equipped : With Saddles, stirrups, bridles, halters, reins and harnesses!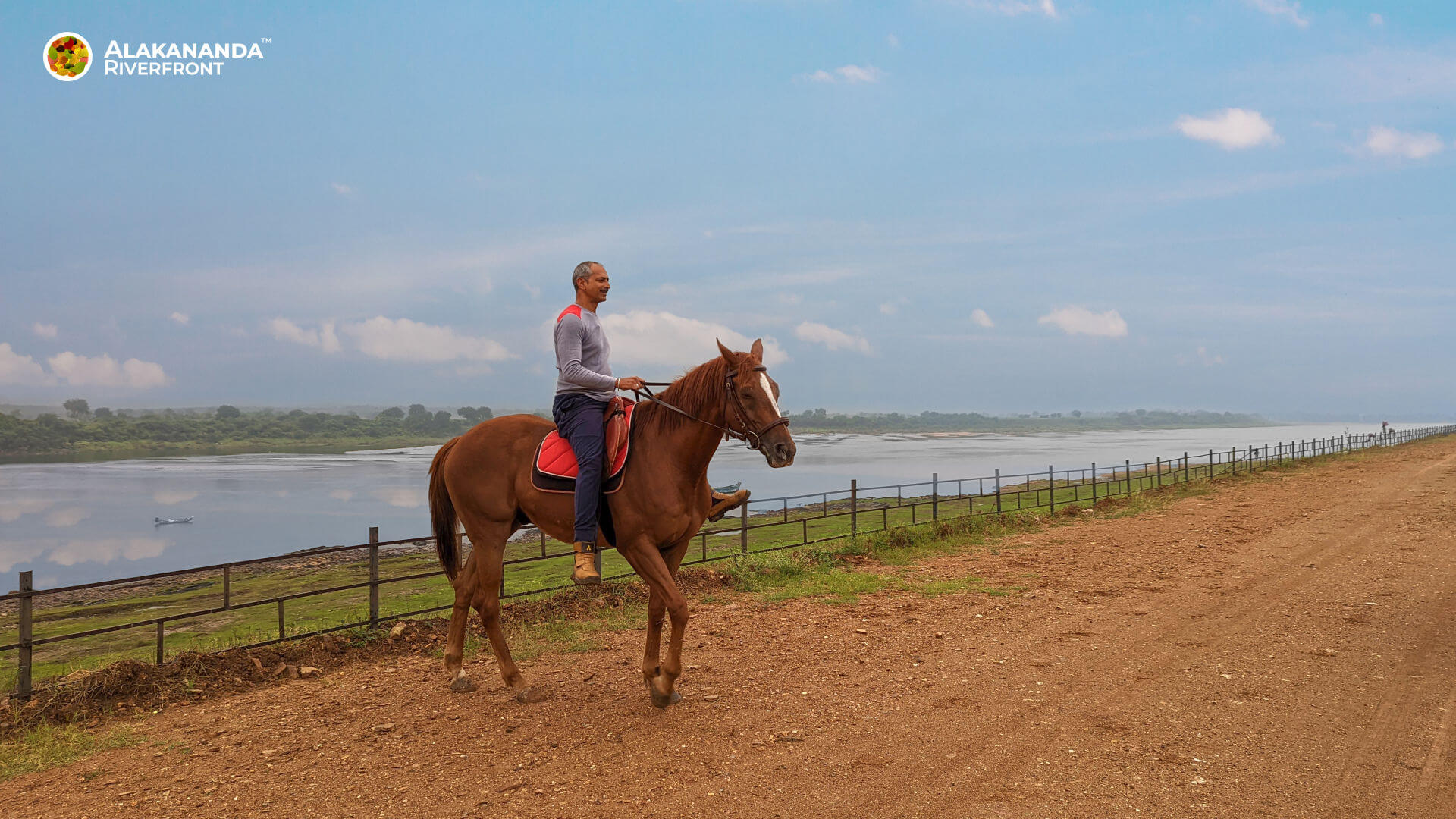 In-House Jockey i.e Resident Trainer : For you to learn the sport here, 365 days a week!


Mini Golf!
Driving Range + Putting & Chipping Zone
With

Resident Trainer

+

Pro-Level Equipment

for an Authentic & Full-Fledged Experience!
In addition to the usual sports like cricket, badminton, basketball and lawn tennis – which people are anyway getting bored of – you will also enjoy this 1st-of-its-kind (for both Telugu states) Mini-Golf Course & Driving Range overlooking the stunning Krishna River!
600 Feet-Long Driving Range


.

Putting & Chipping Zone


.

Overlooking the Krishna River Boulevard!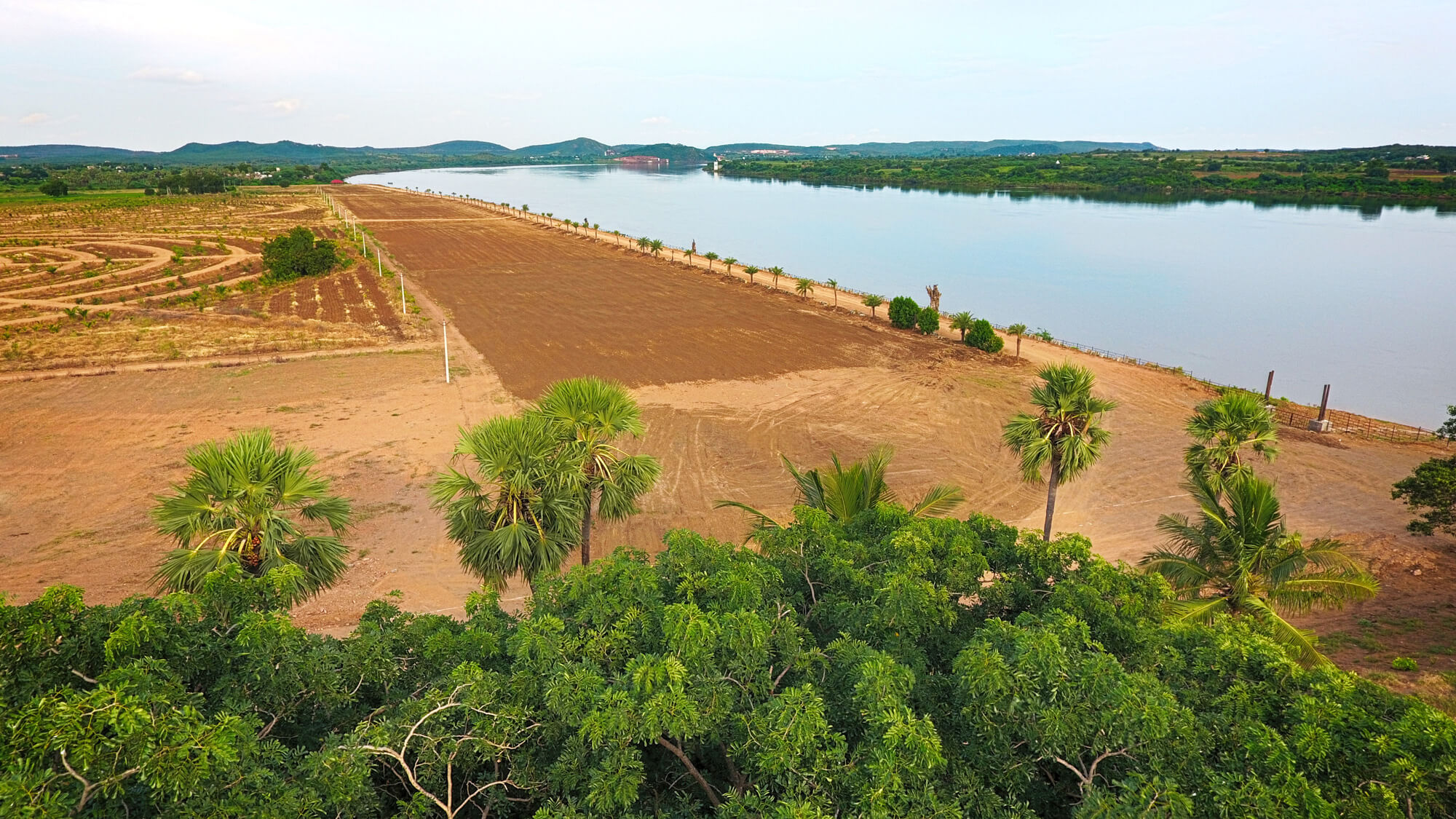 Actual Drone Photo : Land contouring completed, speciality grass will be laid next, giving it the final look!


Senior Citizen

Active Living
Assisted Retirement Facilities (Proposed)
Ultimate Retirement Spot

for your parents or yourself, with

Resident Staff

to help round the clock!
Spend the best years of your life in peace & tranquillity by the Krishna River!
For a fixed monthly fee, professionally trained resident staff will take care of daily needs such as :
Customized Diet Plans


.

Housekeeping & Laundry


.

Regular Health Check-ups


.

Yoga & Physiotherapy Trainers


.

Group Social Activities


.


and many more conveniences!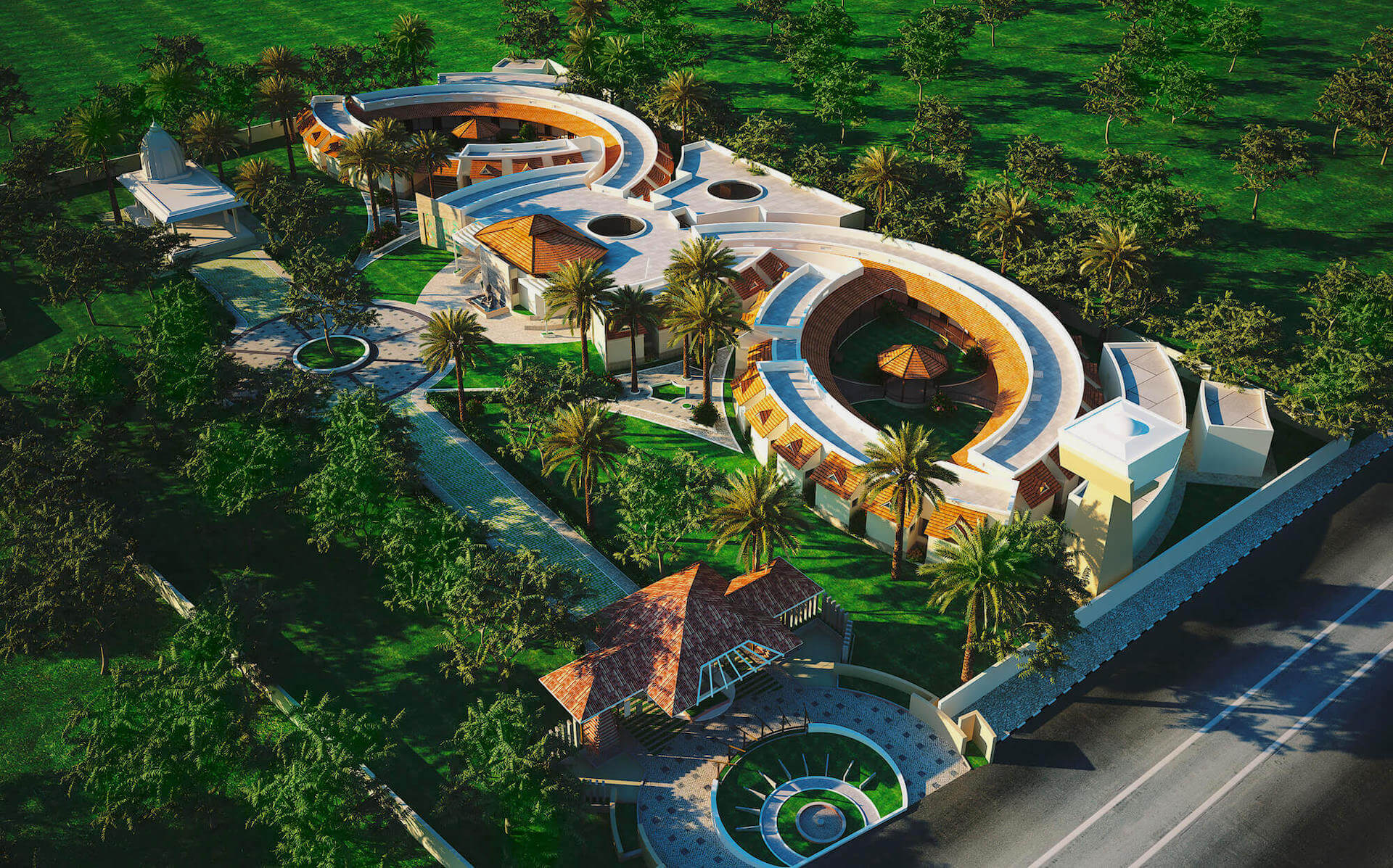 Artist's Rendering of Retirement Homes at Alakananda


Holistic Wellness Center
with Famous Temples nearby & SGS Ashram In-House!
Relax & Rejuvenate your Body, Mind & Soul at Alakananda!
Spend the best years of your life in peace & tranquillity by the Krishna River!
WELLNESS CENTER for Ayurveda & Homeopathy


.

SGS Ashram inside Alakananda


.

Koti Lingala Temple Next Door


.

VEDADRI Temple just 5 minutes by boat


.

"Uttara Vahini" point on the Krishna


.

Meditation Decks & Reflexology Paths


.

Numerous other temples in 15 km radius!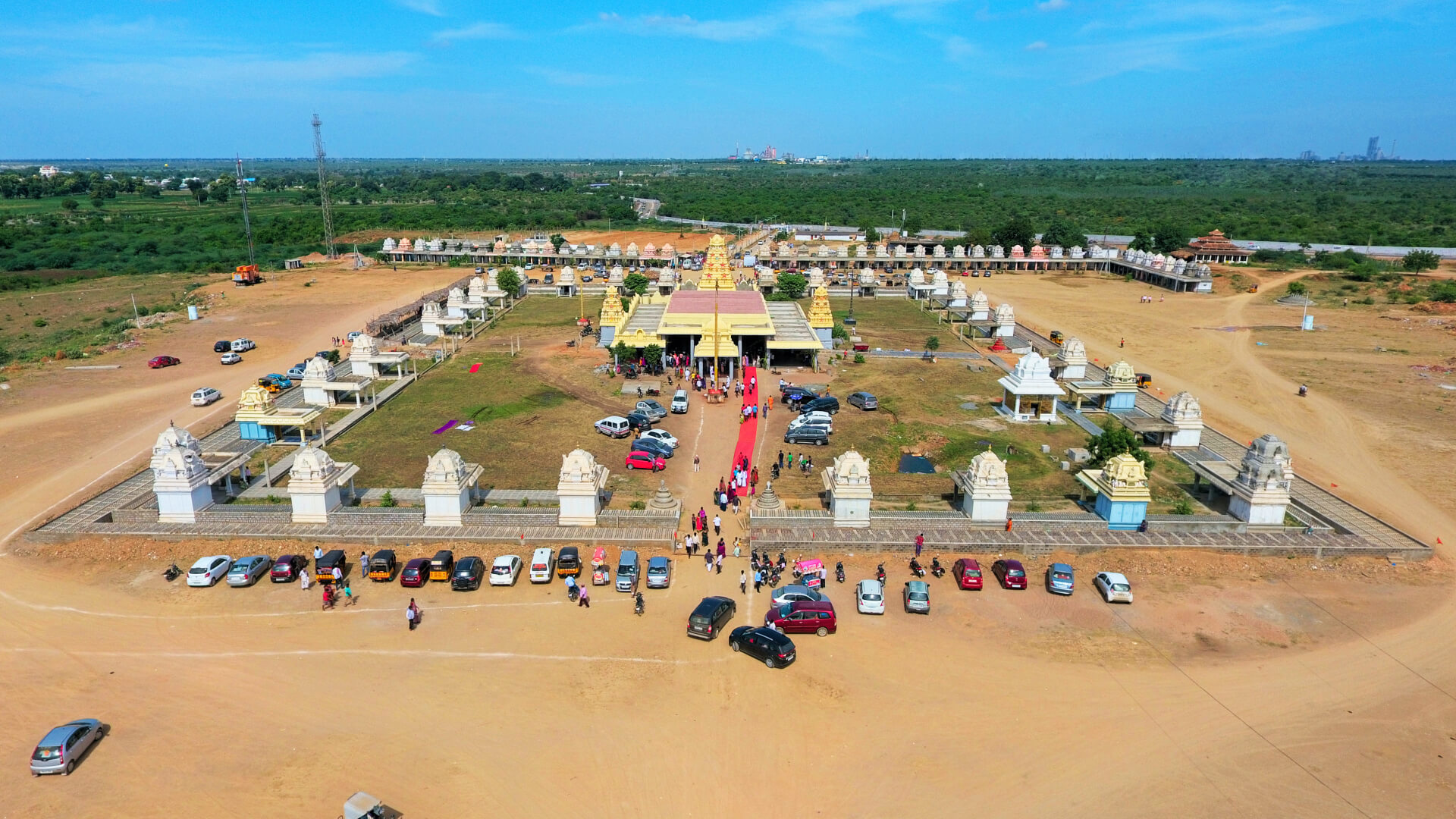 Kotilinga Hari Hara MahaKshetram Temple : Right next door i.e. sharing common boundary wall with Alakananda!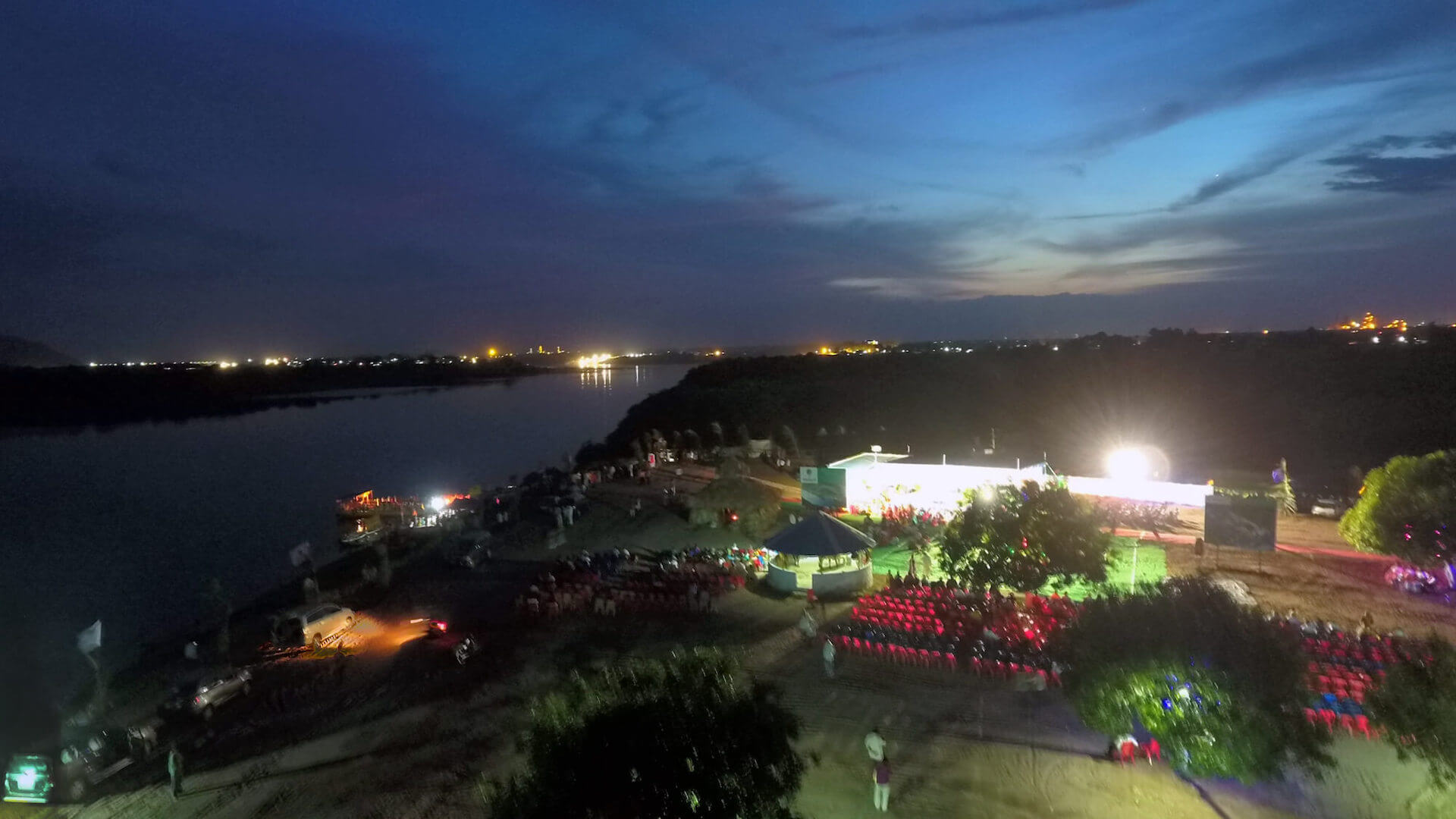 Sri Ganapathy Sachchidananda Swamiji Ashram (In-House i.e. within the Alakananda community!)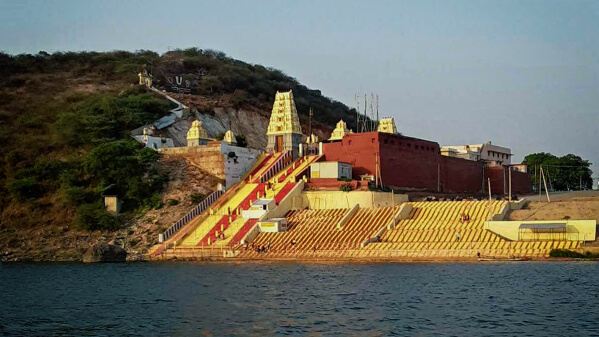 Vedadri Narasimha Temple : Visible from & just 10 minutes drive from Alakananda & attracts thousands of devotees every year as it is one of the Pancha Narasimha Kshetras.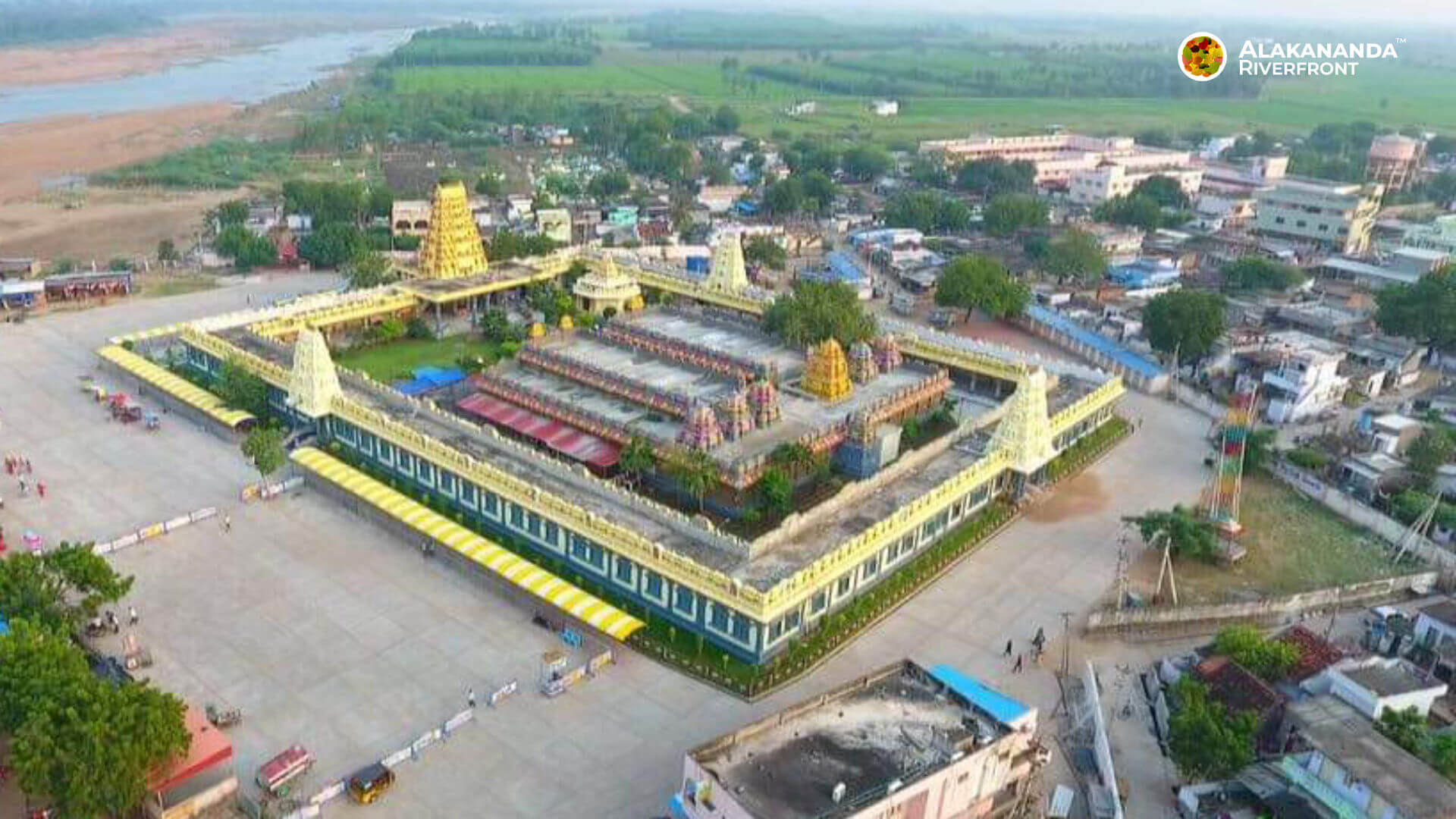 Sri Tirupathamma Ammavari Temple : 45 minutes drive to Alakananda, near Penuganchiprolu.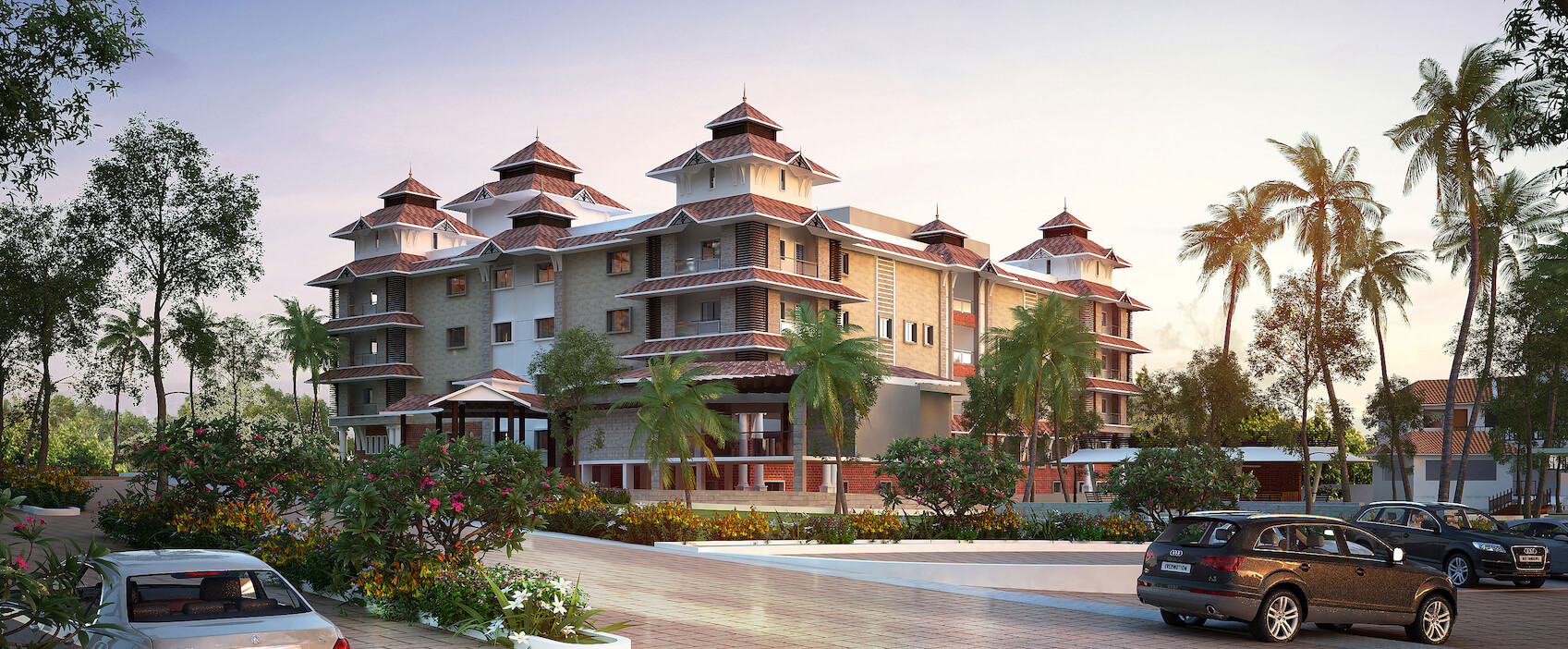 Artist's Rendering of proposed "Telugu Vaibhavam Village" at Alakananda
(*Proposed, Subject to feasibility at an appropriate time)
This experiential hub @ Alakananda will spread awareness of the rich legacy, heritage and culture of the Telugu language – giving one more reason for families from far & wide to visit this regularly :
Accomplished Dancers & Musicians
Timeless Folk Arts & Dances
Legendary Actors & Singers
Revered Poets & Writers
Authentic Dining Experience of Multiple Cuisines of Andhra
Plug-n-Play Infrastructure
Concealed Water & Sewage Lines to all Plots
Underground Electrical Cabling to all Plots
80 feet Entrance Road with Grand Entrance
60 feet Main Internal Road to Club House
40 / 33 feet Internal Roads for all Plots
Avenue & Median Plantation with Exotic Trees
Shaded Sidewalks with Lighting
Invest today at a discounted rate before we open bookings to general public at a higher rate shortly!