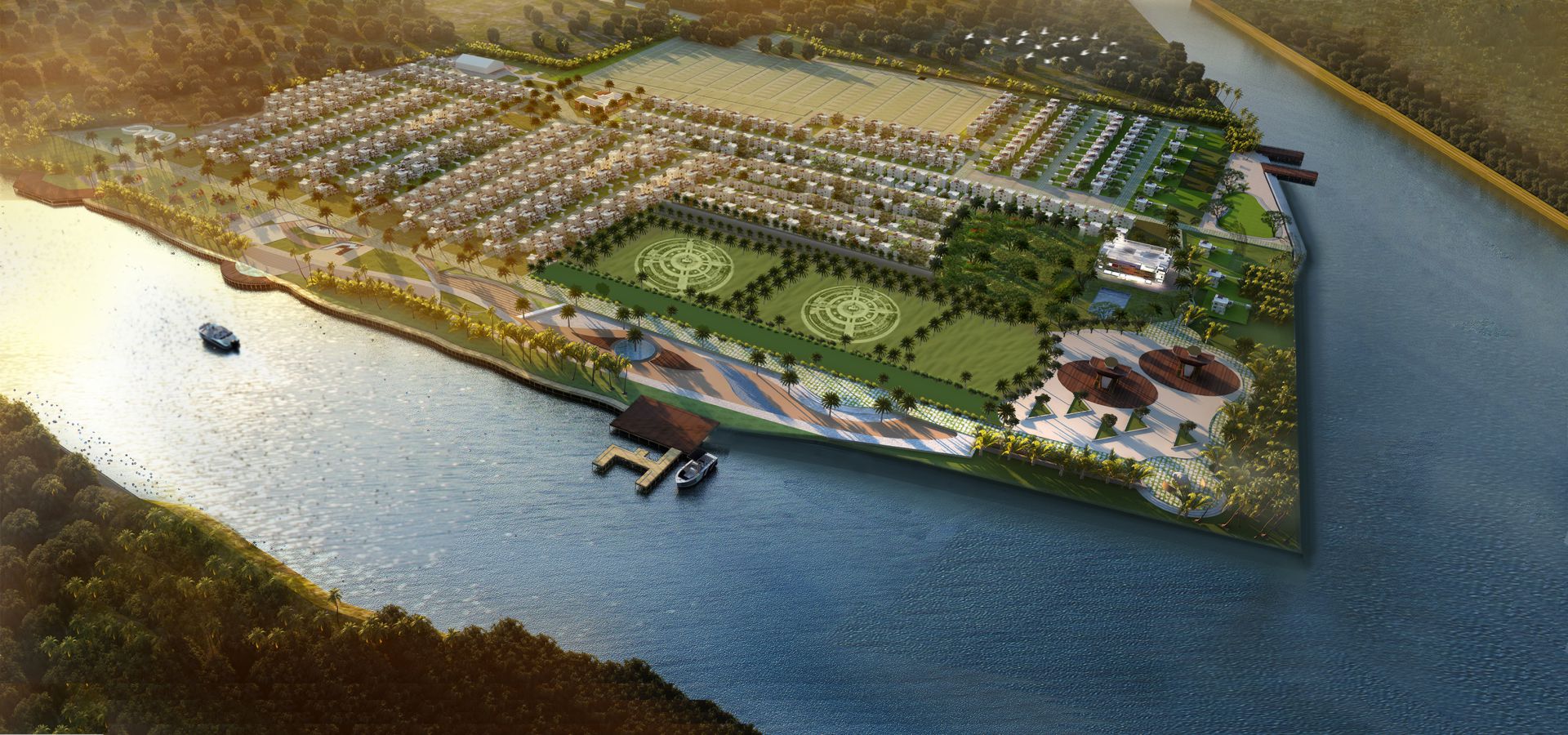 310

 Acre Gated Community of


 Villa PLOTs 

on the banks of
Krishna River
.

South India's 1st & Only

.




.

Riverfront Gated Community!

.



– DTCP Approved –
Major works ALREADY COMPLETED in Phase 1 (117 Acres) including Common Amenities as well…
Best ever in the history of

Located

in the CENTER of


Andhra Pradesh & Telangana
Located right on the border of both states – making it equally attractive to people on BOTH SIDES – and connected via an excellent, super-fast & recently upgraded 4 & 6 Lane National Highway (NH65)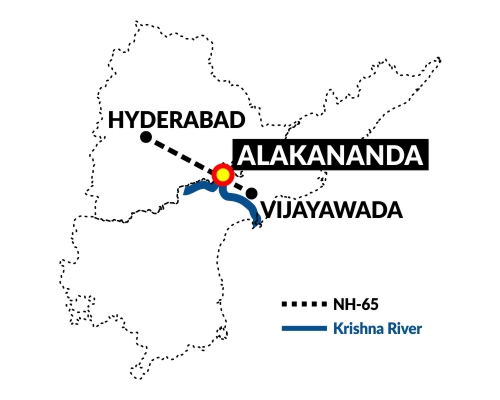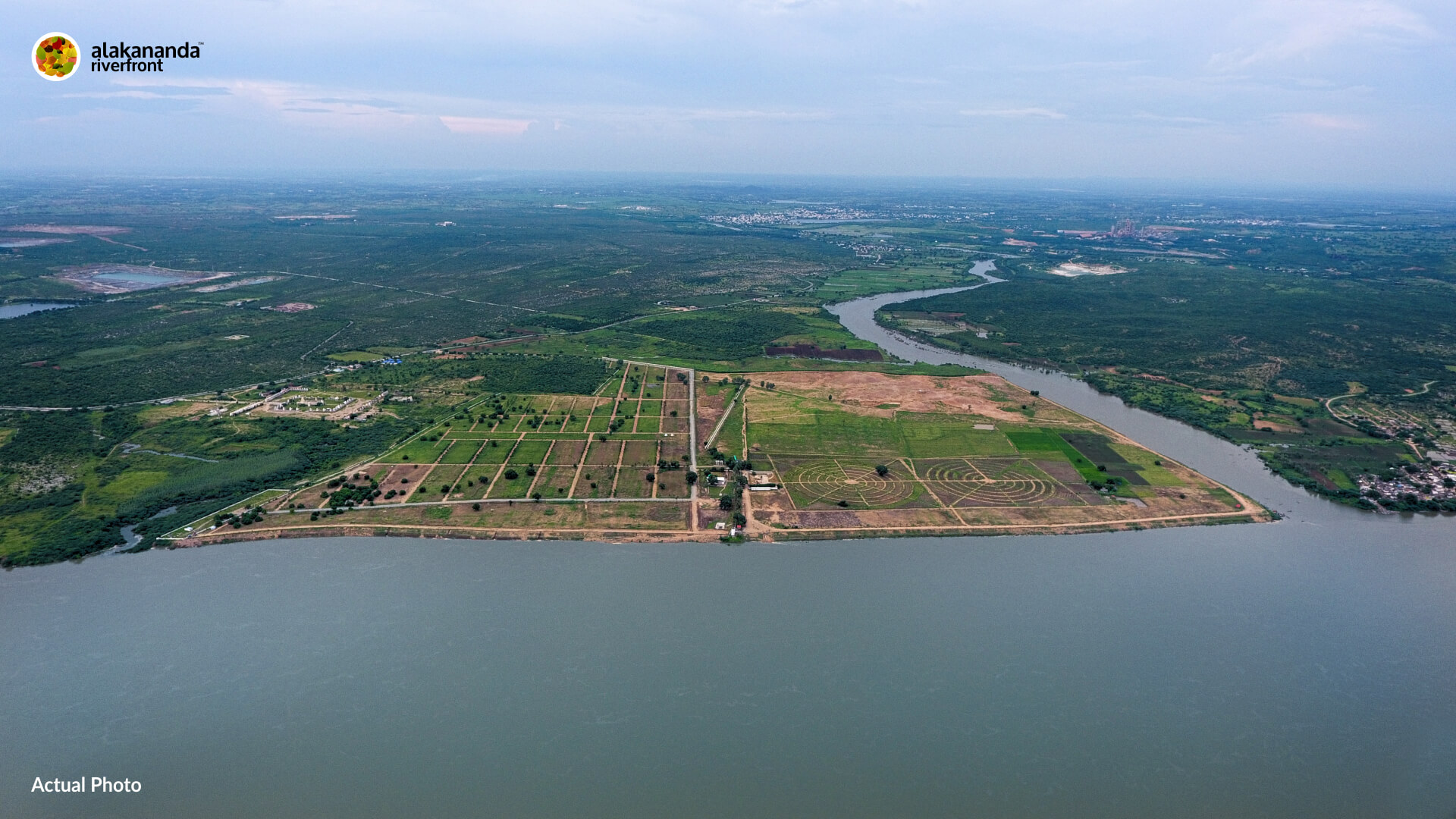 This is a REAL PHOTO (Drone Shot) and not graphics!
Located at the

meeting point of 2 rivers!



Impossible for anyone to replicate! You will simply NOT find any other location in South India that has a 310 acre gated community (single land parcel in a neat rectangle shape), that too at the meeting point of 2 rivers!
(Krishna & Paleru Rivers)
Major Works


already completed!



All Main & Internal Roads + Plot Formation – Completed!
RiverFront Clubhouse with Party Lawns – Operational!
Private Boat Jetty with Water Sports – Operational!
Avenue Plantation with Drip Irrigation – Completed!
Botanical Gardens with 9500 Plants – Completed!
Golf Driving Range – Landscaping in Progress
1st few homes already under construction…
and a lot more work is in full-swing!

PRE-LAUNCH of Phase 1
(grab the best plots before we open this up to general public)
3 km Long Exotic River Frontage
Located at the meeting point of Krishna & Paleru rivers, where the rivers are always full & flowing, you will be right in the center of a once-in-a-lifetime location that you cannot get anywhere else in India! Imagine spending a relaxed weekend on the river banks, in the healthiest surroundings with all modern amenities & comforts, away from the hustle & bustle of the city!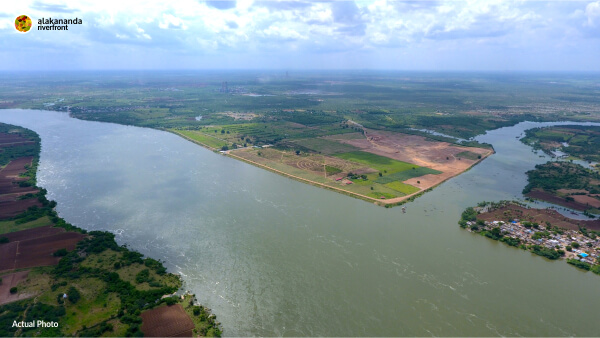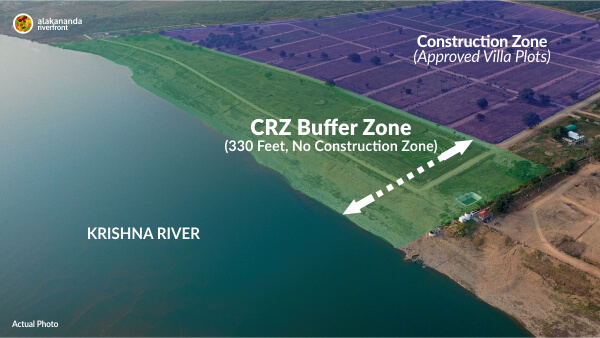 Fully Compliant with Coastal Regulation Zone (CRZ) Rules
ZERO Risk of Flooding!
Alakananda is built with a 330 Ft / 100 Meters buffer from the river bank and is located 40 FEET ABOVE water, hence absolutely no risk of flooding! You will hence have no problems in getting permission to build your riverfront home.
Water Sports & River-based Activities
Enjoy unique water sports such as speedboats, kayaks, canoes and more at Alakananda! Also experience Andhra's 1st Riverfront Golf Driving Range & Horse riding (trained instructors from Hyderabad Polo Club), basketball & tennis courts and a plethora of outdoor sports overlooking the Krishna river!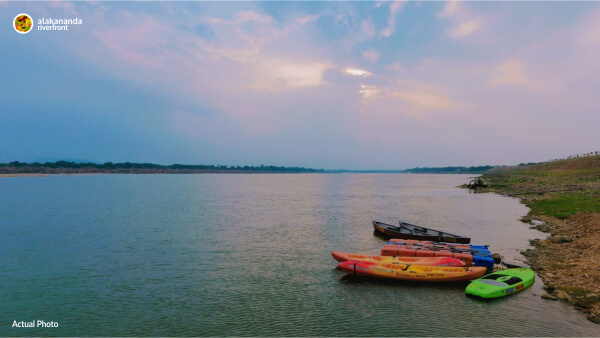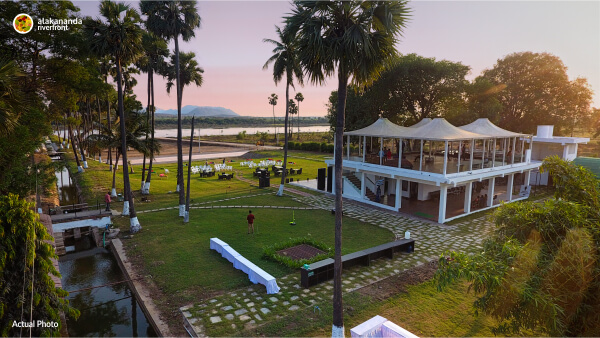 RiverFront Clubhouse with Private Boat Jetty 
Built along a beautiful tree-lined canal and overlooking the Krishna River, with sprawling party lawns, restaurant, children play area and a banquet hall to entertain people of all ages! And from our Private Boat Jetty, you can visit neighbouring tourist spots / temples (and even Vijayawada in the near future!)
Wellness Center & Botanical Gardens (40 acres)
This massive green landscaped space with over 25,000 plants spanning 52 varieties of fruits, vegetables & medicinal plants along with Wellness Center will give you an excellent source of rejuvenation, stress relief & recreation for an improved quality of life! You can also buy organic fruits & vegetables from here.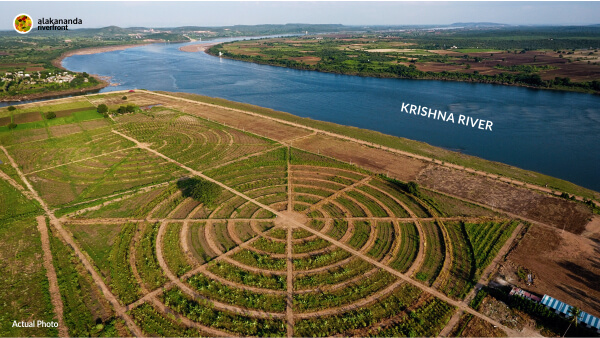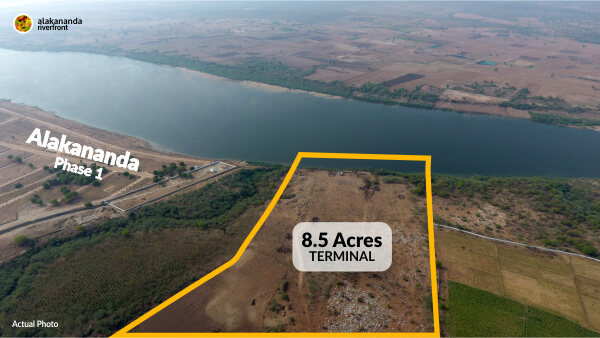 Shipping Terminal coming up next door…
Alakananda is located at the starting point of National Waterways 4 (i.e Muktyala to Vijayawada stretch of the Krishna River) – a Central Govt project to develop Krishna river for passenger tourism & cargo transport. A permanent terminal is being built right next to Alakananda (land acquired & construction beginning soon) – making this a major logistics hub and the gateway to Amaravati capital region.
Senior Citizen Active Living
A 1st of its kind in Andhra Pradesh – an active retirement enclave on the banks of the Krishna river, where one can make the best of their golden years, while accommodation, food, medicine and routine chores are professionally managed.
Spiritual & Cultural Hub
Surrounded by the Vedadri Temple, Koti Lingala Temples and having the SGS Ashram within the campus, Alakananda will be a spiritual realm. "Telugu Vaibhavam Village" – a heritage center within Alakananda will showcase the state's rich heritage of Telugu literature, music, dance and folk arts.
Strategic Location & Appreciation Potential
Located on the National Waterway 4, with an 8.5 acres CRUISE & Cargo Terminal under construction next door, Alakananda has potential for healthy appreciation being in the CENTER of AP & Telangana and in one of the hottest growth corridors – the Hyderabad to Vijayawada to Machilipatnam 6 lane super-highway.
What our Investors say about Alakananda!
"Truly once-in-a-lifetime & rare chance for any Telugu family to possess an exotic asset on the riverfront! So very serene and calm, perfect weekend home especially for those in Hyderabad due to its smooth & fast connectivity via NH."

Dr. AV Gurava Reddy

Founder, Sunshine Hospitals
"I don't think anyone else can replicate such a pure riverfront project as it's impossible to get such land once again anywhere in India, not just the South. The vision of the founders & the views at site - both are equally breathtaking!"

Srinivas Velugu

SAP, Germany
"My kids were stunned to so many natural resources, all beautifully blended at a single location - so much so they are now pestering me to build a weekend home so we can come back every Sunday!"

Syam Prasad Chandra

Business Owner, Hyderabad
"I travelled all the way from Bangalore just to see this project and was amazed by the waterfront ambiance & facilities and gave my booking amount cheque on the spot without even consulting my family!"

Praveen PVSR

Vice-President - ABB, Bangalore
"It is the magnificent & daring vision of the founder that inspired me and made me feel that this is a once-in-a-lifetime chance as they say, to acquire such a rare family asset that will be cherished for generations to come…"

Kush Bhandari

PMC Consultant, Hyderabad
"Everytime I come back, I see a lot of continuous & impressive progress of work on site and I was motivated to invest in the grand vision of Chowdary garu and his team – as their ideas are very interesting but also practical & doable."

Rajkumar Addada

Senior Faculty, Delhi-NCR
Why invest in Alakananda instead of a "routine plot" in big cities?

 Hyderabad is already overpriced  – plot prices have increased 3 to 5 times in just 3 years from 2018 to 2021 – becoming unaffordable & leading to a rapid slowdown in sales in the last few months.
Bangalore has already saturated a long time ago due to oversupply.
You should hence STOP investing in "just another routine" plotted layouts in saturated metro markets where prices have already peaked.
Instead, be ahead of the curve by spotting & investing in 1st of their kind projects which cannot be replicated ever again, such as Alakananda RiverFront!
At Alakananda, you can acquire land at 1/3rd the cost of land on Hyderabad outskirts and be part of an exclusive group of investors to ever own such a unique riverfront plot in South India!
Take advantage of the Pre-Launch offer to grab the best plots of the layout today!
 Plot Sizes  266, 300, 400, 500 & 1000 Sq Yards
IMMEDIATE REGISTRATION Possible
Major works completed & Fully Approved
1st homes already under construction
No Deadline to Construct
(you can do so whenever you feel like)
Can you build a house on the riverfront?
Wondering if you can get permissions to build your house on the riverfront? Yes, you absolutely can! Learn how Alakananda is fully compliant with the Govt's Riverfront Protection Norms that govern what can be constructed etc.
Riverfront Rules
Short on time? Read the Quick Start Guide!
We have made it very easy for you to quickly learn about all the important points – from Location, Amenities & Masterplan to Plot Sizes, Photo Album & Current Status in as little as 15 minutes!
Quick Start Guide
Photo Album of Works Completed So Far
See the tremendous amount of work completed at site, right from the day we started the project with raw land, until today where major works have been finished and the first few homes are already under construction!
Photo Album
Invest today at the Pre-Launch Discounted Rate before we open bookings to general public at a higher rate!