Houses Built @ Alakananda
Eco-Friendly, Low-Rise, Custom Made Villas

Alakananda Riverfront is truly a once-in-a-lifetime chance for you to build your riverfront home – perfectly suited as a weekend holiday home to begin with now and then scaling up at a later date as a retirement home for you or your parents in the most serene ambience!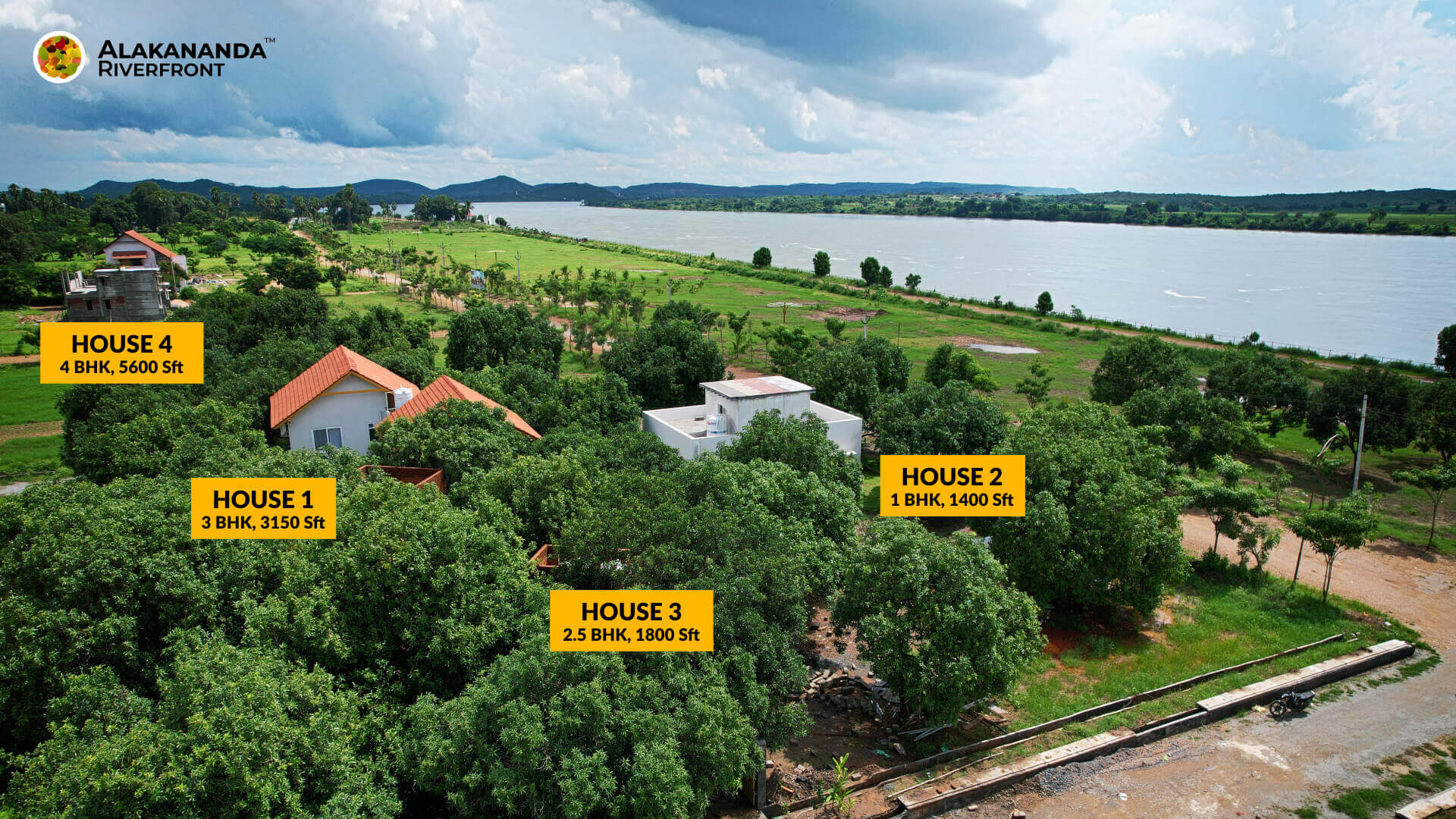 You have the freedom to construct whenever you want, without any deadline!
This makes it an ideal investment option as you can either resell the plot in a few years for profit, or build your dream riverfront villa as a once-in-a lifetime asset!
Depending on the plot size, you can construct a villa of 1200 to 5500 Sft built-up area.
You can design your villa as per your individual tastes & preferences, (subject to some building codes & guidelines on styles & colors to ensure that the overall ambiance & serenity of the community is maintained in terms of colors, patterns, textures, etc).
We can also help you construct your villa based on your architect's plan using our in-house contractors (you can also use our architects to help you plan the design as well).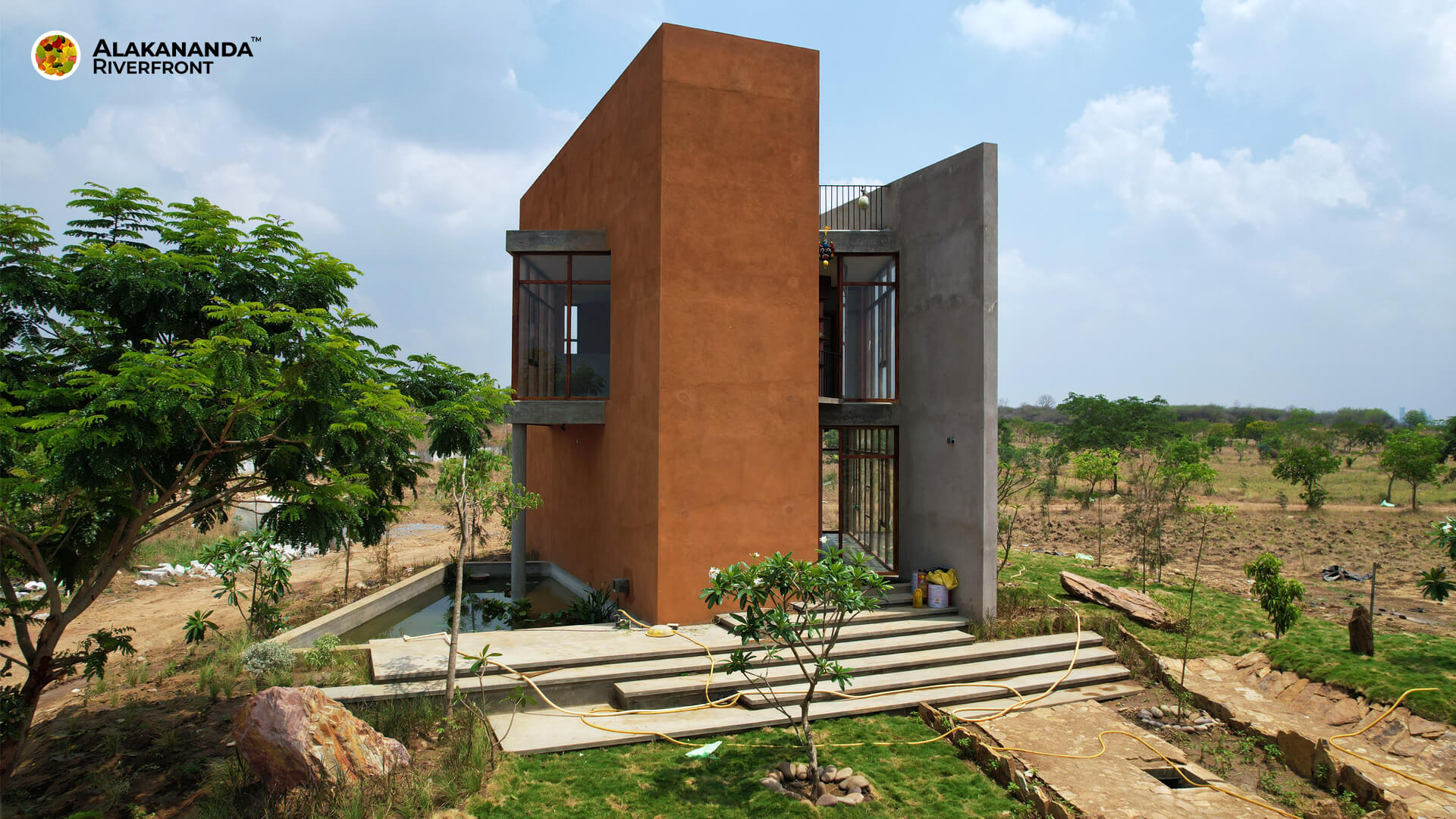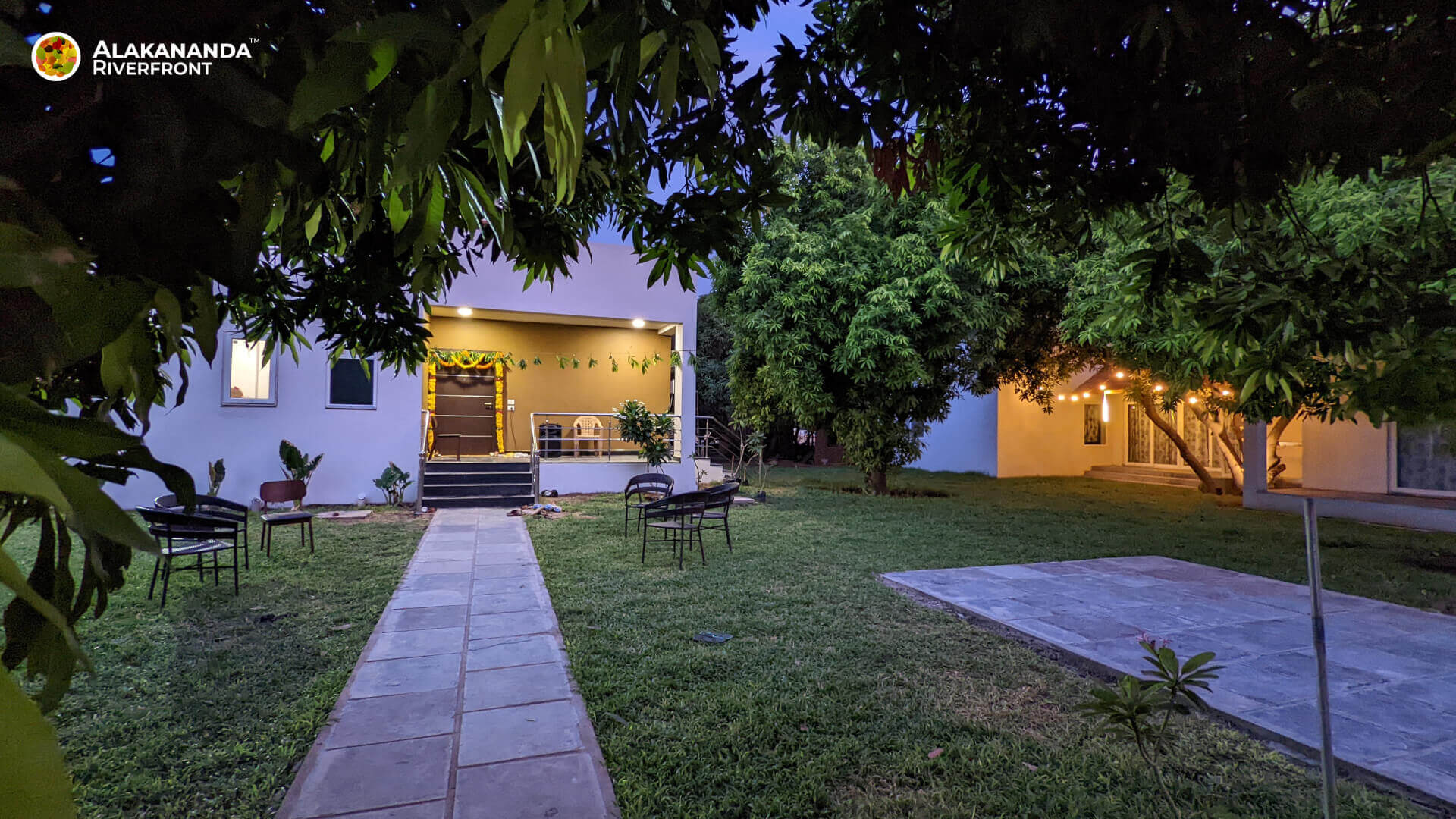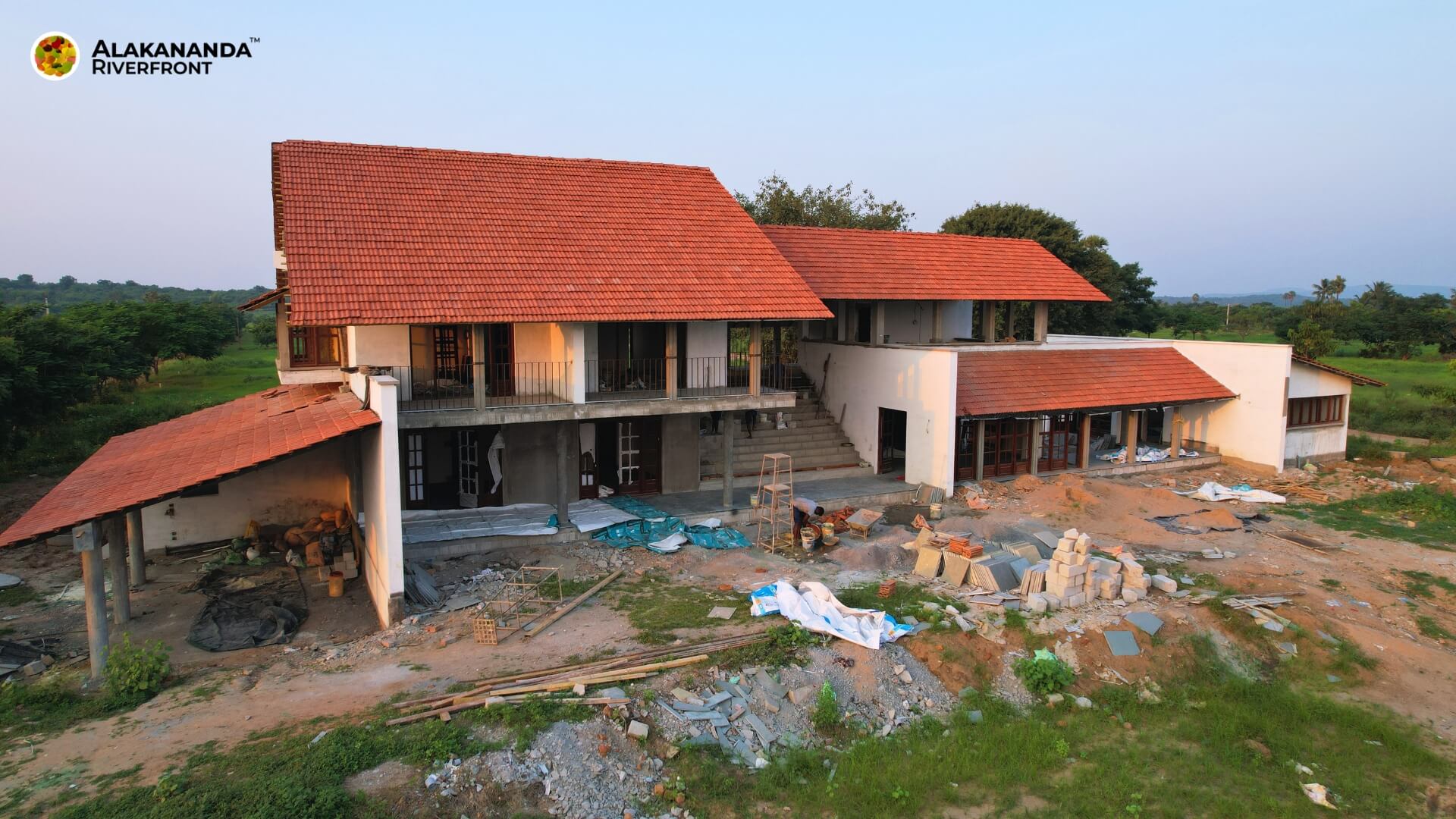 Residents at Alakananda have already started constructing and living in their dream waterfront homes, with the first ones among them being :
(if you want to skip directly to the photos of houses built, please click here)
House 1
Built & Occupied
A famous doctor & hospital owner from Hyderabad who will use it as a Weekend Retreat or as a reward stay for his employees and also give it to us for revenue sharing.
 – Plot Size : 888 Sq Yards (2 plots of 444 Sq Yards, back-to-back)
– Built Up Area : 5600 Sq Ft, 4 BHK
House 2
Built & Occupied
An actress well known in the Telugu & Tamil industry as a weekend retreat from Hyderabad for herself and also for her writer friends to work on their scripts away from the city  noise and distractions.
 – Plot Size : 444 Sq Yards
 – Built up Area : 1800 Sq Ft, 2 BHK
House 3
Built & Occupied
An NRI couple who returned to India and were looking for a waterfront home. They started construction immediately and
have already started spending weekends in Alakananda.
 – Plot Size : 444 Sq Yards
 – Built up Area : 3150 Sq Ft, 3 BHK
House 4
Built & RENTED
A software consultant from California whose parents would use the home as a holiday home and for his family to relax on their India visits.
 – Plot Size : 800 Sq Yards
 – Built Up Area : 1350 Sq Ft, 1 BHK

True to our priority of long term relationship building, we encourage our clients to start with smaller homes and then expand as and when they need more space, instead of spending too much upfront and then spending more on maintenance.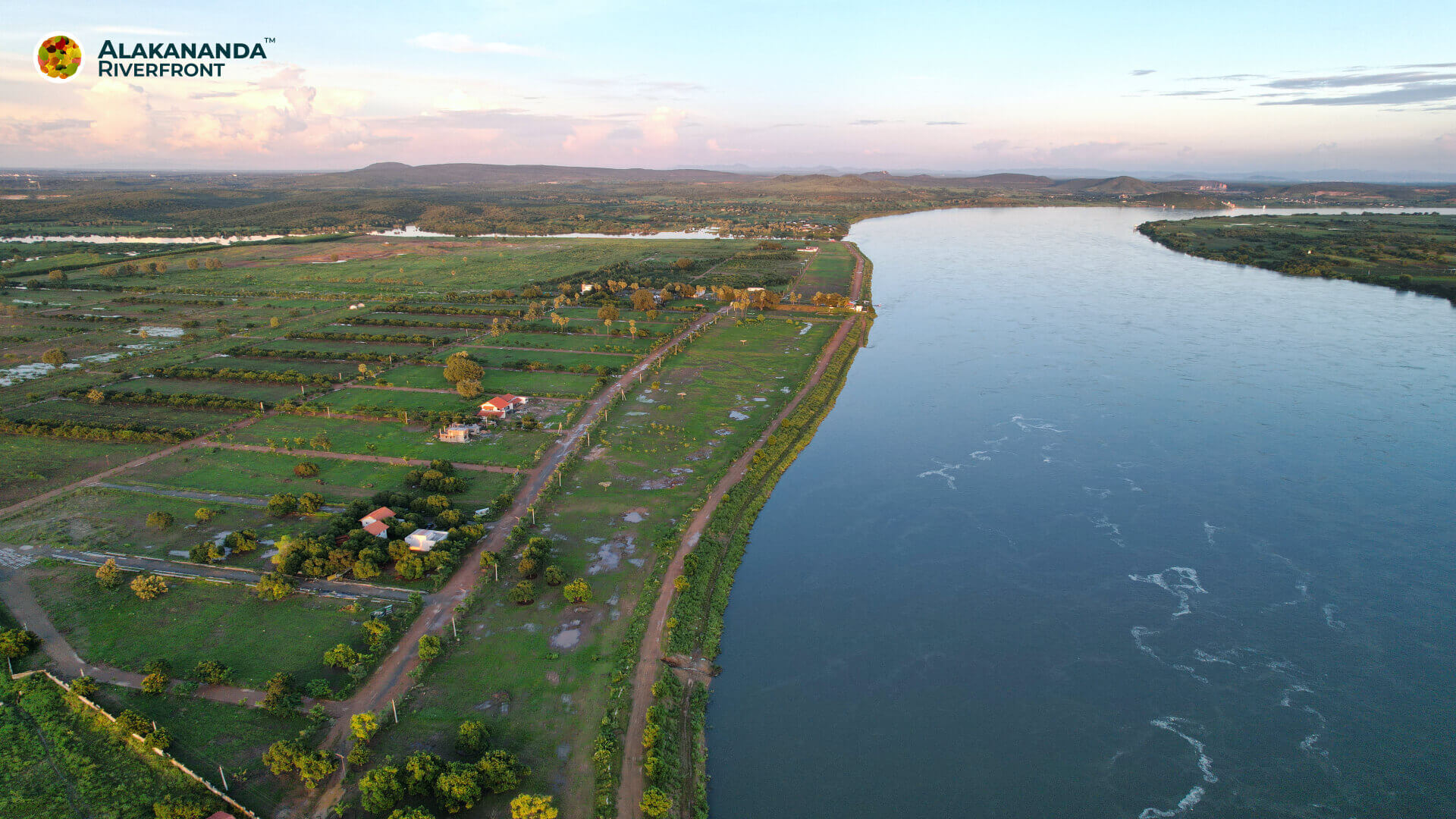 House 5
Built & Occupied
A business owner from Hyderabad who wants a riverfront  guest house to host get togethers for friends and family.
 – Plot Size : 444 Sq Yards
– Built up Area : 3180 Sq Ft, 3 BHK
House 6
Built & Occupied…
A software professional from Hyderabad who plans to spend most weekends here relaxing with the family as they were looking for something immersed in nature and also in driving distance.
 – Plot Size : 266 Sq Yards
 – Built up Area : 1490 Sq Ft, 1.5 BHK Watchtower

House 7
Construction 70% Complete…
For a family of doctors from Vijayawada who wanted a weekend home to escape their busy schedule and congested city life.
 – Plot Size : 1000 Sq Yards
– Built-up Area : 3500 Sq Ft, 2 BHK with 6000 sft of Landscaped Gardens
House 8
Design Finalised…
A leading lawyer from Hyderabad who wanted a holiday home with numerous amenities so that every age group has some activity to enjoy and has a meaningful weekend experience.
 – Plot Size : 500 Sq Yards
– Built-up Area : 2750 Sq Ft, 2 BHK Watchtower
House 7
Design Finalised…
A group of cousins living in Hyderabad & USA (natives of Jaggayyapeta) bought 5 plots together and want to build a vacation home for their family and also to host spiritual get togethers and satsangs when in India.
 – Plot Size : 266 Sq Yds x 5 plots back-t0-back
 – Built up Area : 3500 Sq Ft, 3 BHK
House 9
Interiors in Progress…
A group of NRIs from Jacksonville, Florida are setting up pre-fab polyfiber homes on their plots to rent them out to weekend destination vacationers from Hyderabad, Vijayawada and other surrounding cities.
 – Plot Size : 266 Sq Yards each
– Built up Area : 250 Sq Ft, Studio

House 10
Design finalised…
A mid-aged couple from Vijayawada who wants to move permanently to Alakananda as they are fed up of the congested city roads with no natural lighting / ventilation (since their son is in boarding school and main business activity is stocks trading, they are happy to move immediately as Alakananda is fully connected with a fiber optic broadband line to all villas).
 – Plot Size : 710 Sq Yards, Ultra Premium Plot
– Built up Area : 7800 Sq Ft, 5 BHK Courtyard House (a traditional Manduva Logili house)
House 11
Design finalised…
A mid-aged Organic Farm owner from Vijayawada who wants to spend weekends in Alakananda and also rent it out as a holiday home.
 – Plot Size : 400 Sq Yards
– Built up Area : 1850 sft , 2 BHK (twin Studios)
Where else in South India can you build a home in a riverfront township with a plethora of amenities such as :
– golf driving range
– horse-riding arena
– botanical gardens with organic fruits & vegetables
– private jetty with water sports – you can literally go boating and fishing in your own backyard on the Krishna river
 – clubhouse with party lawns
– multiple temples in the vicinity
and much more?!

Complete Design and Construction Assistance
We can help you with the complete cycle, end-to-end : from designing to constructing and furnishing your home completely as per your desire and ideas – including permissions from CRDA to help you get all building approvals.


Want to build your house here but worried about maintenance cost & how to manage it?
Scroll down further to see how our "Rental Sharing Model" at Alakananda can make your holiday home maintenance-free at ZERO cost to you!


Villas Already Built Here…
Here are REAL PHOTOS of the houses ALREADY CONSTRUCTED at Alakananda, including those that are under construction…
Plot Size : 267 Sq Yards
Built Up Area : 1450 Sq Ft
A unique design with minimal built space and MAXIMUM Views & Open Space!
Was built in a record 4 months!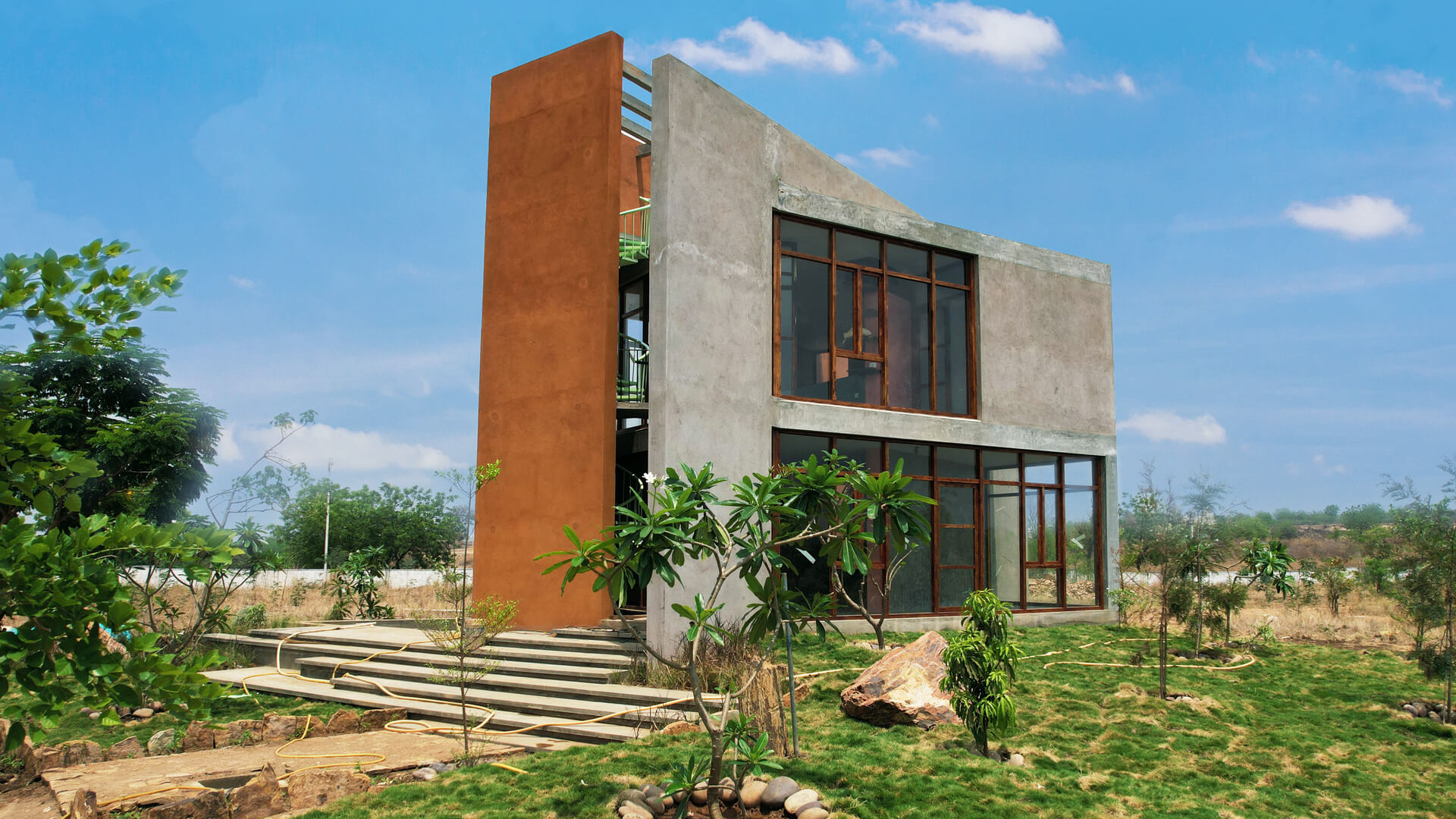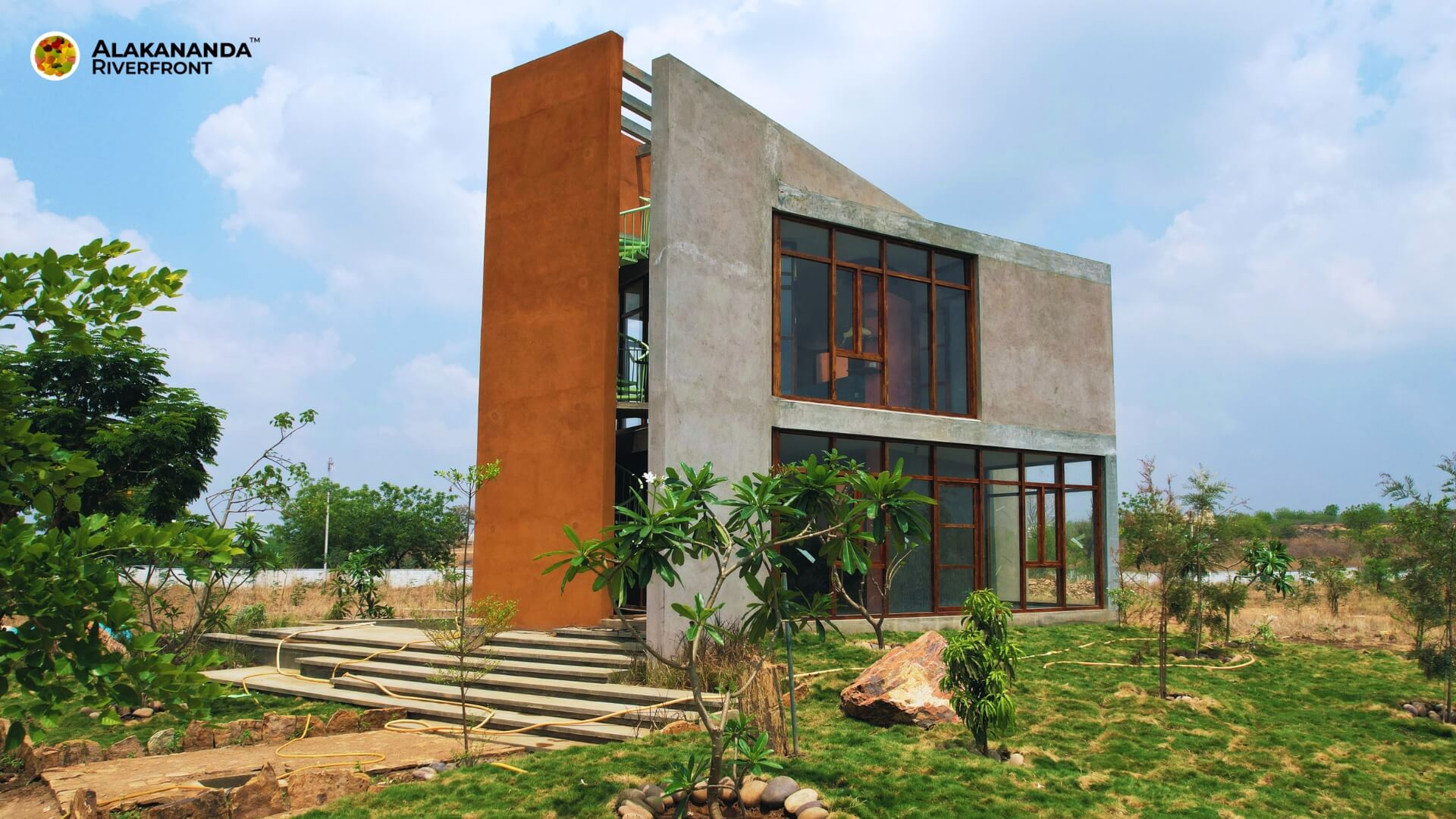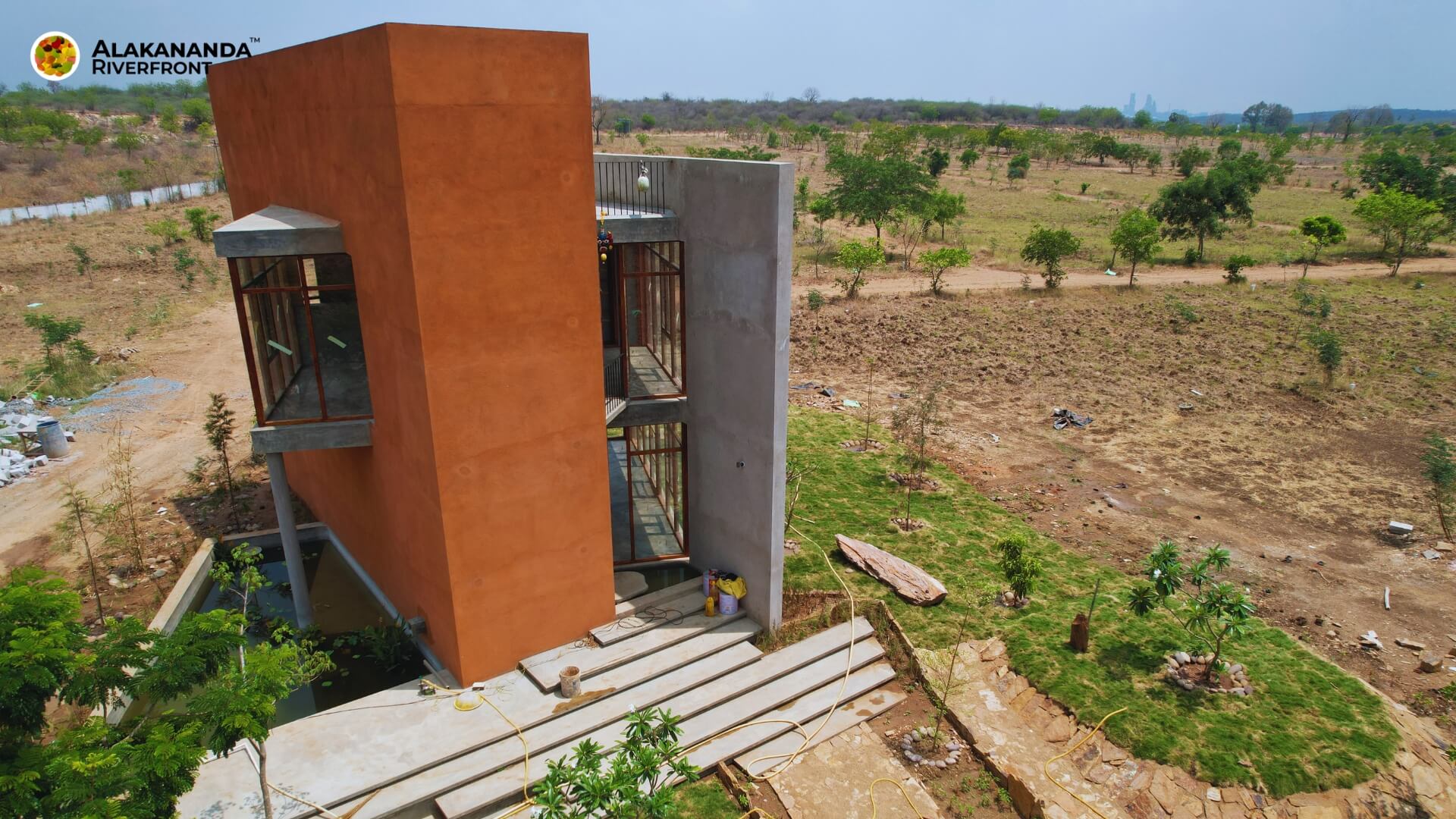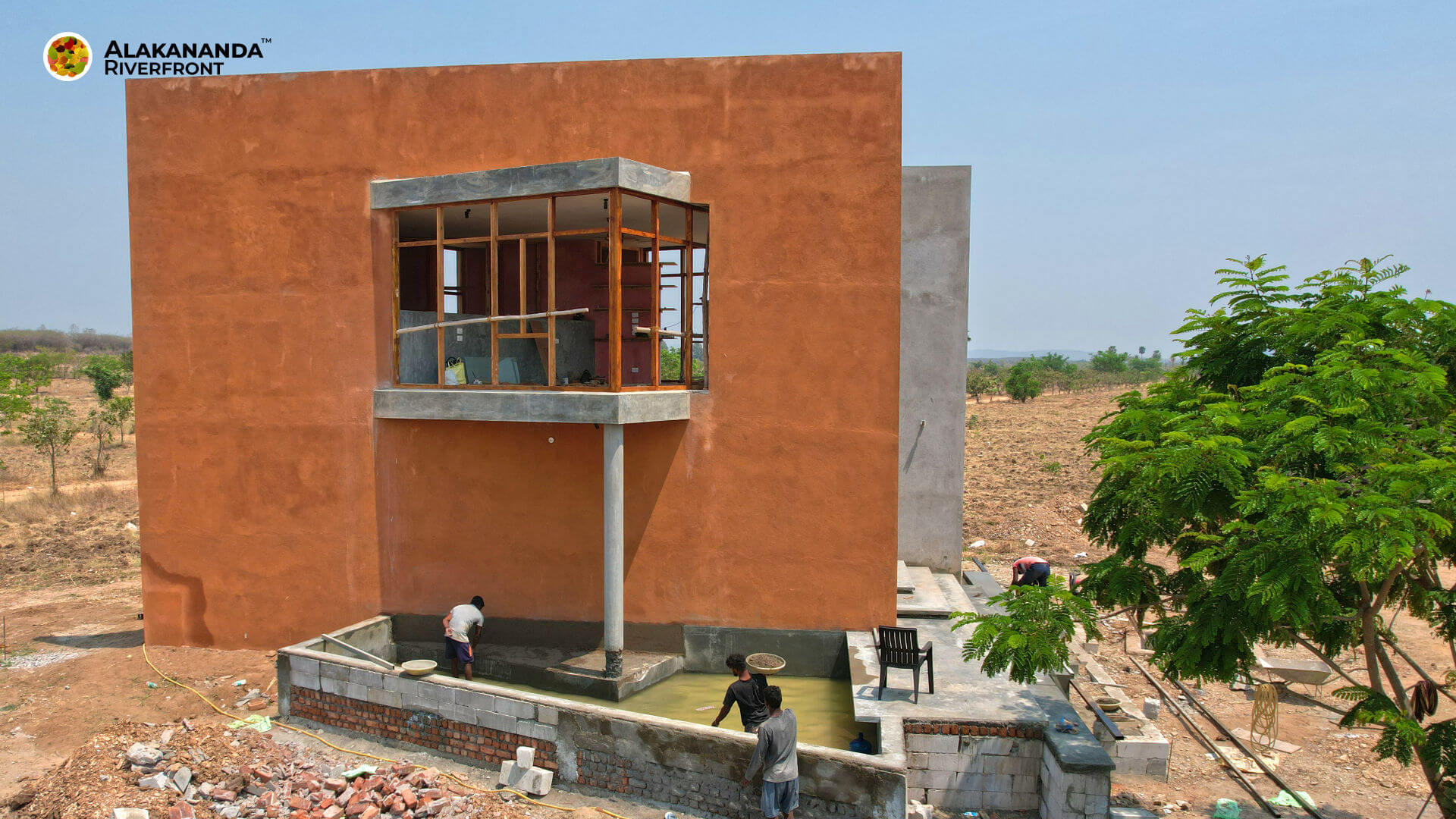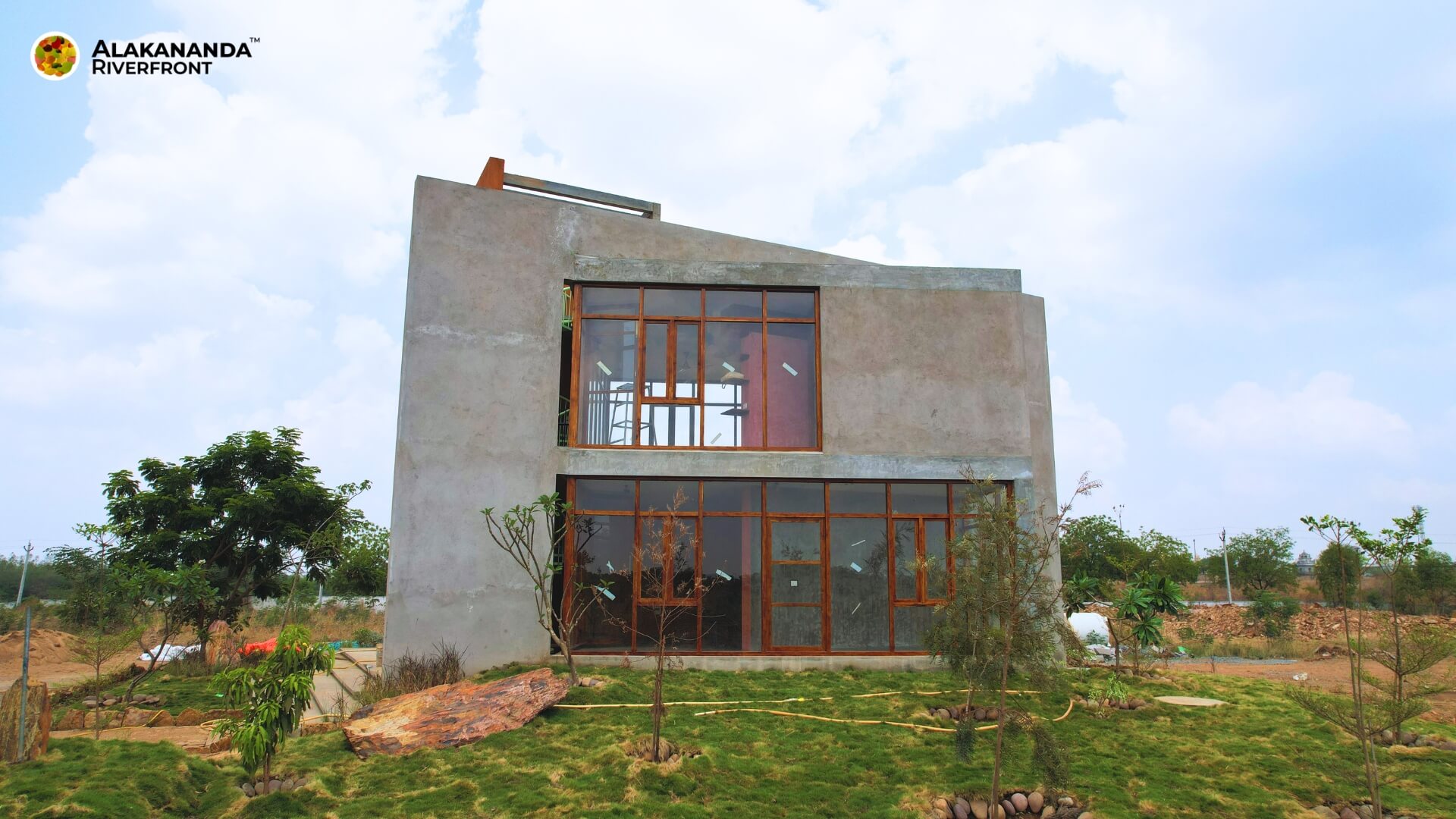 The 2nd floor is a viewing deck large enough to accommodate 15+ people for a cosy party or even have some Nulaka Manchalu (charpais) to laze around at any time of the day with expansive 360 views!
Our architects can customise this plan for any size plot and add or remove any spaces as per your requirement.
A 2 BHK version (2750 sq ft) of this is in the final stages of design for a plot owner.
This unique design can be built on plots of any size and the flexible design allows for an open or closed living room and a kitchen & dining space on the ground floor and a bedroom on the 1st floor…(these spaces can be interchanged to have the bedroom on the ground floor)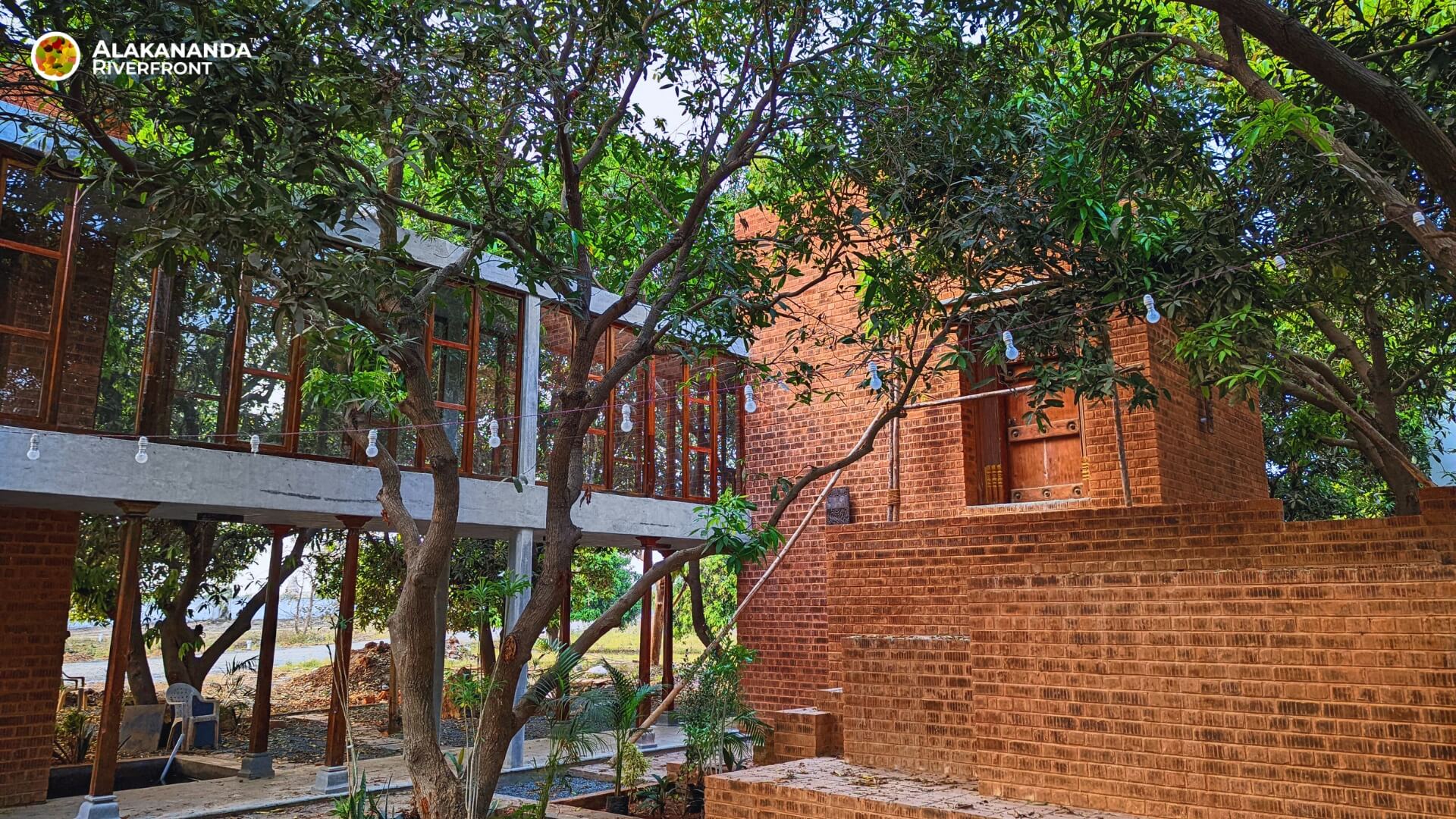 Plot Size : 444 Sq Yards
Built Up Area : 1850 Sq Ft
A rustic design built under 5 mango trees with minimal built space and MAXIMUM greenery & Open Space!
Built for a well known actress in the Tamil & Telugu industry.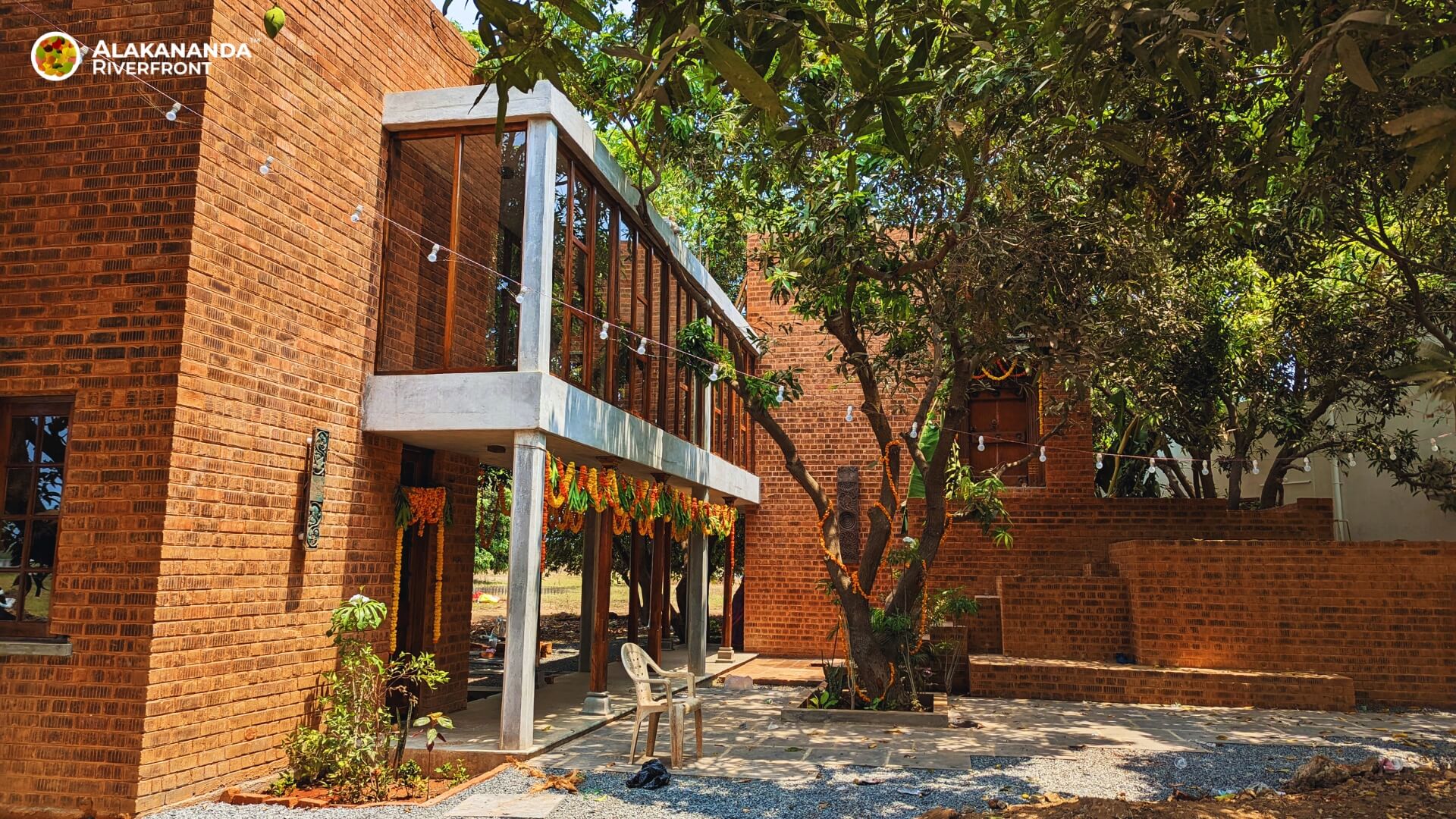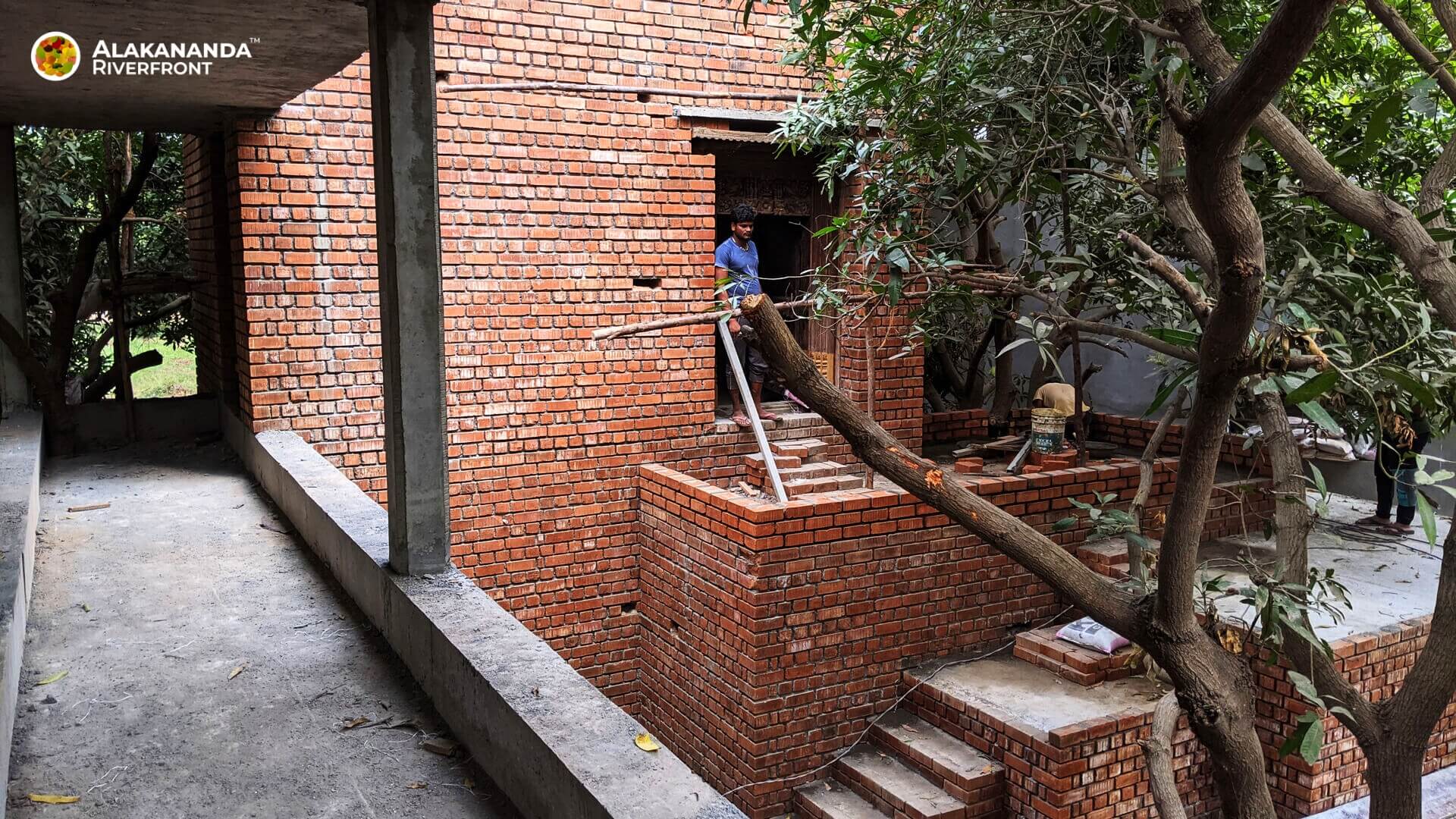 The plot had 5 existing mango trees over 20 years old and we designed and constructed the villa without cutting down even a single branch!
With old teakwood doors and windows refurbished from bungalows in Auroville, Pondicherry (the main door is almost 120 years old!) and an open to sky shower (with a mango tree branch coming inside), this fascinating villa is the perfect getaway from the urban chaos and noise.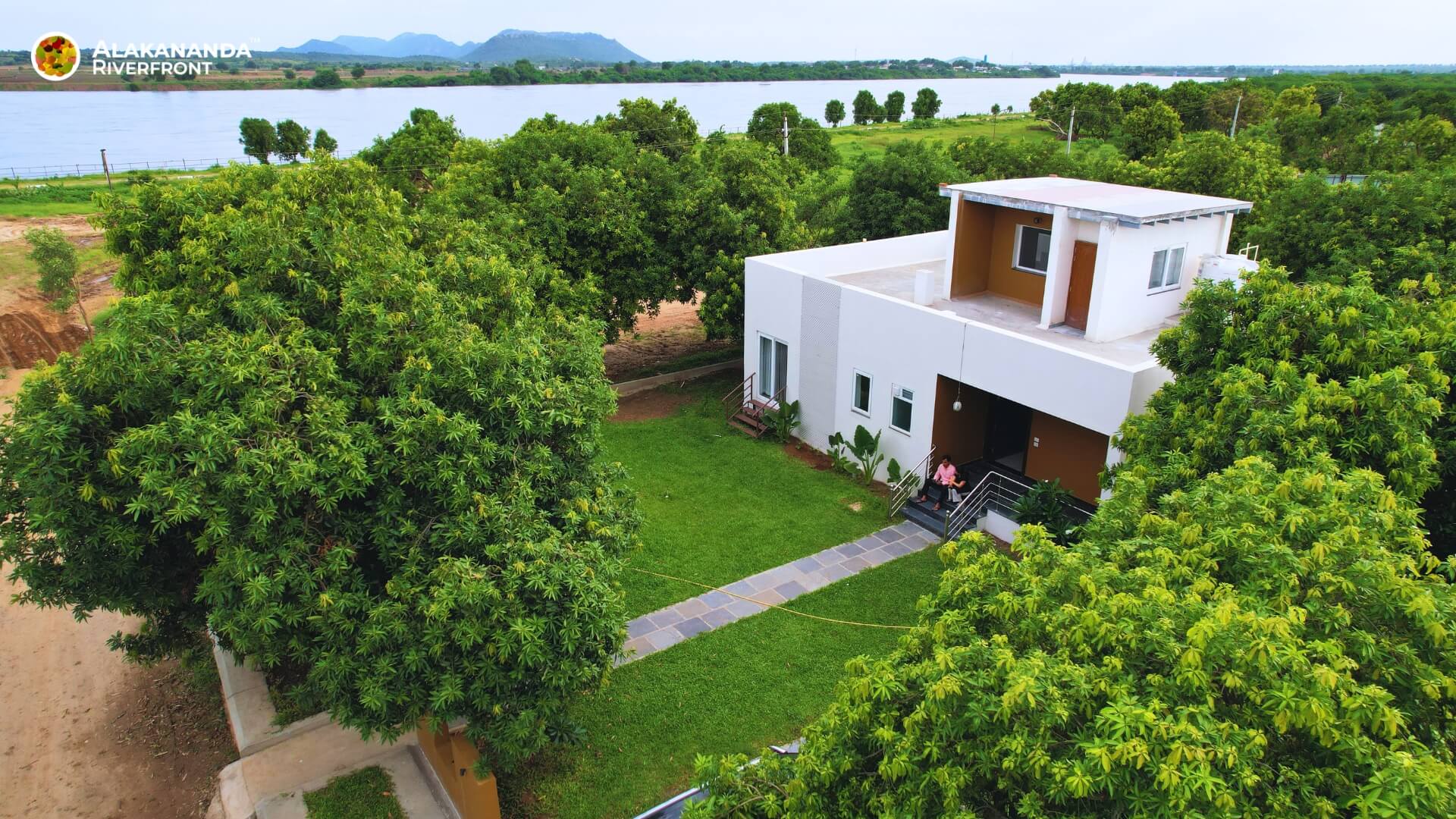 Plot Size : 800 Sq Yards
Built Up Area : 1450 Sq Ft
A large riverfront plot with just 1450 sft of built up area leaving almost 6000 sft of garden space around with 4 existing mango trees within the plot.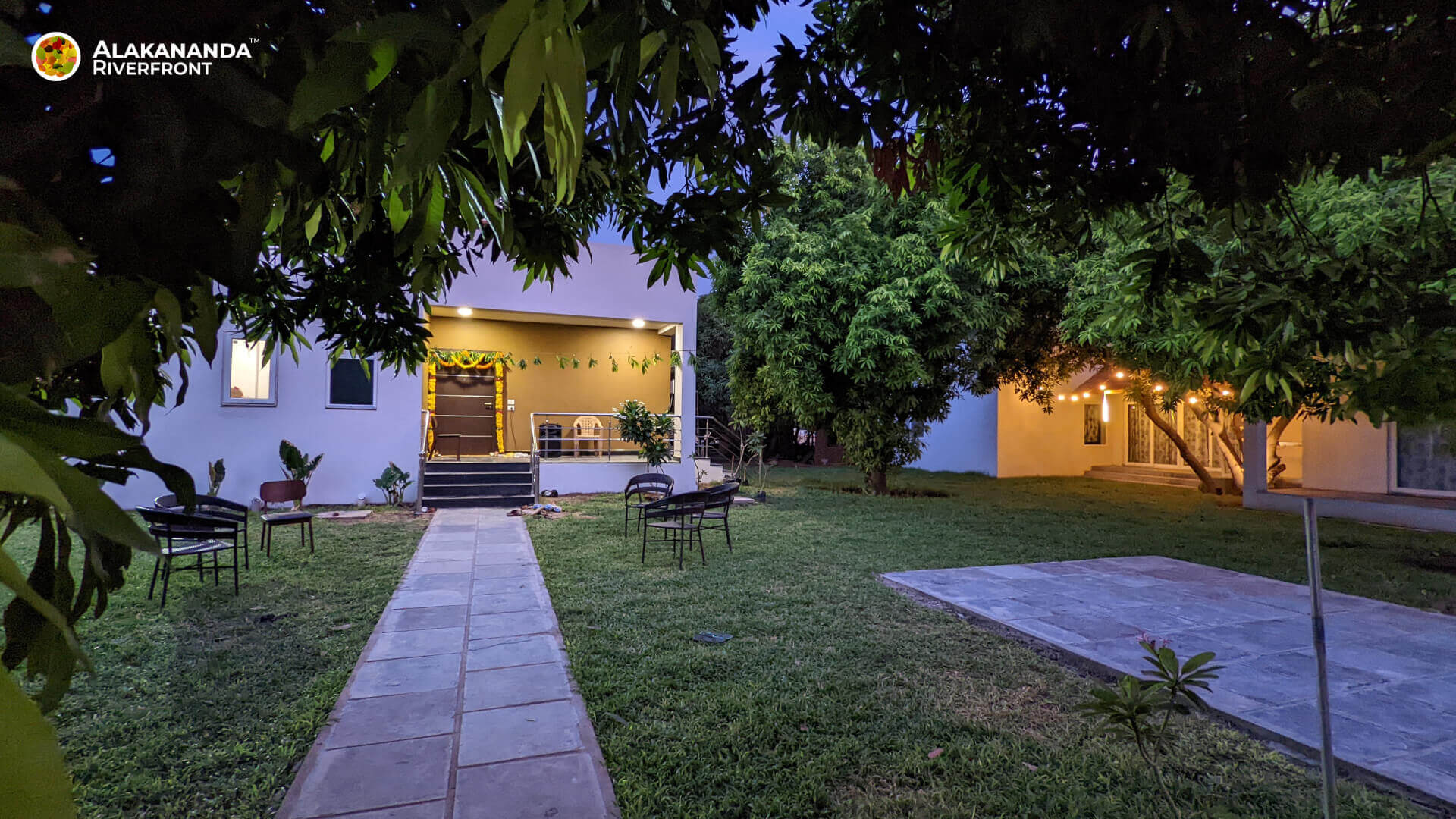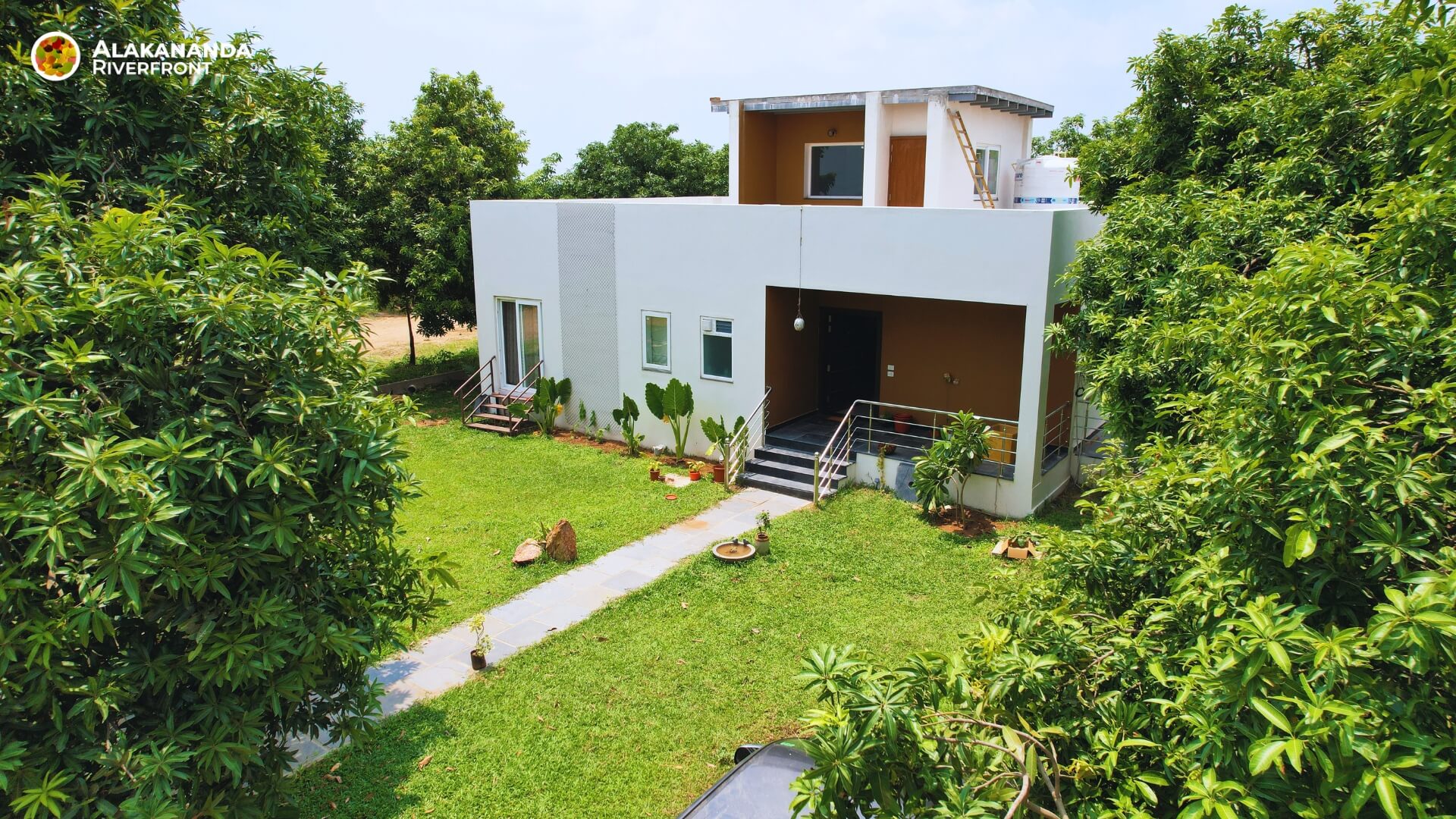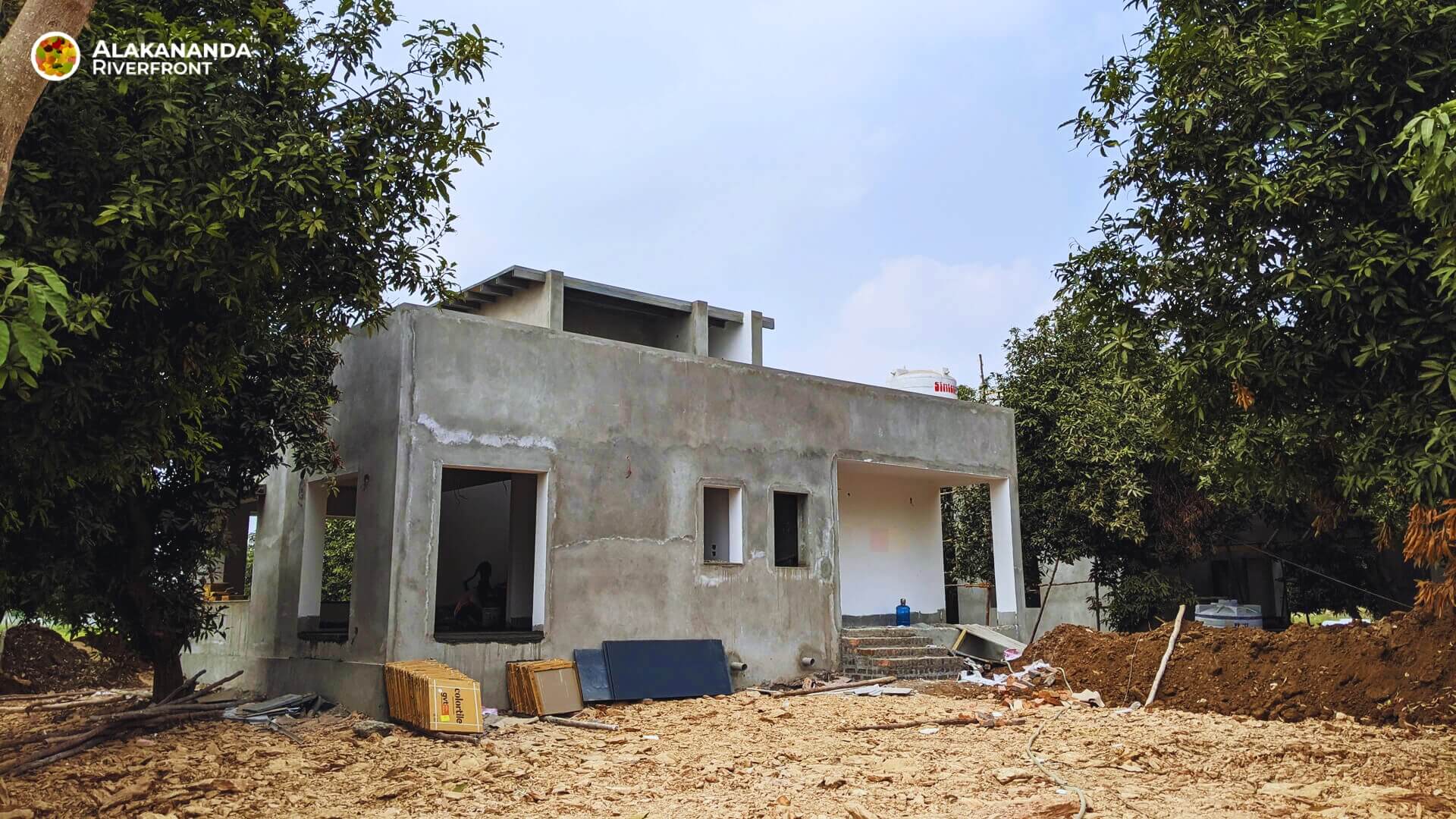 Built for a client in Bay Area, California as a holiday home when he visits India with family, this villa will also be rented out on revenue sharing basis with the owner.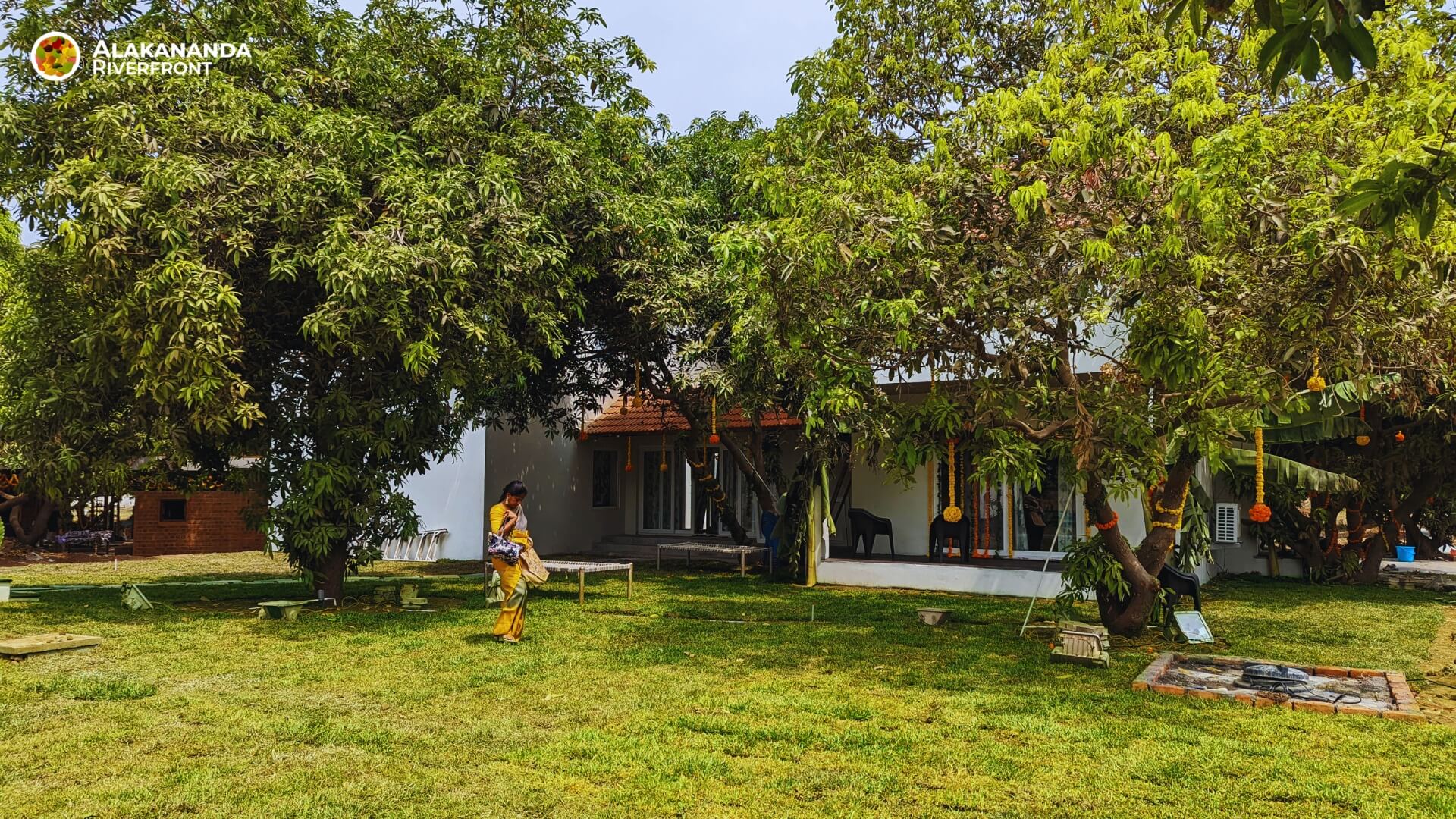 3 BHK Twin Courtyard Villa
Plot Size : 444 Sq Yards
Built Up Area : 3150 Sq Ft
The clients who moved back from Detroit were looking for a retirement home away from the city and on their first visit to Alakananda they decided to build immediately and have already started spending their weekends here and will move permanently in 2 years.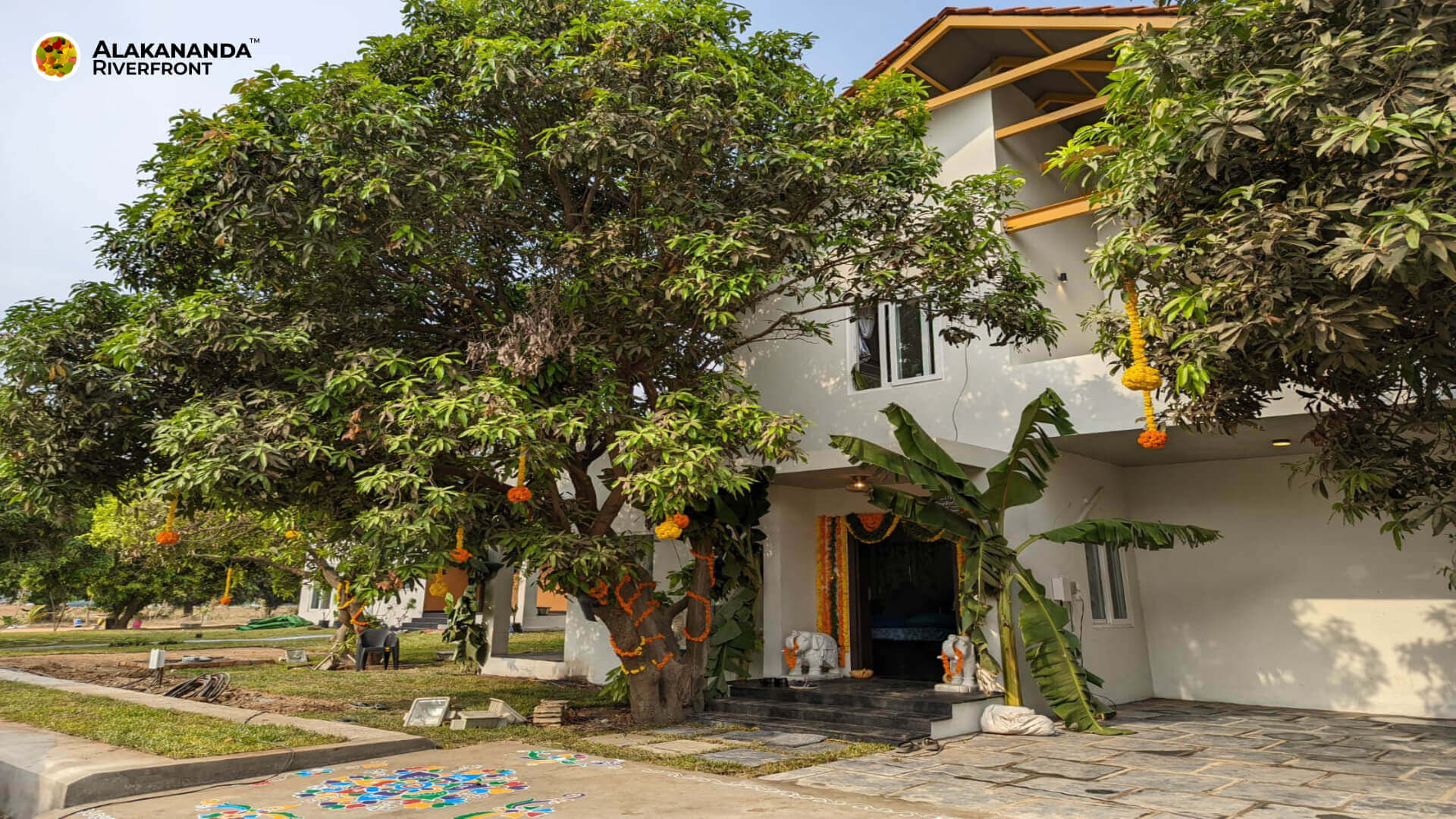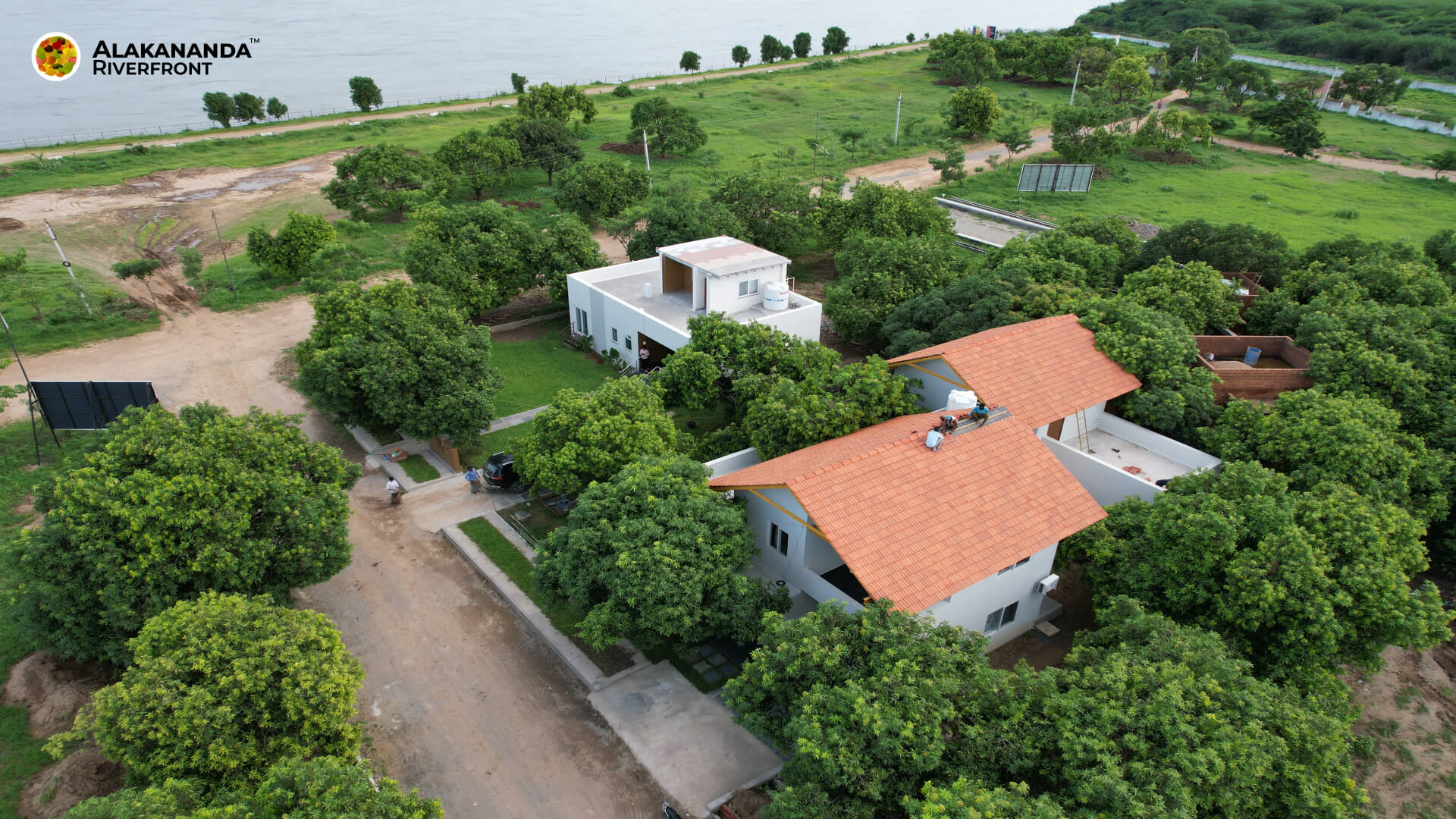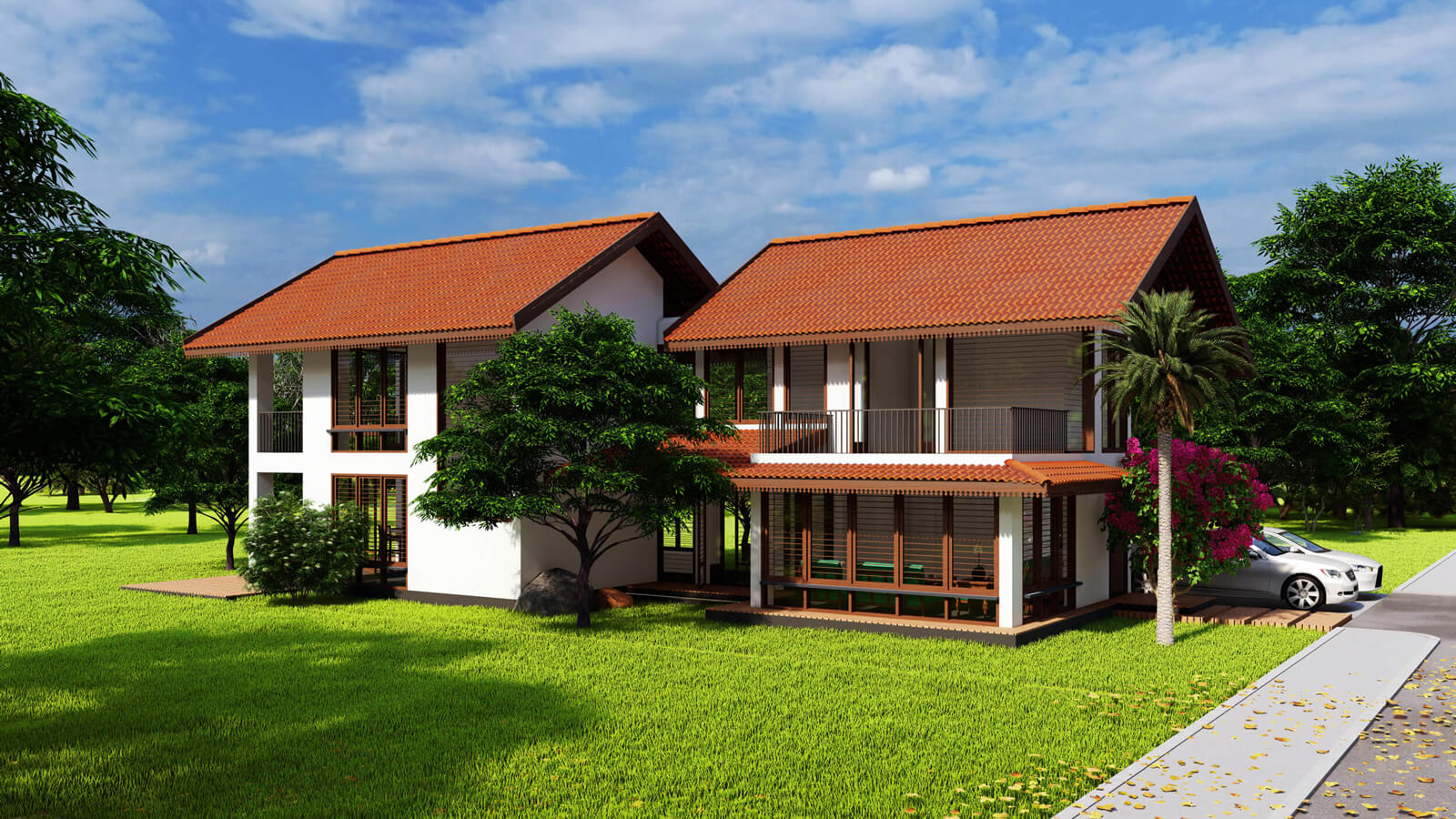 The plot had 2 mango trees over 20 years old and we designed the villa with TWO courtyards around the 2 trees.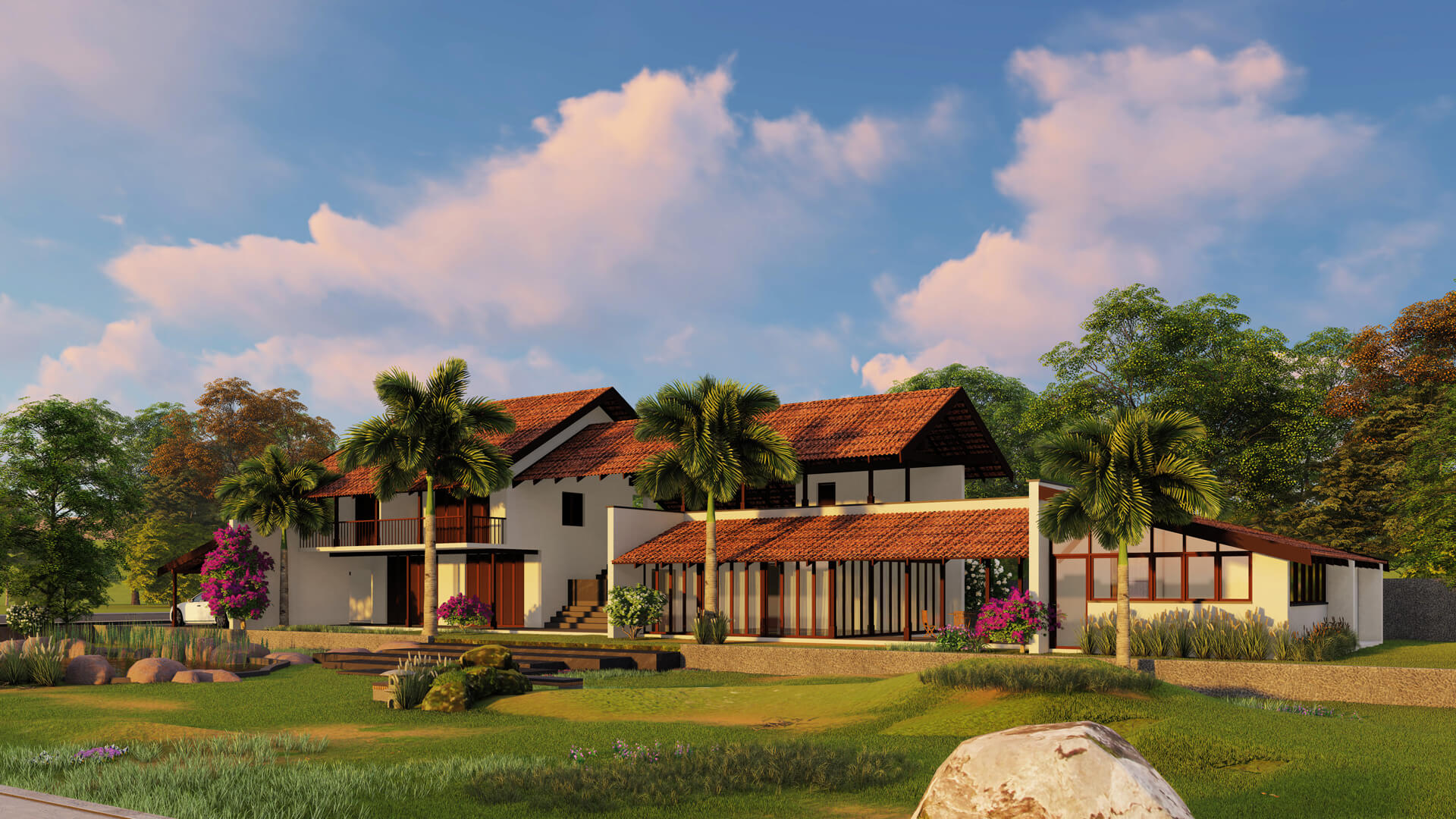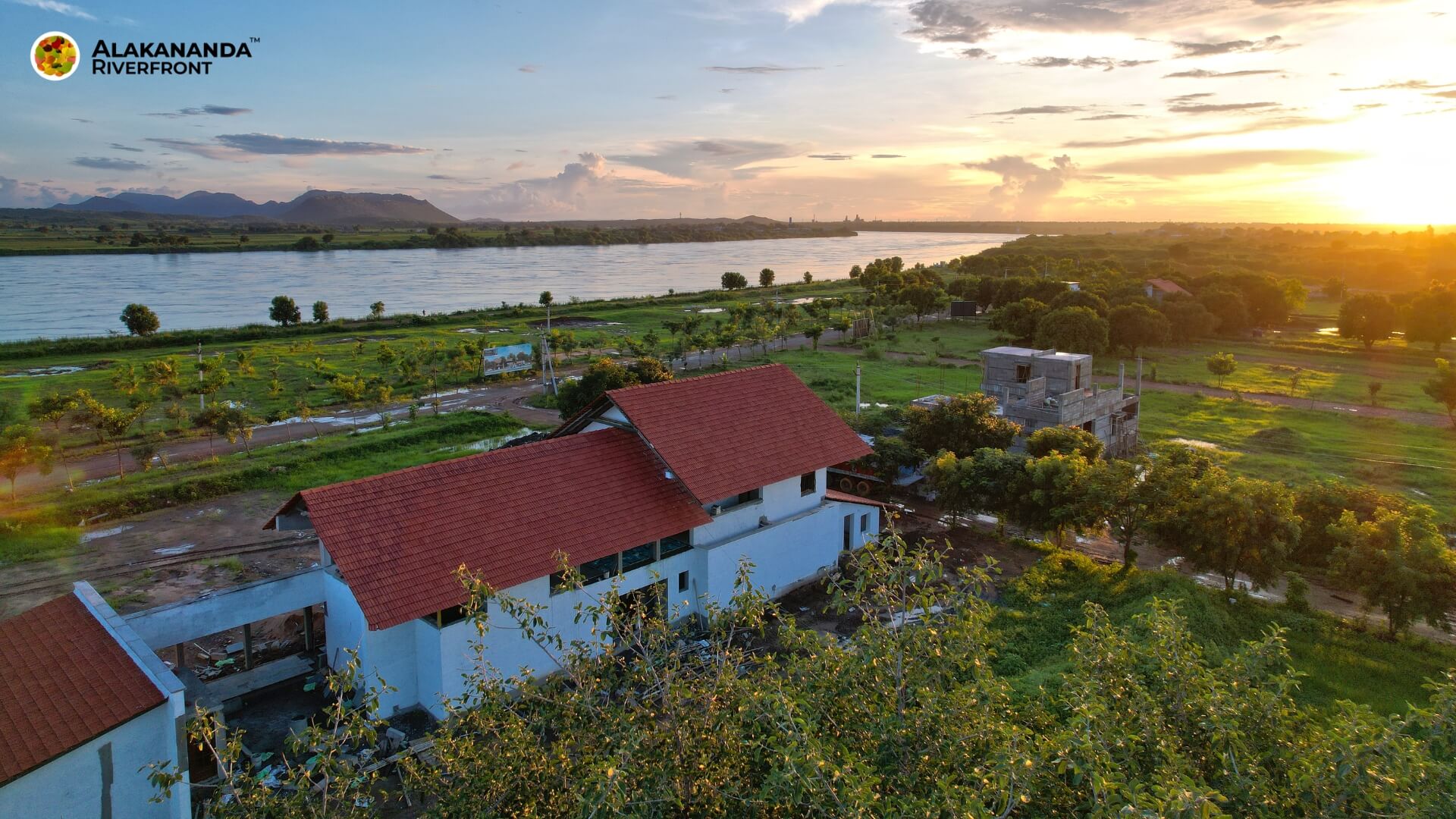 Plot Size : 888 Sq Yards
Built Up Area : 5600 Sq Ft
Possibly one of the MOST UNIQUE riverfront villas in the country with a stunning 160 feet of frontage to the Krishna river and over 20,000 SFT of LANDSCAPED GARDEN!
Built for a celebrity doctor – Dr. Gurava Reddy, India's leading orthopaedic and owner of Sunshine Hospitals.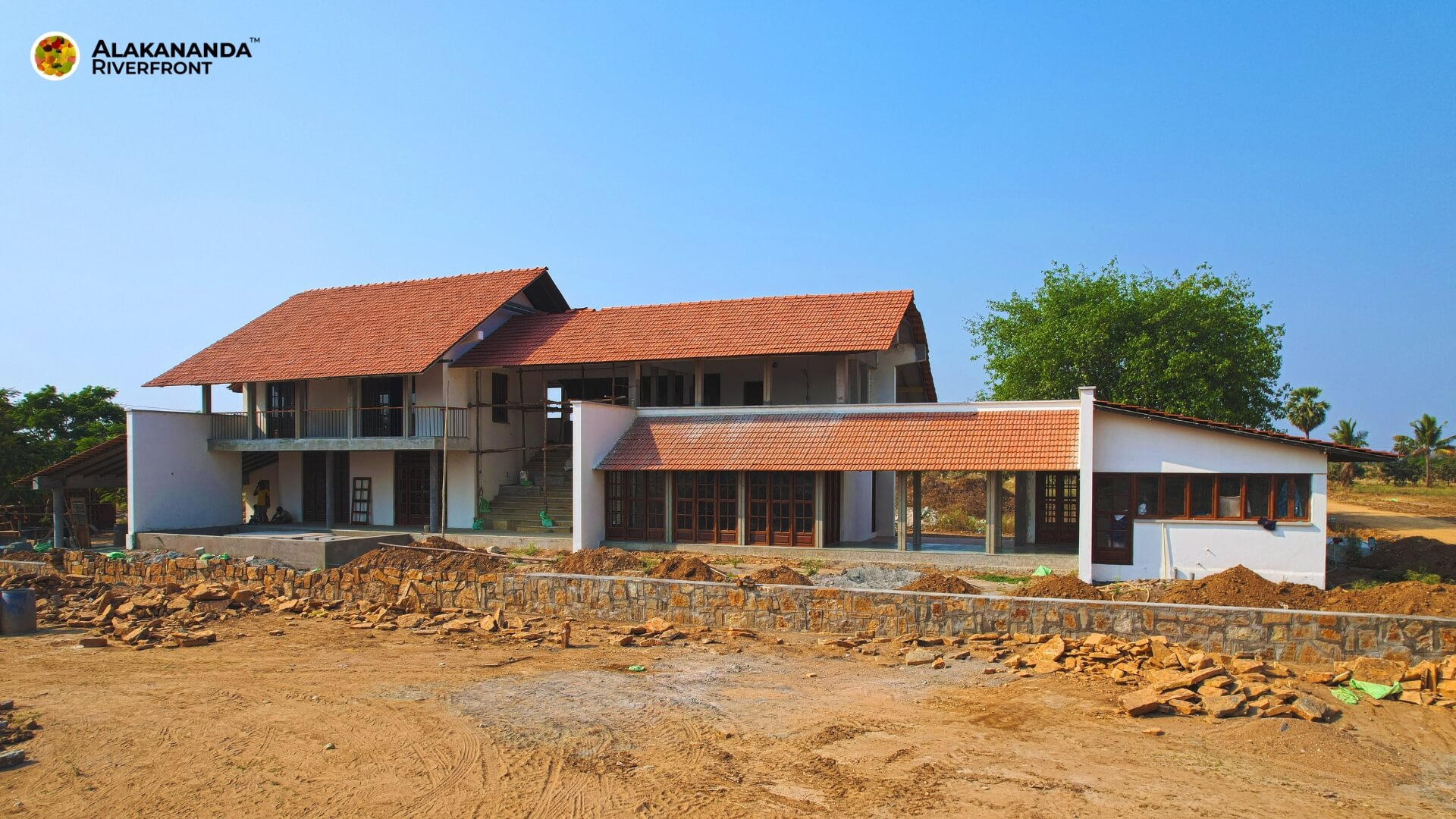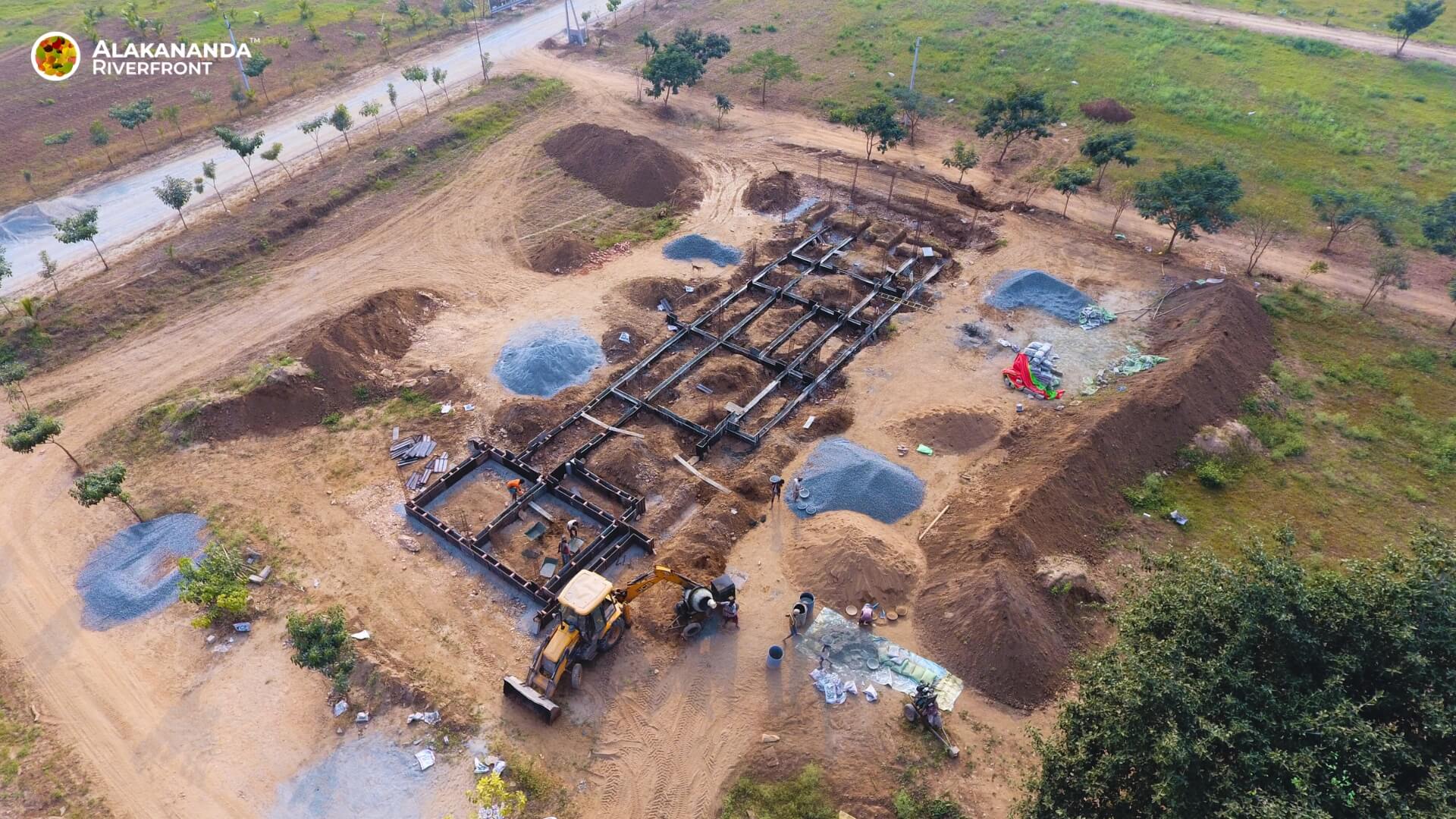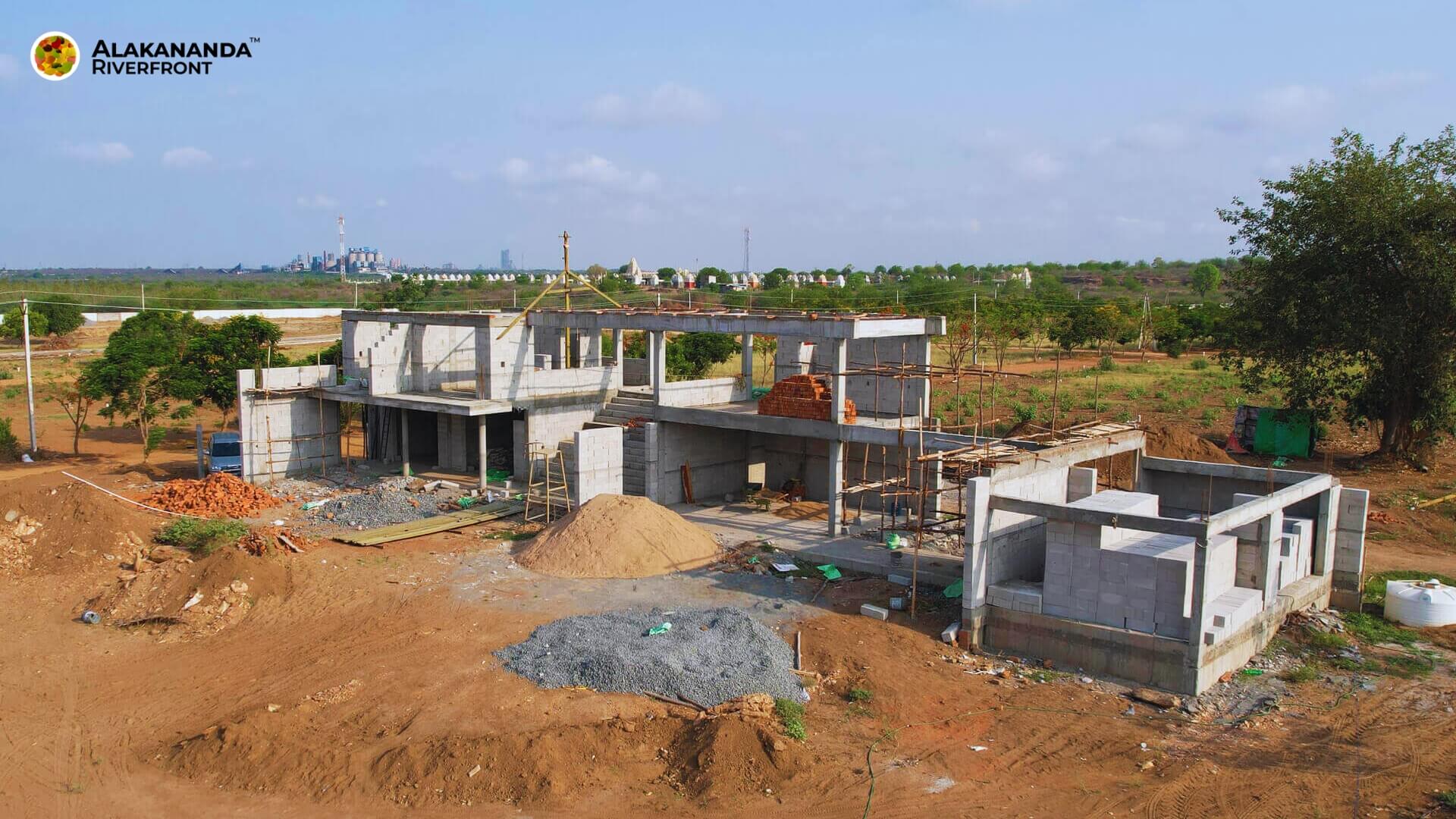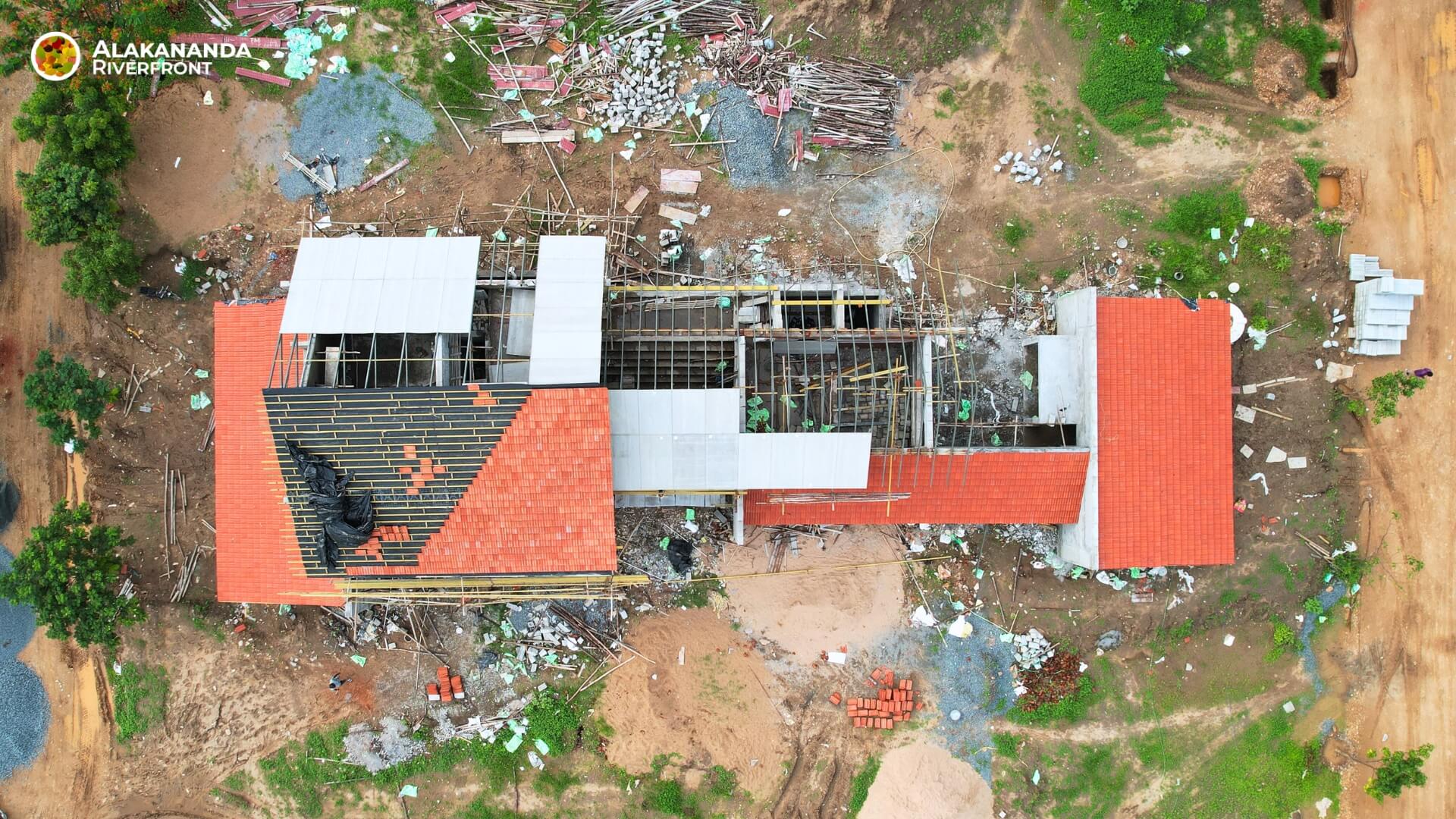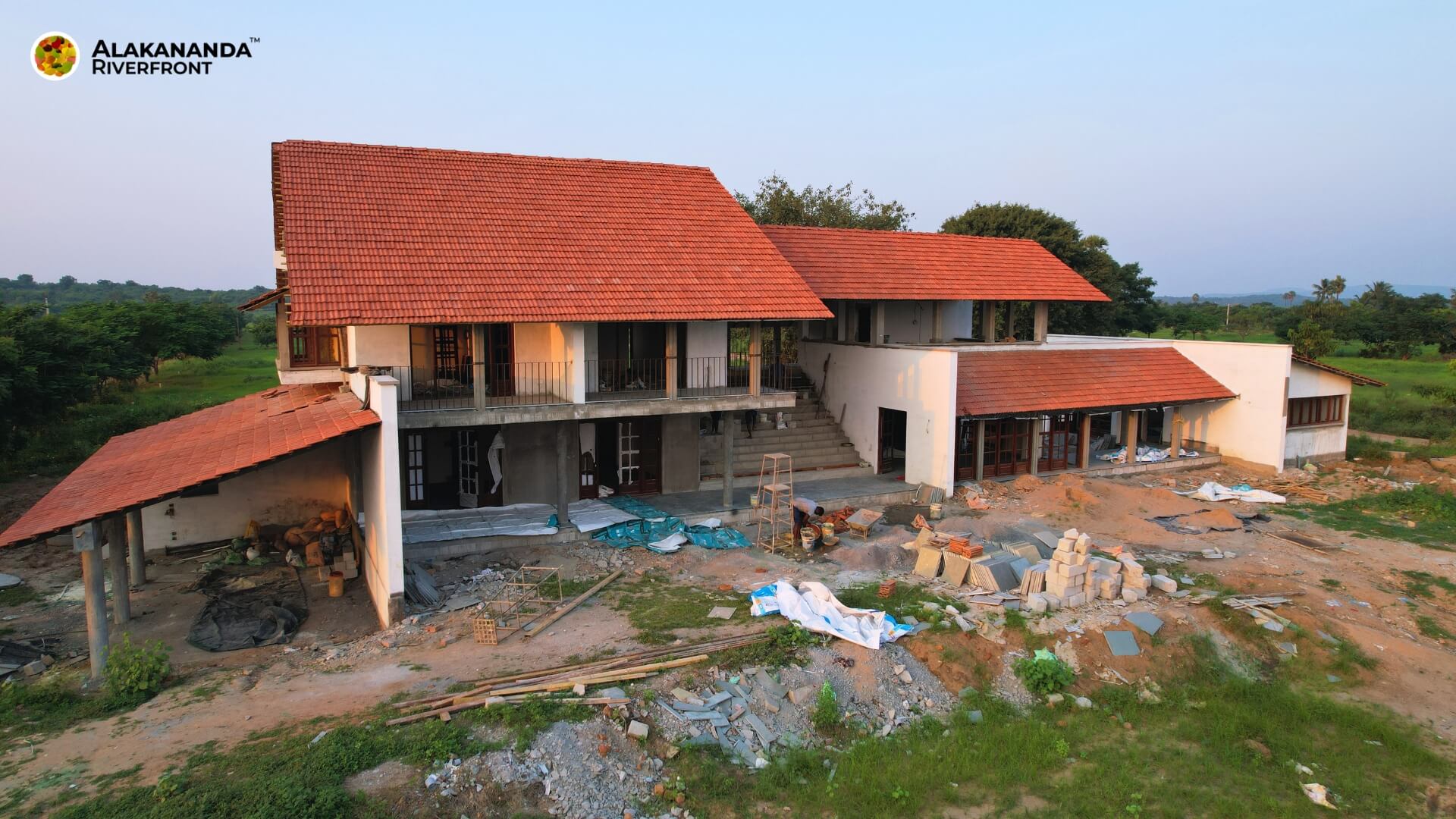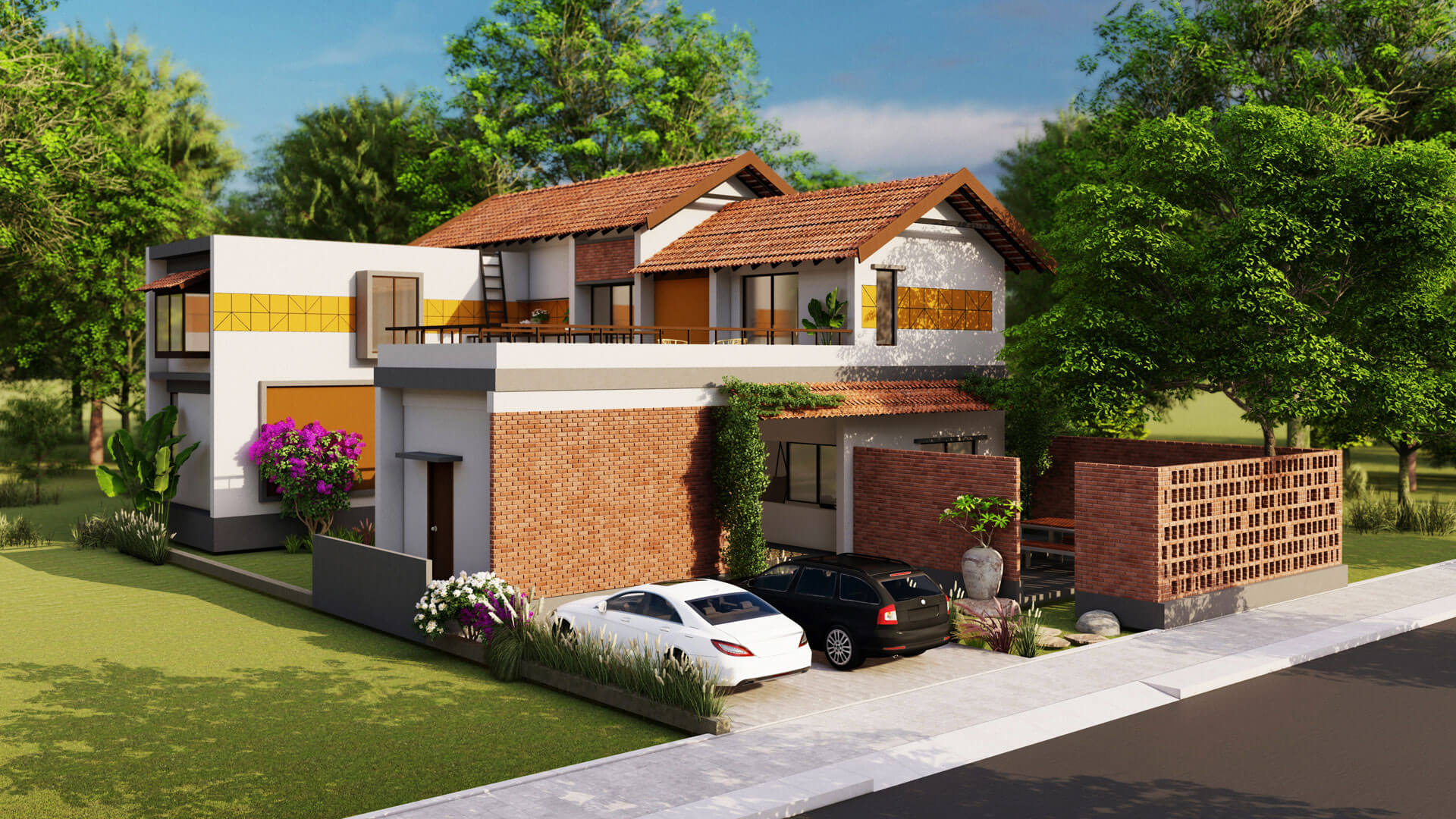 Plot Size : 444 Sq Yards
Built Up Area : 3200 Sq Ft
Built around a landscaped courtyard, all spaces of this villa overlook the central courtyard with an additional outdoor dining courtyard in the front of the house!
The client, an industrialist based in Hyderabad, wanted a holiday home that will be rented out for most part of the time as a revenue generating model.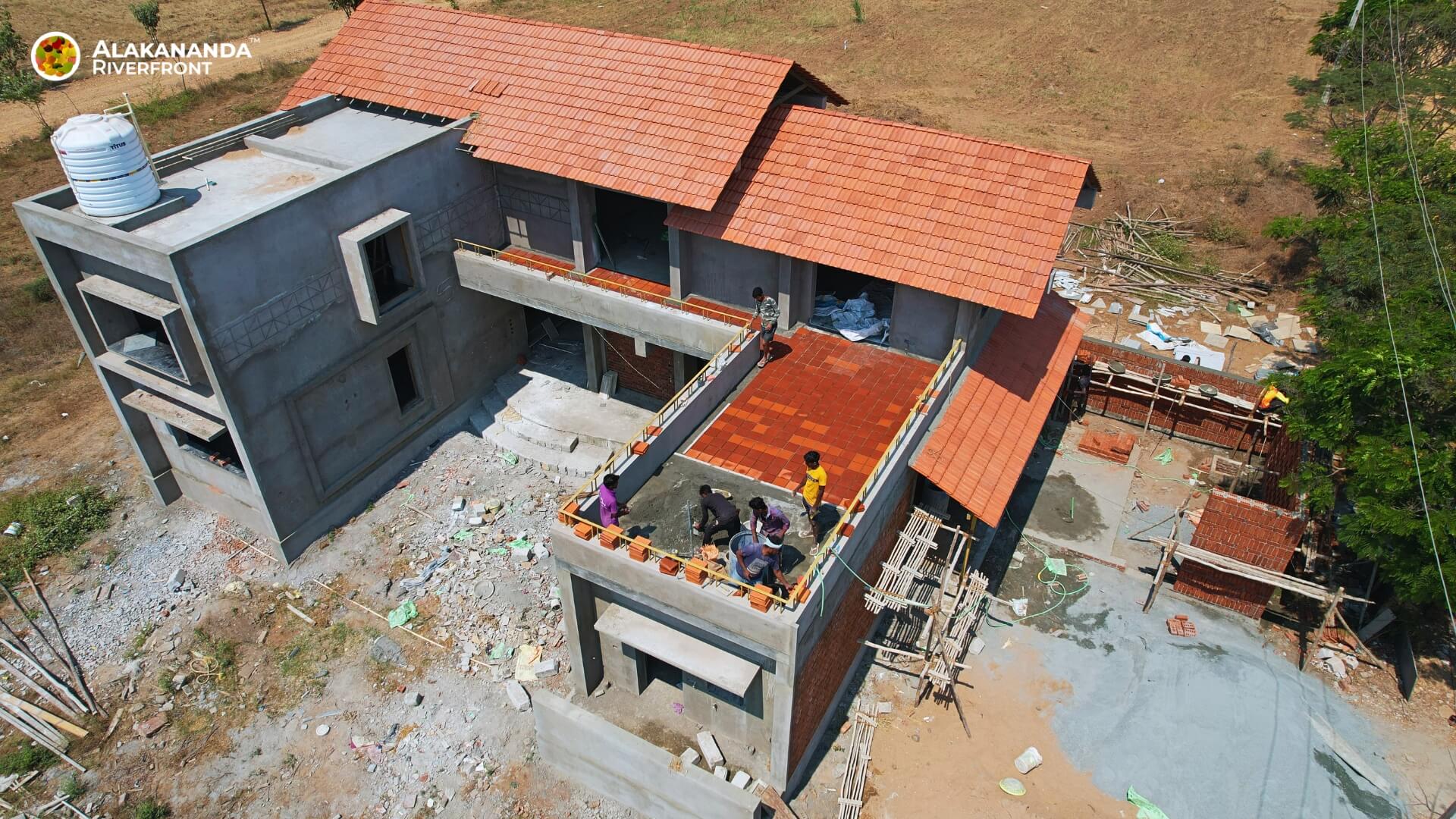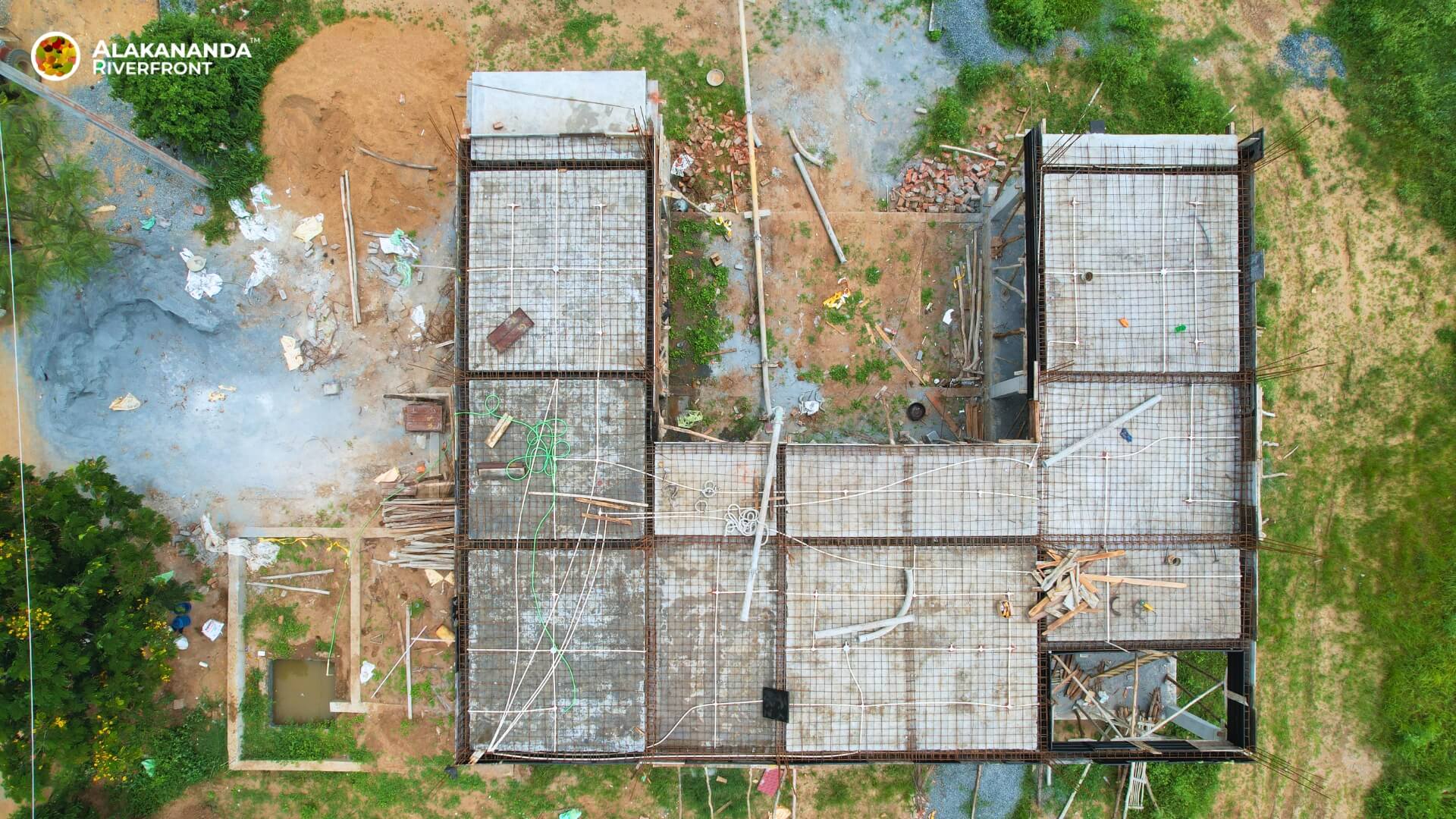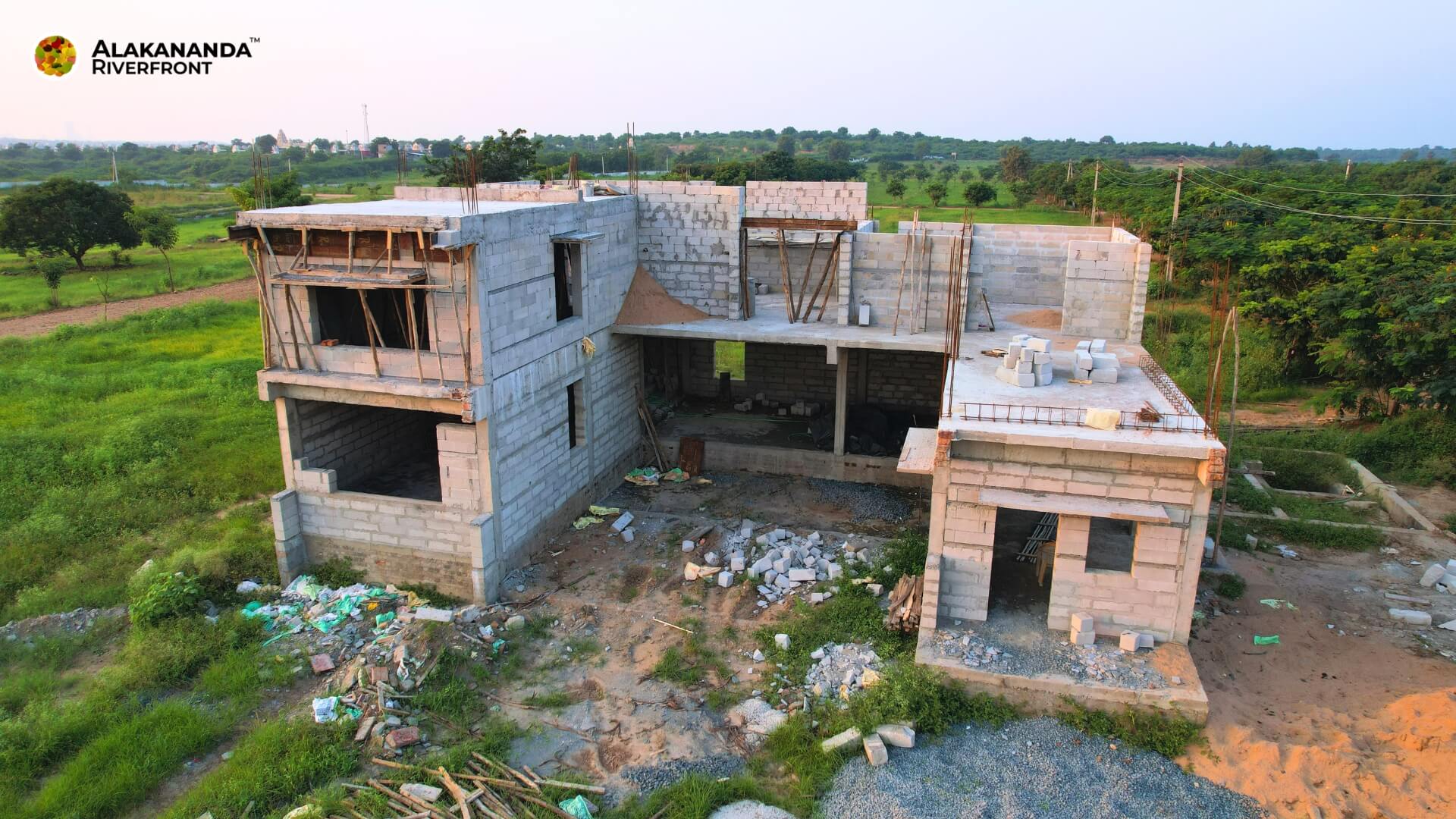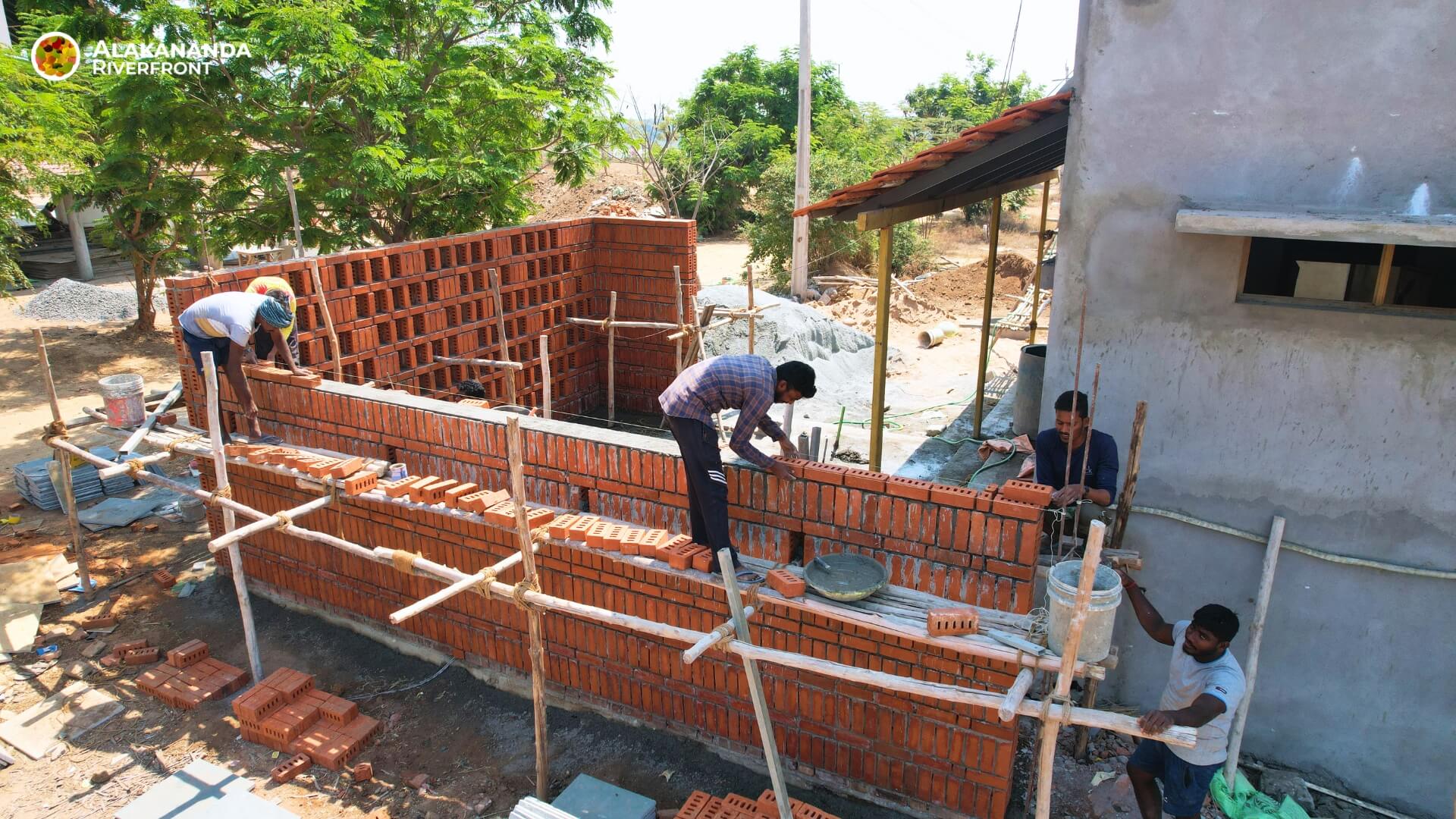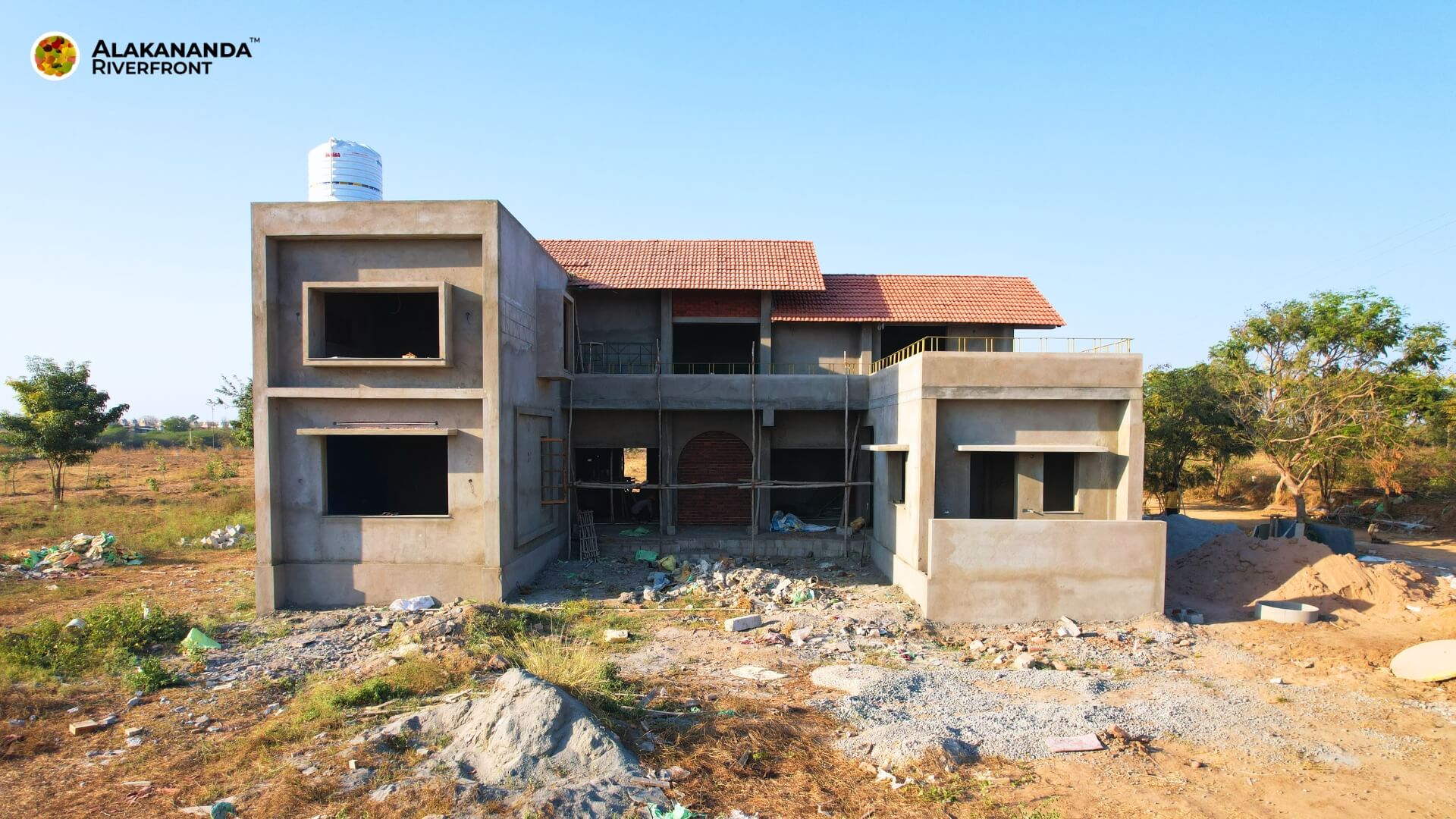 Construction is completed and landscaping in progress.
This villa will be available for rent from Jan 2024.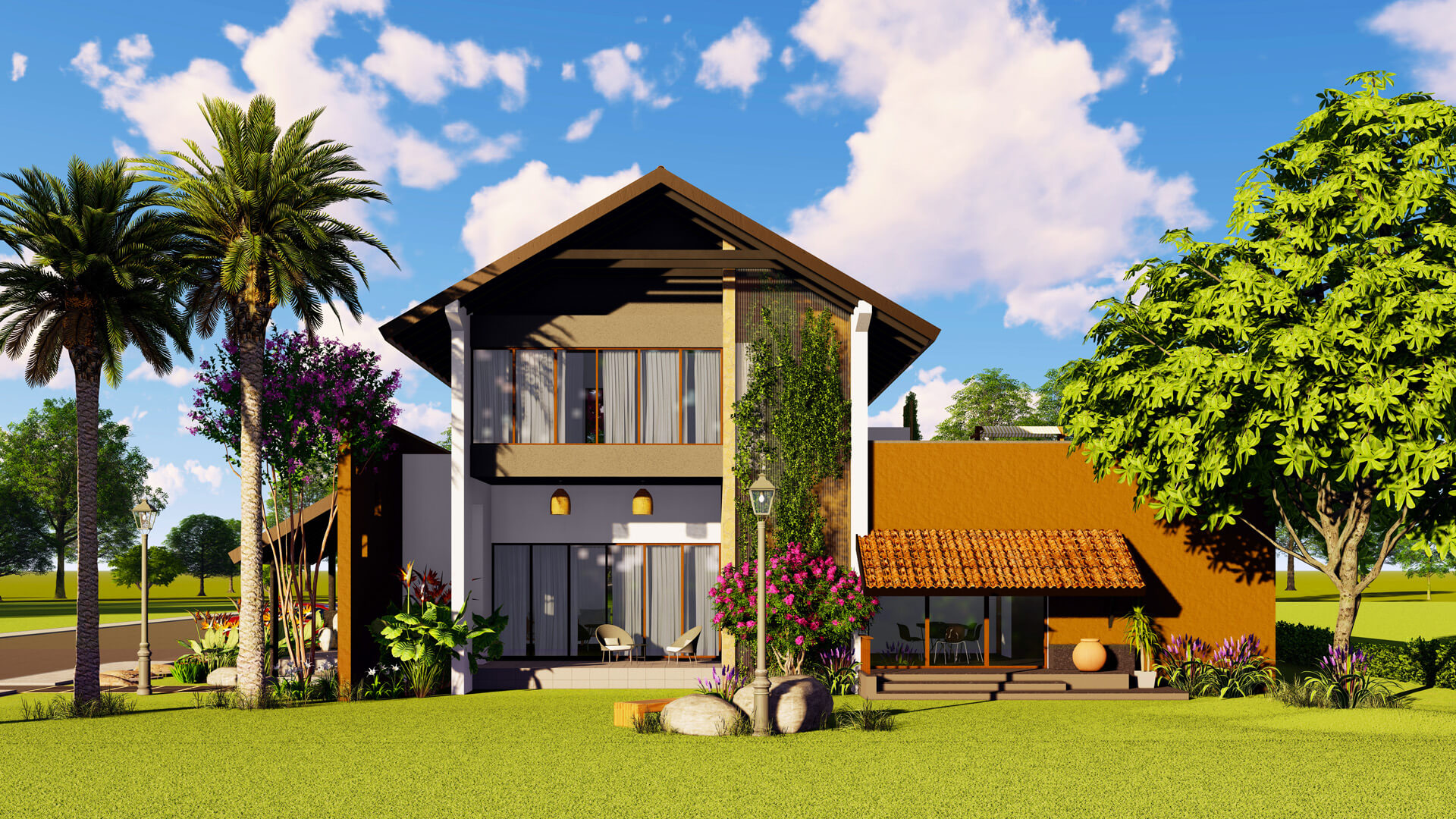 Plot Size : 1000 Sq Yards
Built Up Area : 3500 Sq Ft
Under Construction and Completion by Jan 2024
With over 6000 SFT of landscaped garden space, this villa is for a family of doctors from Vijayawada who wanted a weekend home to escape their busy schedule and congested city life. 
We are also transplanting 4 year old fruit trees from our botanical gardens in to this plot including mango, sapota, amla, jackfruit, guava and neredu (kala jamun) trees!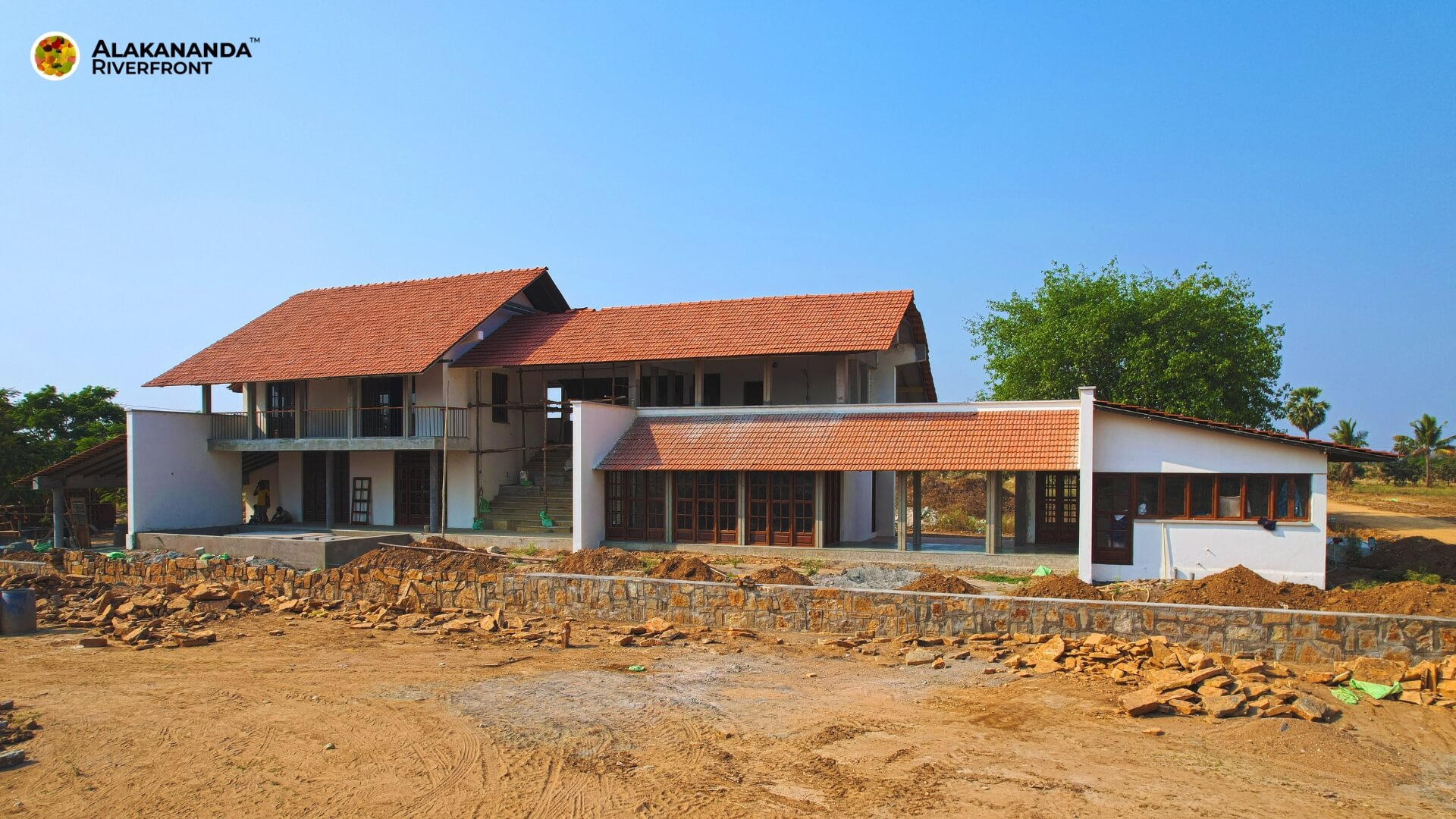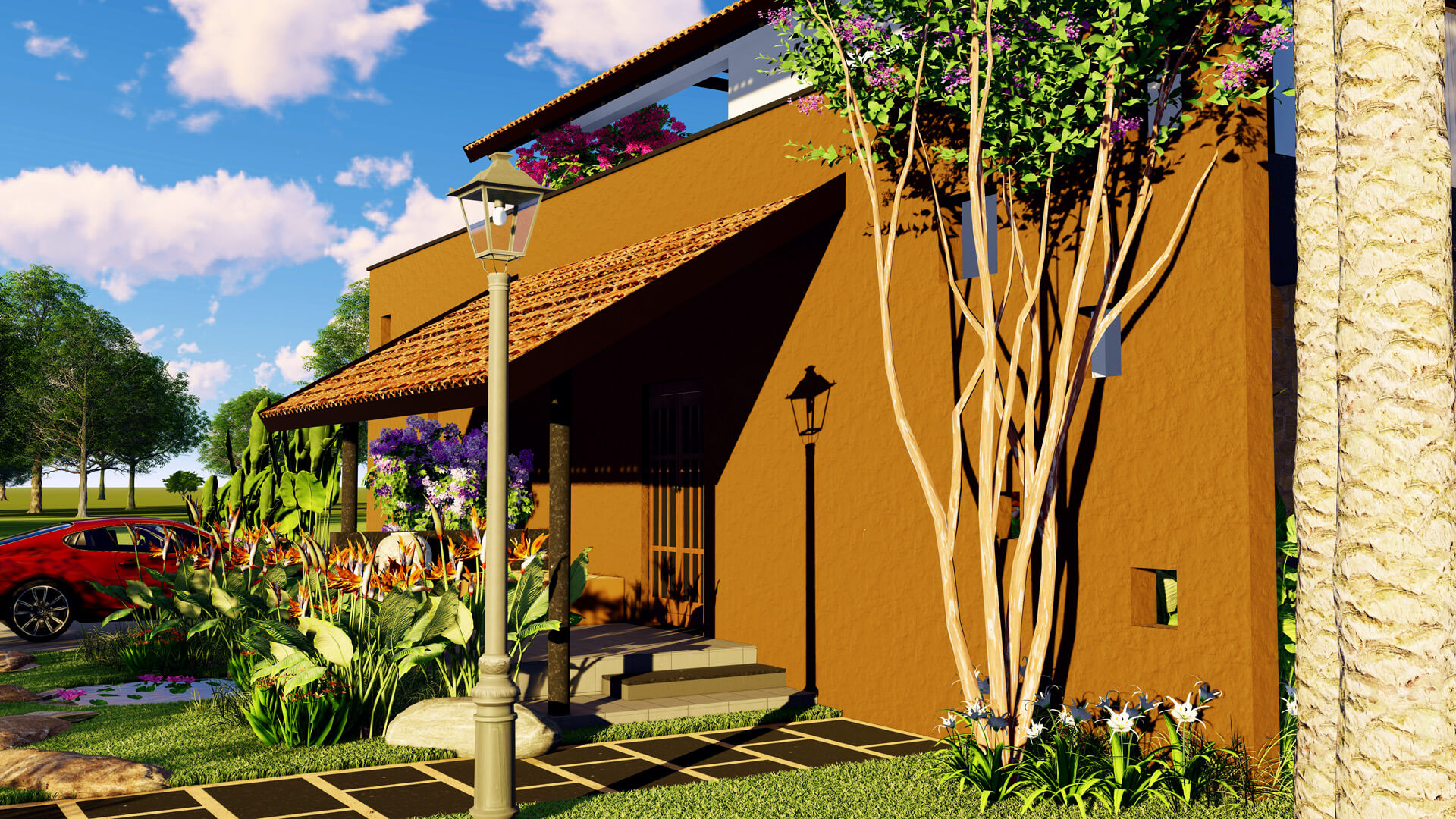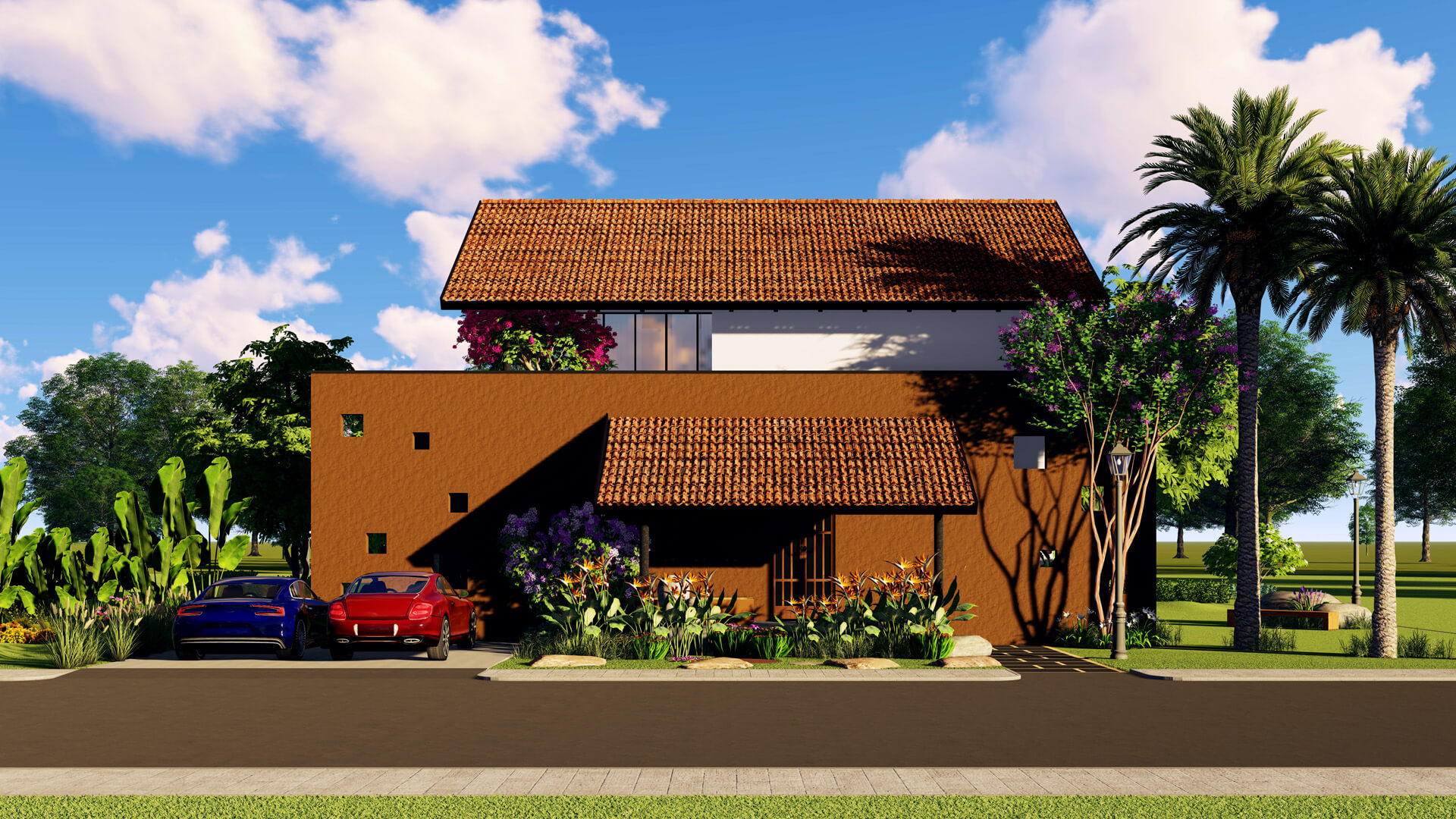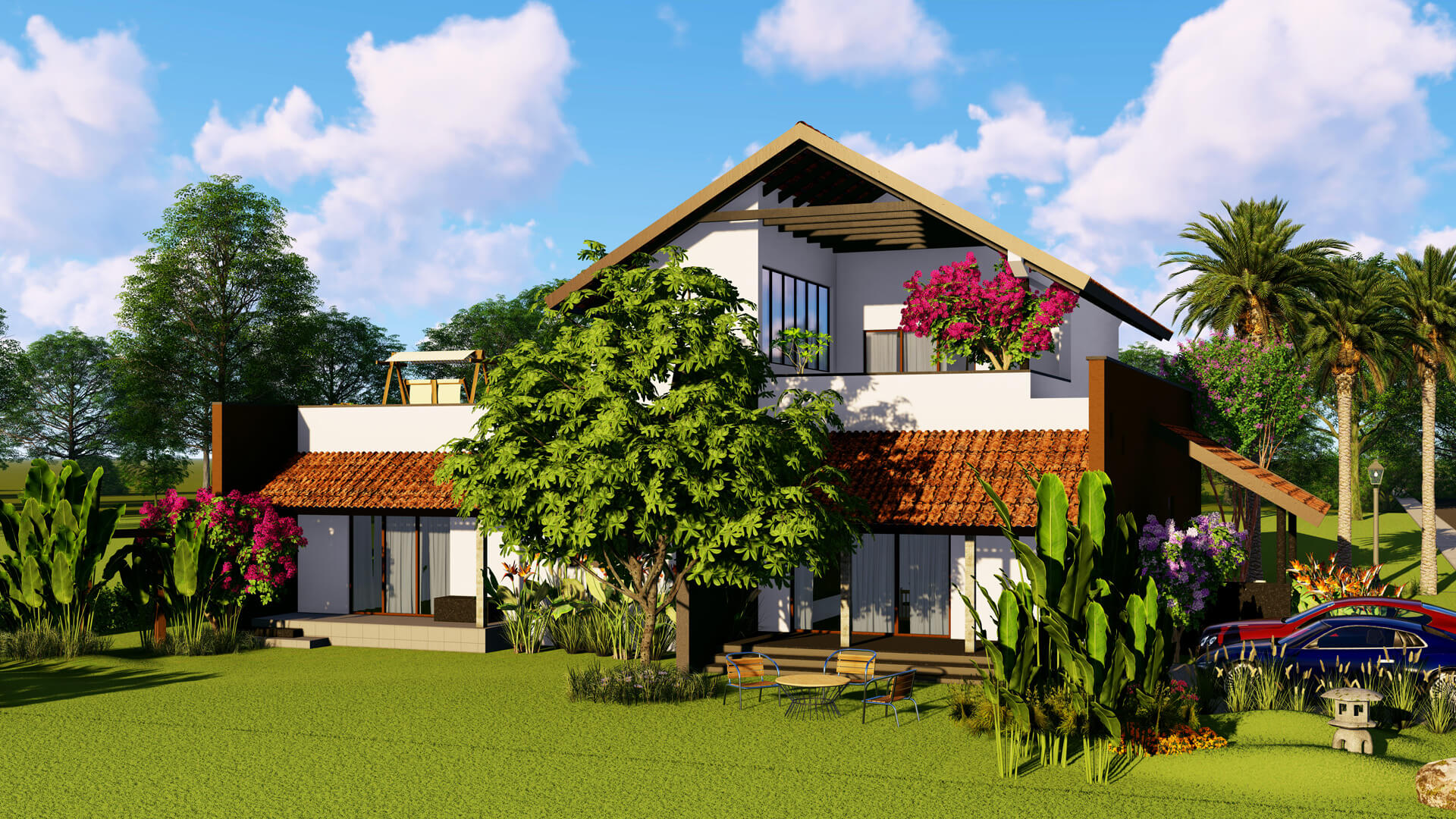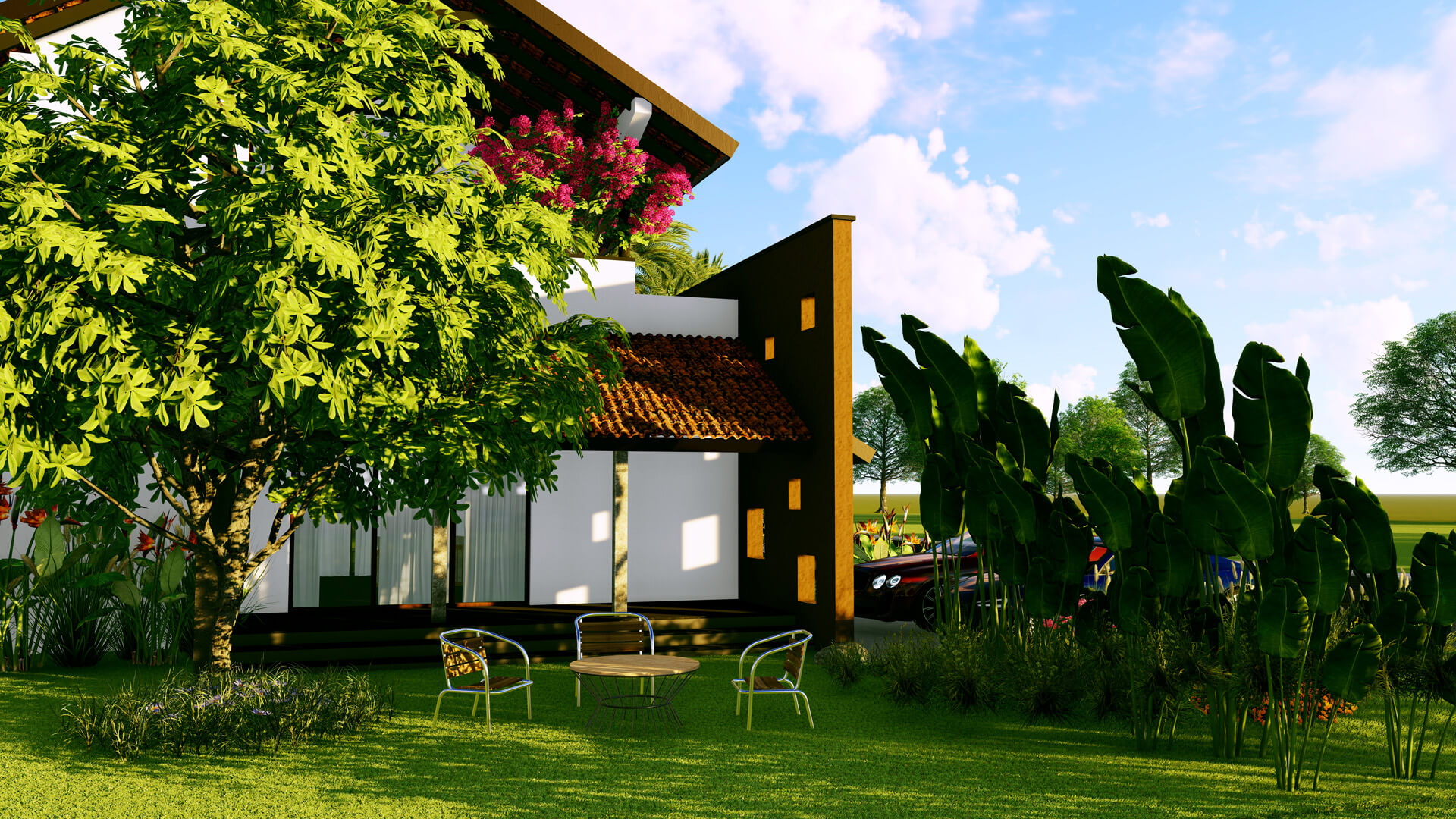 Many more villas in the design & planning stage…
We will keep updating this page with the latest homes…

Rent Out your
Holiday Home
Make it Maintenance Free!
Rental Sharing Agreement for Stress-Free Maitenance
The largest hurdle in owning a weekend holiday home is the difficulty and cost of maintenance as these homes need to be used regularly to keep them in good condition.
The latest trend is to construct your dream home and rent it out as a holiday home for most part of the month, whenever you are not using it.
The aim here is to make the property maintenance-free where income takes care of all maintenance costs – so you never have to pay anything out of your pocket to own such a home.
The holiday home stay rentals market is taking-off in India in a big way due to an increasing preference for boutique private homes instead of regular resorts or hotels – as private homes offer greater value-for-money, flexibility, privacy and a homely ambiance. 
Websites like AirBnB have made it very easy for you to market your property to a large audience from across the country.
You need to have just one person as a caretaker who can welcome guests & maintain the house – where their salary will be paid out of the rental income itself.
Going one step further, we can handle this part for you – by using our own in-house team to maintain and rent-out your houses without you having to manage your own caretakers – freeing up your valuable time and energy so you can focus on actually enjoying your property – rather than worrying about how to maintain it!
A 2 BHK villa can easily earn a minimum of Rs.6000 to 8000 per night.
So if you rent out your home for just 4 to 8 nights a month (a conservative estimate, considering only weekends as of now), you can easily earn Rs.24,000 to 64,000 per month.
We can also maintain & manage your home by sharing 40% of gross revenue (i.e. giving you 40% of total income before expenses) where we take complete responsibility of operational expenses, making it ZERO maintenance for you!
Of course this is optional and many investors find this idea appealing and plan to buy a plot & build a home to enjoy best of both worlds – enjoy the property themselves but also make it maintenance-free by renting out as holiday home to others…
Be part of the best ever Gated Community
of Andhra Pradesh & Telangana
Pre-Launch Now Open
Get the plot of your choice at inaugural rate!

IMMEDIATE REGISTRATION
Construct whenever you want (no deadlines)
1st batch of homes already constructed & occupied!
Click Here to View Plots & Villas at Alakananda
For Site Visits & Enquiries :
If you would like to know more about the availability and price of the villa plots, please feel free to get in touch with our team member who showcased Alakananda to you.
Invest today at a discounted rate before we open bookings to general public at a much higher rate in the next 3 to 4 months.