Syam Prasad Chandra
Business Owner
Hyderabad

When we were searching online for an investment and came across G&C's website, we noticed Alakananda Integrated Township at Muktyala.
The project location right on banks of Krishna and Paleru rivers on two sides and the SGS Ashram and Koti Lingala temple on another side made us very curious.
I was following G&C team and their previous projects for almost 1 year and when I called their team one day, I got to know that their pre-launch was about to open and immediately decided to book a plot – even without visiting it!
The G&C team managed to even do the registration in my name without me having to visit the location by appointing their local team member as Presentor for registration purpose – this made it very convenient and also gave me lot of confidence in them as they promptly registered and handed over sale deed within few days of making the payment.
Later when I visited the project along with my family for the 1st time, it was much more than we expected!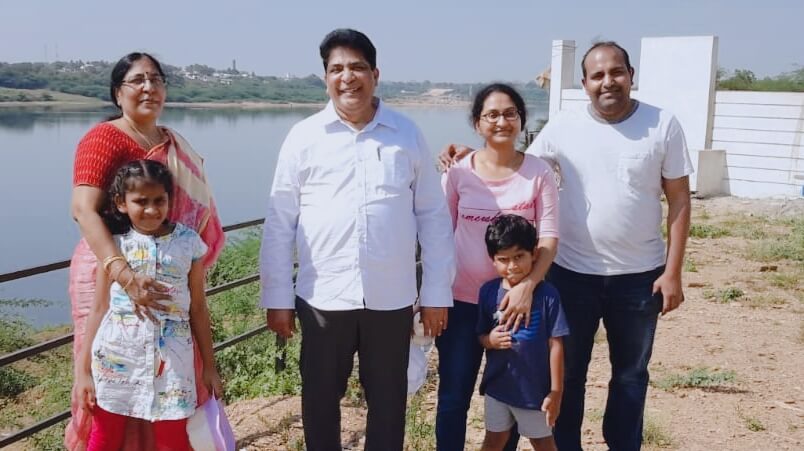 We felt it is an amazing as well as a unique destination – espcially for a group of eco-conscious people who love to spend quality time with nature away from this chaotic city environment.
As we entered we found a vast belt of green landscaped gardens with sweeping river views overlooking the Ashram and Temples.
Our kids were very much excited to see so many natural resources all beautifully blended at a single place.
The place was so very serene and calm where without knowing we spent a good 3 hours.
If you ever wish to get settled for a peaceful lifestyle on the weekends (like holiday home) or even after retirement, do not hesitate to head to ALKANANDA.
Even for youngsters / your other working family members, ALAKANANDA makes weekends much merrier!
It is well connected to all important destinations like Hyderabad & Vijayawada and highway is also very good and 4 lanes.
We will definitely foresee having a one of its kind residence here in the near future as there is a lot of growth potential in this project and with the facilities being offered here it is going to be a UNIQUE DESTINATION to live in.
We would also take this opportunity to mention about Jhashank Chowdhary who is handling his clients in more honest and transparent manner to have a long term relationship by posting regular updates on the project.
We also would mention a special admiration about the Founder AVR Chowdary garu, a very amicable, committed and dedicated person,
He shared with us his vision to build this dream project "Village like Township" with all modern and necessary infrastructural amenities as promised for his clients to have pleasant weekend stay or have a permanent residence built at this scenic beauty.
We are very satisfied with our overall experience so far and hope to see the founder's dream being turned into an amazing reality very soon.
A for ALAKANANDA and for us, ALAKANANDA is also for Aesthetic Appealing Beauty!
Go Back to Main Testimonials Page
Invest today at a discounted rate before we open bookings to general public at a higher rate soon!