Srinivas Velugu
SAP Consultant @ Techdata GmBH
Munich, Germany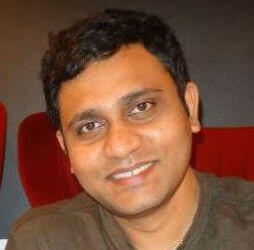 I got to know about Alakananda through G&C (with whom I have made multiple investments since 2017) and was absolutely amazed due to following reasons :
Unique location of project being between Hyderabad, Vijayawada & Amaravati


.

Pure riverfront place which is going to be one-of-its-kind and which I don't think anyone else can duplicate as it's impossible to get such land once again


.

Pre-launch price looked very reasonable – especially when compared to insanely high prices at Hyderabad – which made me confident that with further development, will have tremendous appreciation.
Last but not least, it looked like an interesting second home / holiday home option with top-class recreational activity suitable for all ages.
Another reason many may not realize is the potential of Alakananda to turn into a tourist hub – due to its unique riverfront location and having so many spiritual spots nearby like Koti Lingala Temple, Vedadri, Muktyala Fort, etc.
So a lot of floating crowd may come and make this a destination, leading to higher prices in the long run.
I visited the project AFTER purchasing & registering the plot!
So while it looked great on paper, I was bit hesitant until I visited but moment I stepped in, I felt an instant connection with this place as it's close to nature and did not expect this to be literally ON the river!
The kind of vision vested in this project, the location and views were breath-taking and I felt this was one of the best places to own in India!
Alakananda covers all aspects as an place where you can own a holiday home which you dreamt and also covers investment aspect having huge appreciation prospects. Either way it's win-win situation.
I have bought 2 plots side-by-side – one would be for our holiday home and other thinking to be revenue generation unit to resell later, whichever is better.
The team behind Alakananda, Chowdary garu & G&C have very good understanding of client's requirement and advice to invest in real estate as a mixed portfolio which is very different and which I never experienced from any other broker or builder in the market.
Wish them lot of success for their projects for the kind of time and dedication they have put for quality completion of projects.
I would highly recommend Alakananda for anyone who wants to be close to nature and thinking of holiday home + with added advantage of being a great capital multiplication option due to it's development prospects with respect to location which has tremendous potential.
Bottomline, Alakananda will suit you either ways – as an investment AND as a beautiful holiday home.
Go Back to Main Testimonials Page
Invest today at a discounted rate before we open bookings to general public at a higher rate soon!