Sharda Krishnamurthy & Santosh Ramraj
Manager – Advisory & Senior Manager – Audit (respectively)
Deloitte & Touche, Hyderabad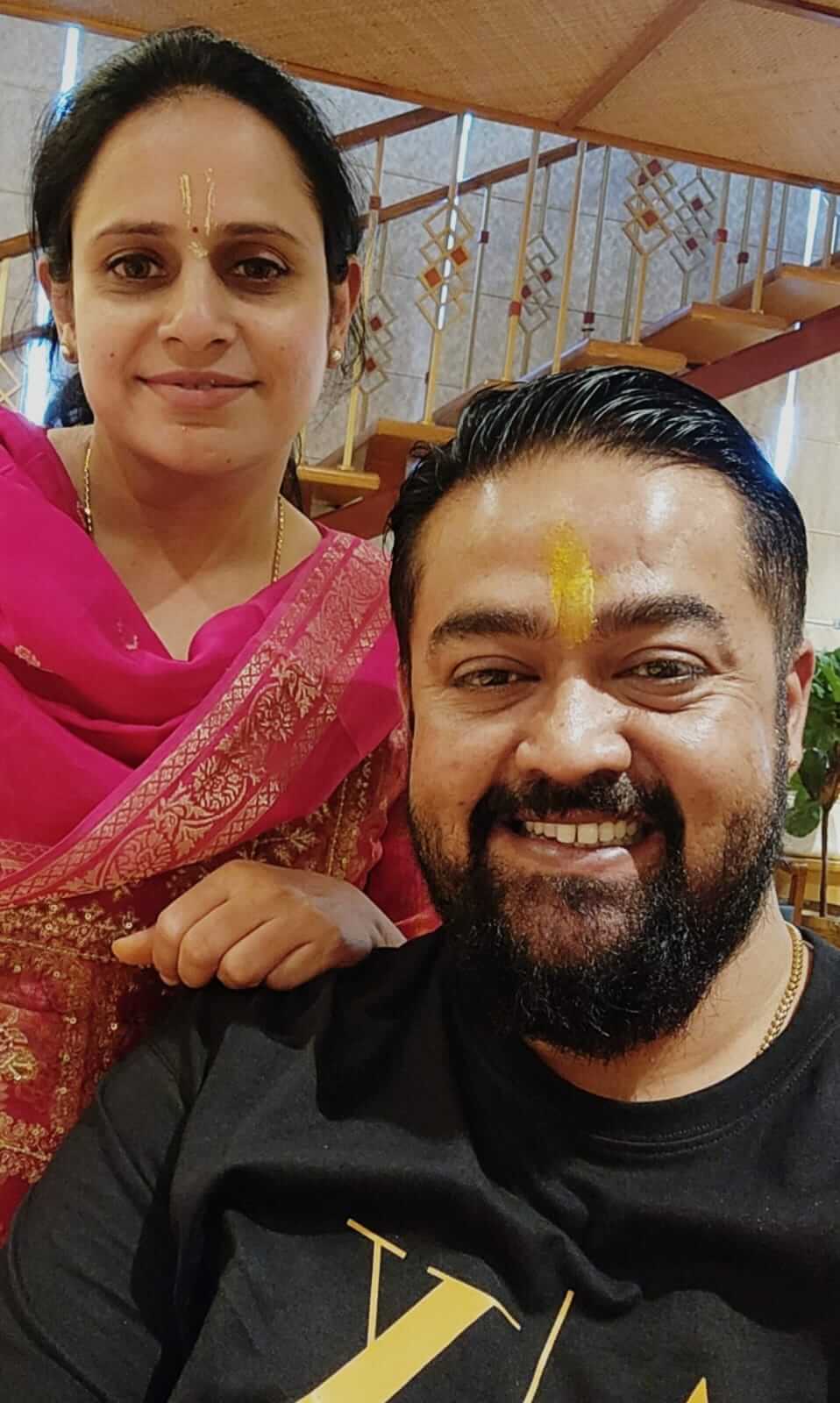 A Serene Oasis of Culture and Destiny : Our Journey with Alakananda RiverFront
As a young couple with 2 kids and aging parents, our search for the perfect investment opportunity was driven by a desire to create a treasure trove of memories and well-being for my entire family…
After extensive research and visiting numerous projects around Hyderabad, the choice became clear — Alakananda was where our hearts truly belonged!
Our introduction to Alakananda was serendipitous, sparked by a captivating image my husband stumbled upon on Instagram, very randomly and out-of-the-blue…
This sparked curiosity and we ended up visiting and experiencing the location 1st hand and came away very impressed with the serene beauty of the 2 rivers, Shiva temple next door and tranquil forest land all around.
It was as if destiny had guided us to this hidden paradise!
Our first visit to Alakananda left us spellbound.
The pristine rivers, the cultural richness of the Koti Lingala Temple, and the spiritual ambiance of the SGS Ashram were even more enchanting in person.
While on Instagram, we were skeptical as it looked too good to be true – but being there and having seen it in person, we were impressed that such projects can even exist in India and felt an instant connection to the place.
What set it further apart – and a big reason why we wholeheartedly recommend it to others – is its unique ability to offer a holistic experience of well-being, spirituality and tranquility in a single undisturbed location, within reach of Hyderabad.
While we see great potential for appreciation here, we are more excited about building a holiday home — a place for our children to connect with their heritage and where our parents can retire in peace, surrounded by the soothing river views and spiritual ambiance.
What made it easier to decide was that our common friends who had already invested spoke highly of the project's authenticity & integrity of the developer, G&C.
This endorsement resonated with us and coupled with the site visit, was enough to make it an instant decision…
Lastly, our purchase experience with G&C has been refreshingly different from conventional real estate brokers.
They were able to prioritized our needs and hand-held us every step of the way, making the entire process seamless and stress-free.
Their transparency and passion in creating such a landmark was evident throughout.
To anyone seeking our opinion on whether Alakananda is the right investment for them, we would say this – if you're looking for more than just a property, if you desire a life enriched with culture, spirituality, and natural beauty, then Alakananda RiverFront is the perfect choice.
It's an investment in your family's well-being and a legacy that will endure for generations to come.
At Alakananda, you won't be investing in just a piece of land; you are investing in an experience that will fill your heart and soul with joy, like it has for our family…
Go Back to Main Testimonials Page
Invest today at a discounted rate before we open bookings to general public at a higher rate soon!