Kush Bhandari
PMC & Landscaping Consultant
Hyderabad
Invested in 4 Plots of 266 Sq Yards each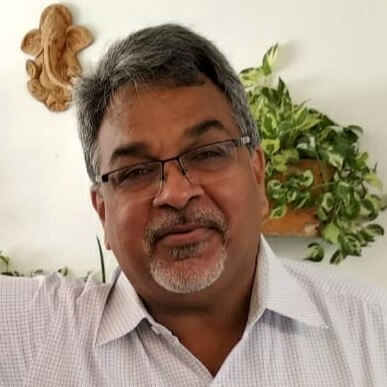 Hyderabad barely has any places to drive down to for a weekend getaway 2-4 hours away.
My family & many of our friends look forward to spending the weekends together, for a much needed break from the hectic city life, close to nature in its best element…
So what better way than to drive out of the city, somewhere far away from the hustle and bustle and yet close enough to be able to go there regularly, simply relax, rejuvenate and enjoy the weekend with loved ones!
And in this pursuit for an ideal weekend getaway for my family & friends, I came across Alakananda RiverFront – a true definition of nature – and nature is all there is and all there should be for every generation to witness and enjoy respectfully!
Scenic, calm, serene & peaceful, Alakananda is a dream turned into reality!
The 3.1 Km river frontage – that too at the confluence of two rivers, surrounded by temples, the sound of birds chirruping, the water flowing through the beautiful Krishna & Paleru rivers and the lush greenery – if this isn't heaven on earth, I wonder what is!!!
Nature at its best, teamed with thoughtful planning, your comforts and health have been consciously and carefully kept in mind – while planning and executing this dream project and it is a place you have to visit and experience to believe.
And it was the magnificent & gutsy vision of Mr. Chowdary on developing this 310 acres on the riverfront that got my mind thinking, that this is a once-in-a-lifetime chance as they say, to acquire such a rare family asset that will be cherished for generations to come…
After seeing the development, I felt it's now or never and despite being a Punjabi and having no previous connections with this region, decided to book 2 plots on the spot!
I look forward to the rest of my relatives & friends becoming part of this awesome place and I am certain if they pay a visit to Alaknanda once, it would make them believe that they can't miss out on a stunning creation like this.
It's indeed a pleasure to see how one man's vision turning into reality opens a window of opportunity for a lucky few who take a decision at the right time.
If you can dream of what you can do at this fantastic riverfront location, your to-do list will never end!
G&C's AVR Chowdary and Alakananda is a combination of Trust.
Every visit to Alaknanda springs a surprise, some addition and developments always there to see…
And seeing these continuous improvement and progress of work, I got motivated to invest in 2 more plots, in addition to the 2 plots I purchased previously.
The relentlessly hardworking team is leaving no stone unturned to create probably one of the best communities to live in, holiday on weekends or even as an investment for great returns.
Hope to have a great future at this heaven on earth, looking forward to spend my weekends and make the most of Mother Nature's blessings here!
Go Back to Main Testimonials Page
Invest today at a discounted rate before we open bookings to general public at a higher rate soon!