CEO – Thulluri Exports Pvt Ltd, Hyderabad
Manufacturers & Exporters of Precision Car Components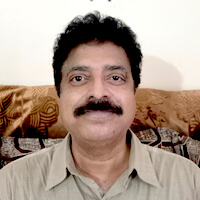 I came to know about Alakananda when I visited G&C office in Hyderabad to enquire about another property they were promoting.
And while I went to meet them to invest in something else, I just saw the brochure on their table and within 5 minutes of being explained what it is, decided to invest in this too!
I right away asked for availability and blocked a plot number of my liking right then and there – and luckily found a Premium Corner one and told their team that I will visit the project on the weekend with my wife.
This was a total surprise for my wife as I just told her that we are going for a long drive to see someone's farmhouse on the Krishna river but when we got there, she was overwhelmed and it met and even exceeded my own expectations!
Having spent 2 full days – Saturday and Sunday – at Alakananda and their clubhouse on the riverbanks, and experiencing the boat rides on Krishna river at their private boat jetty, and the pleasant ambiance of being surrounded by nature and water & watching the sunset behind the SGS ashram within the campus was an "out-of-earthly" feeling!
The biggest reason I recommend Alakananda is because its a truly once-in-a-lifetime location –  right at the intersection of 2 beautiful rivers – where river Paleru merges into the Krishna river and the whole Krishna River is taking a U turn, making this very picturesque with 2 famous temples on either side of the property…
I already have plans to build a Prefab Wooden Chalet style holiday home to enjoy the weekends to get away from Hyderabad and later may even think of settling down here post-retirement!
The experience with the Alakananda team and their founders was outstanding and they are very professional.
Over a period of time, this will give multiple returns and even when prices appreciate, you will not feel like selling this and may be tempted to keep it as a permanent asset and may not feel like selling it, once you experience it yourself!
Go Back to Main Testimonials Page
Invest today at a discounted rate before we open bookings to general public at a higher rate soon!