Abhishek Mishra
Senior Specialist (Digital Marketing Strategy & Sales) – Adobe Technologies
Bangalore
Invested in 3 plots of 400 Sq Yards each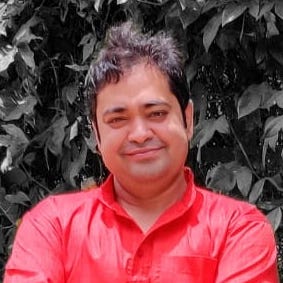 As a regular patron and good association with G&C over many real estate deals over last few years for me and extended family, it gives me pleasure to highlight a few words about their latest and biggest project – The Alakananda RiverFront.
My brother was keen to park his funds by investing in plots and so I was on the look-out for a gated community plot which was secure, with modern amenities, strong potential for growth and located in a prime location which is not yet completely inflated – and Alakananda simply surpassed all these requirements!
Set in a picturesque location in up and coming Amaravati capital region, the fact that this is the 1st ever riverfront villa plot gated community, flanked very close to 2 rivers with a beautiful boulevard with world-class amenities – I felt it will become one of the best places to live in India.
I have seen numerous plotted layouts over a decade and based on that experience, must say that the scale, grandeur, vision and facilities being done at Alakananda – like water activities, horse riding, botanical garden, huge clubhouse, ashram etc – will make it one of the unique types of gated communities for not just AP but South India as well.
On seeing the plots sizes and the rapid pace at which the developer is able to make this all come together, immediately decided to purchase 2 plots on the spot – one for my brother and one for myself!
We decided to keep one for personal use and resell the 2nd one in a few years and use the profit to construct our holiday home on the 2nd plot!
Have huge respect and trust in the vision of Mr.AVR Chowdary, Jhashank and their team as unlike others, they build the trust factor and help make sure investment done via their channels are fool proof and within budget for one and all.
Would suggest anyone looking for a secure investment with limited / small budgets, you should visit the project and take a look at it yourself as then I am sure you will be surprised and very happy with investing with this unique opportunity.
I invested in this project despite NOT being from either of the Telugu speaking states as I believe this project is not just for Andhra or Telangana as they claim, but a unique project and rare investment for any Indian to make!
Go Back to Main Testimonials Page
Invest today at a discounted rate before we open bookings to general public at a higher rate soon!