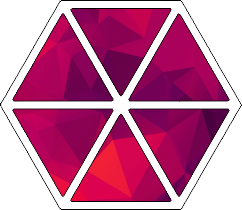 Polyfibre

Low Cost

Dome Houses
Perfect Holiday Home for your family to enjoy on the weekend!
Instant – Recyclable – Eco-Friendly
Dome Houses – a luxury version of camping, are the perfect way for your family to spend time as close to nature as possible by the Krishna river, with all the comforts of a home and within walking distance of all major facilities like water sports, botanical gardens, golf driving range, etc. – making it ideal for everyone – adults, children and seniors!
These unique geodesic dome houses are made up of 18 to 25 separate hexagonal panels that are prefabricated at our associate facility near Mylavaram, AP with high strength fiberglass reinforced plastic and assembled on site in just 3 weeks!
(while the house itself can be assembled and fitted-out in 3 days, the concrete base and other preperatory work such as water-tank & sump etc take another 2 weeks, hence a total of 3 weeks is needed to complete construction)
You can customize the size, color & interior configuration – ranging from 330 to 660 Sft – and multiple units can be combined to form one large house.
Because of their compact size, you also get to enjoy more open space for your organic fruits & vegetables garden!
No Permissions Required for Dome Houses!
Since these are considered "temporary structures", you don't have to apply for any permissions to construct them on your plot – making this a very simple, quick & low-cost affair!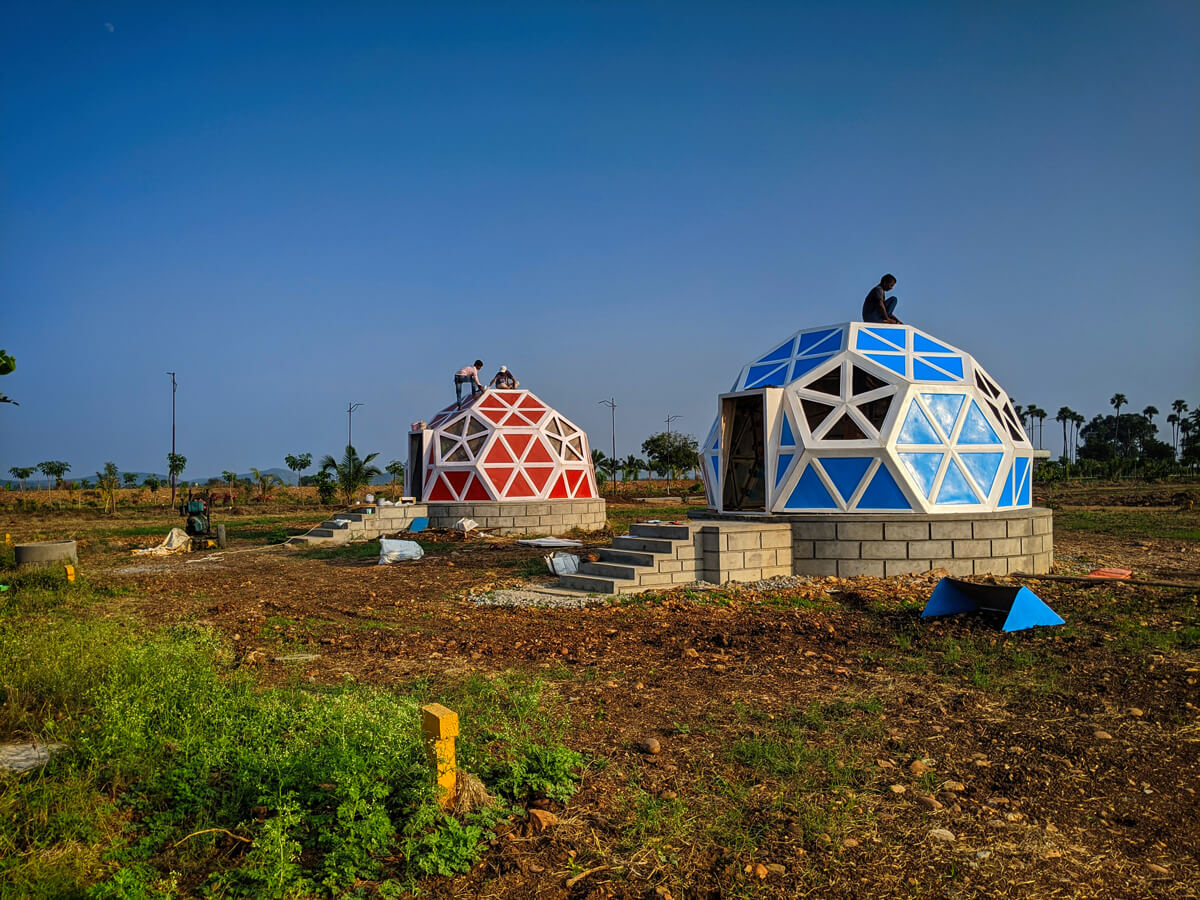 Actual Photo Shot at Site
2 dome houses being assembled at Alakananda, on plots of 266 sq yards each.
Each house has 240 sft of living space including an air-conditioned bedroom with a queen sized bed for 2, TV and bathroom with high-end fixtures.
Landscaping with carpet grass, exotic trees and garden furniture including a small swing will be put in place in the end.
4 more dome houses (2 of bigger size) will be constructed shortly in the same row of plots, all side by side by a group of friend…
Low Investment &
Low Maintenance
Starting at just Rs.8.75 lakhs onwards including :
– Concrete Base & Foundation
– Polyfibre Pre-Fab Panels
– Interiors & all fittings (including AC, TV, electricals)
– Landscaping & picket fencing for entire plot
– Water tank & sump
Price depends on size & customization
Start Small &
Upgrade Later

Due to its low-cost and reusability, you can start with this prism home initially to enjoy the weekends with your family without spending big money – and then upgrade to a larger permanent home (brick & concrete) whenever you are ready to upgrade. You can then reuse this prism home as an outhouse or staff quarters.
Safe, Sound & Durable

Fiberglass Reinforced Plastic panels are bolted tightly & sealed with thick silicon for waterproofing and insulated with thermocol sheets & 8mm plywood to withstand harsh sun, heavy rain and even hurricanes – giving you the highest safety and durability. You can have upto 4 windows to ensure healthy ventilation and natural light.
Resuable and
Eco-Friendly

70% of the structure and interiors can be disassembled, shifted and reused, giving you complete flexibility to add and modify. Minimal use of materials + quick cooling interiors due to a unique spherical design which minimizes exterior surface area along with thermal insulation panels make this highly efficient & eco-friendly.
Proudly Made in India

These dome houses are manufactured in Andhra by WaterSports Simple Group, founded by a Florida based NRI from AP. With its own factory near Mylavaram, AP, the group manufactures patented EcoDome Houses, pontoons, speed boats, leisure boats, canoes, kayaks and much more at a low cost with highest safety standards and staff certified by the National Institute of Watersports under the Ministry of Tourism, Government of India.
Renderings of the Interiors
Even the smallest dome has an Air-Conditioned Bedroom (queen size-bed with cupboard, sofas & TV) + Full Fledged Bathroom (with high-end fittings & hot-water!), perfectly suited as a comfortable weekend house for 2 adults plus a child.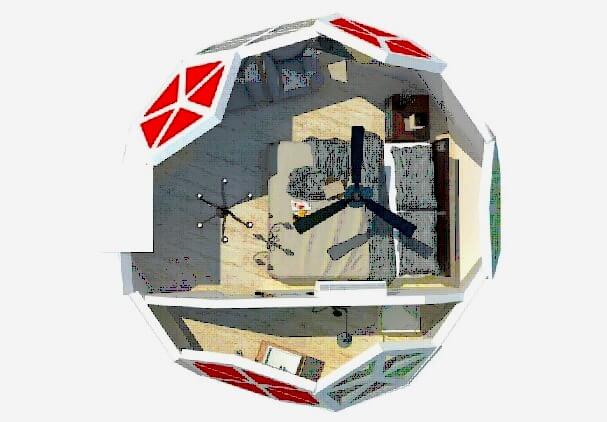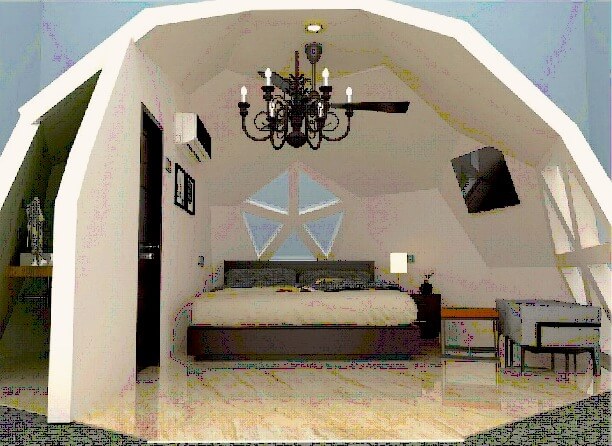 Frontal Cutout View of Interiors


Rent out your Holiday Home on Revenue Share Basis
There is tremendous but un-met demand for short 1 or 2 day / weekend getaway vacation spots from cities like Hyderabad and Vijayawada.
But surprisingly, people in these 2 major cities have almost NO good options nearby (the nearest options being 7 to 8 hours away which is too far for regular trips).
Alakananda will hence become a favourite weekend camping / resort destination for all of them as it is :
just 3 hours from Hyderabad
just 60 minutes from Vijayawada
South India's first & only riverfront vacation spot!
You can hence easily rent out your Dome House to such weekend vacationers due to massive demand & its low cost per night (hardly Rs.1800 to 2500 per night which is very affordable for the kind of amenities & ambience you get to enjoy here!
Visitors will flock here because they can experience :
Water Sports & Adventure Activities
Mini Golf Course & Putting Range
Horse Riding
Riverfront Clubhouse with Restaurant
40 Acres Botanical Gardens
and much much more and all of it in just one place for just Rs.1800 to 2500 per night which is a steal!
Your Dome House will be maintained and managed by us on a 40:60 gross revenue sharing (before expenses; 40% to you and 60% to us) and we take complete responsibility of operational expenses, making it completely ZERO-maintenance for you.
The goal here is to make your Dome House financially self-sustaining (so you never have to pay anything to maintain it as the income itself will take care of the house maintenance) AND make some nominal profit once in a while.
(the focus is to make it mainenance-free, rather than trying to earn high income)
Your Dome House can be listed on AirBnB, Trip Advisor, etc to increase visibility and revenue.
We will rent-out your home as per your schedule – so you can keep it availabe when you plan to stay yourself and rent it out during other times.
Available in various sizes
Two or more domes can be joined together with passage ways to create more spaces.

Be part of the best ever Gated Community
of Andhra Pradesh & Telangana
Pre-Launch Now Open
Get the plot of your choice at inaugural rate!
IMMEDIATE REGISTRATION
Construct whenever you want (no deadlines)
1st batch of homes already under construction!
Click Here to View Plots & Villas at Alakananda
For Site Visits & Enquiries :
If you would like to know more about the availability and price of the villa plots, please feel free to get in touch with our team member who showcased Alakananda to you.
Invest today at a discounted rate before we open bookings to general public at a much higher rate in the next 3 to 4 months.